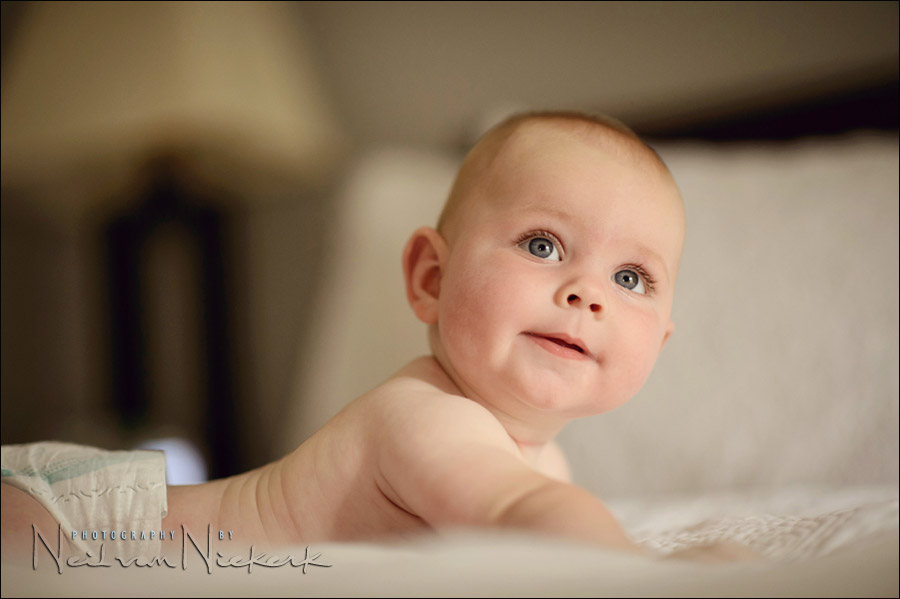 Window-light baby portrait photos – Liam
Any parent will know that the kiddo has a distinct personality from the moment it is born. For the photographer then, the ideal is to capture some of this personality.
My own take on photographing babies, is that I want to forego all the props and accoutrements associated with baby photography you often see – the hats and such. While the toys are often necessary to keep the child's attention, I still like to photograph just the baby.
Liam's parents were close by, getting his attention. I prefer that if anyone calls to him, that they do it right over my shoulder, nearly breathing down my neck. Snapping fingers and pointing where the child should look, never works. If anyone is going to call the baby, and I want the baby to look more or less towards the camera, then the other person needs to be right next to me, hovering right behind me.
The pull-back shot shows where we worked – in Liam's parents' bedroom with a huge window. So this was shot with only the available light. I made sure that the child's face was open towards the light – this gives clean open lighting, without hard shadows.
In keeping the viewer's attention focused on just the child, I like working with an 85mm f/1.4 lens. An f/1.8 would give you very similar results. The very shallow depth of field is a challenge in getting the focus exactly right. Ideally, the eye closest to the camera needs to be pin sharp. But then, as always, the emotional content overrides specific technical perfection.
Liam's indominable spirit in trying to sit up made for hilarious expressions.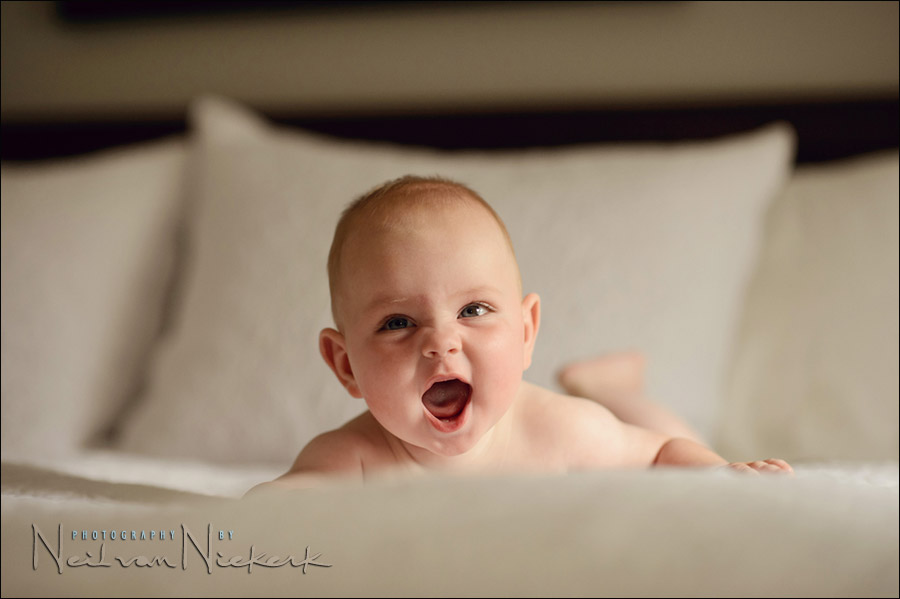 A lower viewpoint from where I was kneeling at the edge of the bed, is also important in making this tiny baby dominant in the frame.
Of course, a baby's attention span is very short, so you have to work fast and work at the baby's peak attentiveness.

Camera settings & photo gear (or equivalents)
Related articles