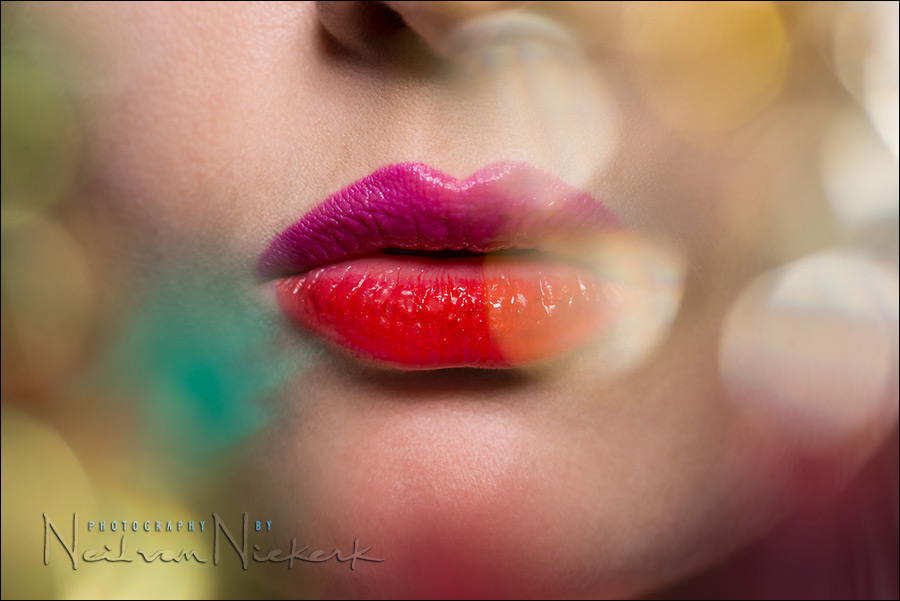 creating foreground bokeh effects in-camera
The closer you move to a foreground object, the more it's shape and color and opacity will affect the image … in unpredictable ways. It's a well-established technique then to create unusual color splashes and shapes in the image by creating flare highlights. It is often called "foreground bokeh effect".
Ulorin Vex is an unusually photogenic model that I have photographed on a few occasions. When Ulorin visited the East Coast again recently, I jumped at the opportunity to meet up with her again and play in the studio. Her striking looks and colorful latex dresses would work perfectly with this technique – the random kaleidoscope patterns and colors wouldn't be incongruous.
With a standard lighting setup in the studio, using a beauty dish, I also added an extra light to throw light directly towards the camera. I then held up various colored objects right in front of the lens – a colorful translucent plastic flower with colorful petals and leaves worked best. Shooting through an opening between the petals and leaves of the decorative plastic flower, all kinds of interesting random patterns appeared. It was unpredictable, and that is what made the effect interesting in part – you wouldn't quite know what you're going to get.
If this effect appeals to you, it would make sense to collect all kinds of objects to try out – glass elements and prisms work well too. Anything that will create a pleasant visual surprise.
{ 30 comments }