Studio portraits – different setups for different looks
As a kind of "inaugural" photo session in my new studio space, I asked my photographer friend, @ClaytonReynolds, if he'd be willing come in to be photographed. I liked the way Clayton's confidence and natural charm comes through in these photos. We used 3 different setups for 3 different looks. From the simplest of setups — just window-light, to a more complex setup using a spotlight with a gobo. There are two pull-back shots if you're curious about the lighting configuration.
This photo above is a favorite way to quickly get soft, nuanced lighting in the studio. The big gridded 1×6 Profoto stripbox is such a flexible light modifier in how it can be swiveled and rotated to change the way the light falls on both subject and the background. Here is a description of how I use this huge softbox: Studio photography – Posing & Lighting
For those of you local to me here in NJ, keep in mind that I do offer my studio out as a rental studio space: NJ photography studio rental
Camera settings & photo gear used
Main light: Profoto D1 studio flash, with the gridded Profoto 1'x6' gridded strip-box  (B&H / Amazon)
Accent light to camera left: Profoto A1x flash for Sony  (B&H / Amazon) with a turquoise gel, mounted onto a gridded Profoto RFi 1×3 softbox. The Profoto A1 was mounted to the softbox with the Profoto OCF adapter  (B&H / Amazon). The soft grid helps control the way the light spills. More on adding a gel like that to add some flavor: Using gelled flash in the studio
More about the Profoto OCF adapter: Off-camera flash with the Profoto A1, A1x, A10 flashes
The background is just a white studio wall.
This still remains fascinating after all these years of shooting with off-camera flash or studio lighting. This is what your eyes see … but in under-exposing the available light – either to an extent, or completely – you allow the off-camera lighting / studio lighting to define what the camera sees.
Related articles
---
Another sequence from the photo session with Clayton. The lighting here was simplicity itself — window light in my studio. I like the way the sunlight spilled into the studio, and reflected off the floor … and then all the indirect light falling on Clayton, with the different shades of color from left to right across his face. Note the warmer tones on his left side / camera right. It is this nuanced lighting that I would still love to emulate with flash photography — where we can recreate the idea of different smaller light sources affecting our subject.
The canvas backdrop is by @oliphantstudio and is my favorite to use for the nuanced tones.
The lens used is one of my all-time favorite lenses – the Sony 85mm f/1.4 GM  (B&H / Amazon)
Camera settings & photo gear used
---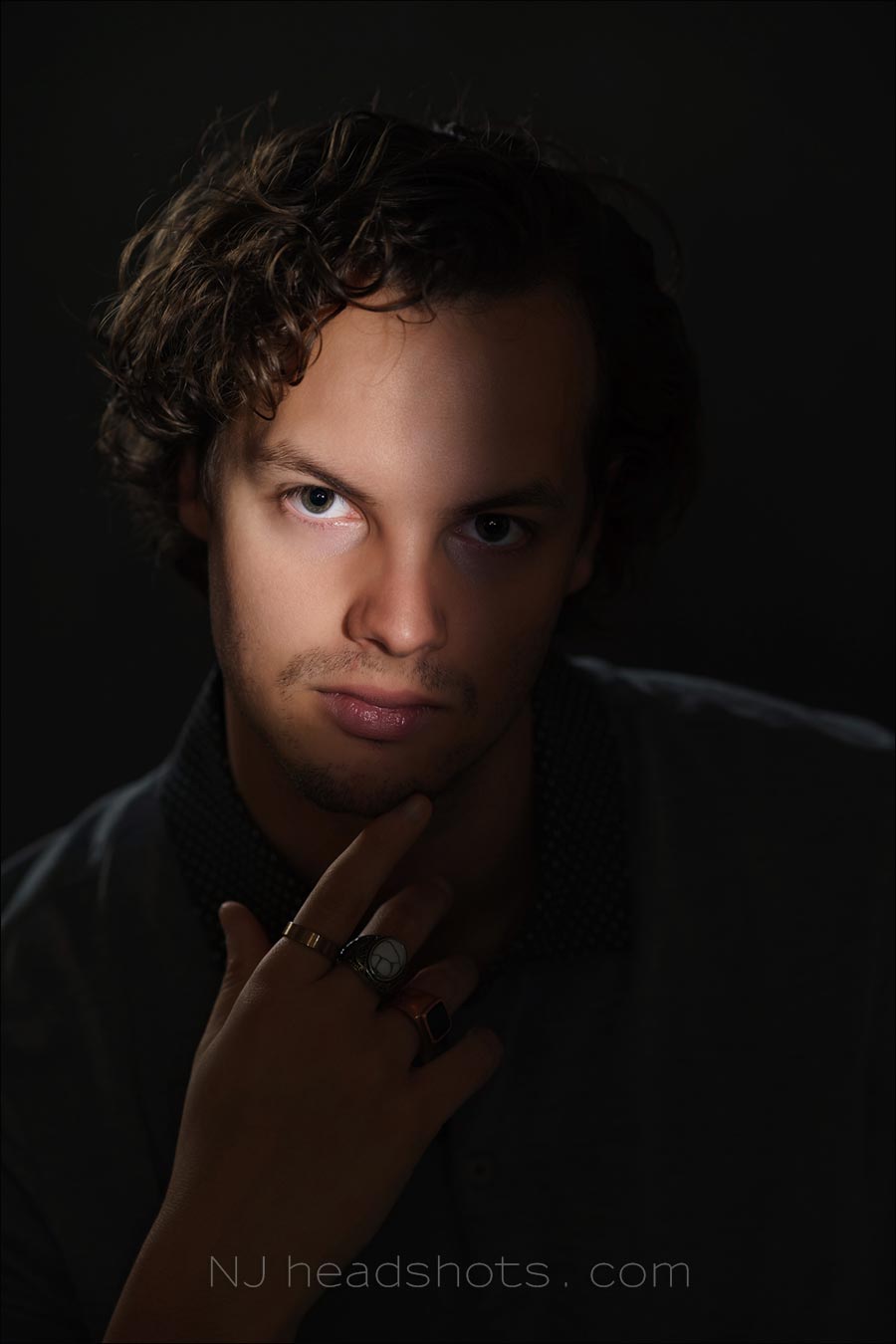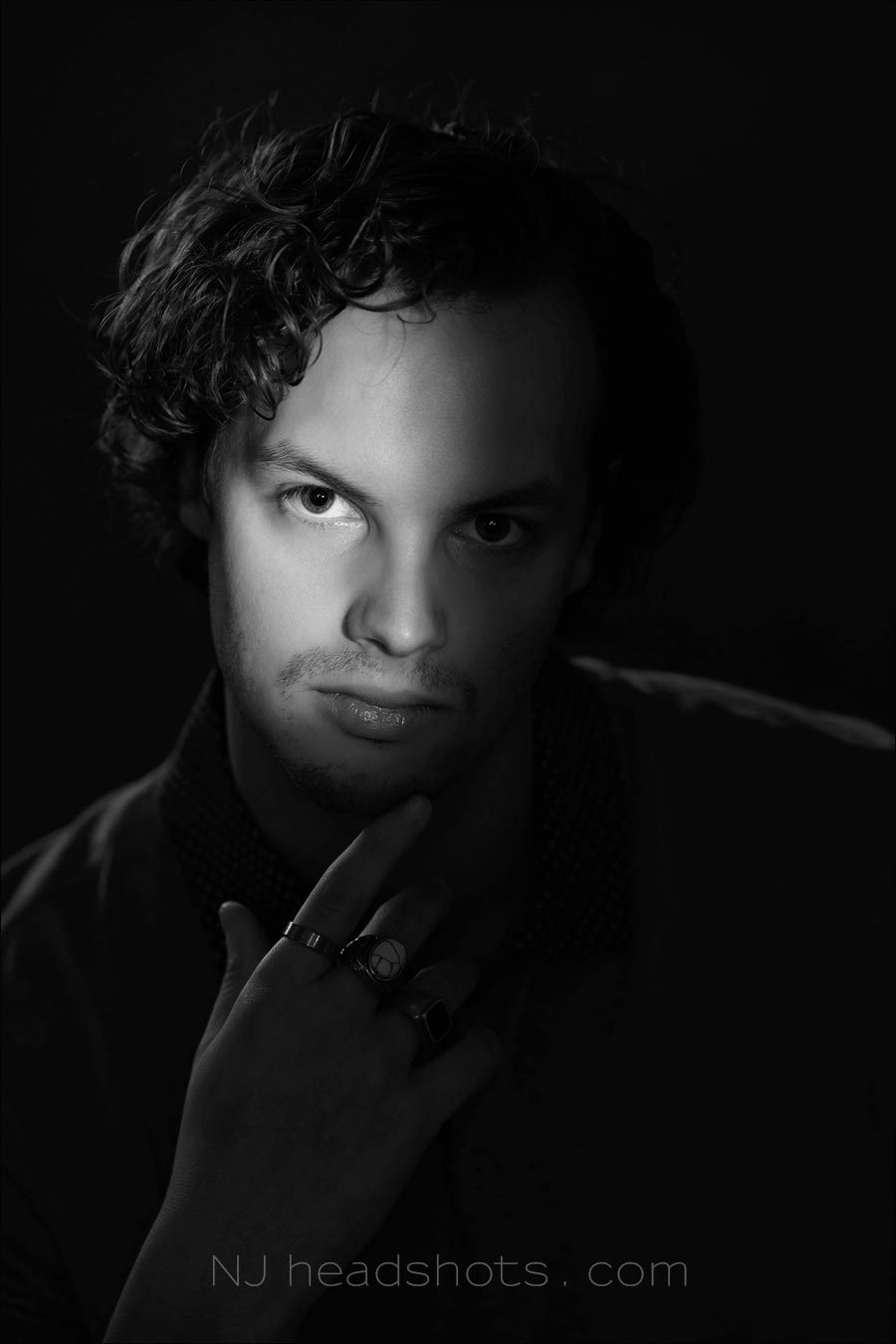 With this setup, we explored a more dramatic look. The light modifier that made the difference here is the (fairly rare by now) Profoto Spot Small — a focusable light to which you can add a gobo to shape the light pattern.
I am not sure if I prefer the color or B&W version. I'm always partial to color because we see in color, yet the B&W version has an added air of mystery. What do you think?
Main light — a Profoto D1 into that Profoto Spot Small … and I think I have figured out how to best use it. Instead of a sharp well-defined border between light & shade, it works better slightly defocused so the transition into shadow is less stark.
Other examples where I used the Profoto Spot Small
The fill light is the big Profoto 5-ft RFi Octa Softbox (B&H / Amazon) as gentle fill light from behind me, swiveled slightly away to reduce the light even more.
And there is a gridded Profoto RFi 1×3 softbox (affiliate) as a rim light in the back.
Camera settings & photo gear used
---
Related articles