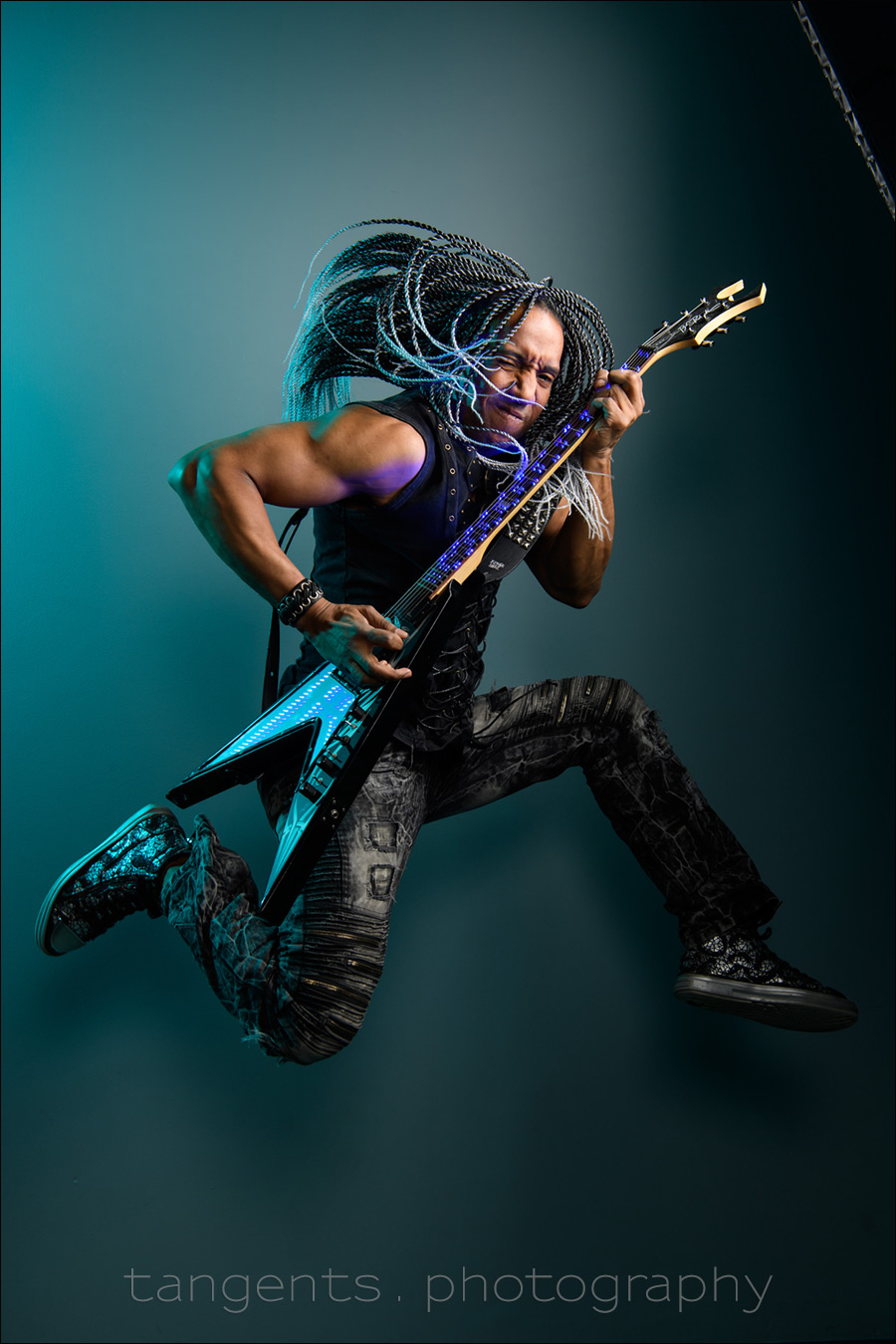 Using gelled flash in the studio
Shooting in the studio with Brian and Anette to do promotional portraits of their band, Cut Like This, this one sequence was really fun to shoot. The images directly out of camera had impact already with the swath of blue light against the wall. The lighting is fairly simple – I used a gelled flash to get that color effect. The flash, a Profoto B1 flash  (B&H / Amazon), was bare, with just the turquoise gel taped over it. The main light (to camera right) was one I often use when I want that interesting combination of soft light that is still dramatic – a gridded stripbox.
Using a gridded stripbox as the main light is such a simple technique, but is also very flexible – depending on how you swivel or rotate the light, the light spills in completely different ways on your subject and background. It took just a few minutes to set this up, and the first test shots already showed we were on a winning idea again here. More about the lighting setup and technical details below.
One thing to note, is that the shutter speed used was quite slow for the studio: 1/30th. This slow shutter speedway chosen so that the LED lights on his guitar would register. It took a test exposure or two, to find the right balance where the light from the flashes blended nicely with the bright LED lights. Because these LED lights are continuous lights, the shutter speed will affect the exposure directly (white not affecting the flash exposure .) There will of course be some ambient smearing of these LED lights, but that doesn't distract.
If you are interested in attending a workshop on Studio Lighting, there is one coming up this April, to be held at my studio in NJ.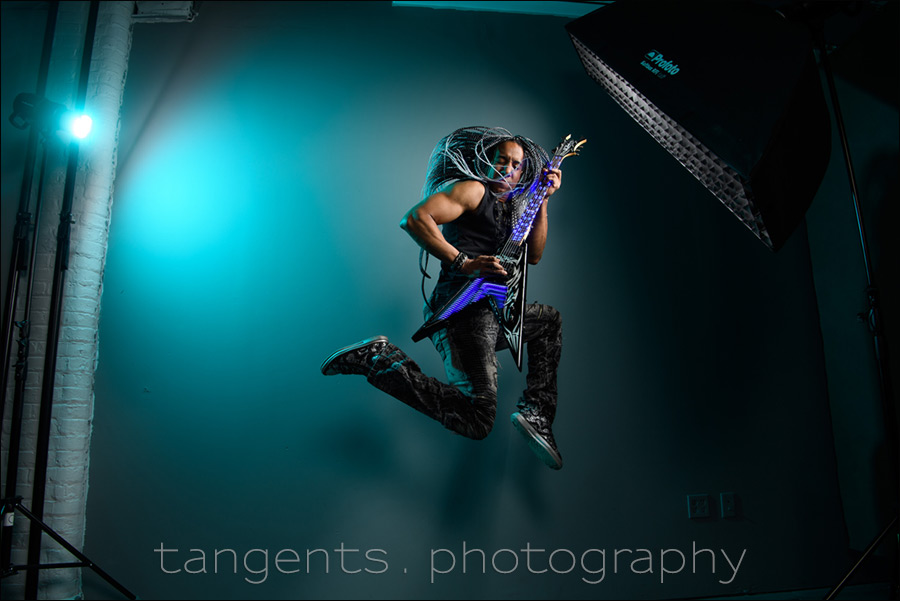 Camera gear (or equivalents), and lighting gear used
This pull-back shot shows the placement of the two light sources. On the left, a bare Profoto B1 flash  (affiliate) with a turquoise gel. On the right, another Profoto B1 in a Profoto 1'x6' gridded strip-box  (affiliate). The grid on this large stripbox helps control the light. The splash of light on the background behind Brian, is from the top of the gridded stripbox which was close to the wall.
A few more images of Brian and Anette with the same lighting setup. I left the final image with the lighting gear (and studio environment) as a kind of pull-back shot again to show where we were.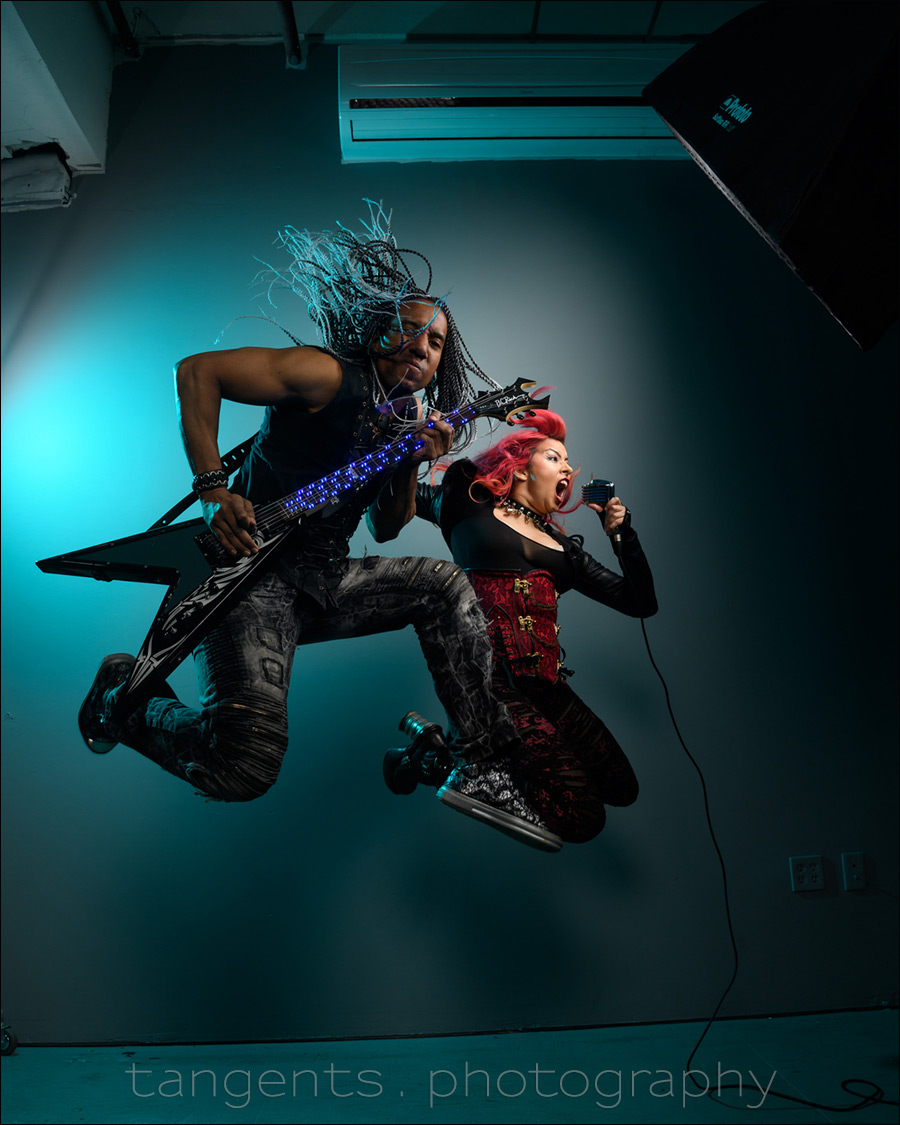 And finally, the Facebook banner image they created from this session:
Related articles