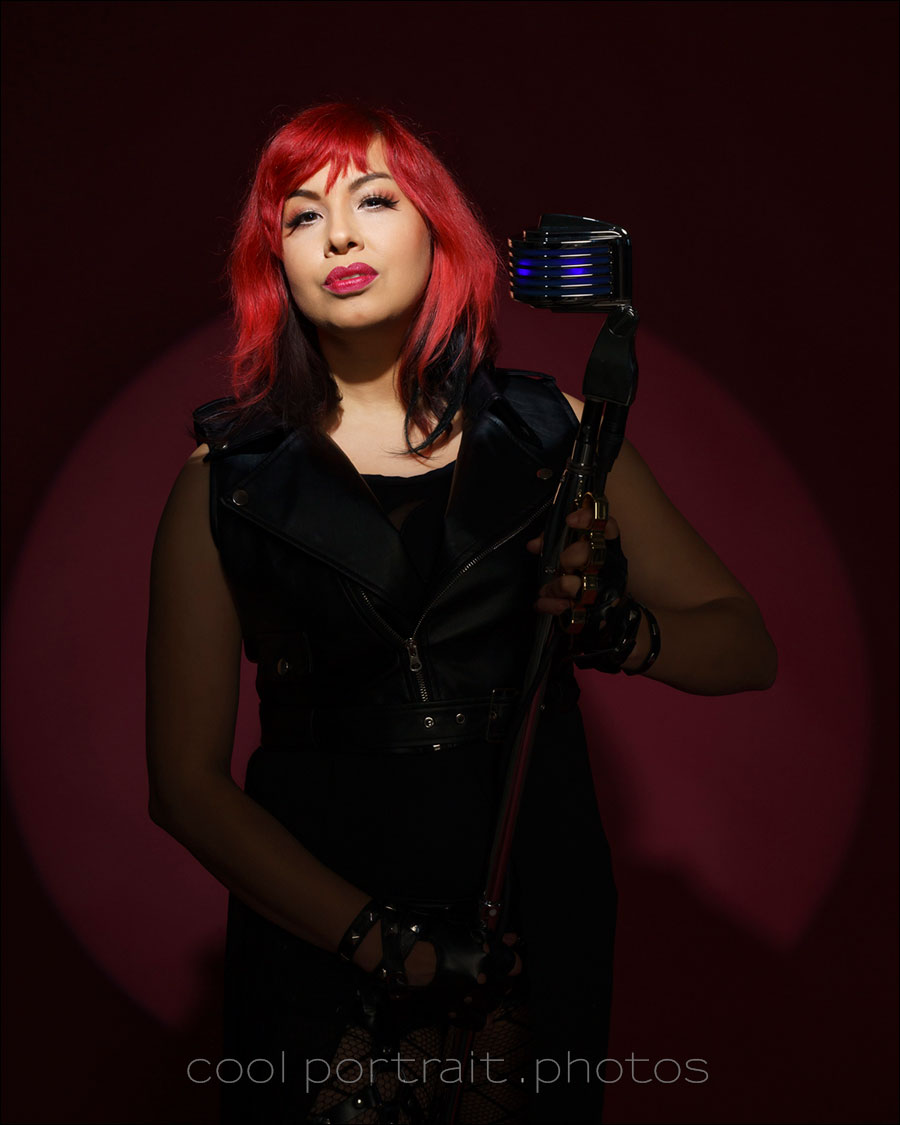 Dramatic studio lighting with the Profoto Spot Small
For portrait photography, soft, flattering light is easy to work with. You can more easily pose your subject compared to when the light source is small. Also, it is more immediately flattering to you subject. You have to be really specific in how you pose and position your subject when you use a harder / smaller light source.  This is true whether you use available light or studio lighting or off-camera lighting. For example, much of what I do with on-camera bounce flash, is to create directional soft light from what starts out as a small light source — a speedlight.
For all that, dramatic light looks … well, just dramatic. When used effectively, a harder light source can make a portrait really eye-catching.
Examples on this website where I have shown attempts in the studio to create concentrated light:
It's a bit of a mission to work like that. The obvious alternative option would be to use snoots and grids.
Then this article caught my attention –
The Best Light Modifier No One Knows About
. I was immediately intrigued by the
Profoto Spot Small
 (
affiliate
).
It's become a sought after item since Profoto ceased offering it. However, I eventually found one by setting up notifications on eBay for when one of these became available again. And I snagged it!
The Profoto Spot Small (affiliate) is an interesting device, and makes it easier to get a well defined circle of light. You can add gobos to create patterns.
I have started to explore using this more in the studio, and I'd like to show one of the first times I used it during a photo session.
For new promotional photos of my fiends in the band, Cut Like This, I decided a more dramatic look would suit them. First up is their dynamic singer, Rose Blood. I wanted it to look like she was lit up by a spot-light on the stage.
Both these photos were lit by the Profoto Spot Small to highlight her. There was a touch of fill light from a large octabox behind me. This light was set around 3-4 stops under the main light.
Camera settings & photo gear used
f/5.6  @  500 ISO  @  1/125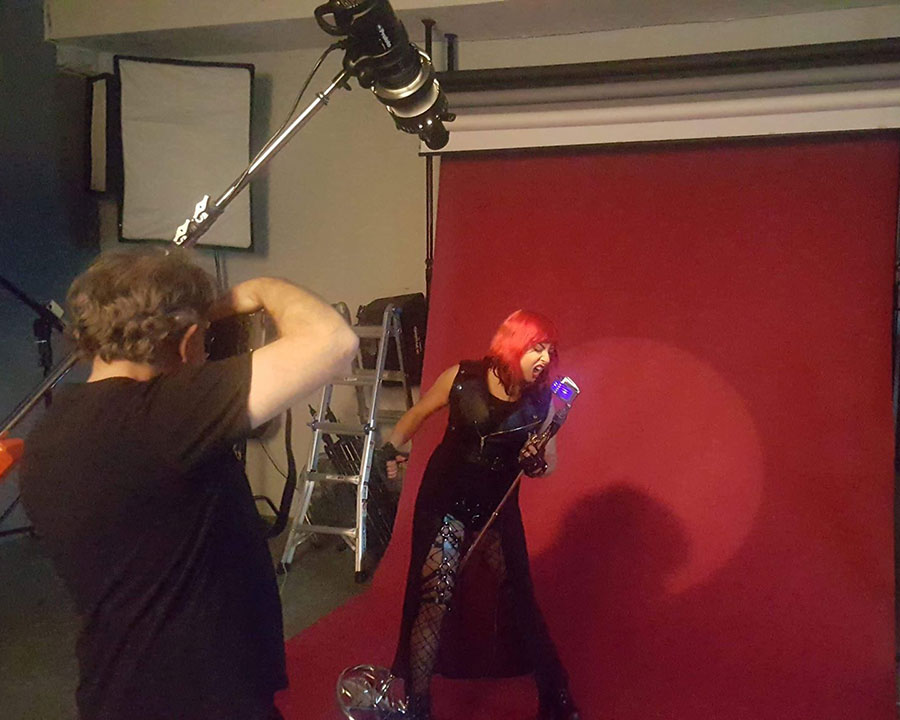 ---
This idea to take a group photo of the band, but only highlight one member at a time, progressed to creating an animated GIF where the light cycles past each band member.
I took 40-50 frames of each of them, and ended up using the 10 best images to compile the video clip / animated GIF.
This pull-back shot (shot straight on) will show how I elevated each of the band members to be approximately the same height. This meant I could keep the camera static on a tripod, and only change who I am focusing on.
The specific focusing points of the Sony A9 which go all the way to the edge, made this easier. A DSLR with the focusing points clustered towards the middle would have made focusing less easy than with the mirrorless camera.
The hot spot that you see to the left, is the bare Profoto D1 flash that I bounced into the studio area, to give a gentle fill light. I had a Profoto zoom reflector on it to help contain the spread of light into the studio.
Camera settings & photo gear used
f/5.6  @  200 ISO  @  1/125
Sony 24-70mm f/2.8 GM  (B&H / Amazon)
Profoto Spot Small as main light
The 2nd Profoto B1 was bounced into the studio to camera right.
(Therefore in this image the bounced light is pointing directly at the camera.)
---

Related articles