Dramatic portraits: Hollywood Portrait Lighting
Shooting for my portfolio in the studio with a model, Kimberly Jay, I wanted to create sets of feminine portraits that looked dramatic, and straddled the boudoir photography genre and had a Film Noir look to them. The classic look of Hollywood portrait lighting has long drawn me, and with a set of  Litepanels Sola 4 LED Fresnel Lights  (B&H / Amazon), it is a look that I am still trying to finesse.
Other photo sessions where I have drawn on the Hollywood look:
This sequence of images that I shot with Kimberly, was with more dramatic intent than the other more 'light & airy' style boudoir photographs we took. With a cigar as a prop, I aimed for that Noir look. These Litepanels Sola 4 LED Fresnel Lights (affiliate) are daylight balanced. However, the main light on her was gelled with an amber colored gel. This meant the light from behind her turned blue in relation. This rim-light was gentle, and was intended to give a subtle light on her, but specifically light up the smoke from behind.
For this session I used two different cameras & lens combinations:
– My current workhorse combo – the Nikon D5 (affiliate), with the versatile Nikon 24-70mm f/2.8E VR  (affiliate).
– The Sony a7ii (affiliate) with the incredibly fast aperture Mitakon Zhongyi 50mm f/0.95  (B&H / Amazon) lens.
The photo here at the top was shot with that Mitakon Zhongyi 50mm f/0.95  (B&H / Amazon). It is slow to use, because of the demands of the super-shallow DoF, but the lens does give a specific look, as shown in this previous article: re: Portraits with vintage lenses. However, without a specific background (or foreground) to play with, the lens' qualities didn't quite shine. Still, you can see the shallow DoF giving a rapid drop-off in sharpness here.
The rest of the images shown here are divided into two groups – those shot with the Nikon, and those shot with the Mitakon. The lighting remained consistent.
---
Books on Hollywood portrait lighting
---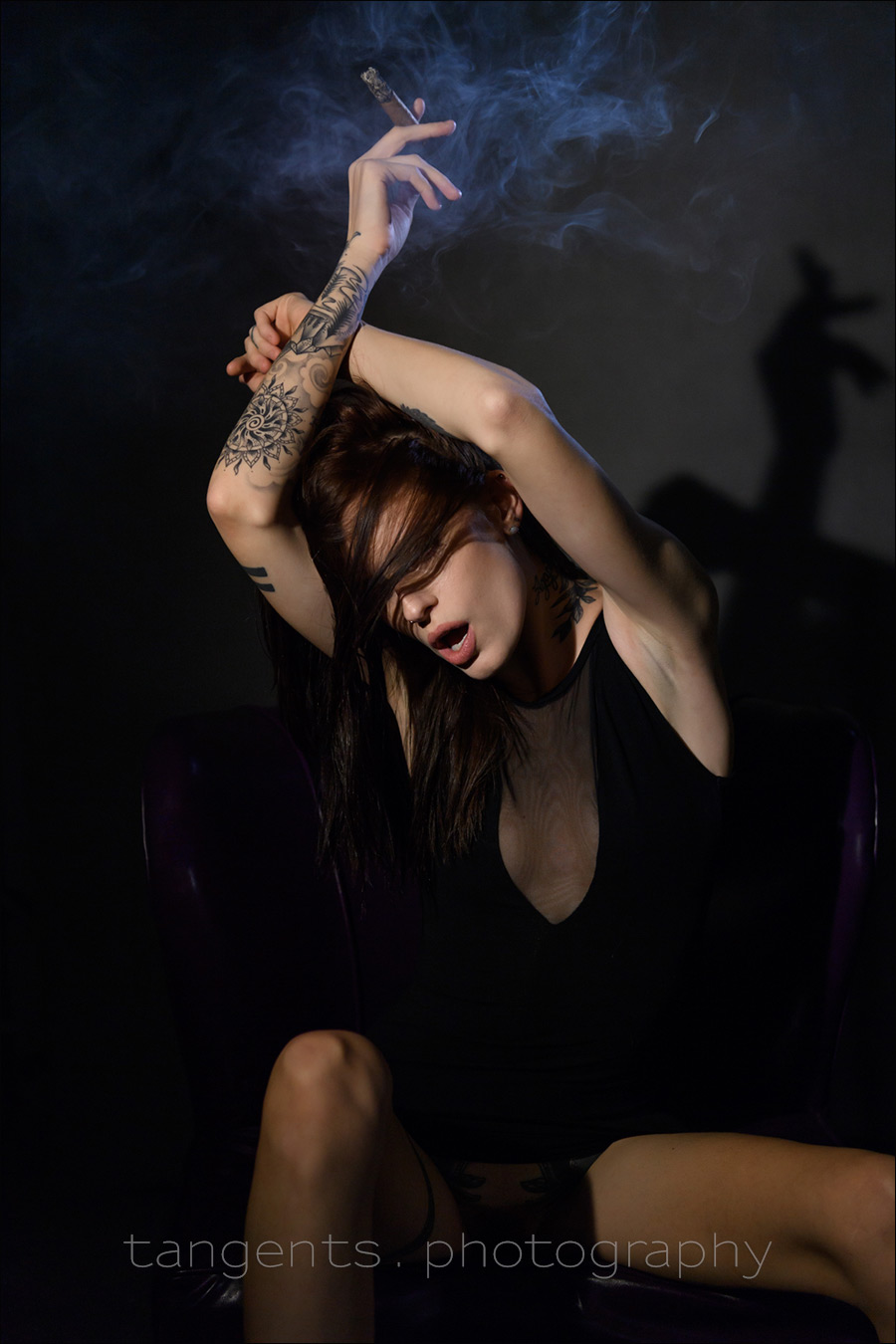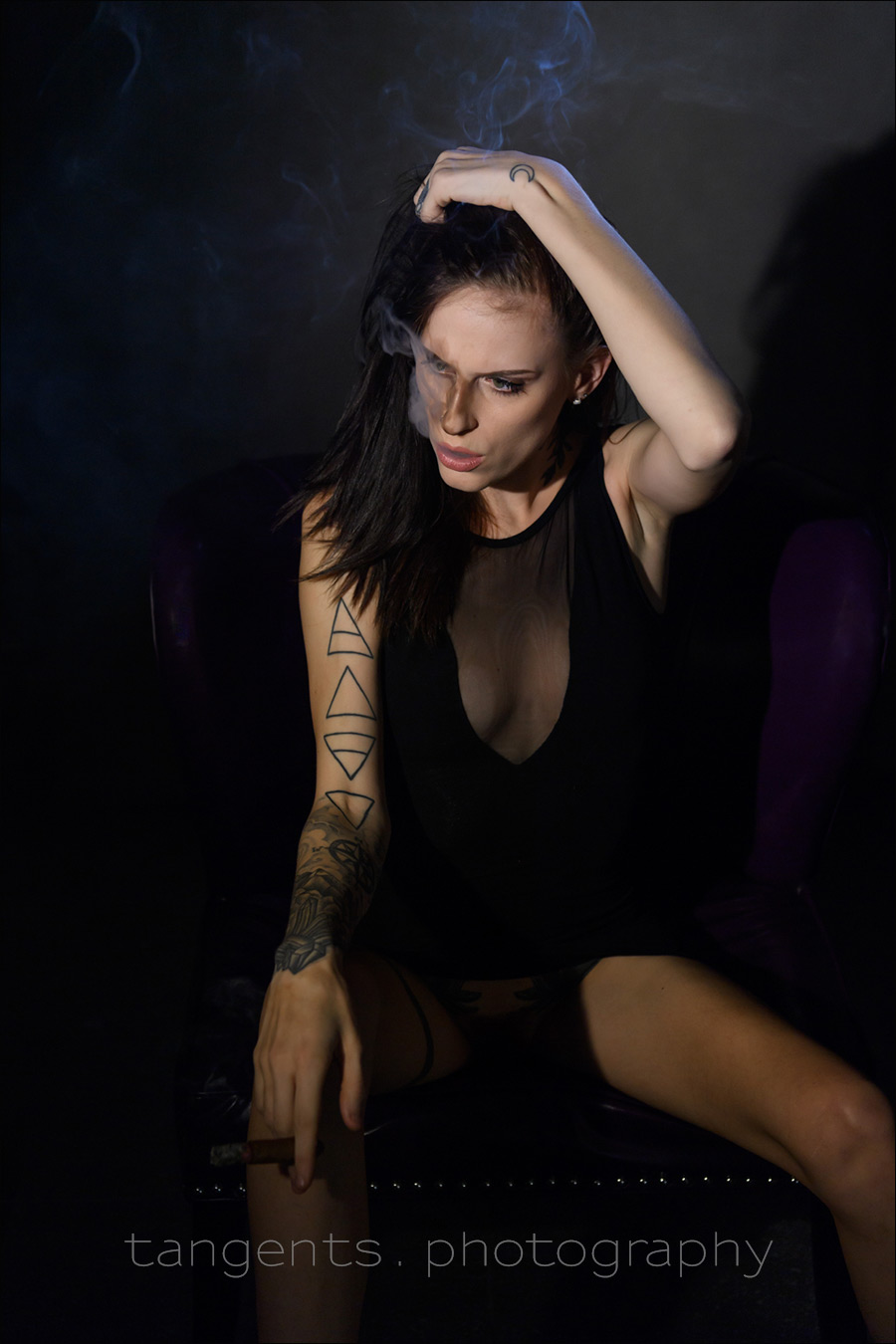 ---
These two pull-back shots will show the placement of the two Litepanels Sola 4 LED Fresnel Lights  (B&H / Amazon). Because the lights are relatively small light sources, it did restrict how Kimberly could move. This makes posing with smaller (more dramatic) light sources more critical.
As mentioned above, these LED fresnel lights are daylight balanced. Since the main light was gelled with an Amber colored gel, it meant the light in the background shifted to blue in relation. This is because the camera's WB set to that of the main light, for a neutral WB where the skin tones look good. Hence, the background light shifted to blue.
The backdrop is by Oliphant Studios.
My studio is available as a rental studio, and these and other lighting kits (and the backdrop) are available for use.
---
1/320  @  f/0.95  @  200 ISO
This next image, showing the backdrop and setup, was shot with the Mitakon 50mm f/0.95 and you can clearly see the quick fall-off in sharpness.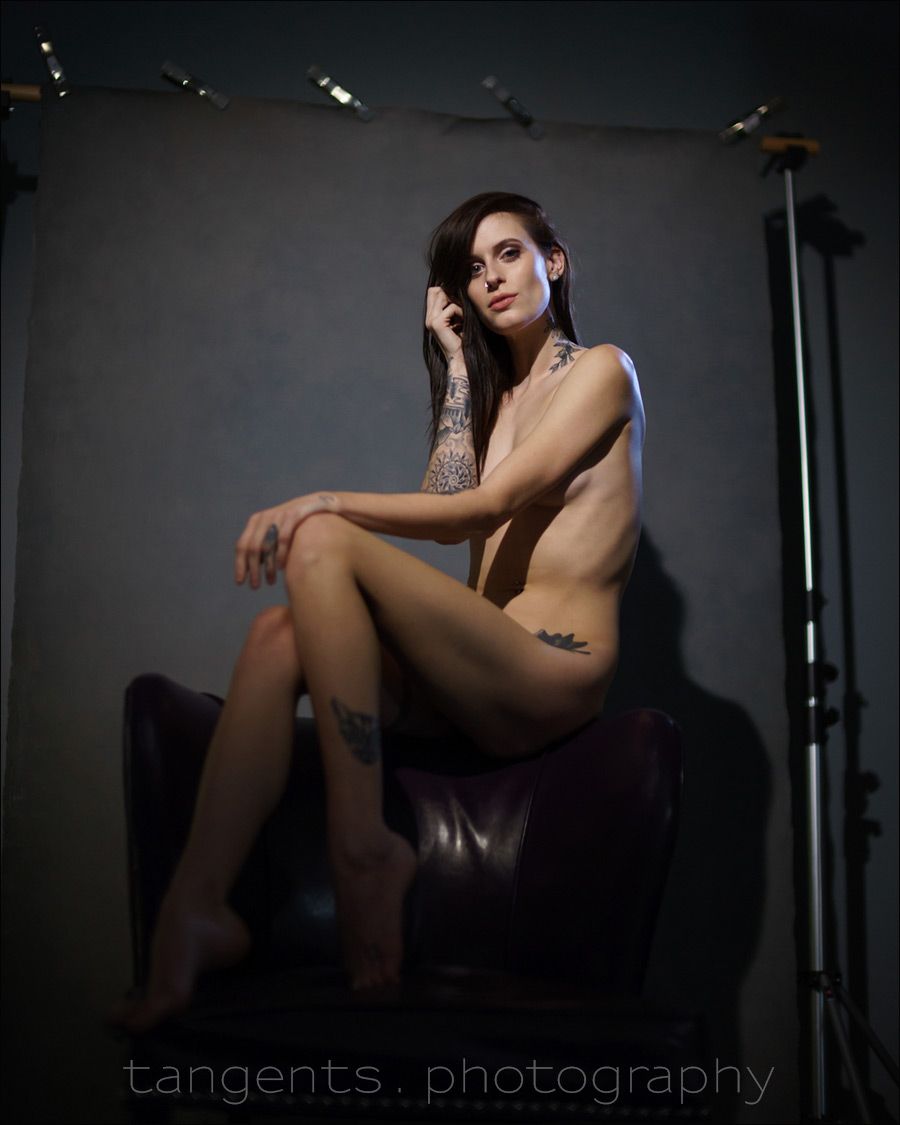 1/320  @  f/0.95  @  200 ISO
---