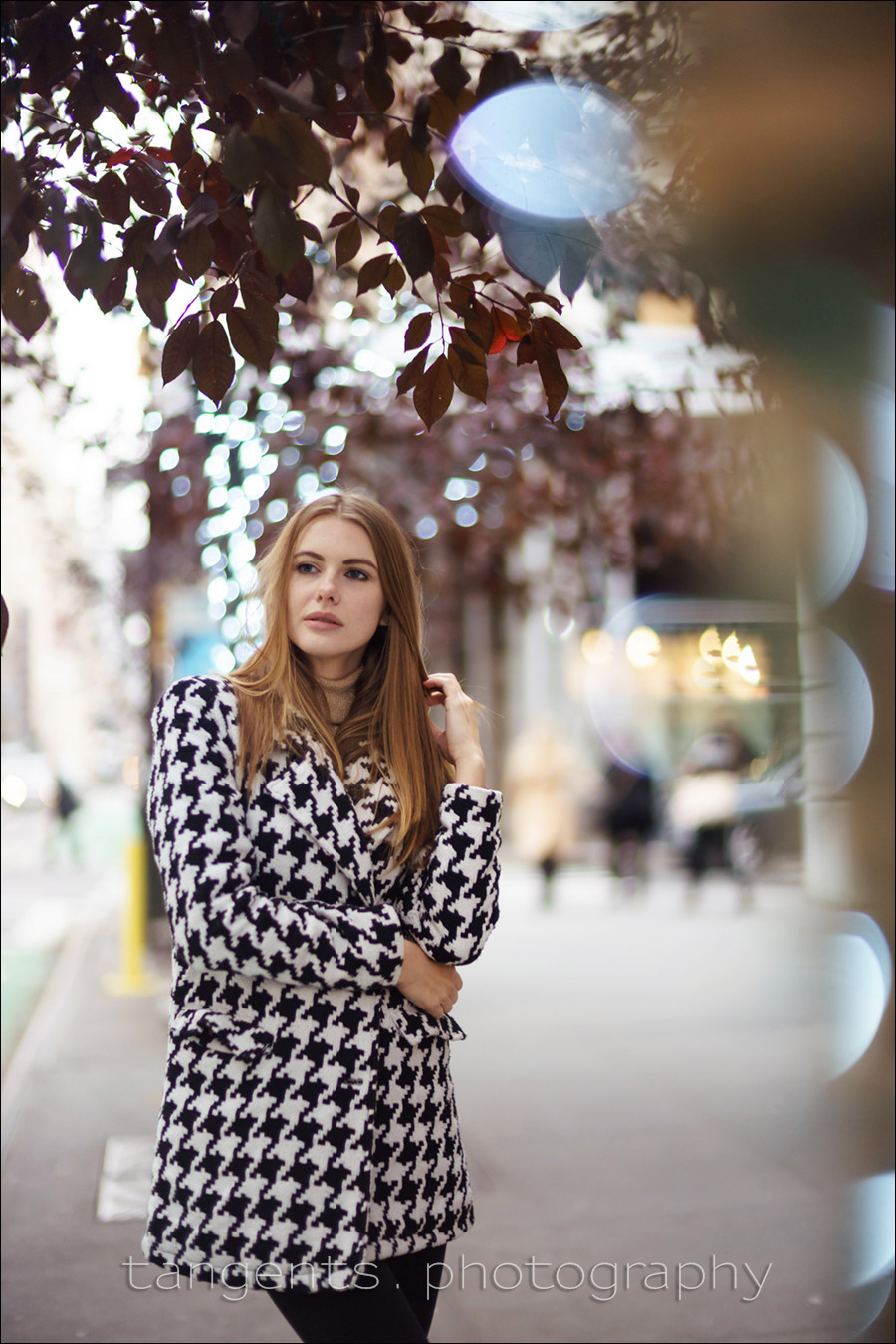 Portraits with vintage lenses
That crazy bokeh there is via the Mitakon Zhongyi Speedmaster 50mm f/0.95  (B&H / Amazon), taken at widest aperture, giving this wafer-thin depth of field. Even though this is a new lens, I would classify it as a classic or vintage lens. It is manual focus, and gives that delicious look to images exactly because of that DoF and bokeh. In terms of the composition, I like how the blue lights in the foreground is echoed by the same lights in the background.
How this photo session with Anastasiya came about …
My friend, Parker J Pfister was in New York for a few days, and asked if I wanted to meet up for lunch. Via a few text messages this soon became, "We should find a model and play!"
I texted Anastasiya, and she was available to meet up with us.
I then asked Parker what camera he was using – Sony A9 and A7Rii.
Good, I wanted to try out a recently purchased vintage lens, to be used on my Sony A7ii.
I then asked him if he has or needed lighting of some kind.
"Nope. I'm fine without. I am super low tech", came the reply.
So there we had it – a near-impromptu photo session with Anastasiya out on the streets of New York, using available light, and shooting with some classic lenses. I should tell you then that Parker has given me some advice over time regarding which vintage lenses I should seek out. So there's that common point.
I love working with, or observing other photographers. There's often something that you can pick up and learn from them. Have a look at Parker's website, and you'll see work with a distinctive artistic style. So more than just hanging out with a friend over lunch, and taking a few photos for fun, I was excited at the idea of seeing him work with a model that I've often photographed.
This for example is where the photo above came from. It was a cold, grey afternoon. My first instinct would be to fall back on my usual approach – using off-camera lighting to punch up the portrait, as shown in this previous example with Anastasiya: Checklist for portrait photography on location.  It becomes a familiar fall-back. On the one hand it can be seen as a style, however, it can also be limiting in that it is "the same old thing" after a while.
With this photo above, I followed Parker's idea of shooting with layers in mind – foreground and background layers. He stood close-up to some small blue lights wrapped around the tree trunks on that street, forcing these lights to appear as large defocused bulbs of light … which are then echoed in the background.
And you may well think this idea of using layers isn't unusual, and it's not. What I want to underline here is that most of us go along with our habits – a usual way of working. So this was just a good nudge again to be more aware, and look for more interesting opportunities than just relying on a default way of working. I need to be more aware again of the less ordinary, such as this in this example – using interesting available light – where I photographed Olena who was lit by the sun reflecting off the back of a stop sign. I need to be more alert again.
The photo at the top and this one below, were both shot at f/0.95 – an aperture where you have to be super careful about focusing. The way that the Sony mirrorless cameras implement manual focusing, make them really ideal for this.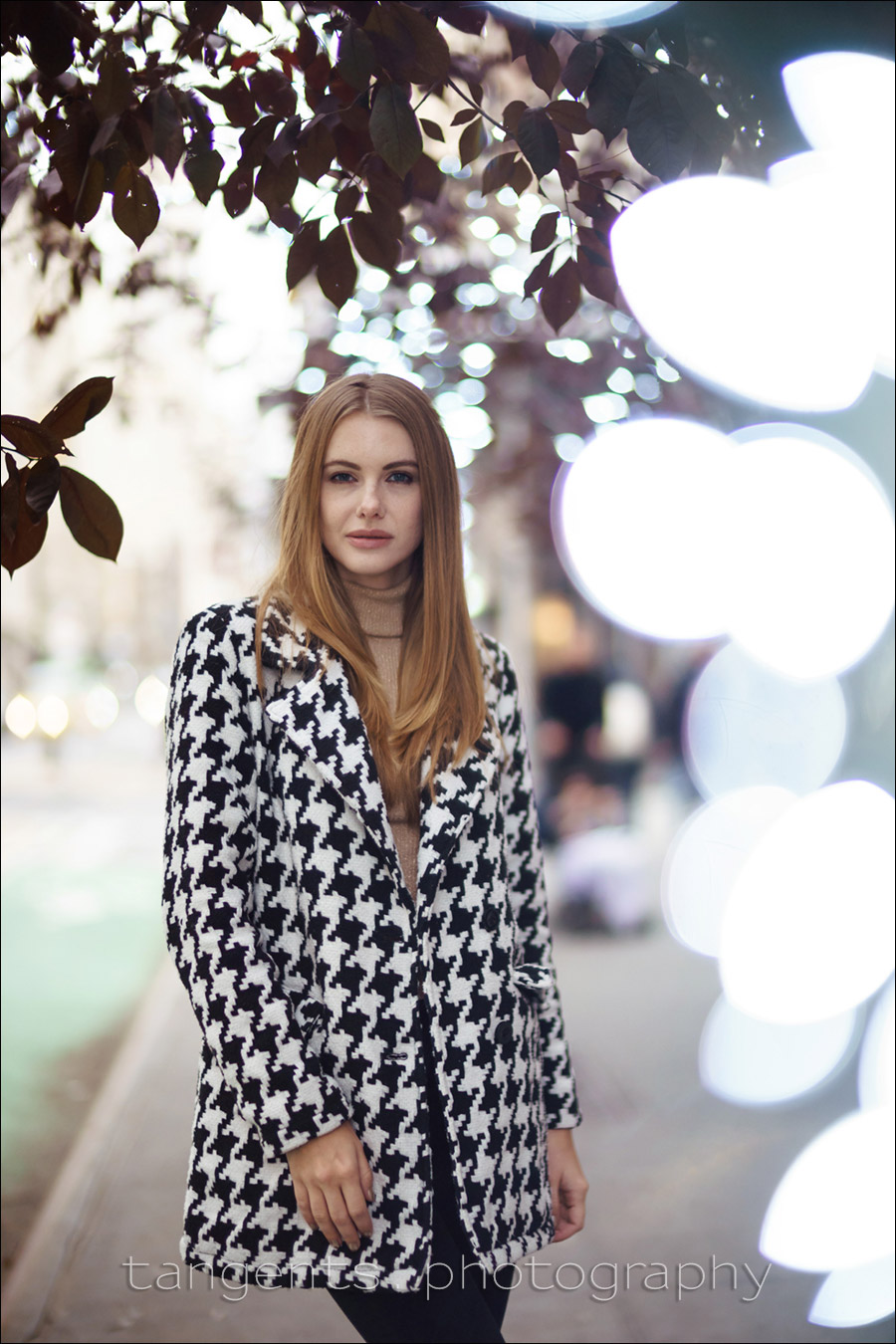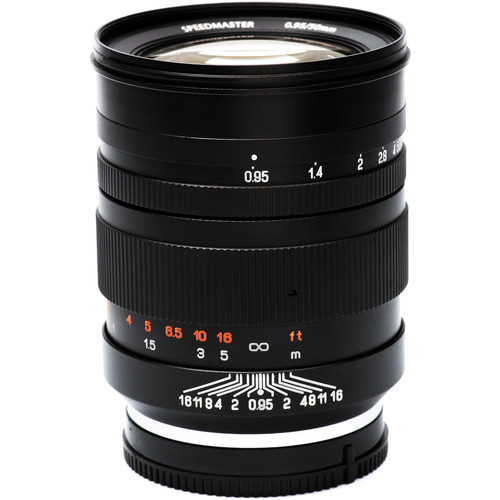 Mitakon Zhongyi Speedmaster 50mm f/0.95
The Mitakon Zhongyi 50mm f/0.95 (B&H / Amazon) is a manual-focus lens available in the Sony E-mount. The super-wide maximum aperture of f/0.95 is unusual, and obviously creates a razor thin depth-of-field. More than that, the optical quality is such that it renders the scene with a somewhat dream-like quality in how the out-of-focus areas look.
9 aperture blades
Four Extra-Low Dispersion Elements
One Ultra High Refraction Element
Stepless, Silent Aperture Control  (ideal for use in video)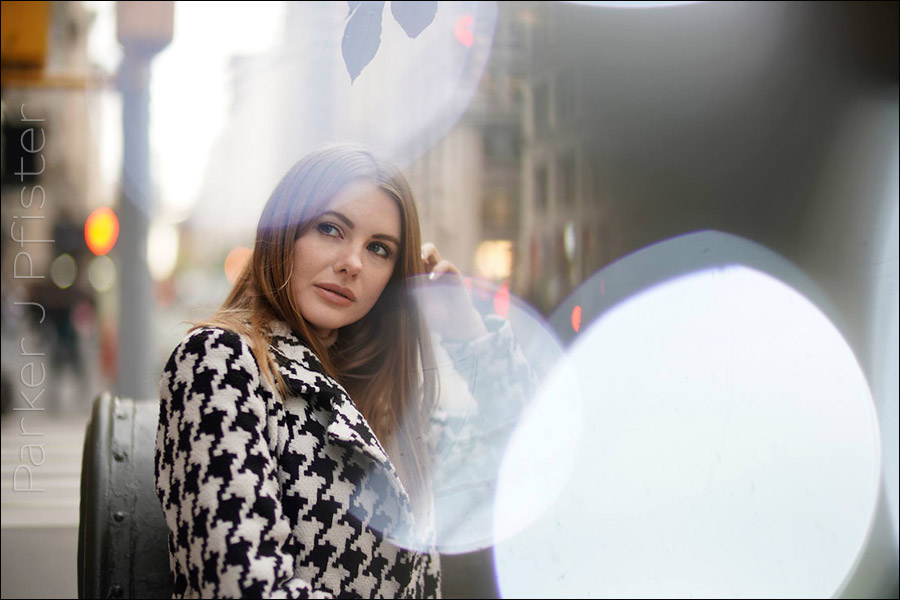 One of Parker's images shot with the Mitakon 50mm lens.
---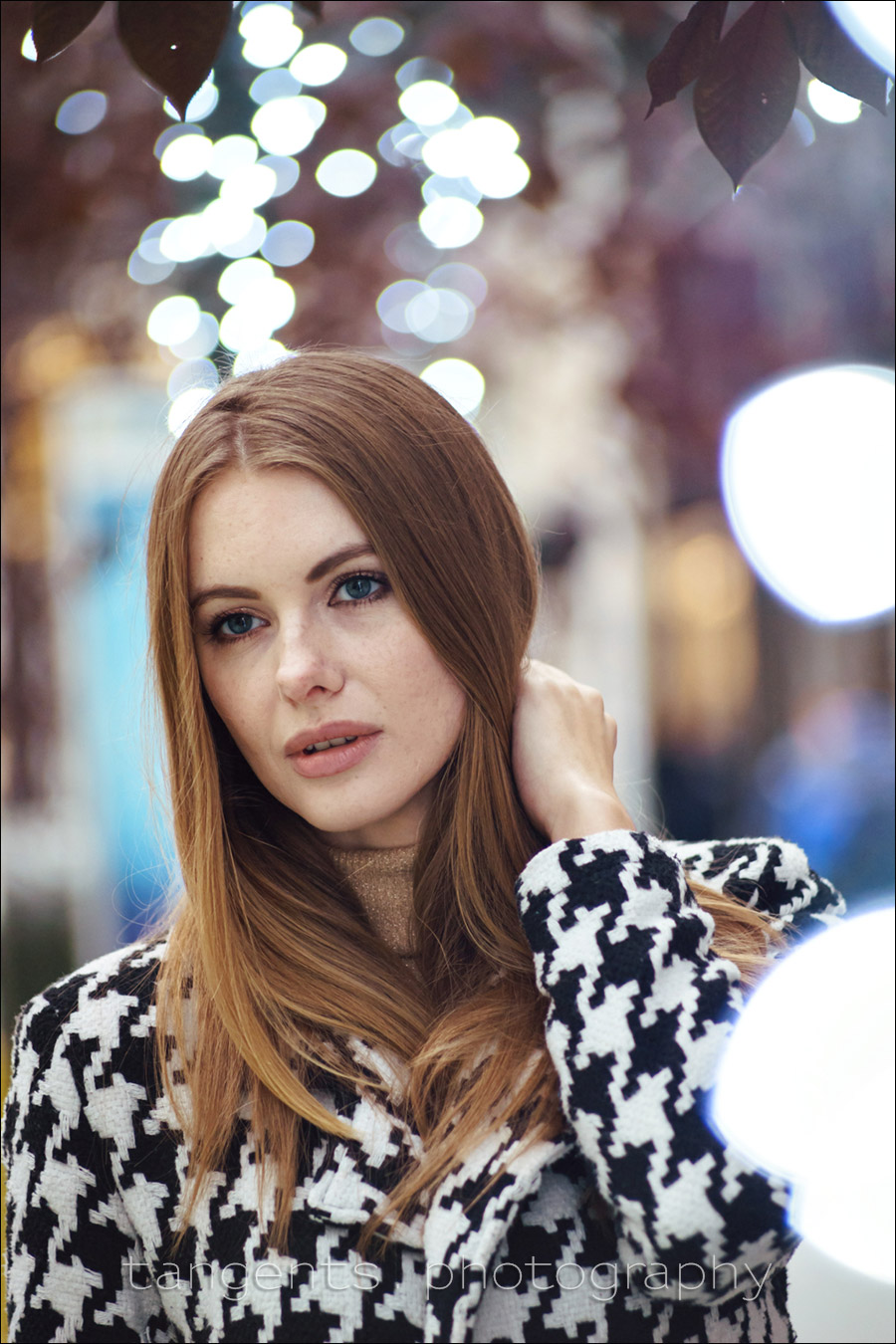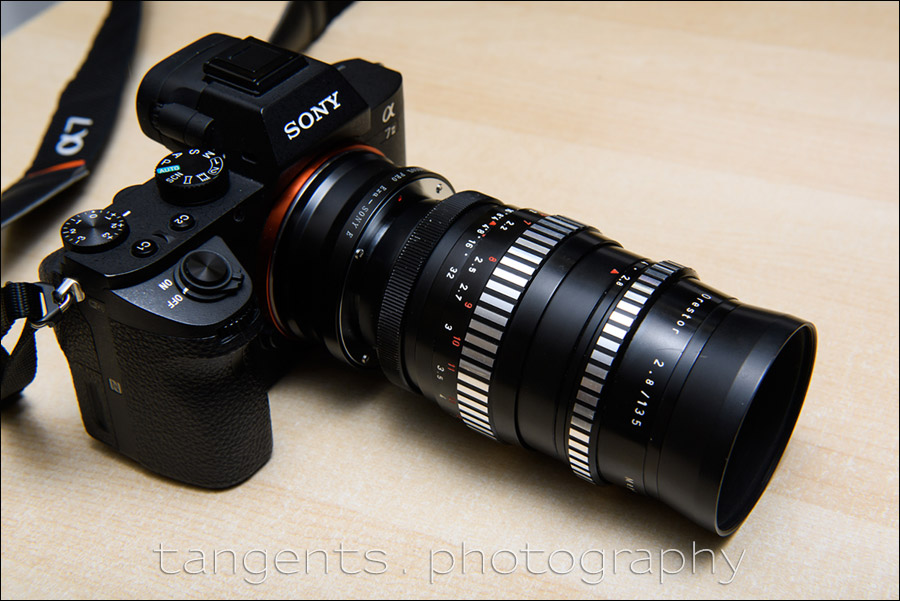 MOG Orestor 135mm f/2.8
Anastasiya, photographed with the Meyer-Optik Görlitz Orestor 135mm f/2.8
I was hoping that the background would have more of the bubble bokeh as some of the Meyer-Optik Görlitz lenses are famed for, but the lights in the background were elliptical. Still a cool lens, but I will have to actually get the legendary Trioplan 100mm at some point.
Here we were still playing with out-of-focus elements in the foreground to create layers.
---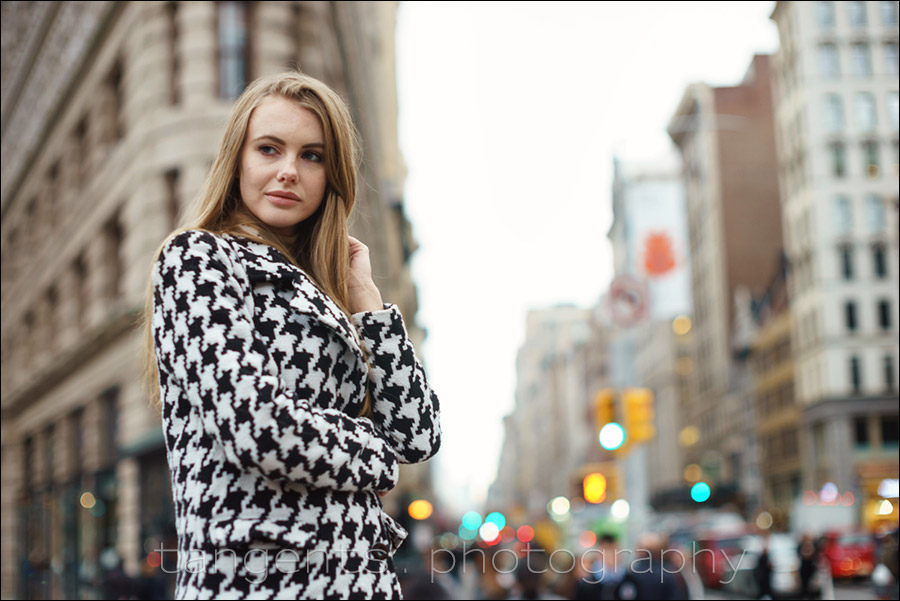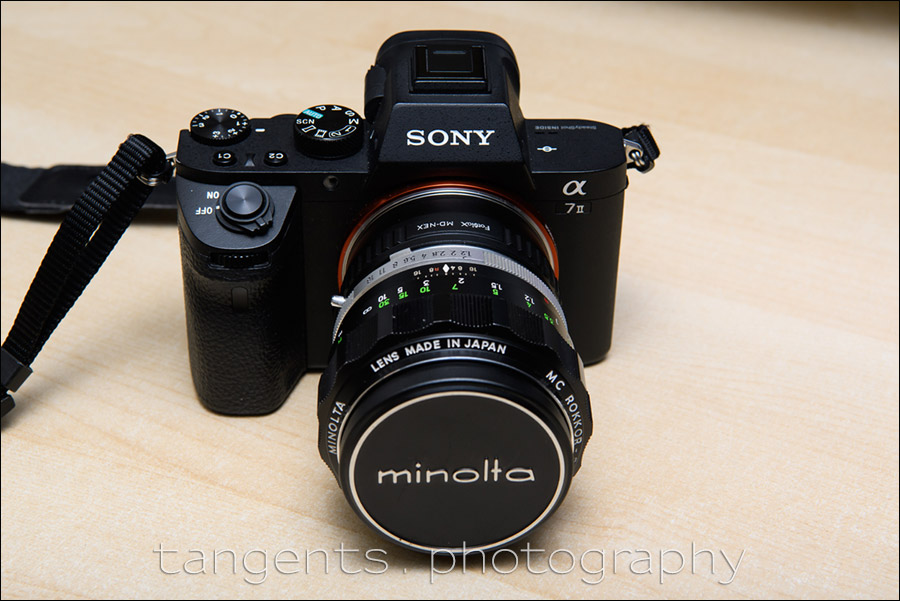 Minolta 58mm f/1.2
This lens is another that has an interesting bokeh, giving the background a painterly quality. At f/1.2 there is a soft hazy fuzziness to the photographs, which is something that could work for you. However, I prefer it at f/2 where the sharpness kicks in a little bit better. These three images of Anastasiya at the Flatiron building, were all shot at f/2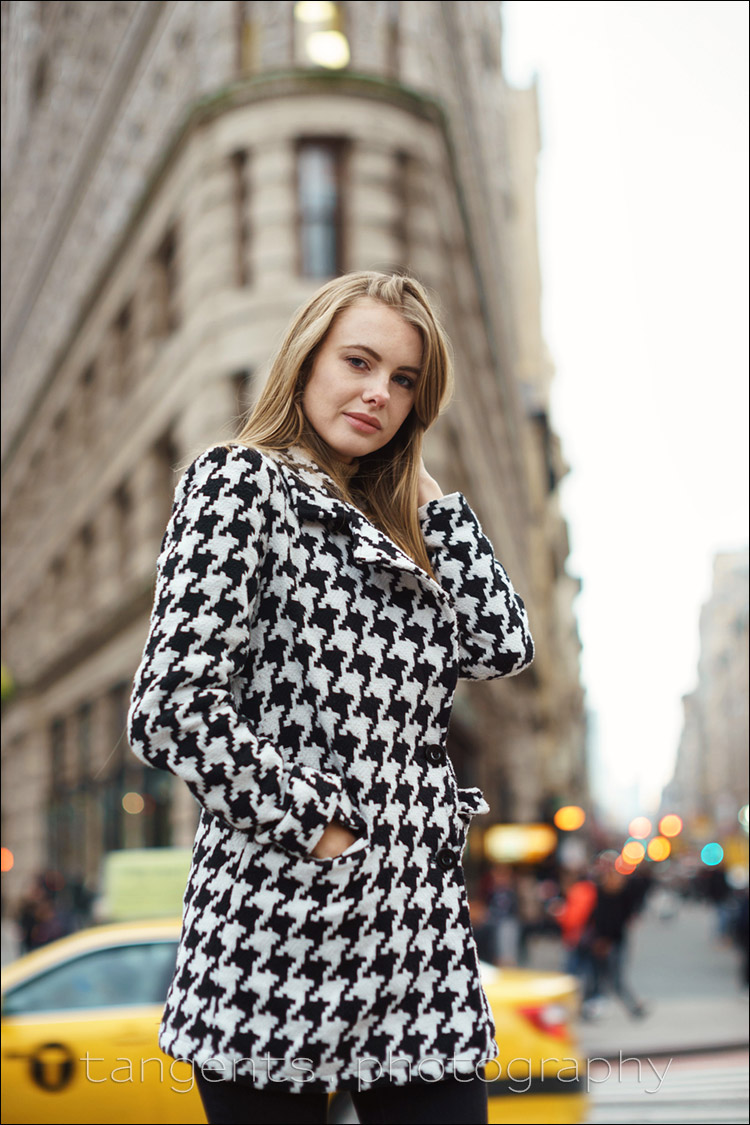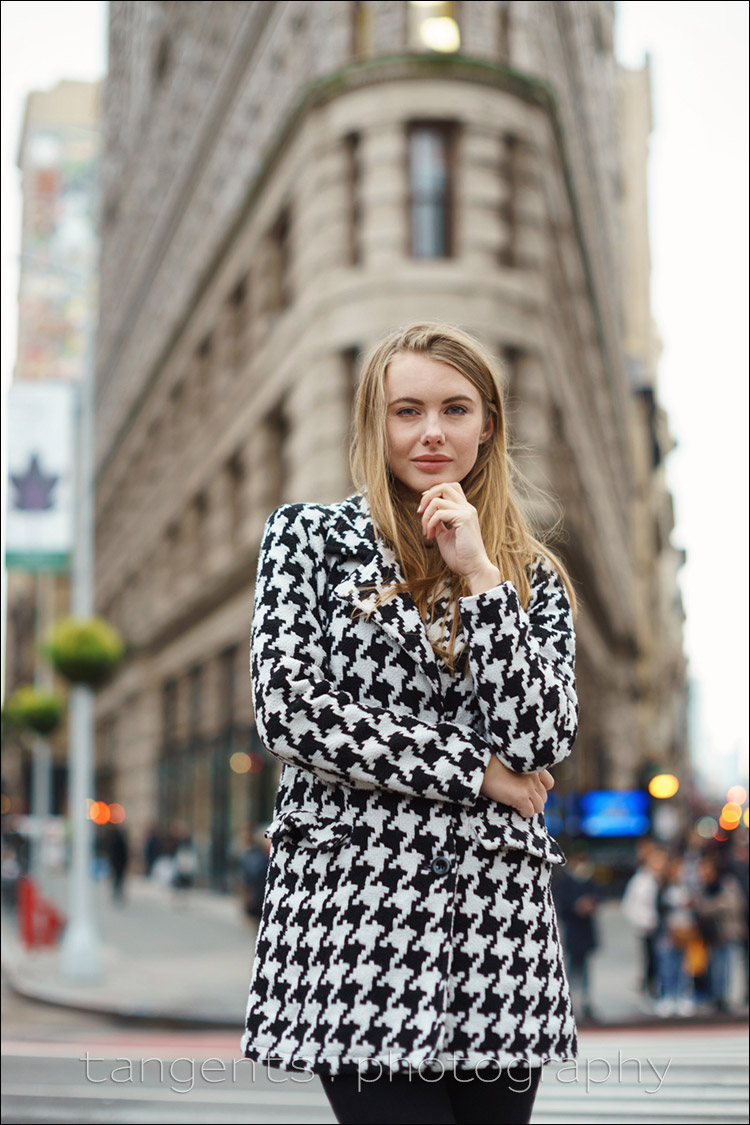 ---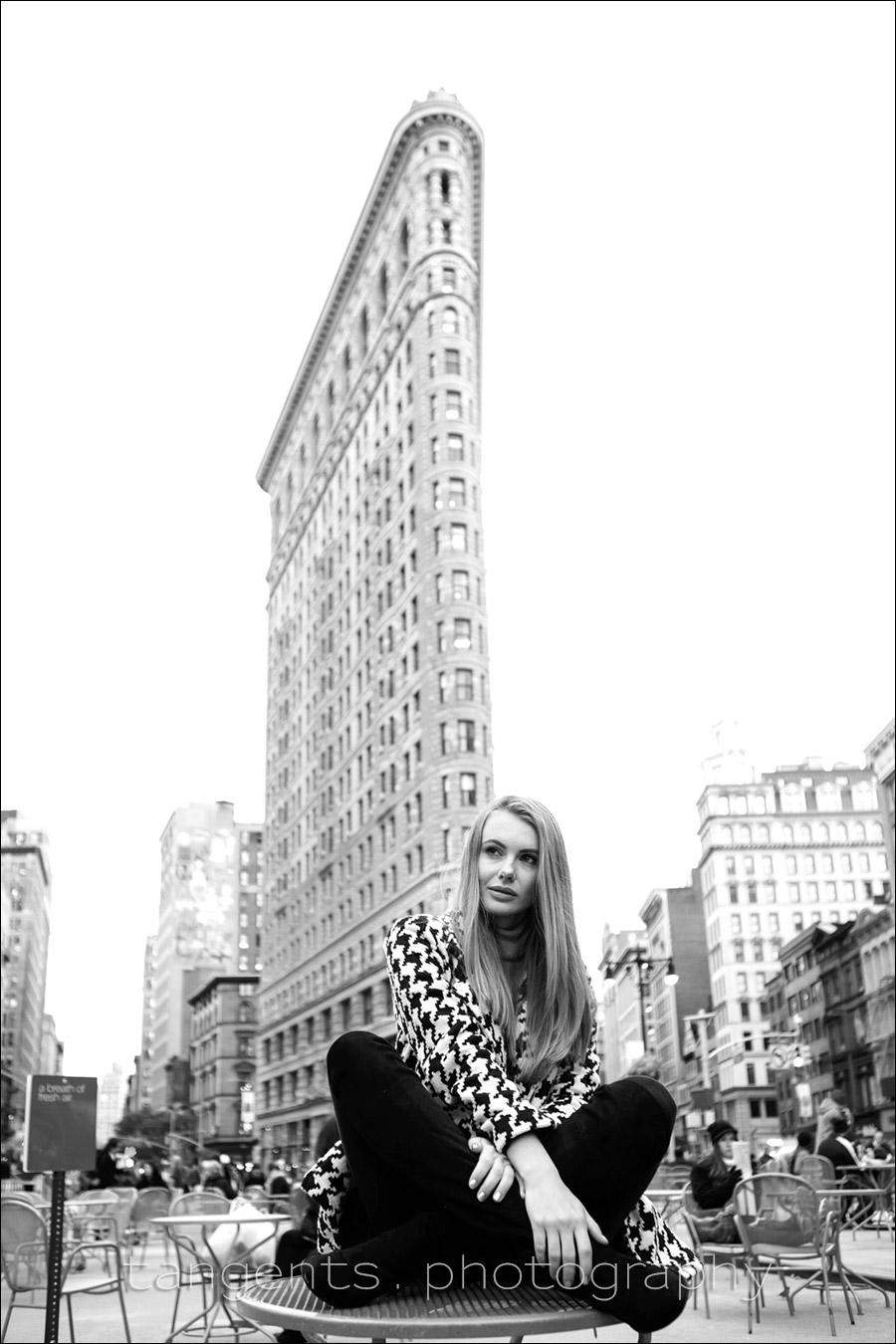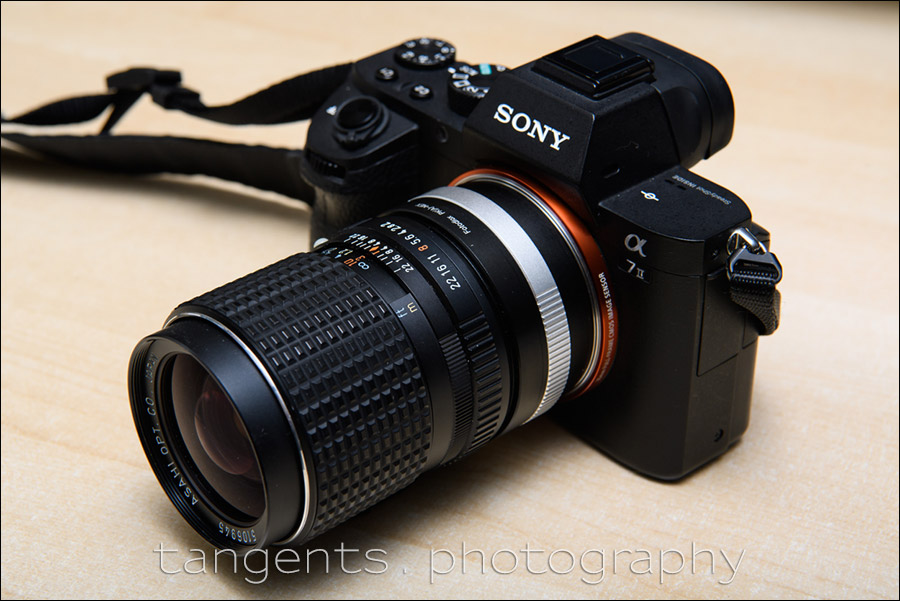 Pentax-SMC 28mm f/2
Still shooting near the Flatiron building, Parker set Anastasiya up on this table. He was shooting with a Sony 16-35mm lens, and I had my Pentax-SMC 28mm f/2 lens on. It was one of the very first vintage lenses that I went after, since it is a rare Zeiss-designed optic that only occasionally appears on eBay. I wrote about it in a previous article as well: Sony mirrorless cameras with vintage lenses.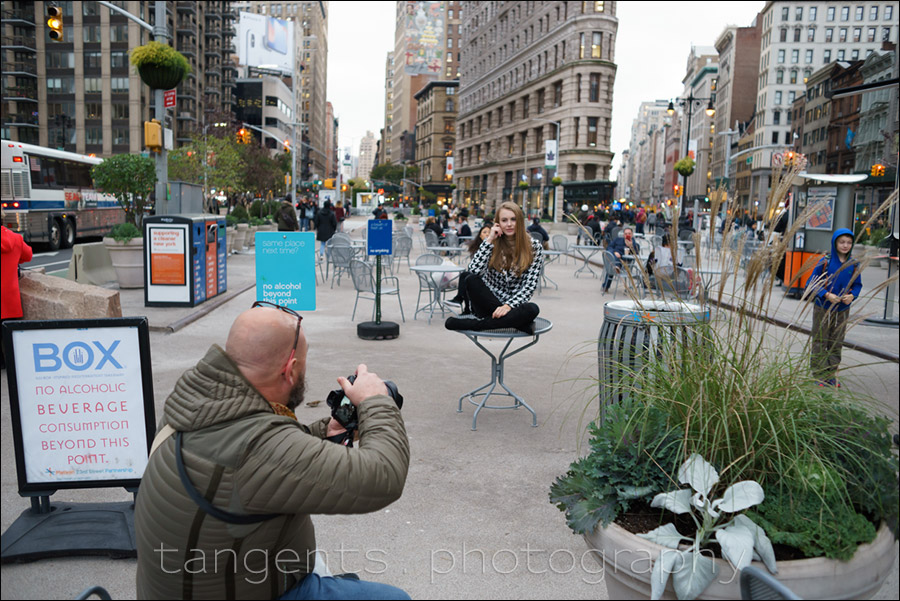 ---
Related articles