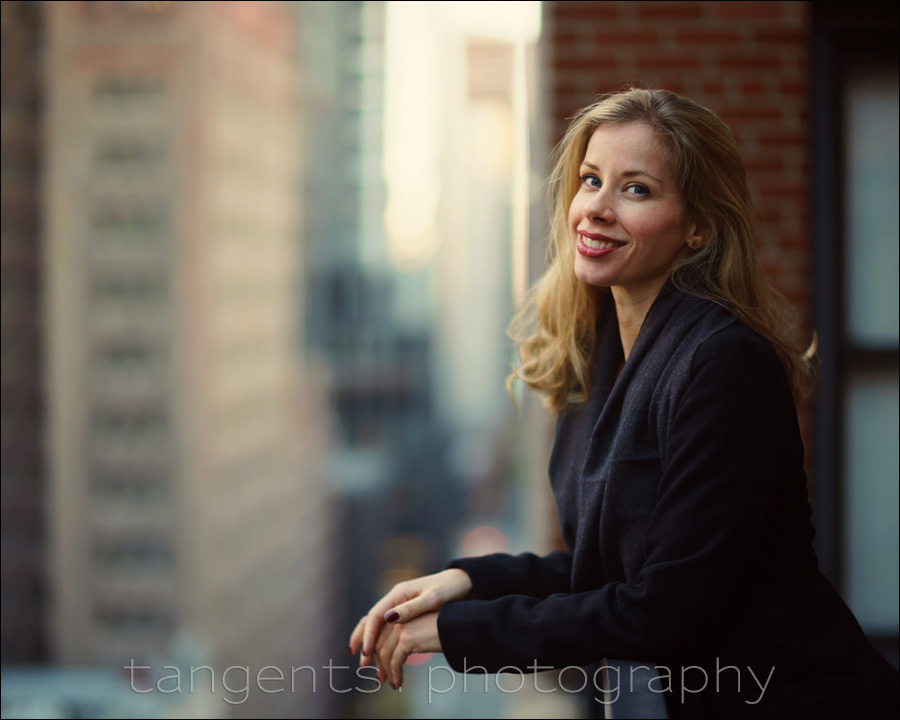 review: Mitakon Zhongyi Speedmaster 50mm f/0.95  lens
The Mitakon Zhongyi Speedmaster 50mm f/0.95  (B&H / Amazon), is an immediately impressive lens – it has that unusually wide aperture. Zero point nine five. Just how good is it then, you may well ask. Lenses with super-wide apertures tend to show some softness and optical aberrations when used wide open. Similarly then with the Mitakon Zhyongi – there are definite optical flaws, but this also adds to the character of the images you get with this lens. It's not just the super-shallow depth-field that defines what photographs taken with this lens might look like – the optical flaws help give a painterly quality to the photographs. I photographed several models with this lens and the images in this review should give you a clear idea of what you can expect from this lens. All the images here were shot at f/0.95
This lens is a Sony mount lens, and is manual focus only. Fortunately, the Sony A series cameras are ideal for using with manual focus lenses in the way that the Electronic Viewfinder (EVF) implements being able to see the focus details in the viewfinder. It also helps that the Sony bodies are stabilized – this is invaluable in clearly seeing the highly magnified image without camera shake.
You're going to need that magnified view to accurately focus this lens. With that narrow depth-of-field, your margin for error is really small.
How sharp is this lens?  Sharp enough … at the center. The edges go really soft, and there's a gentle haziness to the edges at full aperture. This helps give images that dream-like painterly quality. However, you will find your compositions will have to mostly centered. Portraits that are composed off-center don't fare well – they are just too soft with the critical details of the person's face. There are two examples in this review which show the sharpness at 100% at the widest aperture. As you'll see, it is "sharp enough" at that aperture (in the center portion of the photo. I did a few tests at medium apertures, and then this lens is really sharp edge-to-edge, but this isn't why you'd buy this lens or use this lens. You want that f/0.95 aperture.
---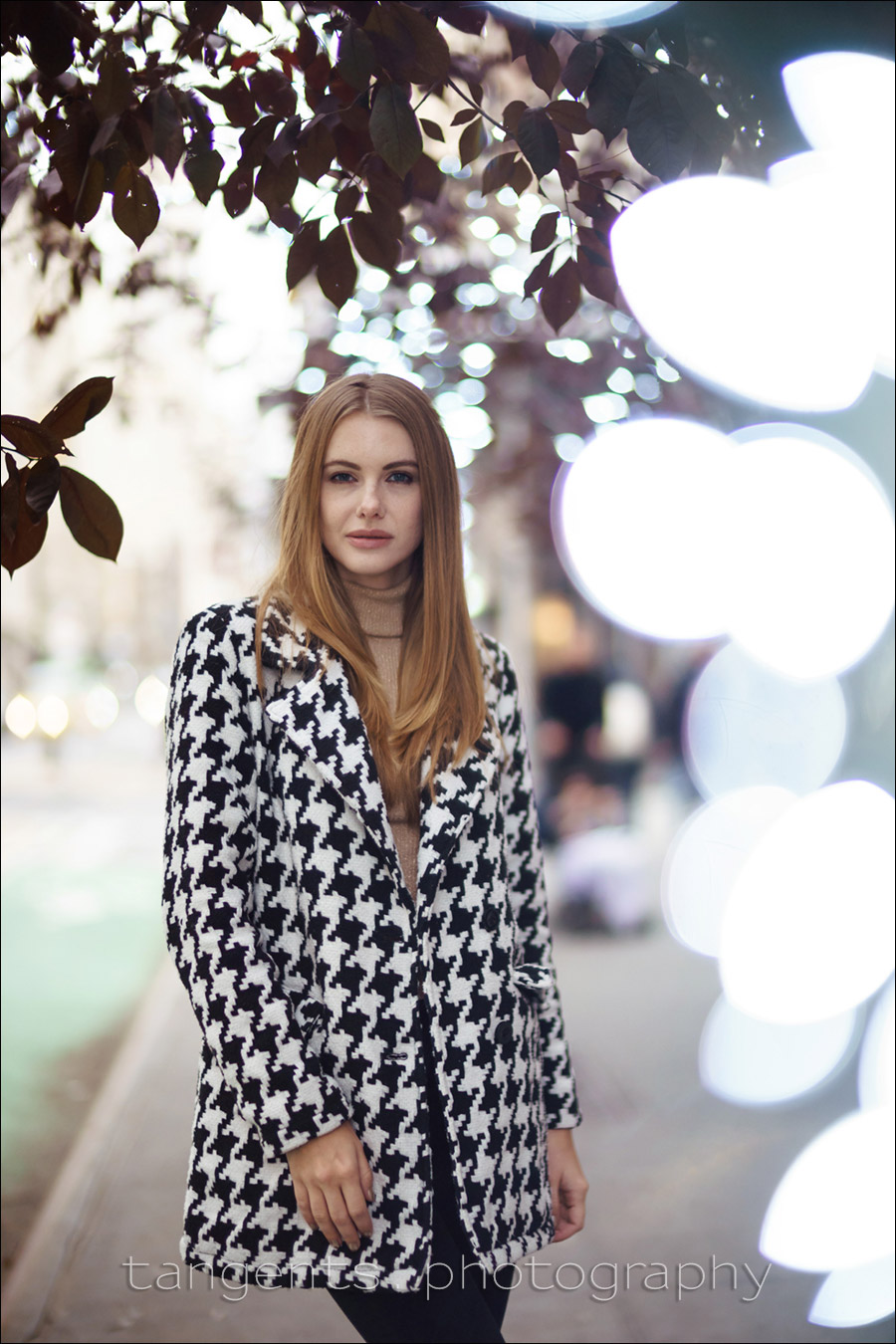 It was during this photo session – Portraits with vintage lenses – with my friend Pakrer J Pfister, that I fell in love with this lens.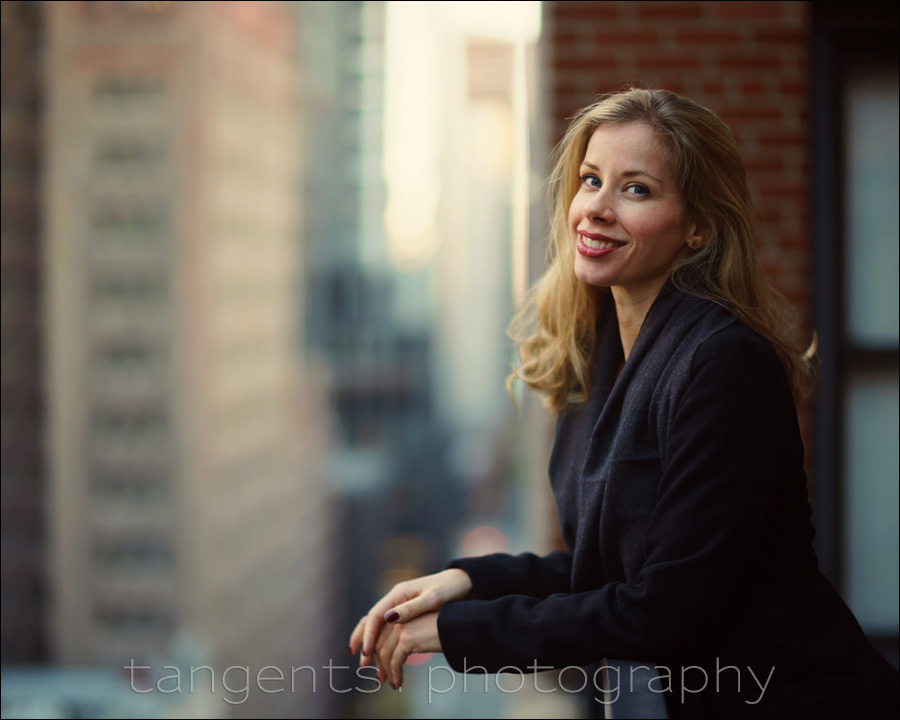 Leaning over the balcony of a New York hotel to get this diffused cityscape background. I just love how the distant buildings melt away here.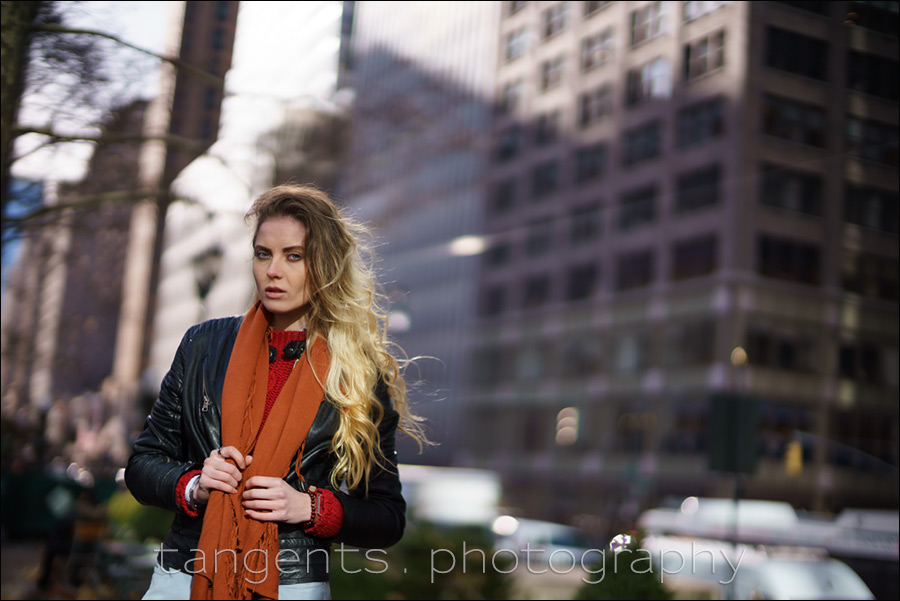 A busier background on 6th Avenue in New York. The lighting on our model is from sunlight reflecting off one of the many tall buildings surrounding Bryant Park.
I've done similar photos which look like off-camera flash, but really is light reflected off buildings.
Other examples of using available light like this, are described in these articles:
– Available light portrait photography
– Observing and using the available light
---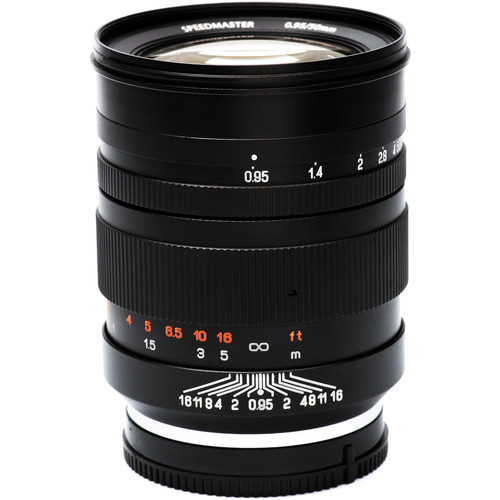 Mitakon Zhongyi Speedmaster 50mm f/0.95
The Mitakon Zhongyi 50mm f/0.95 (B&H / Amazon) is a manual-focus lens available in the Sony E-mount. The super-wide maximum aperture of f/0.95 is unusual, and obviously creates a razor thin depth-of-field. More than that, the optical quality is such that it renders the scene with a somewhat dream-like quality in how the out-of-focus areas look.
9 aperture blades
Four Extra-Low Dispersion Elements
One Ultra High Refraction Element
Stepless, Silent Aperture Control  (ideal for use in video)
---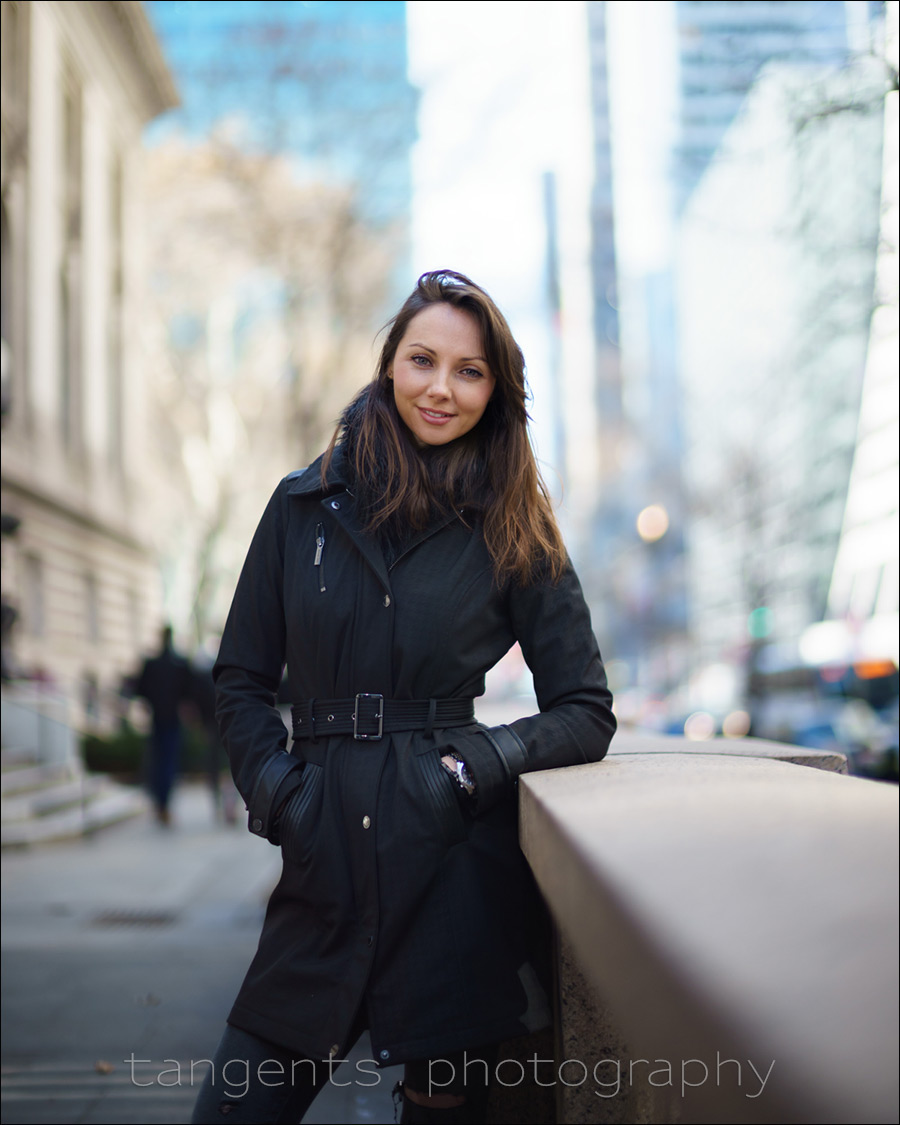 Here again you can see the pastel-like background – in part because of the shallow DoF, but also because of the over-exposure of the background. The city scenery behind Allira is that of 42nd Street in New York. Since the background is much brighter than the light from the shadow side of the library, I needed just a little more light on her. I  had my assistant hold up a Profoto A1 flash (affiliate) for off-camera lighting. Even though my copy of the Profoto A1 is a Nikon mount flash, I could control it in the usual way with the Profoto transmitter for Sony that was on my camera.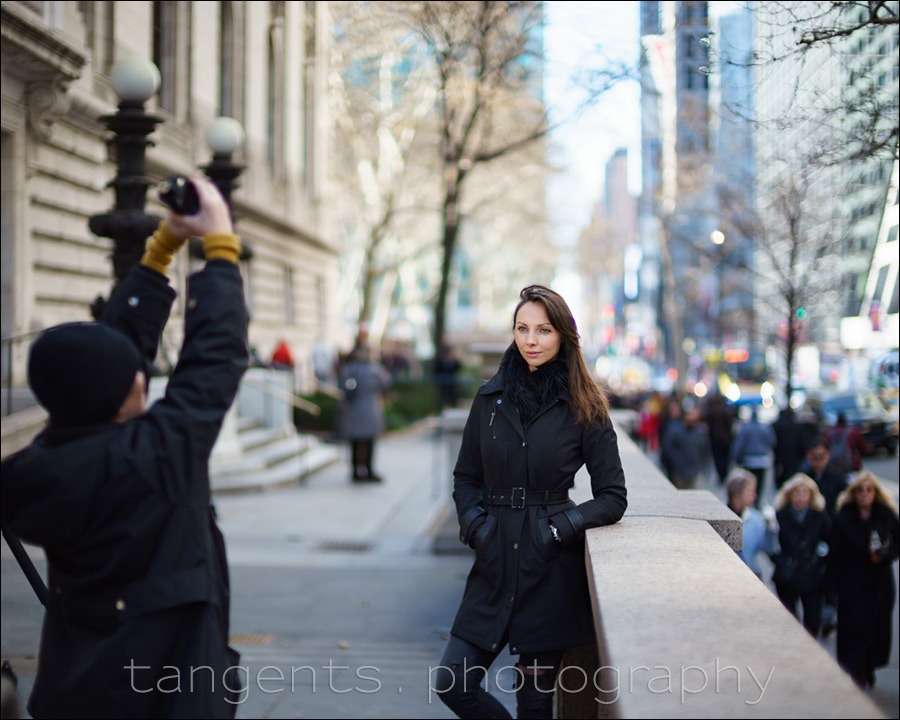 This pull-back shot also reveals something else of importance – this lens has a pretty harsh bokeh. It isn't "creamy" or smooth. There is a certain jittery quality to the bokeh which you can see in how the trees are rendered. Most times this bokeh is masked by the shallow depth-of-field, but it can be an intrusive element with some backgrounds.
It is important that we distinguish between the bokeh of a lens, and shallow depth-of-field. Those two terms aren't interchangeable! More about that topic: Bokeh vs shallow depth-of-field (DoF)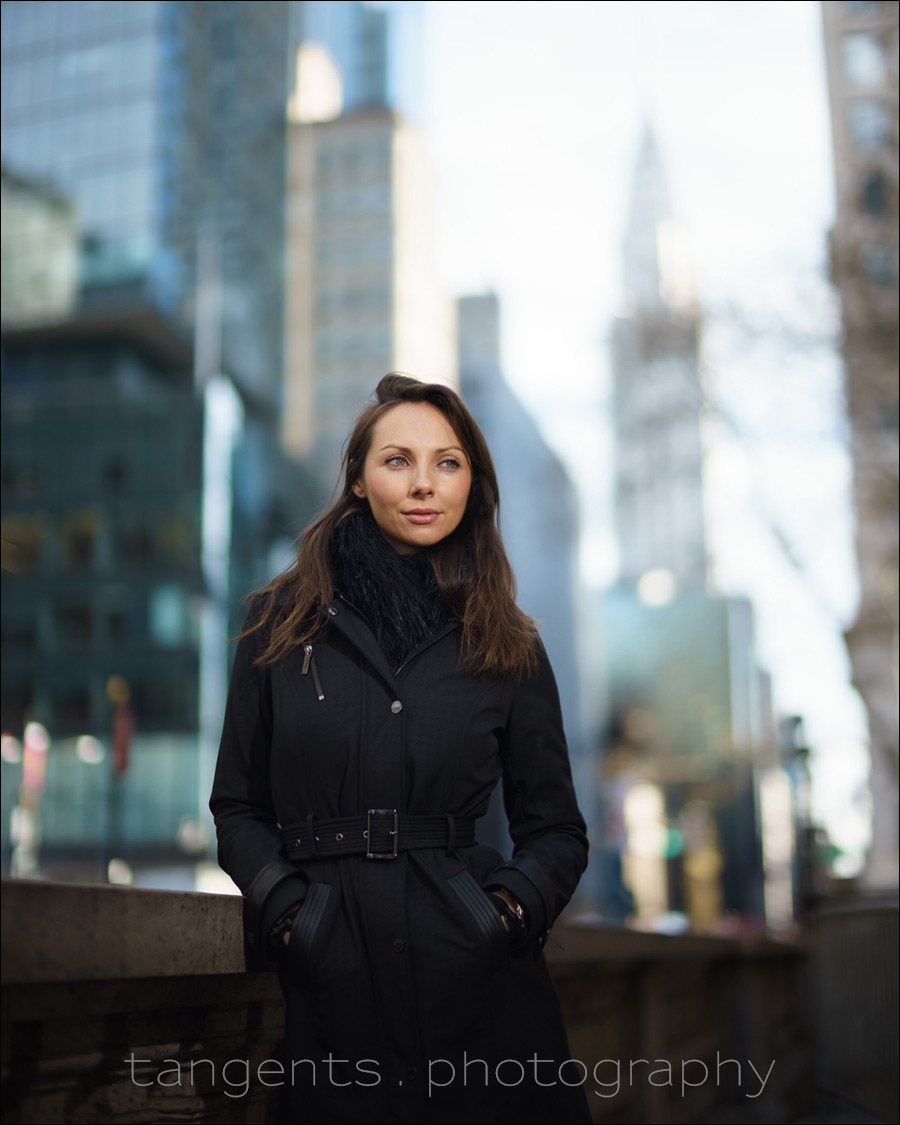 Similarly here, I needed more light on Allira to help balance the exposure for the background. Here the flash was a little more dominant, since I didn't want to entirely blow out the Chrysler Building in the background.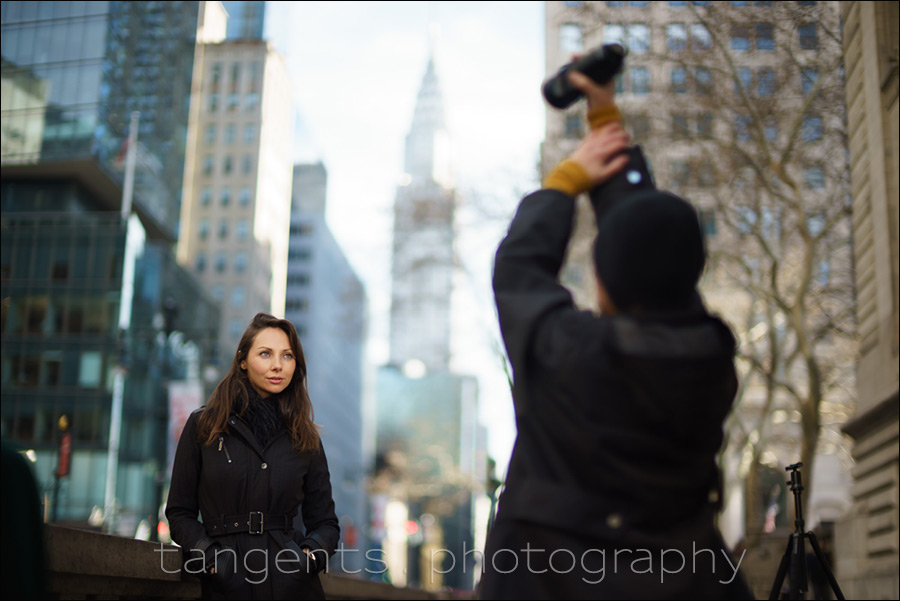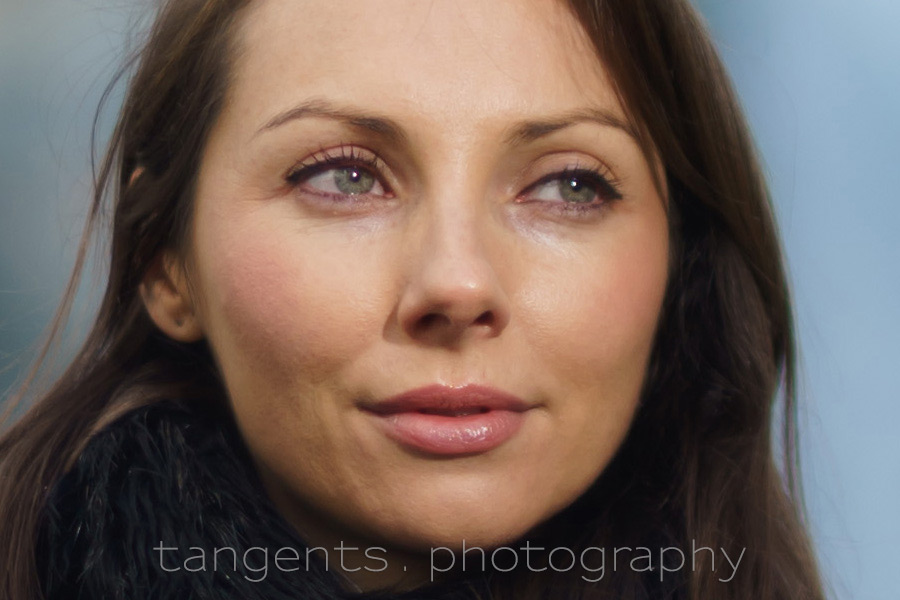 This 100% crop at full aperture will give you an idea of the center sharpness of this lens. It is definitely sharp enough!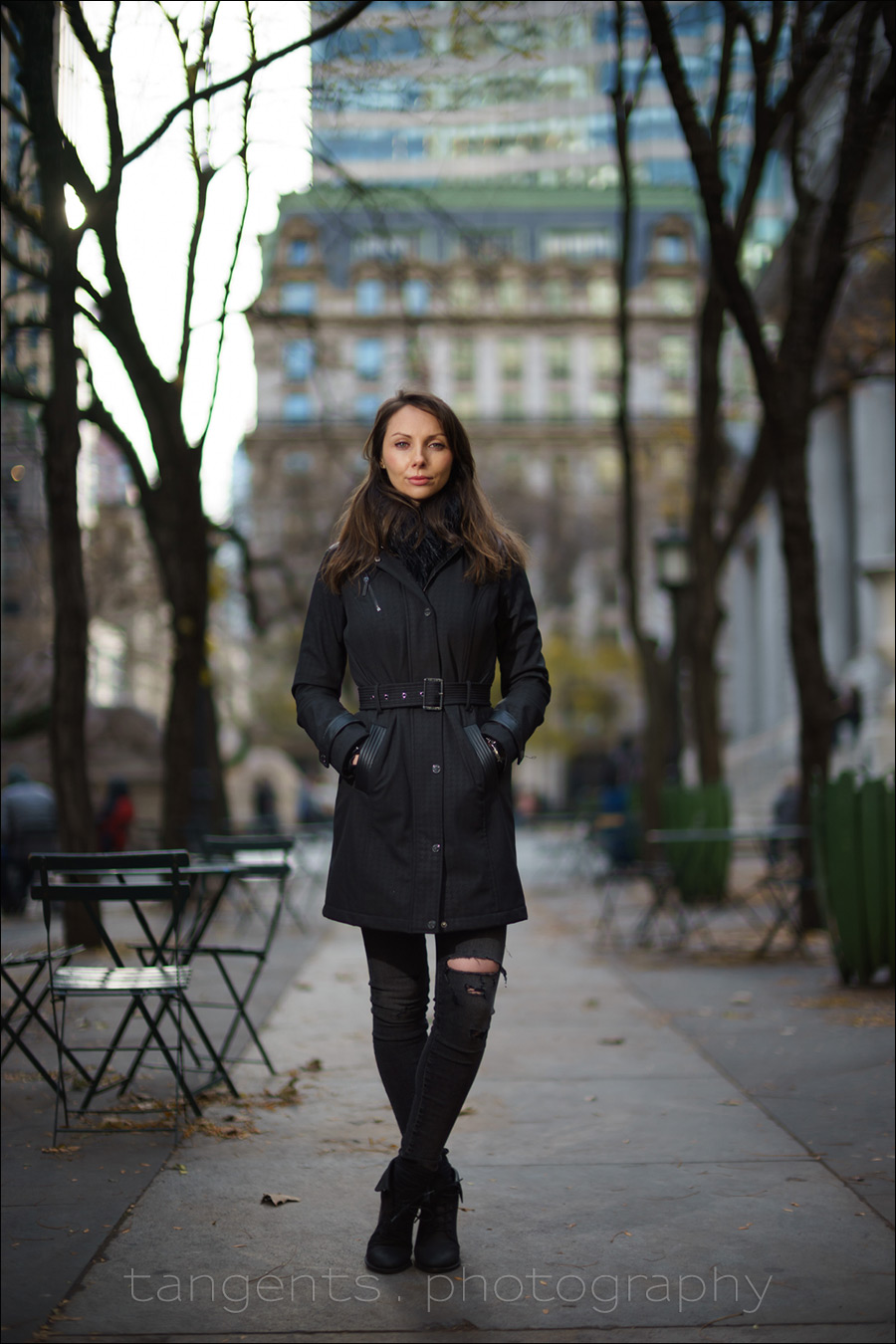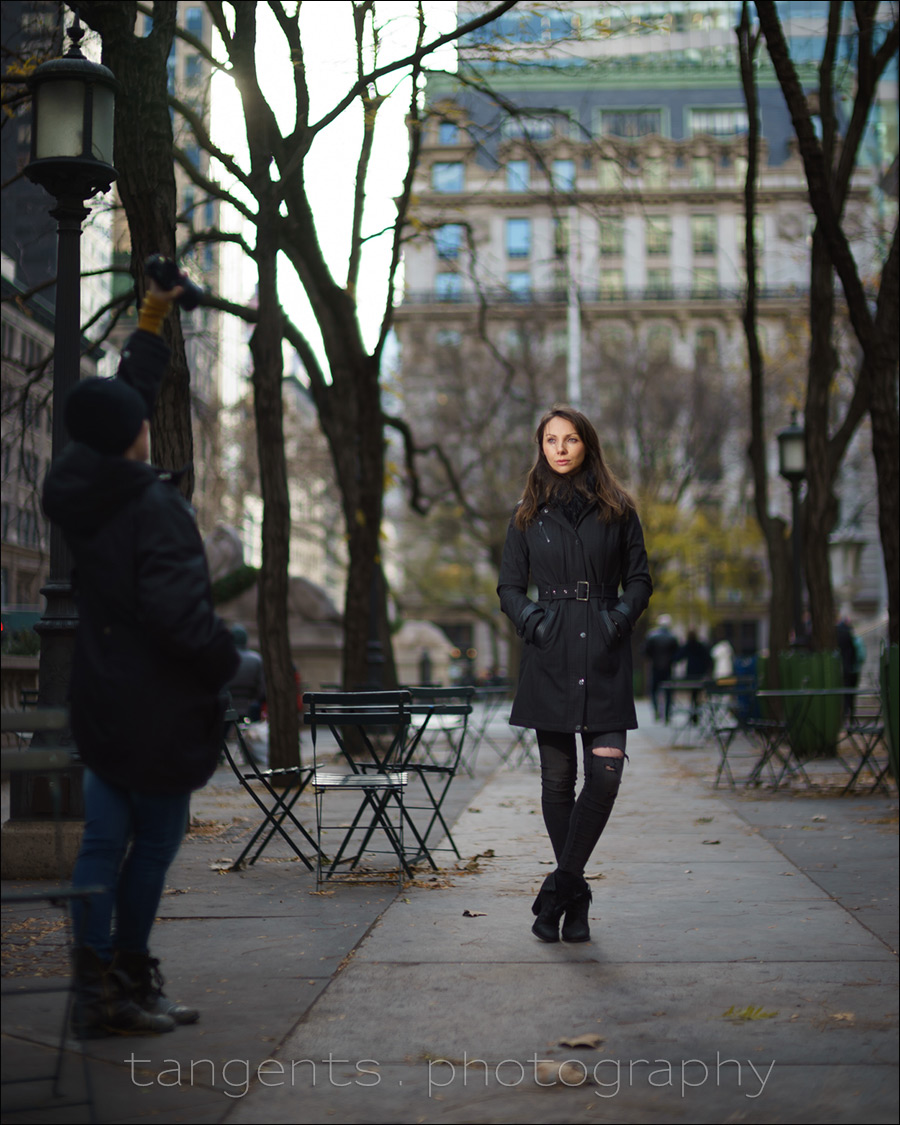 With this sequence, I wanted Allira to pop out from the more neutral wintery tones. I therefore under-exposed the scene somewhat, and popped some light on her with an off-camera flash – the handheld  a Profoto A1 flash (affiliate). Again, even though this is a Nikon mount flash, I could control it with the Profoto transmitter for Sony.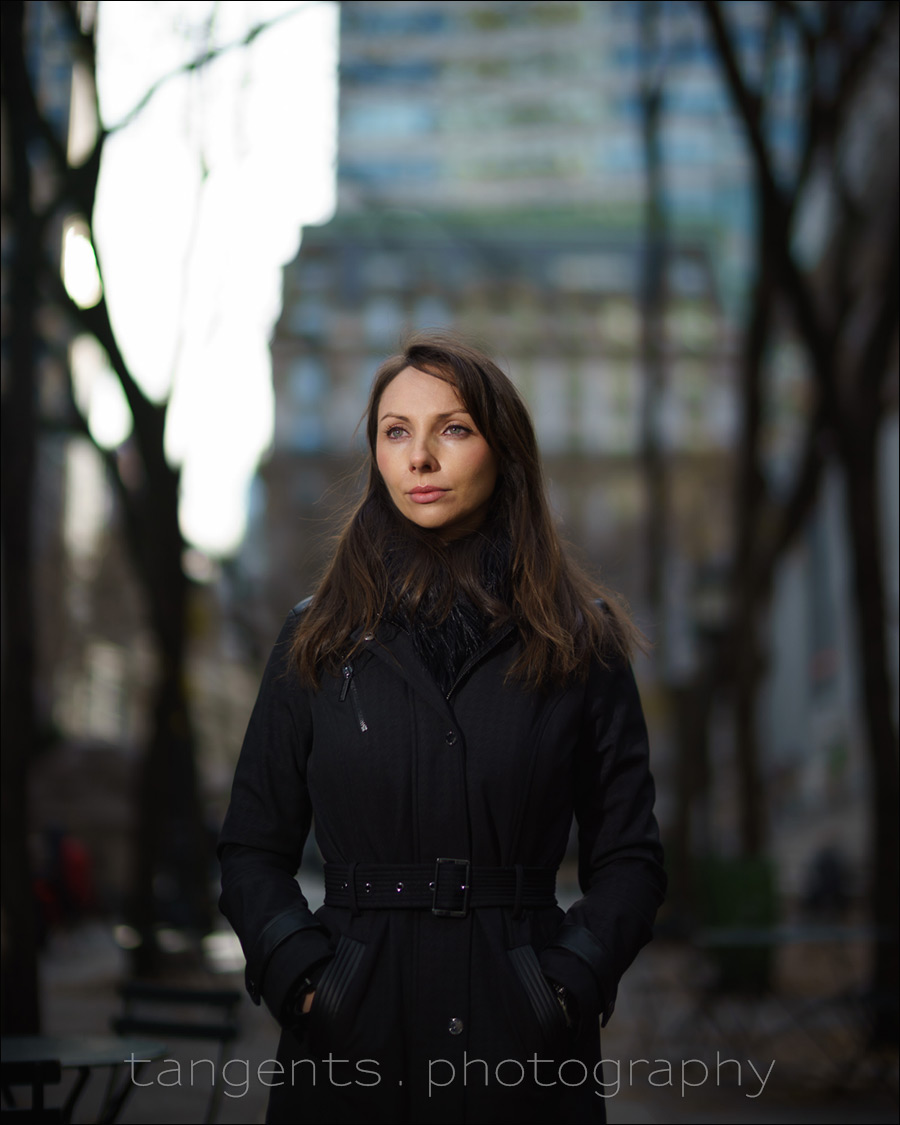 ---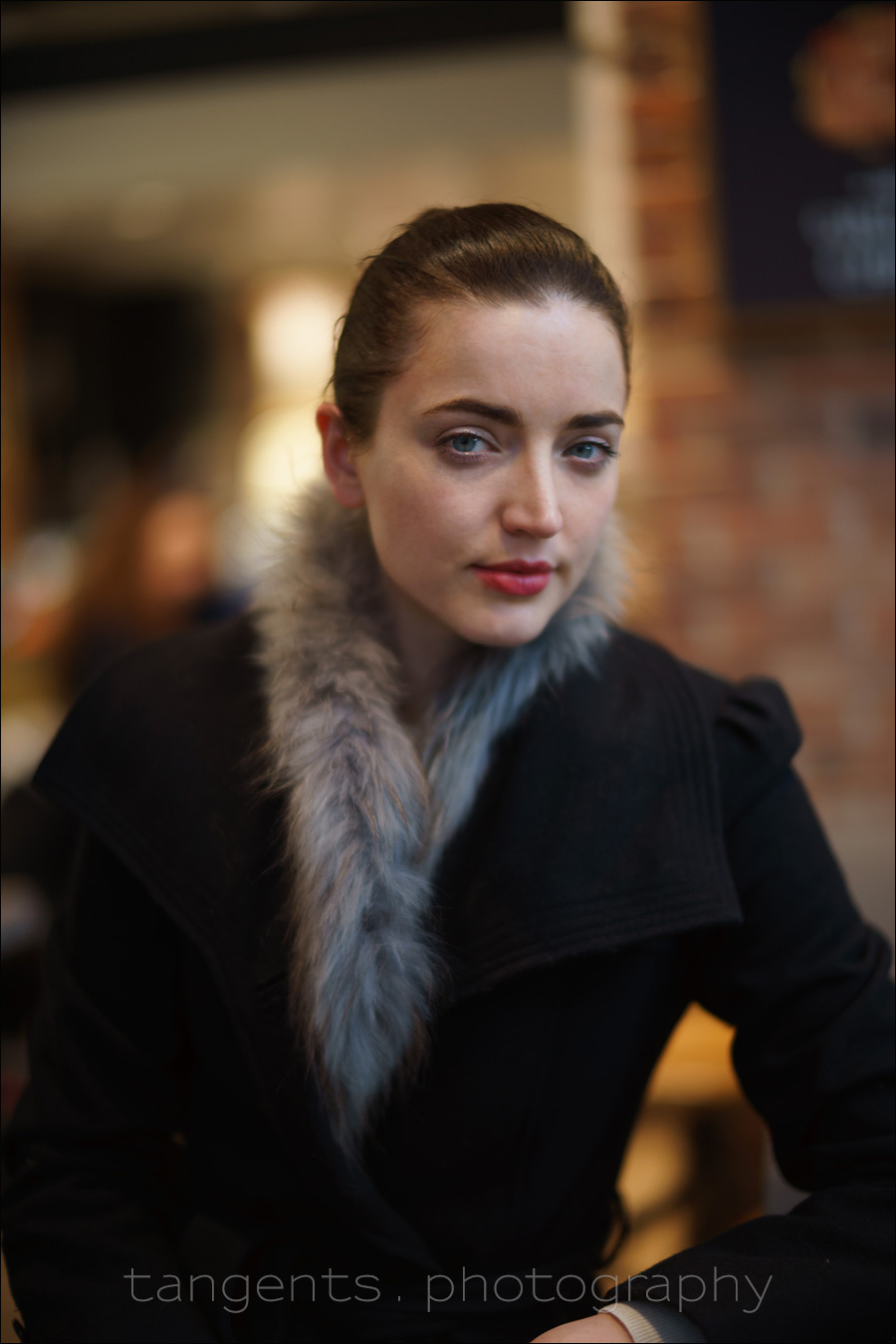 Hiding in a coffee shop from the cold weather, we used the window light for this portrait.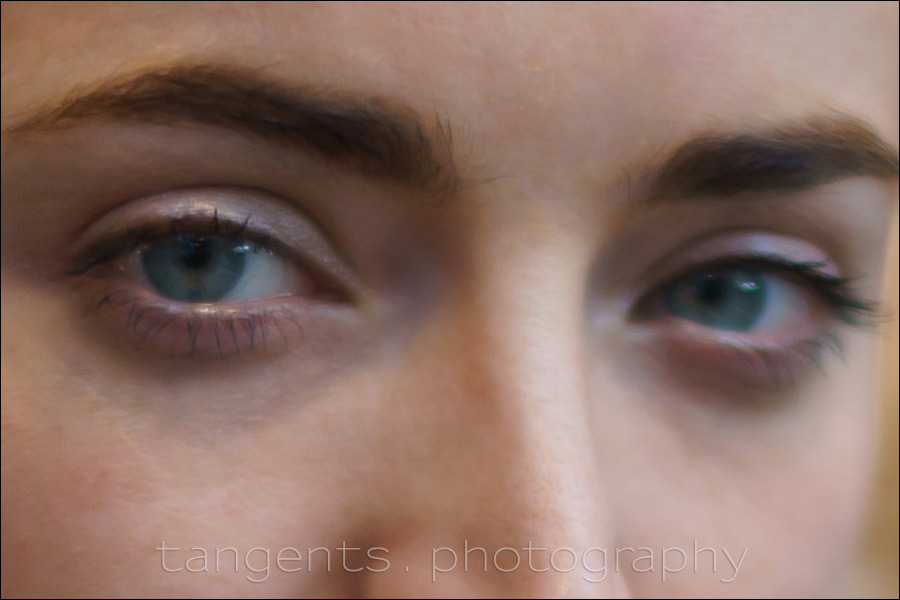 This 100% crop will again give you an idea of the sharpness, and the crazy shallow DoF. You will see that even though the detail in her eyelashes are there, there is also an optical haziness of some kind. This is not necessarily a negative about this lens for it helps impart that dreamlike quality to the photos shot wide open. This optical aberration disappears as you stop the lens down to medium apertures – but you know, I like it. This is part of the character of this lens!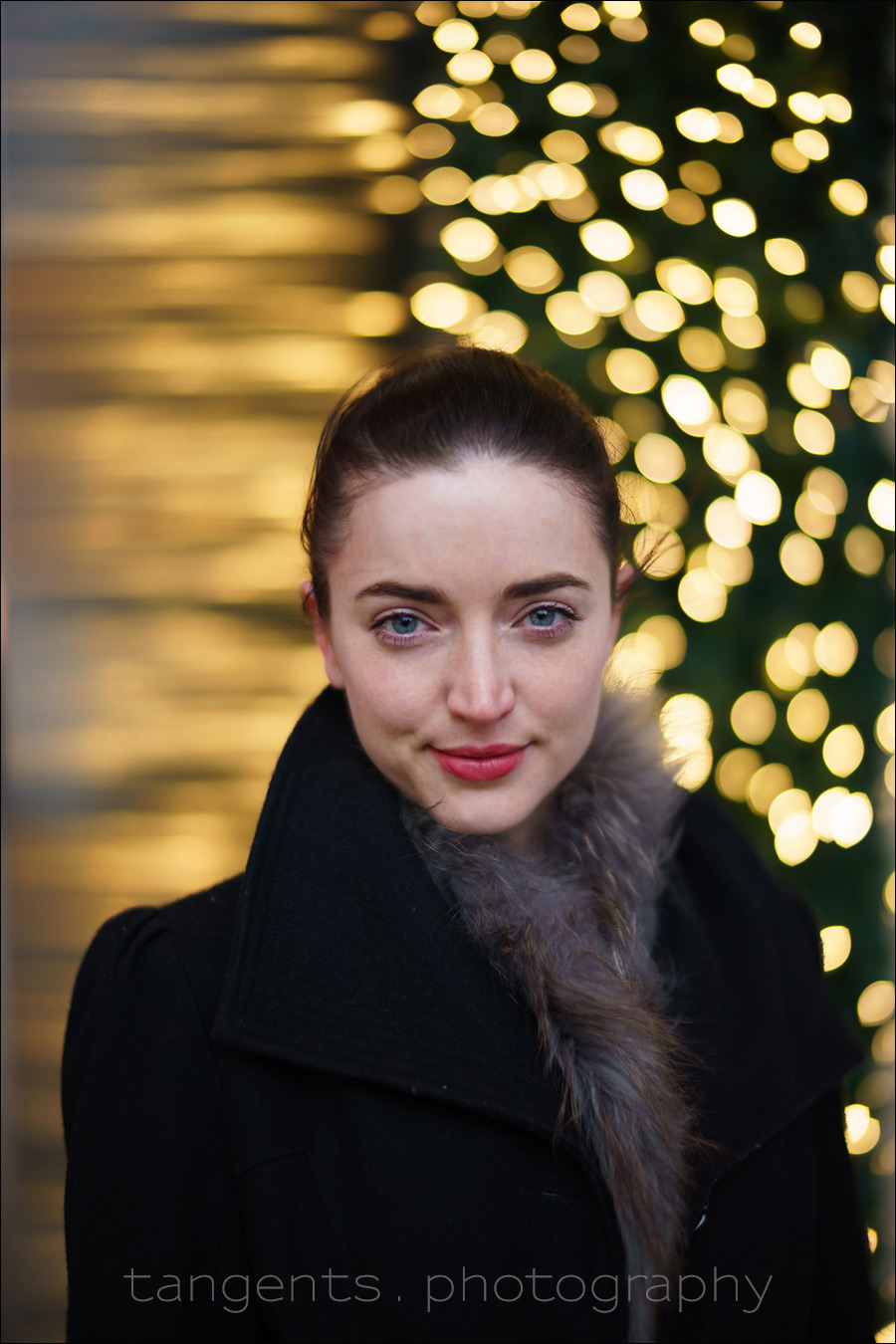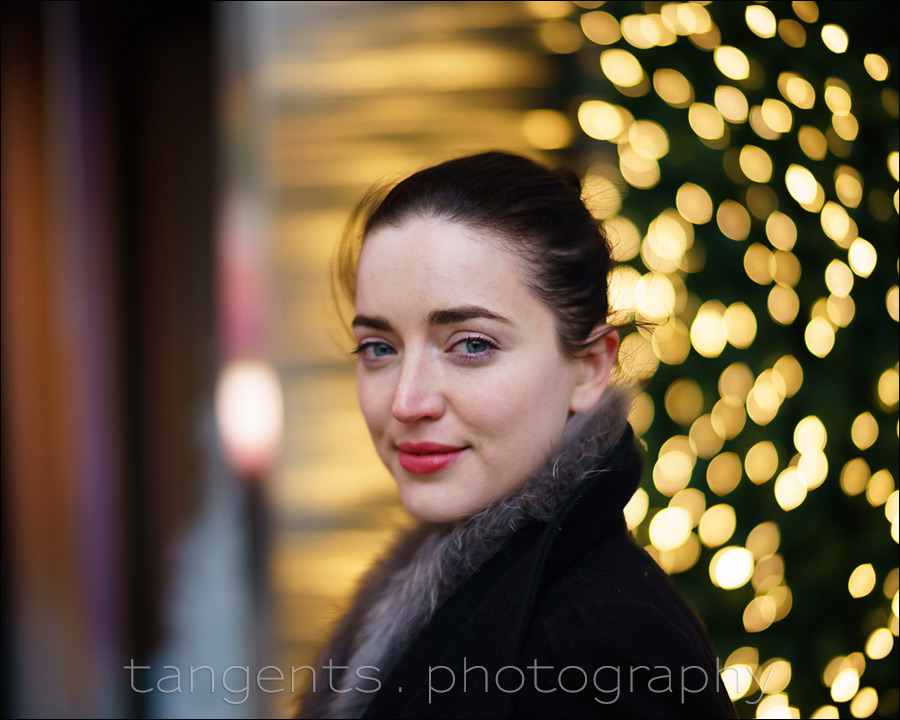 This doorway of this shop  was a bit of a find. They had Christmas lights, but the brushed metal side of the door reflected the lights with a delicious smear. So that effect you see there is not the lens. It was as we found it.
---
Summary
The examples shown here of the Mitakon Zhongyi 50mm f/0.95  (B&H / Amazon), will give you an idea of the look that this lens imparts to photographs. It has a distinctive character, and the optical flaws it might have, is exactly what makes this lens so attractive to use. Highly recommended … for specific reasons and use.
---
Related articles