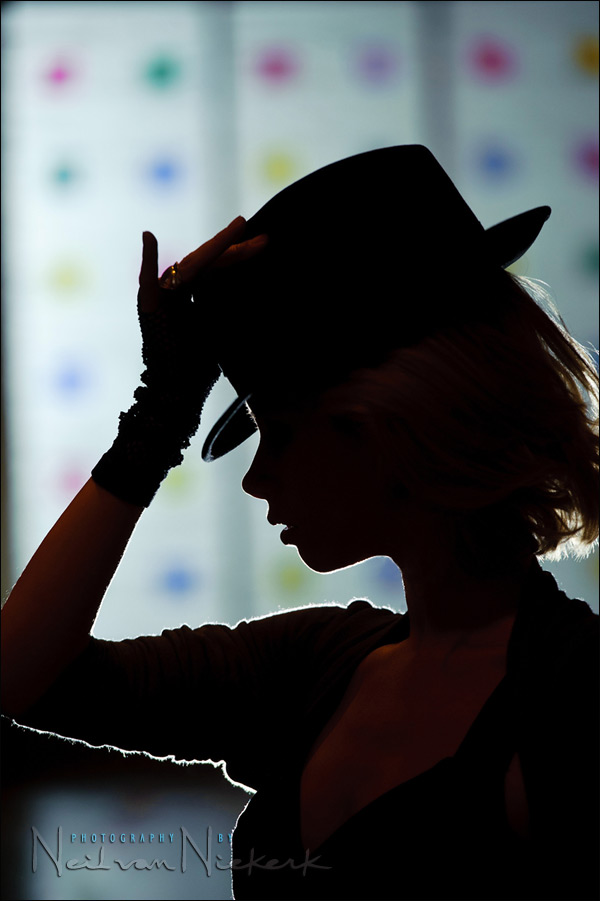 photo session – Shawna – using the PocketWizard AC3 Zone Controller
While in Las Vegas for WPPI 2011, the team at PocketWizard asked me if I would be interested in them shooting a short video clip of me using the new PocketWizards for Nikon. I didn't hesitate in saying yes!  Here is the description of the setup of the one photo sessions I did. There was another one, which I will post in a day or so. I will post a link to the PocketWizard video clip as soon as it is up.
For this demonstration of the PocketWizard FlexTT5 and AC3 ZoneController, I relied on Shawna, a favorite model, Shawna, again. (She featured in the recent posts on video light vs bounce flash and using the available light. I knew we'd be able to get some stunning images with such a stunning model and the new photo toys …
I used a FlexTT5 on my camera, with an AC3 piggy-backing on it, and three speedlights, each controlled via a FlexTT5 unit.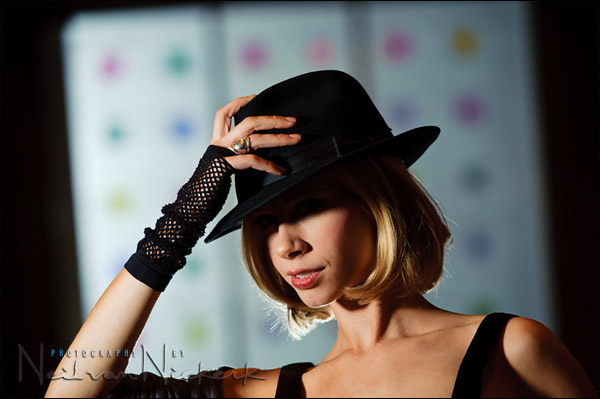 The lighting-set-up:
- main light to camera left: a speedlight in a Lastolite 8.6″ Ezybox (B&H)
- rim-light via a speedlight on a light-stand directly behind Shawna
- background light via a speedlight on a monopod, held up by an assistant.
Unfortunately, I forgot to take a pull-back shot, but the set-up is very similar to this one I had for the recent photo of Josh Adams in the convention room of a hotel: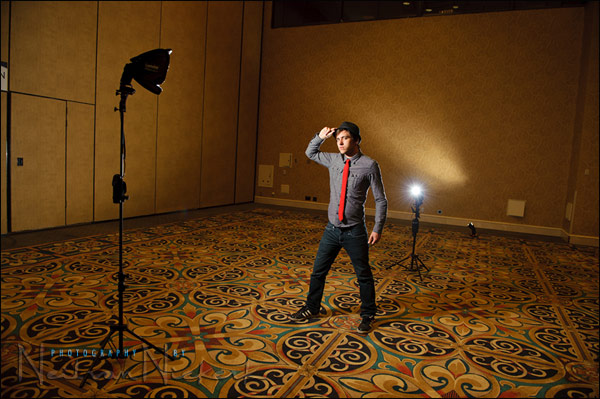 The only difference is that in this photo session with Shawna, I had the background speedlight behind a large frosted glass pane. I had a friend hold that speedlight up behind the glass panel, but off to the side, so that the speedlight doesn't create a singular hot-spot on the glass. So she had to hold the speedlight off to the side, off the camera's axis, and out of the frame.
Not quite a pull-back shot, but here is a snap from someone helping me – it shows the position of the back-light, and my own position and the softbox. And my oh-so graceful way of posing a model.
The settings for the speedlights:
- group A: main light to camera left: a speedlight in the Lastolite 8.6″ Ezybox (B&H);
this was set to TTL initially, but I changed it to manual flash at some point during the shoot for a specific reason – the background light was affecting my TTL flash metering too much, and I was getting erratic exposure. At some point when you have to ride your TTL flash too much via FEC, it just becomes simpler to switch to Manual flash. It's the point at which the speed of working with TTL isn't speedy any more.
- group B: rim-light via a speedlight on a light-stand directly behind Shawna;
This was manual flash.  It has to be manual, since the camera doesn't really meter this light. It therefore doesn't make sense really to have this set to TTL.
- group C: background light via a speedlight on a monopod, held up by an assistant.
Without properly thinking this through, I started off  with this light set to TTL. But the way the TTL flash metering figured out the background exposure for this – a large splash of bright light – just made it too inconsistent. A simple flick of the control switch on the top of the PocketWizard AC3 Zone Controller, and I had changed the background light (group C) to Manual flash.  I then dialed it down until I got the brightness for the background that I liked. It's not really something you could meter for with a handheld meter, since the background is flash lighting up a frosted glass pane from behind. So this really is the forte of digital photography, and chimping the shot until you like it.
In the end, I had all three speedlights set to Manual. Simplicity, especially for a static set-up like this.
This sequence of images will show the beauty of using the PocketWizard AC3 Zone Controller to control the various speedlights.
From the image where I had the three lights going off, I could turn off the main light on Shawna by switching group A off. (The AC3 Zone Controller has a switch that can take any group to Manual or TTL or to an off position.
Now I just have the rim-light, and the speedlight lighting up the glass panel in the background. This is from the same sequence as the image at the start, but just a horizontal option.
By flicking the switch controlling the background light (set as group C), I can have a purely rim-lit silhouette.
… or I can bring back a little bit of detail by enabling the background light again, but dialling down the power on it.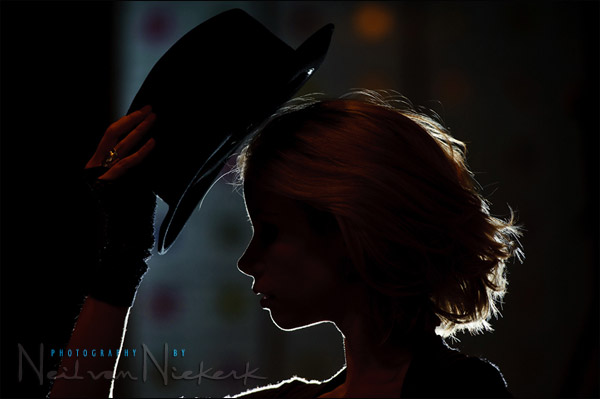 In this way I can now change any of the three groups from my camera via the AC3 ZoneController, without delving into the menu of a Master speedlight. It's a fast way of working, cutting out incessant menu options and button pushing.
A final image from this entire set. I really wanted Shawna's eyes shrouded like that by the hat.  A sense of mystery and an elegant pose.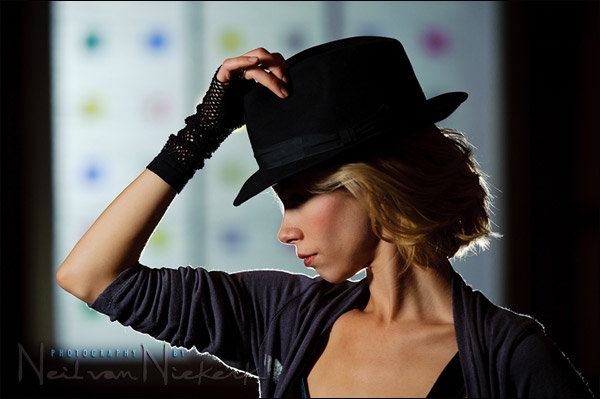 Using the FlexTT5 on the camera instead of the MiniTT1
During this session I used the FlexTT5 on the camera and not the MiniTT1, and I suspect I am going to default to this setup for two reasons:
The MiniTT1 takes those CR2450 coin cell batteries. This would mean carrying specific spare batteries for it.  The FlexTT5 takes two AA batteries. Everyone has those lying around and it shouldn't be a problem to get your hands on two of those if the batteries in a FlexTT5 are running low.
Coin cell batteries are also more easily affected by cold temperatures. The spec sheet for the MiniTT1 says that it can work in the -12 Celcius to 50 Celcius range (10 Fahrenheit to 120 Fahrenheit). With the photo session of Keegan, we also went to Times Square with Keegan, and I ran into trouble there due to a very short working range on the MiniTT1, and I suspect this was due to the cold.  (I could barely feel my fingers, and wind-chill was estimated to be 15 Fahrenheit that evening.)
Final note:
It's obvious by now that I really love the PocketWizard FlexTT5 and AC3 Zone Controller units. It's a flexible and fast way of using multiple speedlights.
Equipment used:
PocketWizard AC3 Zone Controller (B&H)
PocketWizard FlexTT5 transceiver (B&H)
Nikon D3;  Nikon 70-200mm f2.8 AF-S II (B&H);
Nikon SB-900 (B&H); Nikon SD-9 battery pack (B&H)
Manfrotto 1051BAC (B&H) Lastolite 8.6″ Ezybox (B&H)
camera settings for all images: 1/160 @ f4 @ 400 ISO
You can order the PocketWizard MiniTT1 and FlexTT5 radio slave system from B&H here:
.
related articles:
- Keegan – a photo session – using PocketWizard MiniTT1 & FlexTT5 & AC3 ZoneController
- using the PocketWizard AC3 ZoneController
- more photo sessions with Shawna
newsletter / forum / workshops & seminars
Stay informed of new articles via the monthly newsletter.
Also join us on the Tangents forum for further discussions.
If you need more direct help or instruction on flash photography,
I do present workshops & seminars and also offer individual tutoring sessions.
If you find these articles interesting and of value, then you can help by
using these affiliate links to order equipment & other goodies. Thank you!