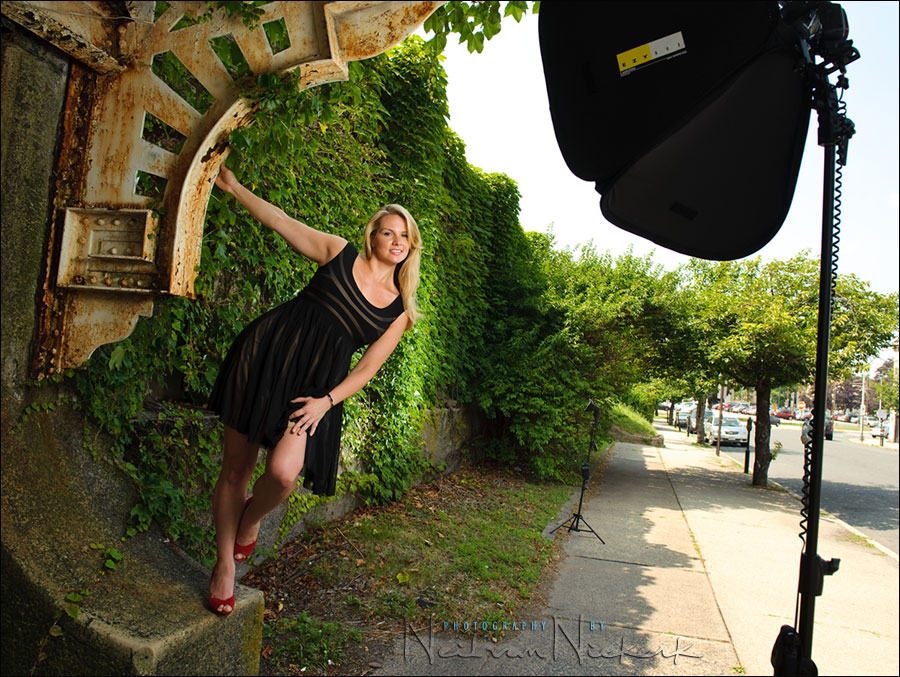 review: lightstands – Manfrotto 1051BAC, 1052BAC and 1004BAC
I recently updated the lightstands that I regularly use, to the three of the Manfrotto range of light-stands,
- the compact: Manfrotto 1051BAC  (B&H / Amazon USA, UK)
- the medium-sized Manfrotto 1052BAC  (B&H / Amazon USA, UK)
- the taller, heavier tall: Manfrotto 1004BAC  (B&H / Amazon USA, UK)

They have a few interesting features. They are:
- light-weight,
- air-cushioned,
- stackable.
The air-cushioning helps prevents damage to equipment, or injury to fingers if you forget to fully tighten the section locks.  However, that these light-stands could be clipped onto each other, and stacked that way, really caught my attention.  You can clip several of them together, and this makes them easy to carry. (I can easily carry three light-stands in just one hand, and I can easily sling a stack of 5 of them over a shoulder and carry them. Since they are stackable like this, it also means you can stand them upright in the corner of a room or sideways on a shelf.
Of these three light-stands, I prefer the medium-sized Manfrotto 1052BAC (B&H).
It rises to 7.75′ (2.34 m) high, and has a footprint diameter of 3.6′ (1 m). So it's quite tall, with a large footprint, yet it only weighs 2.65 lbs (1.2kg).
The more compact Manfrotto 1051BAC (B&H), is  6.75′ (2m) tall, but has a footprint diameter of only 2.3′ (70cm). This makes it ideal if you need a light-weight tripod to use in a hotel room, or elsewhere indoors where space is limited.
The taller 12′ (3.65m) Manfrotto 1004BAC (B&H), has a footprint diameter of 3.5″ (1 m), which is pretty much that of the medium size 1052BAC. It is heavier too, at 6.6 lbs (3 kg). Here's an updated review of the Manfrotto 1004BAC lightstands.
So that's the spec, and each light-stand has its own use, depending on where you're working.
Detail of three light-stands clipped together …
… and a detail image showing one just uncoupled from the others. The other clip is in the foot section.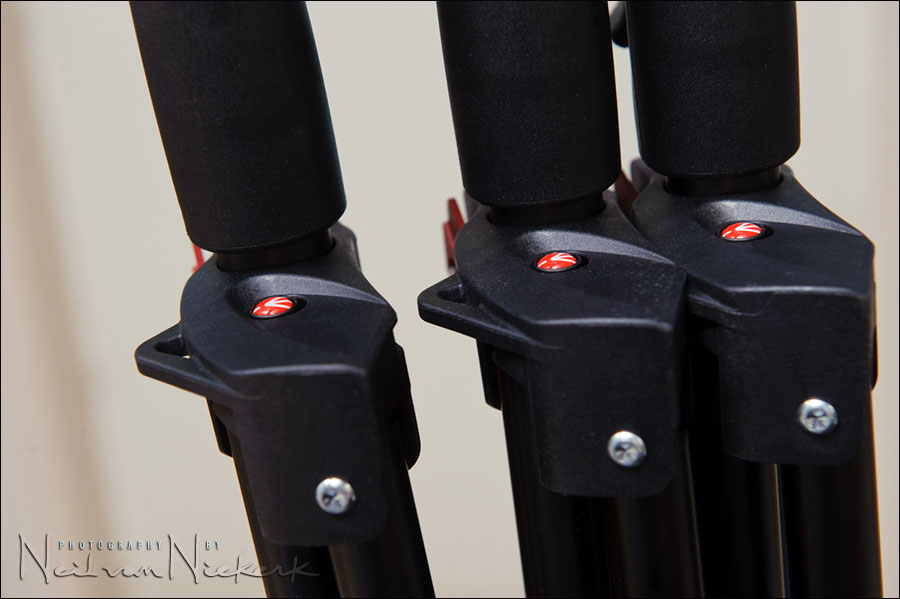 The reverse side of the three light-stands stacked together.  That red clip you see there is the knob with which you tighten the legs to the center pole of the light-stand.  Quite elegant and compact.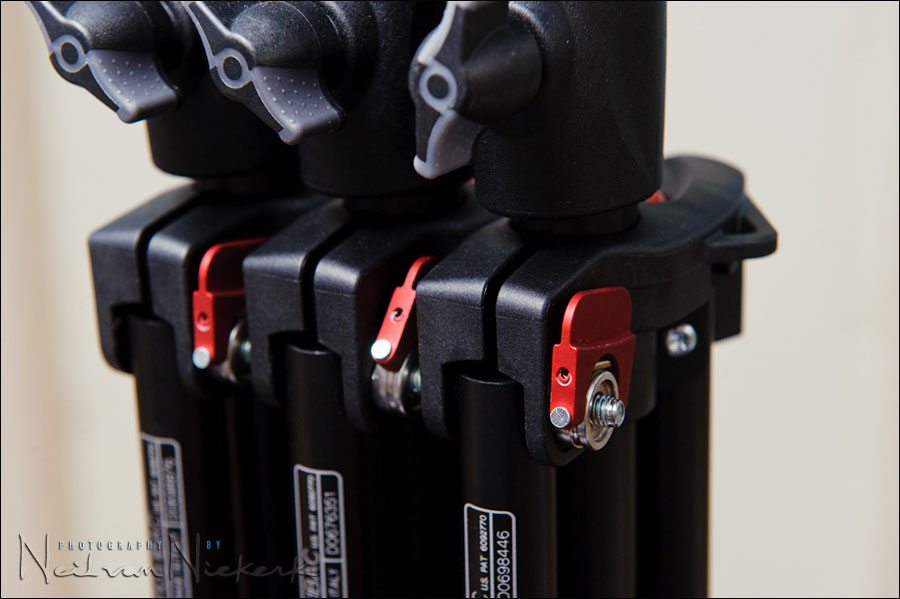 Detail of the light-stand with its feet extended.
That connector you see there in the middle, becomes the foot of the light-stand when collapsed.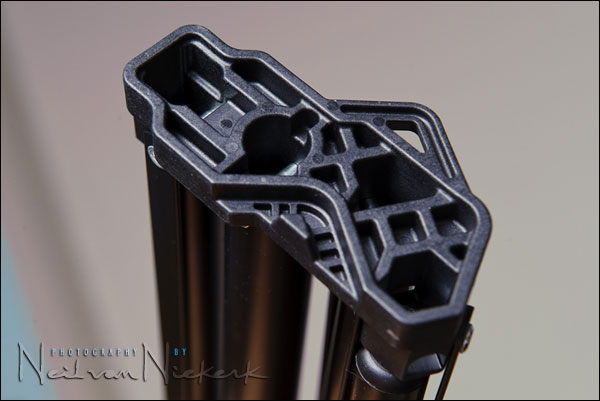 Here are three 1051BC units clipped together.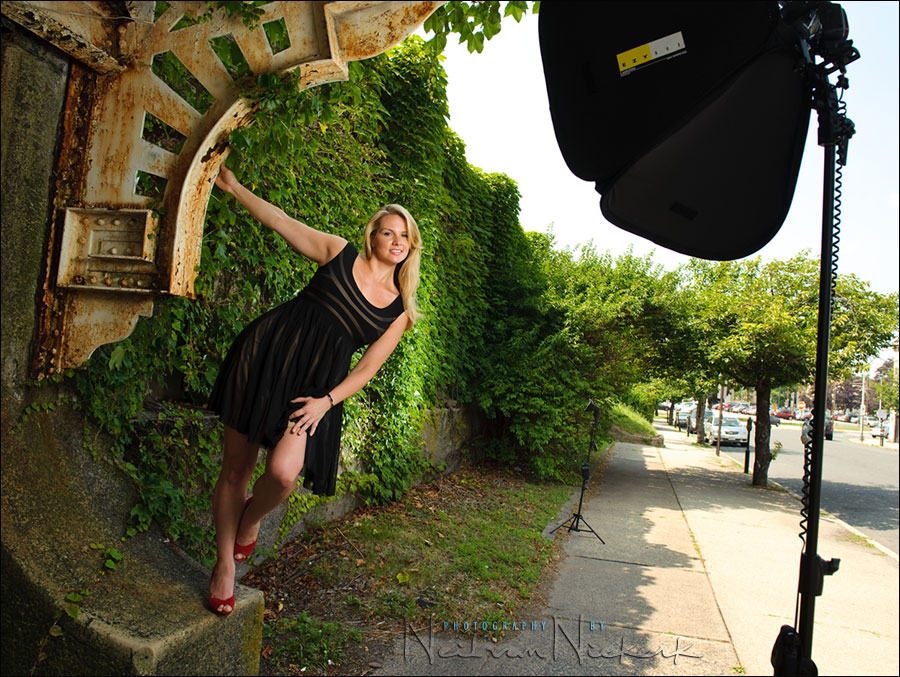 In this image shown at the top, I used the larger 1004BAC unit to hold the Lastolite EzyBox softbox kit (B&H) up to the correct height.  Since our model, Carrie, was standing on this ledge, I needed more elevation than the smaller light-stand could give me.  I also needed something a little more sturdy against the softbox being blown over in the wind. The light-stand in the background is the smaller 1051BAC since it just needed to hold up a single speedlight (with battery pack), to light up part of the background.
to order these light-stands for yourself
If you'd like to see more about the specifications of these Manfrotto light-stands, or order them from B&H or Amazon, please use the following affiliate links:
small: Manfrotto 1051BAC  (B&H / Amazon USA, UK),
or a set of three light-stands. ( B&H / Amazon USA, UK)
medium: Manfrotto 1052BAC  (B&H / Amazon USA, UK),
or as a set of three light-stands. ( B&H / Amazon USA, UK)
tall: Manfrotto 1004BAC  (B&H / Amazon USA, UK),
or as a set of three light-stands. ( B&H / Amazon USA,UK)
other options in light-stands
truly portable light-weight option:
The update to the classic collapsible light-stand by Manfrotto, is the Manfrotto Nano 5001B.  This is ideal for photographers who travel and need their gear compact.
lower-cost alternatives:
If you'd like a lower cost set of light-stands, the 6′ tall Impact light-stands are around $20 each.  There is also the 8′ tall Impact light-stands for $35 each.  Impact also makes a 45′ convertible umbrella for $15.  Then you just need an umbrella bracket to hold it all together.
the light-stands I used prior to these Manfrotto light-stands
Previously I had used the self-collapsing Red-Wing light-stands. The Red-Wings aren't made anymore, but the clever design has been taken up by the Cheetah Stand.  (I think the Kwik-Stand was a similar design.)  These self-collapsing / self-expanding light-stands are an innovative design that makes the moving of the light-stands a breeze.  You pick one up, and it collapses.  Great.  The only problem is that the center column of the stand, which acts as the opening mechanism, acts like a 4th support to the stand.  Now, the entire idea why a tripod is stable on uneven ground, is because it has three legs.  You add one more, and work on uneven ground, then the light-stand is wobbly.  Super-annoying.  (As an example, check my comment #25 in the review of the Canon 200mm f2 IS lens, where I used a tall Red-Wing stand.)
details about the images
And for those who would love to see what the final images looked like:
Our model is lit by wirelessly controlled TTL flash – speedlight in the softbox;
the background is lit by direct off-camera manual flash, triggered by a PocketWizard Plus II unit.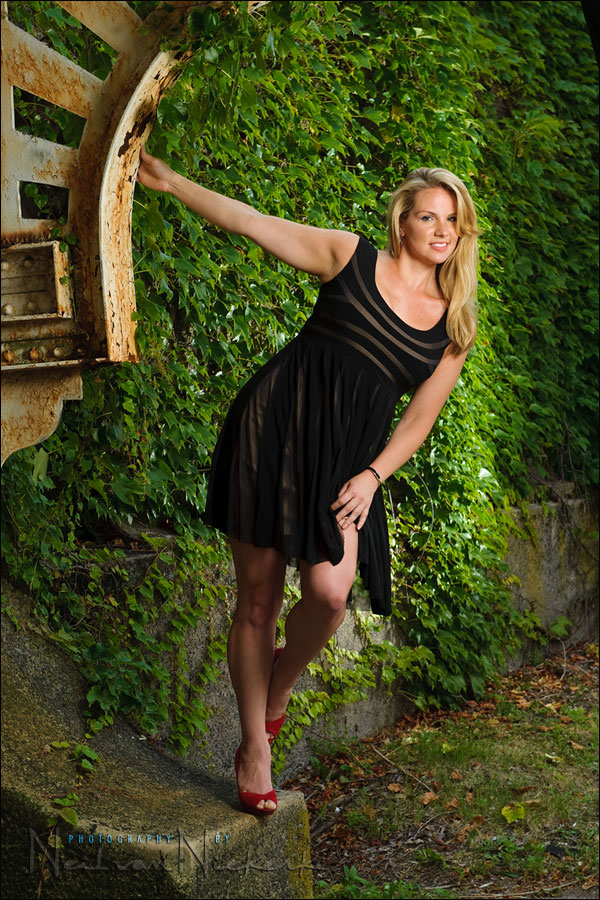 With the background light disabled.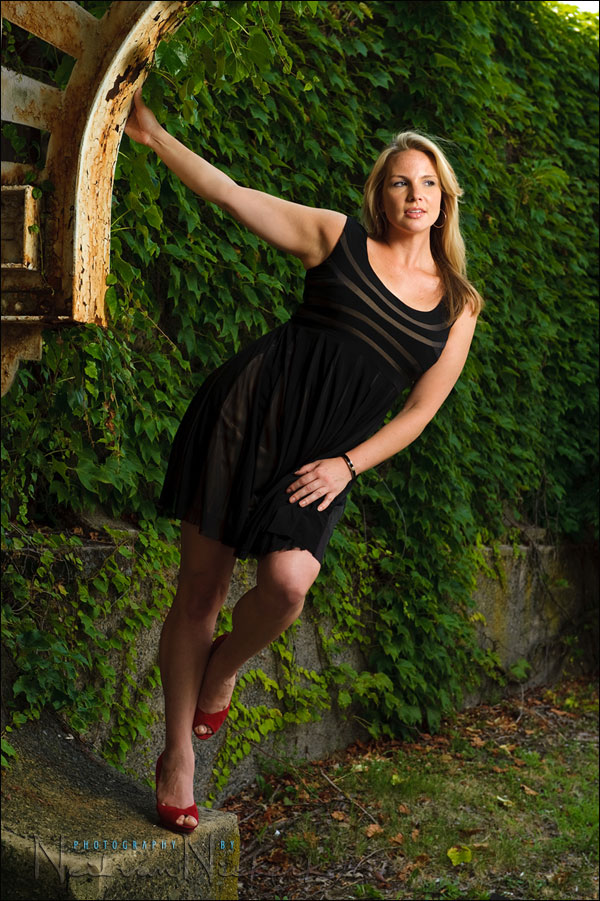 Why did I choose wirelessly controlled TTL flash to give enough light on our model .. but used manual flash for the background.  Because I could.  And wanted to.  It all works.