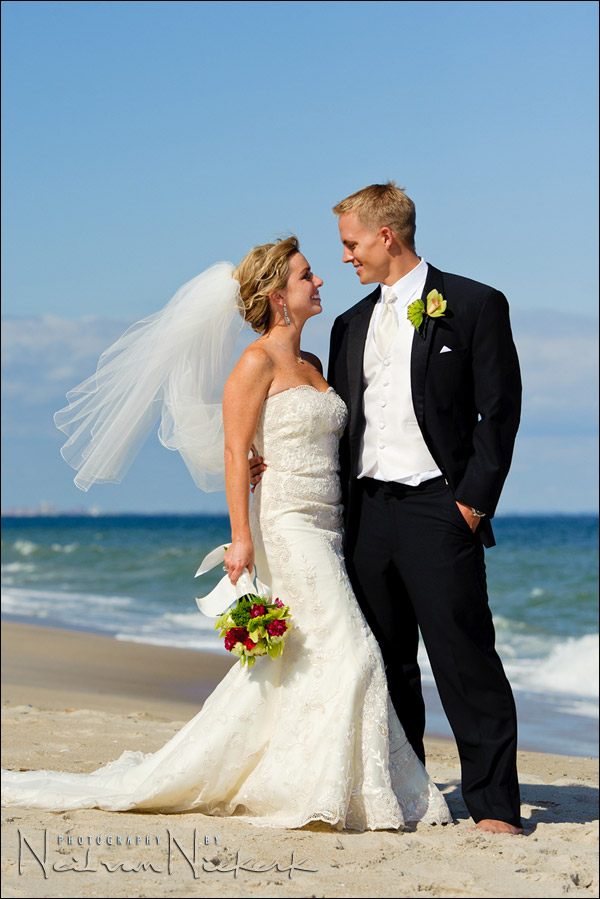 wedding photography in hard bright sunlight
Hard sunlight overhead is some of the most difficult light that you can find yourself shooting in. When you aren't able to position your subjects, then your options are limited – fill-flash or working with the RAW file in post-processing.
However, when you're able to move your subjects, but don't have the opportunity for off-camera lighting, then your best two options are:
- have your subjects turn their backs to the sun,
- use the light from the sun so that there are no harsh cross-shadows.
Here are typical examples of working with a bridal party in hard sunlight on the beach. With their backs to the sun, I had the bridal party walk towards the beach area.  This way their faces and nearly every part of their dress are in open shade, lit mostly by the light reflected from the sky and sand.  Open light.  The sunlight will now be a kind of (irregular) rim light on them.
You will lose some detail, but this is inevitable with a shoot like this that isn't entirely controlled. I'd rather go for the spontaneity and fun, than have a few photographs which are perfectly lit as if with on-location studio lights.  Especially since that option isn't entirely practical on a beach, especially with  large group of people moving around. Fun & spontaneity!
Camera settings for the three images directly above:
1/400 @ f5.6 @ 200 ISO .. on-camera TTL fill-flash
The other option is to actually USE the full direct sun.  The main problem here is that people would squint if they looked into the sun or at the camera.  Their eyes would also be shrouded by the hard shadow.  The only way around this (when off-camera flash isn't an option), is hard direct flash … and this rarely looks flattering under these circumstances.
Here the bridal party wanted to jump.  I set the Nikon D3 to continuous drive, firing it at the full 9 frames a second for three such jumps. Camera settings: 1/1000 @ f5.6 @ 200 ISO …. at this distance; and at 9 frames a second;  and in HSS mode, the flash wouldn't have had any effect. So, no flash.
With such a large group there really is no 'Decisive Moment', and machine-gunning it is the easiest way.  Then on the Monday morning with your feet on the desk, having your cup of coffee, you can select the images which work. Here they wore sunglasses, so eyes in shade isn't an issue. Even if they hadn't worn sunglasses, this isn't a concern at all, since photos like these are about movement and expression and gesture, rather it being a nuanced portrait.
For the portraits of the bride and groom – Bridget and Matt – I continued to work in full sun, but with a touch of fill-flash to lift the shadow detail. But I had the FEC turned down so that the flash would just be the subtlest of light to lift the contrast a bit. In posing them, I make sure that they don't have to squint into the sun.  That's never attractive.  I also posed them such that the light on them is as even as possible.
Camera settings for the next two images, and the photo at the top leading this article:
1/4000 @ f5 @ 200 ISO  .. with a hint of on-camera TTL fill-flash
The image above and the image below were taken within minutes of each other, at very close to the same spot.  They show how the two approaches described here – working with the full sun; and posting the couple  with their backs against the sun.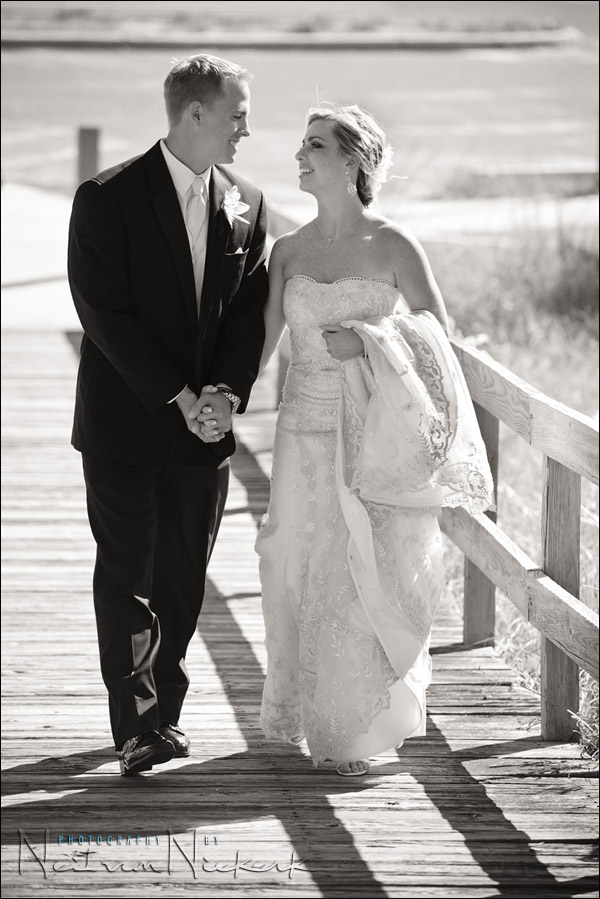 And then a few steps up the wooden ramp, we found some shade, and took a few portraits with them looking at the camera.
Camera settings:
image above: 1/1000 @ f4 @ 200 ISO .. subtle on-camera TTL fill-flash
image below: 1/250 @ f5.6 @ 400 ISO .. subtle on-camera TTL fill-flash
This approach also works for group photographs.  The sun was getting to be quite low here, and if I had shot at 90 degrees to the sun, I would've had to deal with very harsh shadows.  If I had shot with the sun, everyone would've squinted with tears in their eyes from the bright sun.  Having the sun behind their back is the only really practical solution.  Then of course, there was the low wall handy to help stagger the group.  Some detail will be lost to flare where some guests are throwing their hands in the air.  (Nice rhyme!)  But this is acceptable to me .. especially when a photo like this is once again more about the fun and the 'having been there for the photo' element for the guests.
Hopefully the images here will clearly show the way that I deal with bright sun.  It is a simple approach, but it usually gives the best results when you are strapped for time, and don't have the opportunity for grander off-camera lighting setups. This approach works, and it is efficient!
Also check out this previous post about an engagement photo session where I only used the available light.  No flash. The technique remains consistent.
More articles about wedding photography …
Equipment used during this photo session:
Nikon D3; Nikon 24-70mm f2.8 AF-S (B&H);
Nikon 70-200mm f2.8 AF-S II (B&H); Nikon SB-900 (B&H)
If you find these articles interesting and of value, then you can help by using
these affiliate links to order equipment & other goodies.   Thank you!
Stay informed of new articles via the monthly newsletter.
Also join us on the Tangents forum for further discussions.