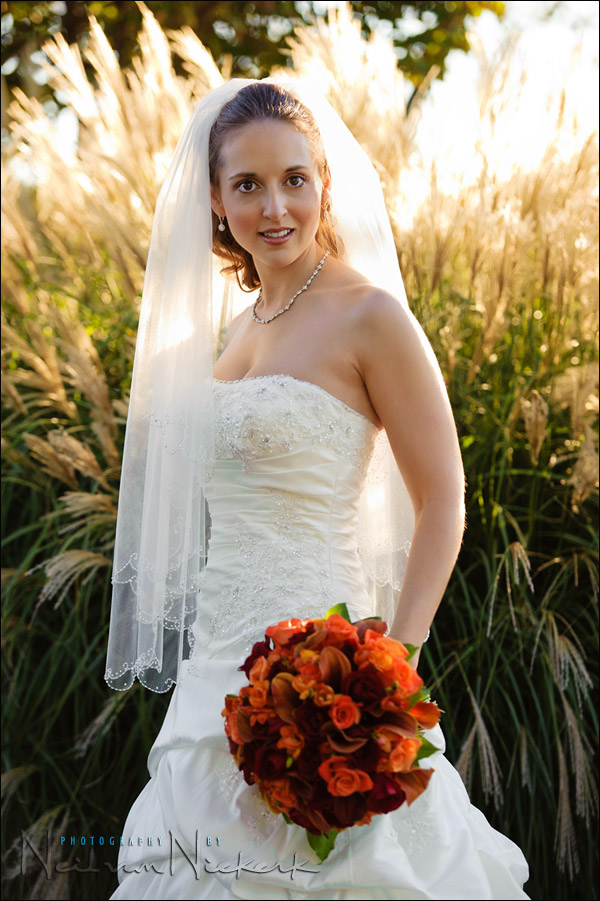 exposure metering – bride & the bride's dress
From a technical point of view, photographing a bride in her dress can be a challenge … depending on the lighting.  If everything is under your control as the photographer, and you're lighting the formal portraits with off-camera manual flash, then it is essentially a study of the zone system.
The simplest way for me then to get accurate exposure, is to use the histogram.  I place my brightest relevant tone at the edge of the histogram.  All the other tones will fall into place.  (It is clearly explained in that linked article, and in my book on flash photography techniques.)  In using flash like that as your dominant light source, you simply expose correctly for your subject – the bride in her white dress.
Now, when working with ambient light (perhaps with a touch of fill-flash), things are slightly different .. but not really.  You still always (or nearly always**), need to expose correctly for the bride's white dress, making it the brightest tone that you want to capture detail in. For this article, we're going to look at exposure metering for available light. The same thought-process can be applied to flash or other additional lighting, but just for simplicity of explanation, let's just stay with available light here.
So, looking at this portrait above of Jill, a gorgeous bride whose wedding I recently photographed …
{ 41 comments }