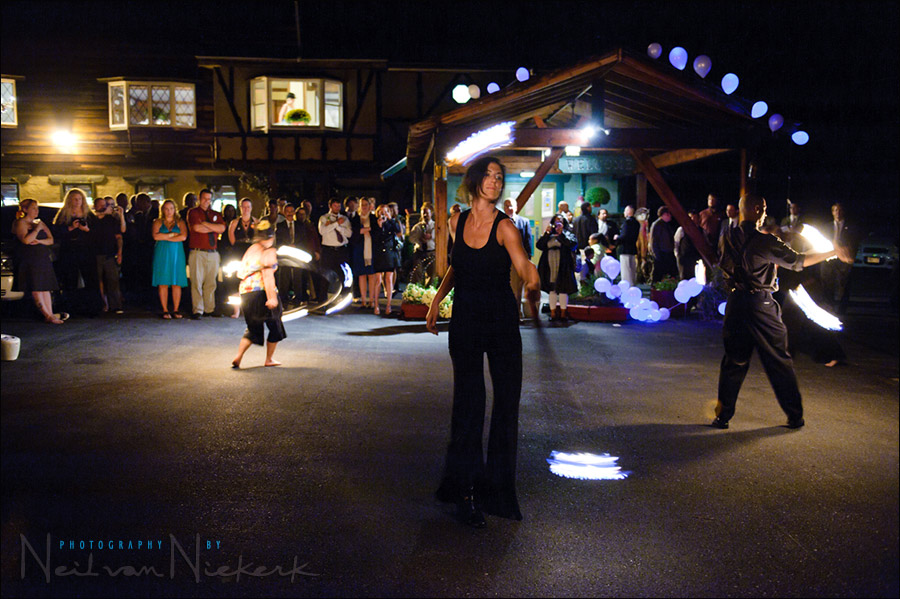 The bride and groom at last night's wedding are veteran burners – people who attend Burning Man – and several of their guests are fire performers. Later the evening during the reception, four of the guests showed their skill in juggling and dancing with fire.
Photographing fire performers
Photographing the fire performers, especially in such low light – i.e. near darkness – was a challenge.  A slow shutter speed to show the movement of the fire, would cause the performer to be completely blurred.  But a fast shutter speed would not show enough movement in the fire.  A fast shutter speed would also necessitate a wide aperture, which causes depth of field problems as the performers move.
In the end, the low light forced me to use 1/60 @ f2.8 @ 3200 ISO for all but two of the fire performance photos shown here.  I used the Nikon D3 and the Nikon 24-70mm f2.8 lens.  No flash, since flash would just change the very nature of what is on display.
To ensure that I get at least a few usable (and hopefully striking) images, I machine-gunned it. During the entire performance, I fired off nearly 500 frames, of which I deleted all but 140.  From those, around 60 range from usable to good.
The light from the fire is relatively bright, and I had to use the localized correction brush in Photoshop to bring down some of the highlights on their faces.  I brought up some of the Fill Light in processing the RAW files to bring up some shadow detail.  I also brought up the Recovery setting to bring down some of the brighter areas.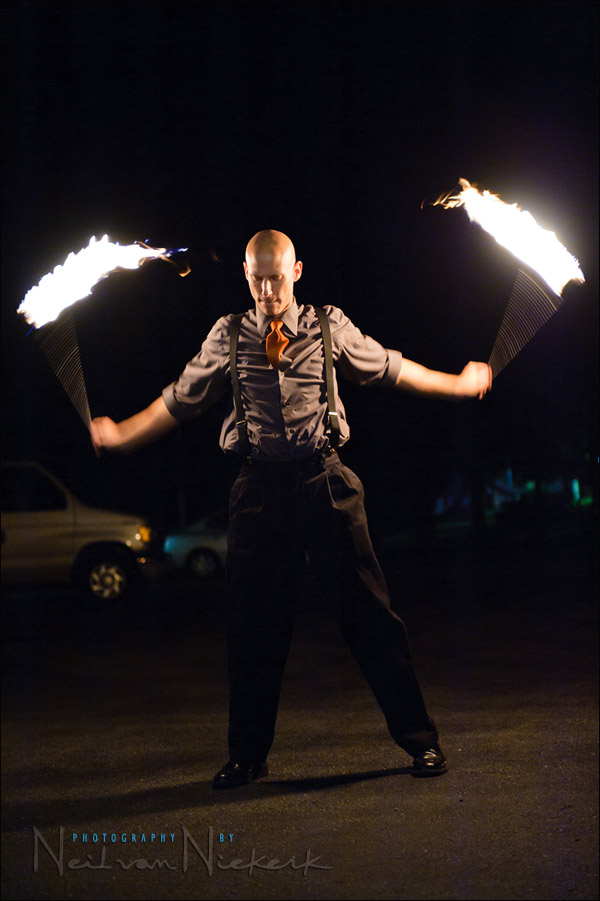 Not only where there fire performers at this wedding, but Danny Kean and his traveling piano made a guest turn.  If you check out his website, you'll see mention of his dog Boner .. but Boner passed away, and the doggles here is Danny's new companion.
And just in case anyone is curious about the couple with this most unusual wedding, here is Katie and Nathan during their portrait session earlier on in the afternoon.