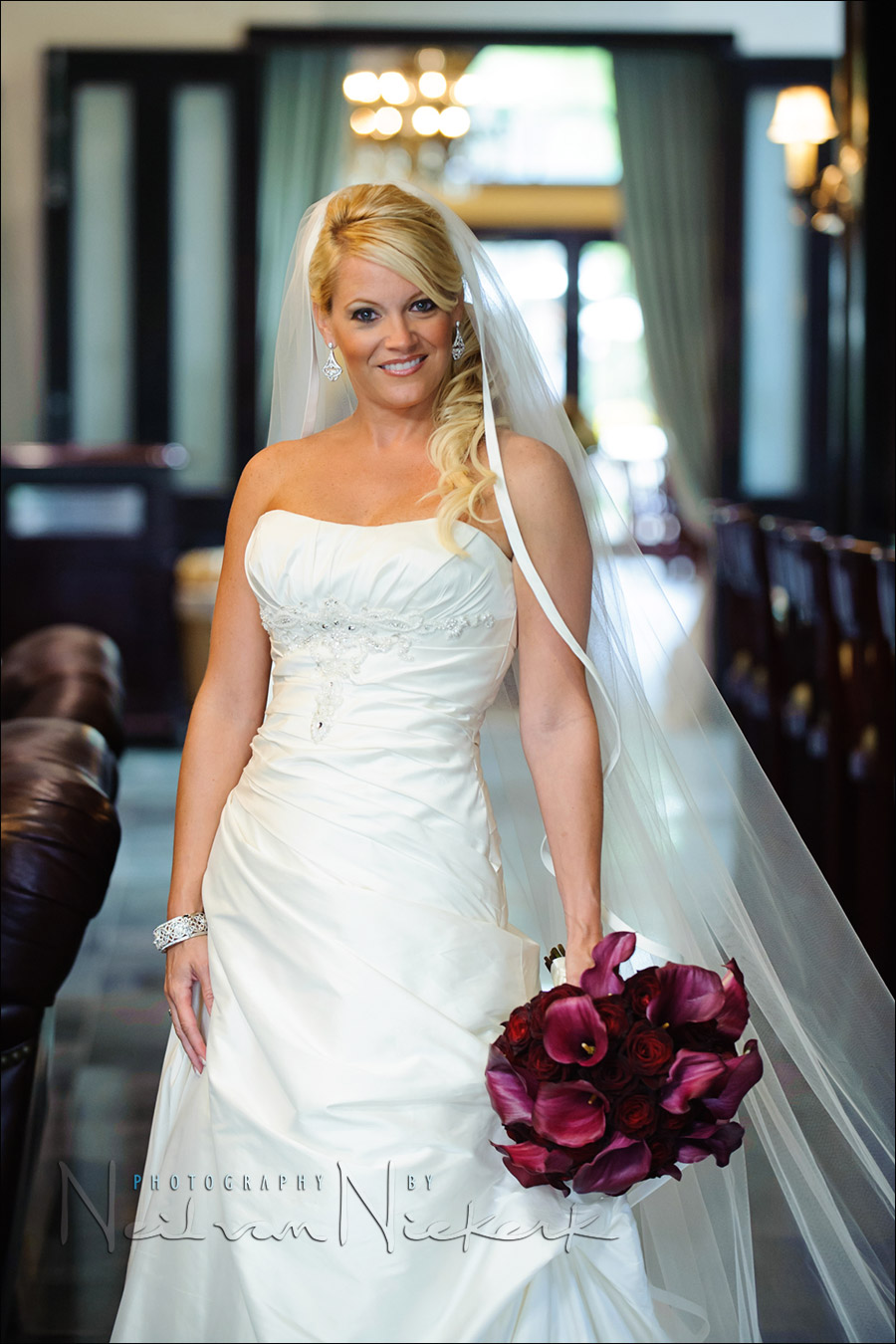 Bridal portraits with on-camera bounce flash
With the formal portraits of the bride & groom, and their families, I usually set up off-camera lighting.  But I also try to bring in some variety to the portraits – and I shoot on-location portraits of the bride beforehand, just after prep.  It's a good idea to get as much done as you can, earlier on in the day – just in case the time-line gets compressed and things don't quite follow the original plan. You'll be much happier then for having some solid portraits in your pocket.
In this example, I wanted a few portraits of Michelle in the hotel's foyer. I specifically had her stand in a place where the overhead tungsten spotlights didn't fall directly on her, but there was obviously enough spill light to give a bit of a color cast.  So she was relatively in 'shade' compared to the brighter background.  This was done on purpose, so I could use flash to light her properly.  In this case, on-camera flash in TTL mode.  And to make sure I don't get an ugly color cast in adding "blue" flash to the warmer tones of the tungsten+daylight mix .. I gelled my flash with 1/2 CTS gel and had my white balance set to 3700K. I changed the WB of the RAW file to 3300K in post. Here is more about gelling flash for Incandescent light / Tungsten light
I bounced my flash to camera left, and used the Black Foamie Thing to shield any direct flash that would've fallen on the bride.  I specifically want indirect flash for softer light.  The moment that your subject can see any part of your flash tube, there is direct flash … and that would spoil the effect that I am after here … soft indirect light that is still directional.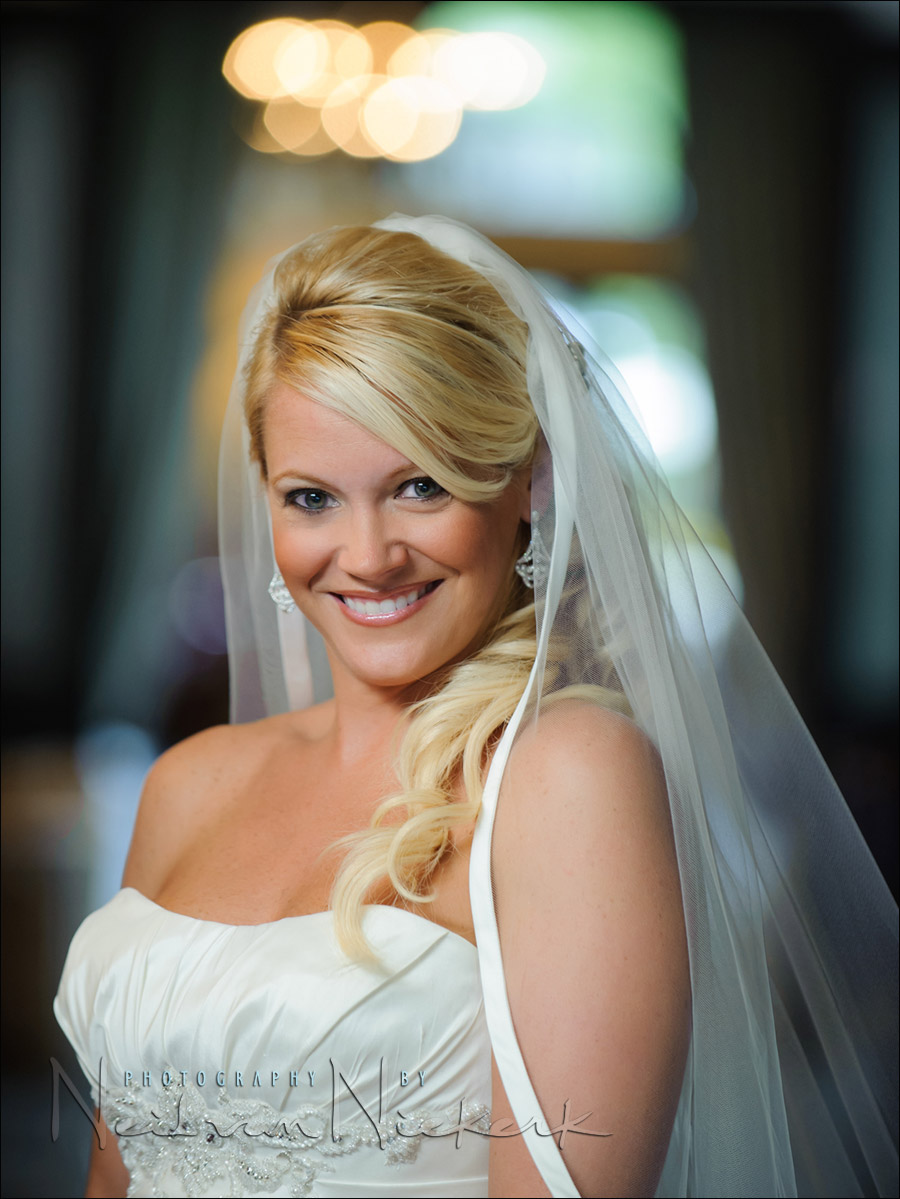 My settings:  1/100th @ f3.2 @ 800 ISO
I can very happily shoot formal portraits on the Nikon D3 at 800 ISO and still be sure of great image quality.  As far as aperture goes, I need a shallow depth of field to isolate the bride against that background.  Therefore an aperture around f3.2 will do nicely.  My shutter speed was chosen so that I was assured of crisp images with a vibration reduction / image stabilized lens.
Here is the image without flash ..
Adding the cold tones of flash to that warm light would've resulted in ugly lighting .. something that can't be fixed in Photoshop.  Your best options is to use a gel of some kind on your flash to bring your flash's white balance closer to the white balance of the ambient light.  I am not really after specific accuracy here.  Just bringing my flash's WB much closer to the existing WB solves most of the problem already without having to delve much further into analyzing the colors.
Summary
Working with time constraints, I still wanted to have flattering light on Michelle. I didn't set up any lights.  I simply used my on-camera speedlight with some thought to direction of light and adding the flash (exposure and color balance) to the existing light.  Simple, fast .. yet effective.
I also took great care in how I placed her against the background.  You have to consider your background in your images for greater impact.  It is a very specific decision in how I place my subject against a background when I have a controlled situation like this. A change in position, and some directing of the bride .. and a range of images in that setting is possible while shooting at a fast tempo!
Gelling your flash
Since I frequently gel my flashguns to turn the WB of my flash much warmer (usually for  Incandescent light), I use these gels that I cut up and tape to the top of my speedlight's head. One of these sheets (which aren't expensive), will give you a lifetime supply of these filters. For me, these gels are an invaluable part of flash photography. 
Tape the gels down on your lens hood when not in use.
You can buy gels through these affiliate links: Related articles