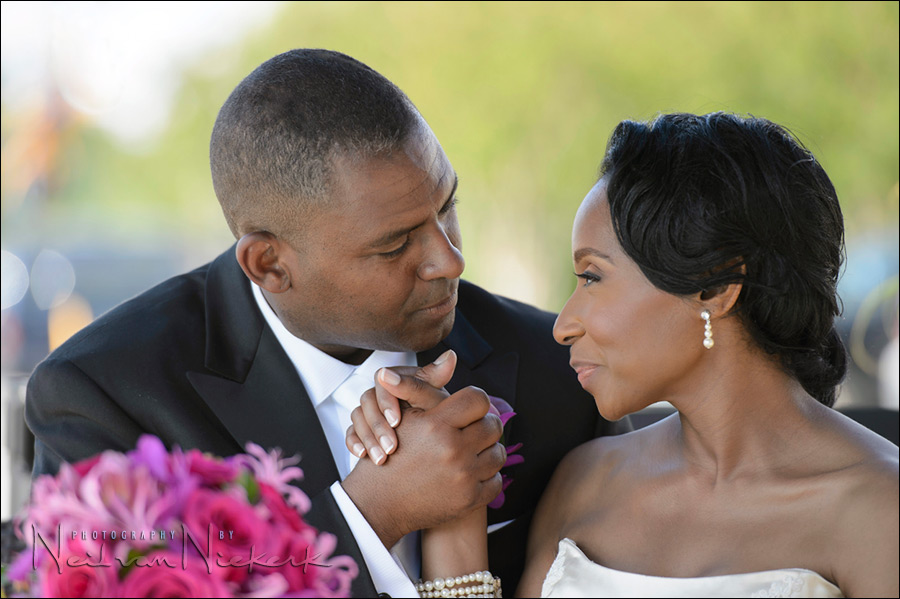 wedding photography – simplifying composition with a fast telephoto zoom
If you can create a good photograph out of seemingly "nowhere", then you can bring a variety to your images that is out of the league of photographers who have to rely on picture-perfect scenery. This is especially true with wedding portraits. We're under pressure for time, and on top of that we can't always control where we shoot. We have to make it work wherever we are.
One of the basic techniques I rely on heavily with my wedding photography, is to eliminate distracting elements by shooting with a fast telephoto zoom. The shallow depth-of-field works to my advantage. And the longer focal length compresses the image so that the background isn't a sweeping vista anymore, but a narrower view which YOU can control with your own position. Move around to find that composition.
The photograph above is perhaps an excellent example of this. The groom, also a photographer, left this comment on the Facebook album:
I also had an "ah ha" momemt watching you create images. We went to unfamilar places and you played with the background blur to create cool shots like the one of us sitting on wicker chairs, at a dumpy metal table, outside, facing a pedestrian-filled parking lot."
There really wasn't much more than that – the concrete slab outside a restaurant, with a few tables and chairs, with a parking lot in the background, and a few small trees and shrubs.  Now, I don't quite have a pull-back photo to show you where we were, but I do have this test shot with a slightly wider field of view, which shows some of the background. It was a mess.
{ 13 comments }