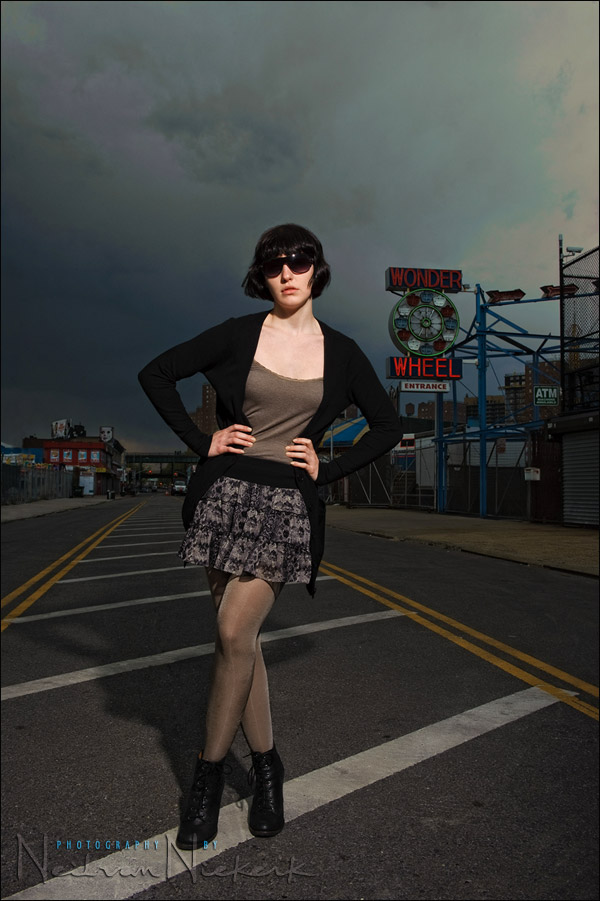 flash photography – background exposure and flash
When I saw this dramatic sky with the approaching storm during our recent shoot at Coney Island, I knew I wanted to photograph our model against it.  By the time I actually started taking photos, the raindrops were already spattering around us. So there was little time to work.
I knew I wanted a brooding sky.  Now, depending on how I chose my exposure, I could've had a much the sky appear much brighter, or just a little bit brighter than shown here.  There's a whole range of possibilities in how I could've exposed for my background, and we can choose a wide range of settings.  In this sense there really isn't any "incorrect exposure" for this particular background. Of course, it doesn't make sense to choose our settings such that we'd over-expose our model.
This is idea holds true while we consider the sky as our main background.  The street areas, and the amusement park areas are indeed under-exposed.  They do appear too dark if I had chosen that as my specific background. But the sky as such, isn't under-exposed.  This might seem a semantic difference, but it is an important distinction to make, in that quite often there is no specific under- or over-exposure, but just a way that YOU decide to expose for certain tones.  I simple chose to expose for the sky as darker tones.  And I could've placed them "anywhere", even as near-black.
Here is the test shot without flash …
Now it becomes a simple matter of adding enough flash to our subject for correct exposure.  For me, in this case it would be where the skin tones appear bright enough.
camera settings:  1/250 @ f11 @ 200 ISO
flash: direct off-camera manual flash without a modifier.
About the post-processing of the image at the top:
I cloned out some distracting details such as cracks in the road, and the lamp-posts to the left.  Then I used Imagenomic's Portraiture plug-in, and Topaz Adjust (Spicify), and  Nik Color-Efex Pro (Tonal Contrast) on various layers at different opacities.
This article also relates to two recent posts:
– balancing flash and ambient light – where do we even start?
– balancing flash with ambient exposure.