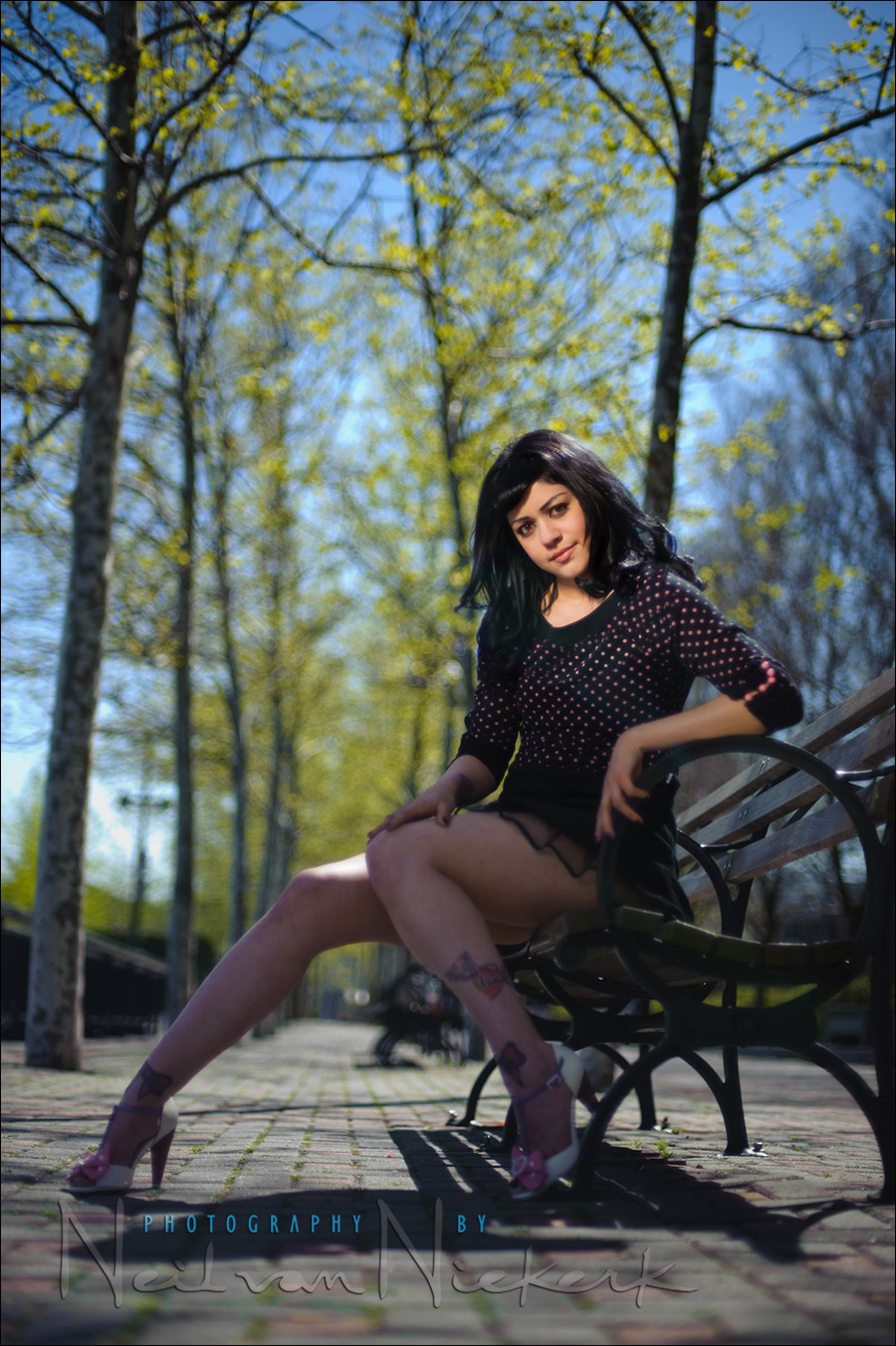 Bokeh vs shallow depth-of-field (DoF)
The first thing you might notice in this image is our super-cute model, Johannie.
Next you will probably notice either:
– the strange background pattern, due to the bokeh of this lens
– or the shallow depth-of-field of the Nikon 50mm f/1.4D used wide open
– or the lighting on her, (a reflector),
These are all inter-related in some way for this photo …
Bokeh

With this photo I want to illustrate a certain point about bokeh – shallow depth-of-field is not the same as having great bokeh.
It was shot with a 50mm lens, at the widest aperture – f/1.4
While the DoF / depth-of-field is wafer-thin, the out-of-focus leaves and branches in the background have an intrusive harsh shape to the edges.  The out-of-focus benches in the background also have that strange double effect to their shape.  This is because this lens exhibits harsh bokeh.  Not smooth.  Definitely not "buttery".
I want to reiterate this again – even though the depth-of-field is shallow, the bokeh remains harsh.  This is simply due to the actual optical design of this lens.  In this case I used the Nikon AF-D 50mm f1.4 lens, but the Nikon 50mm f/1.8 and Canon 50mm f/1.8 look very similar. Ideally we'd want a lens that offers shallow depth of field to also exhibit great bokeh – a smooth rendition of the background. This comparison between various Canon 50mm lenses show how the bokeh differs, with the more expensive glass performing better.
Shallow depth of field
Using a shallow depth of field is possibly the easiest way to direct attention to your subject.  Your subject pops out from the background, giving a near 3-D effect when used well.  And then we just need to take care of our lighting, our composition and the background, for more effective on-location portraits.
The things we need to consider in our photography are nearly invariably inter-connected like that in some way.
Using a reflector for lighting
Since I desired a very shallow depth of field in such bright light, the wide aperture forced a high shutter speed.  The shutter speed being higher than maximum flash sync speed, would mean I'd have two options:
– use high-speed sync on my flash.  This would mean reduced output on my flash.  And the easiest would be to use wireless radio controllers like the Radio Poppers.
– use a reflector.
Camera settings:  1/4000 @ f1.4 @ 200 ISO
I had my assistant hold up a white reflector to throw some light directly onto our model. This then created that interesting tightly 'focused' light on just her face and upper part of her body.  The light that is reflected from the sun like this is pretty harsh, so I made sure that Johannie didn't have to look directly into this.  I also had my assistant throw the light onto her for very short moments in which I'd shoot a burst of images.
This would also explain the change in color balance across our model's body.  Her face is now lit by sunlight, yet the rest of her body is still in shadow.  Two different white balance settings would be needed .. which of course is impossible in-camera.  But I like the effect here – it helps direct attention to her.
A reflector is often used for just a bit of fill-light on the subject, but in this case the light from the reflector becomes a main source of light.
Related articles