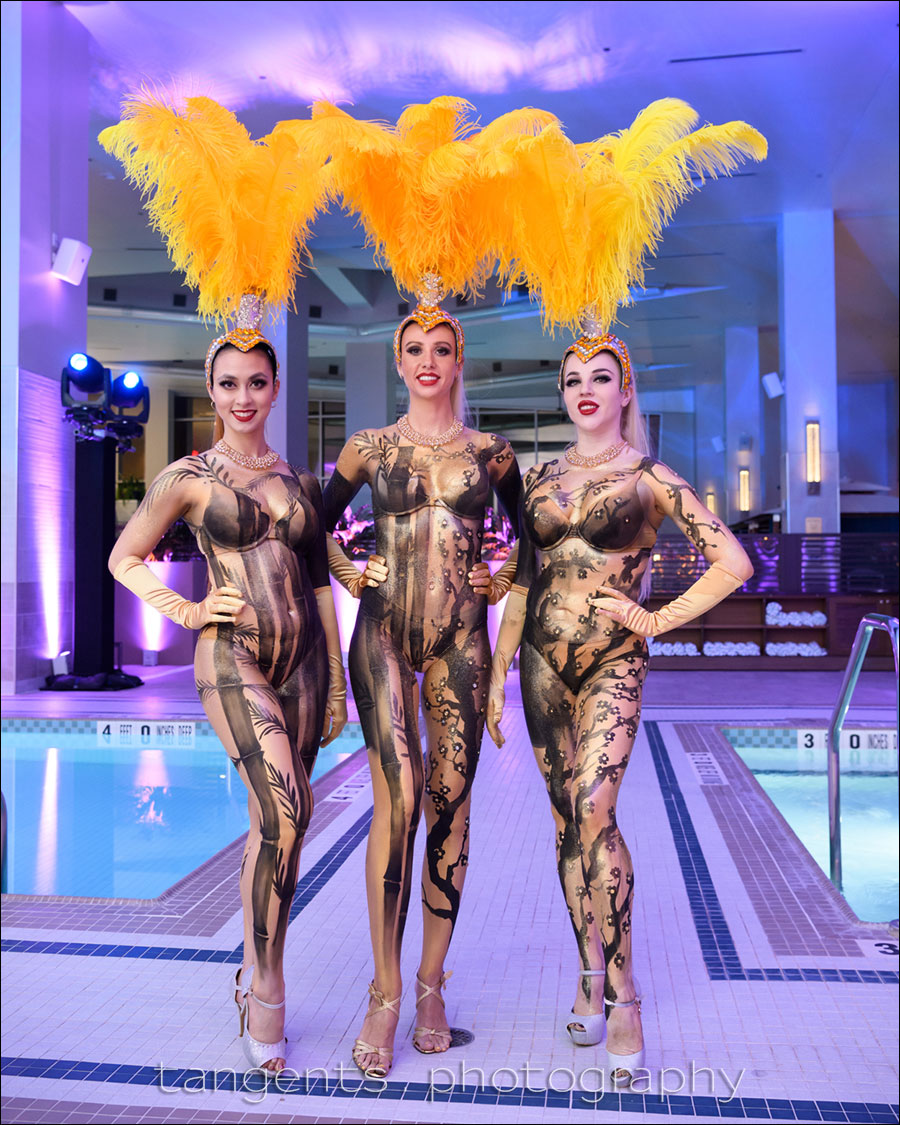 Bounce flash photography – when to use maximum flash power
This photo is straightforward enough – the event coordinator here asked that I take a few photos of the models in body paint. No time to fumble or look unsure. Again, there are simple recipes to get us to ideal settings.
The reception area around the indoor pool is really large with a super-high ceiling at this casino. There's enough light to see, but it is all tainted with this strong purple and blue uplighting. Therefore flash becomes a necessity.
I need cleaner light – more neutral light – on my subjects. Skin tones have to look good. Clean open light that bounce flash can easily provide … if there is the possibility of using flash.
This is where many photographers become unstuck with bounce flash photography – they are intimidated by the sheer size of the place they are photographing in. Then the instinct kicks in to shoot direct flash, or plonk a piece of plastic on the flash. By the way, this rarely helps. But a few things are on our side for proper bounce flash here – the interior of this place is white. White walls. Disregard the uplighting because it isn't going to discolor your flash's color balance like a non-white painted surface would.
Now the challenge is to quickly get to the best camera and flash settings without fumbling in front of the client.
---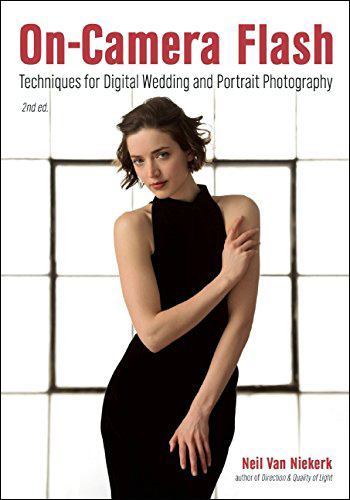 On-Camera Flash Photography – revised edition
This book is explains a cohesive and thorough approach to getting the best from your on-camera speedlight.
Particular care was taken to present it all with a logical flow that will help any photographer attain a better understanding of flash photography.
You can either purchase a copy via Amazon USA and Amazon UK, or can be ordered through Barnes & Nobles and other bookstores. The book is also available on the Apple iBook Store, as well as Amazon Kindle. Also check out the Amazon Kindle store.
Learn more about how the cover image was shot.
---
In my experience, TTL flash tends to pull the exposure down when you get close to maximum output. Then you have to push the FEC higher just to force the flash to give more juice. The simpler option then would be to switch to manual flash — and since this is a massive place, I switch to maximum flash output immediately, and set approximately reasonable values for my aperture and ISO.
That's it – a simple algorithm for this challenging scenario:
Set maximum flash output in manual, (or a stop below maximum output.)
Set an approximate aperture and ISO combination.
Bounce flash over your shoulder into the direction you want the light to come from.
Adjust to taste, according to the cameras's LCD.  Quickly!
Keep in mind when your subject and yourself are in static positions, it makes manual bounce flash an easier option than if either were moving.
Check the related articles at the bottom here for more info on the same topic.
In this instance, I was using the Profoto A1 flash  (B&H / Amazon), and I was able to move my settings down to a where I still had two stops of light in reserve from my flash. I ended up not going to maximum power, because at f/4 and 2000 ISO, I had enough light at two stops below maximum flash output, even when bouncing light behind me like that into the massive area.
Camera settings & photo gear used during this photo session
I didn't need to use a gel because I didn't need to balance my flash's color balance with that of the background – I liked the purple colors that came from the uplighting, since it complemented the warm tones very well.
I use gels when my subject is bathed in the same light (incandescent) for example. In this case, there was no particular light source on them, other than the flash. And I didn't have to balance the color balance on them since I was happy with how the background rendered.
On a side note, I still use my two SB-900 speedlights depending on the occasion. At high ISO settings, with a more delicate kiss of light from my flash, the Nikon flashes are more consistent. But when I need more power and the ability to hammer the flash hard, I use the Profoto A1. They are workhorses when it comes to this.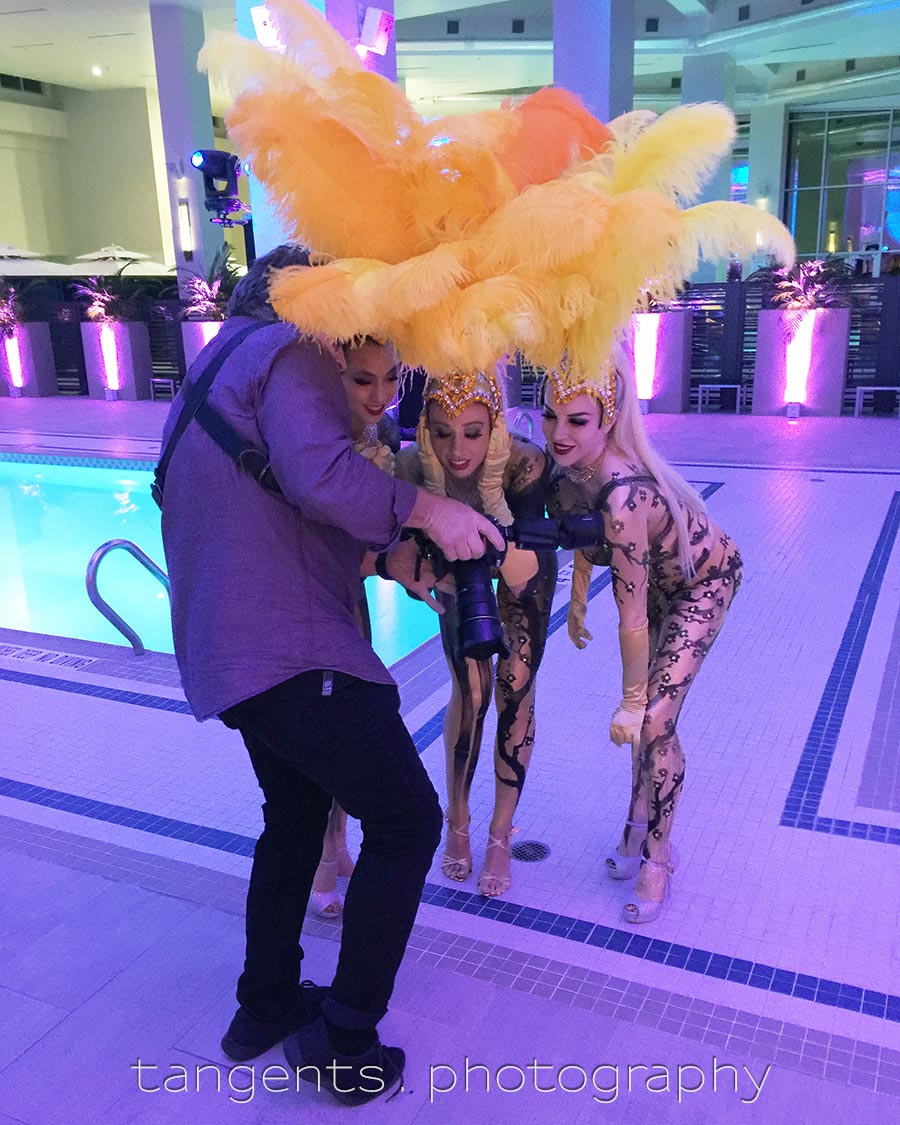 "Dammitt, will you get that thing out of my face?!" … is definitely not what I said.
Related articles