With this image from the workshop in Seattle, we were working outside the hotel and the city scene there wasn't all that hip and urban.  It was visually quite cluttered.  So when I wanted to use this image, my first thoughts were to simplify it a little since there is a LOT going on in the background that doesn't add to the image and just detracts from our model Julia.  The leading lines of the cars, overhead train lines and the pavement all do help to give a more dynamic composition .. along with Julia's crazy body angles.  But the image definitely needed some work.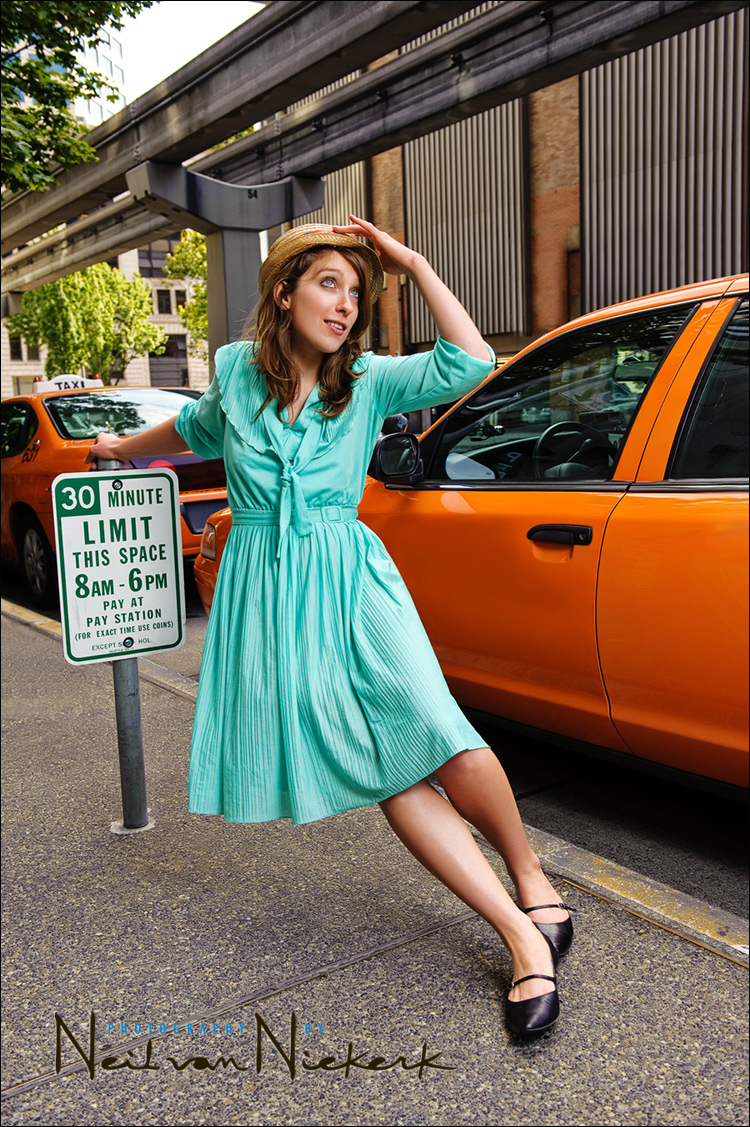 Here is the image without any editing done to it, aside from my default raw settings applied ..
You can see that my first thoughts were about how to reduce the visual distractions, and hopefully make it a stronger image.  The setting isn't ideal, but we can improve it considerably in post-processing.
I removed the marks on the sidewalk .. the writing on the cab and even the sticker in the cab window.  With that the light on top of the cab also had to go.  The sign post on the left in the image also had to disappear.  The numberplate of taxi in the background also had to be cloned out.  The neon sign of the car rental also had to go … and there you can see a little bit of sloppiness in the cloning … but I don't think it would be really visible in the edited image unless you had the original to compare.  So I could let that fly. The red marking on the wall behind Julia's head had to be toned down.  And then I also reduced some minor clutter in the image that would only really be seen when enlarged.
That was the start.  And then I punched the image up a bit by increasing the contrast and saturation, and adding some softening to our model, but also increasing the local contrast.  You know .. that sprinkling of Photoshop fairy dust to make the image that little bit better.
Lighting was with a softbox and a speedlight which was held at a 45 degree angle from me to my right.
Camera settings were:  1/200th @ f5.6 @ 200 ISO
The speedlight was set to manual, to give me  f5.6 @ 200 ISO .. which then balanced fairly well with the available light.  The flash was metered with a Sekonic flashmeter, to give me the correct flash exposure for those settings, and the specific distance the light was going to be held at in relation to our model.  (The other variable being the flash's power setting.)
The lighting made a huge difference in the final image.  Here's a comparison image with only the available light at the settings that were chosen to be used with flash: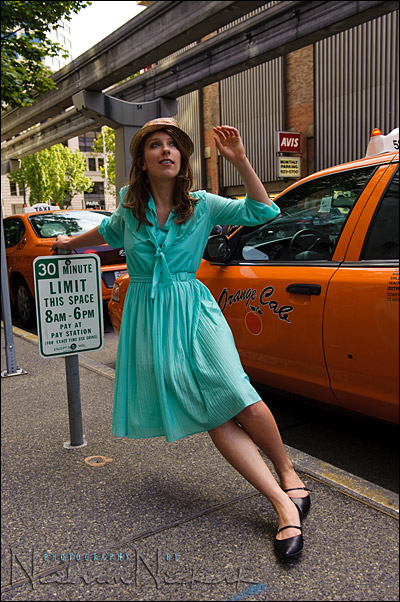 .
And a few more of the delightful craziness that is Julia ..