Flash Photography Techniques
Exposure metering  ~  Flash exposure compensation  ~  Bounce flash examples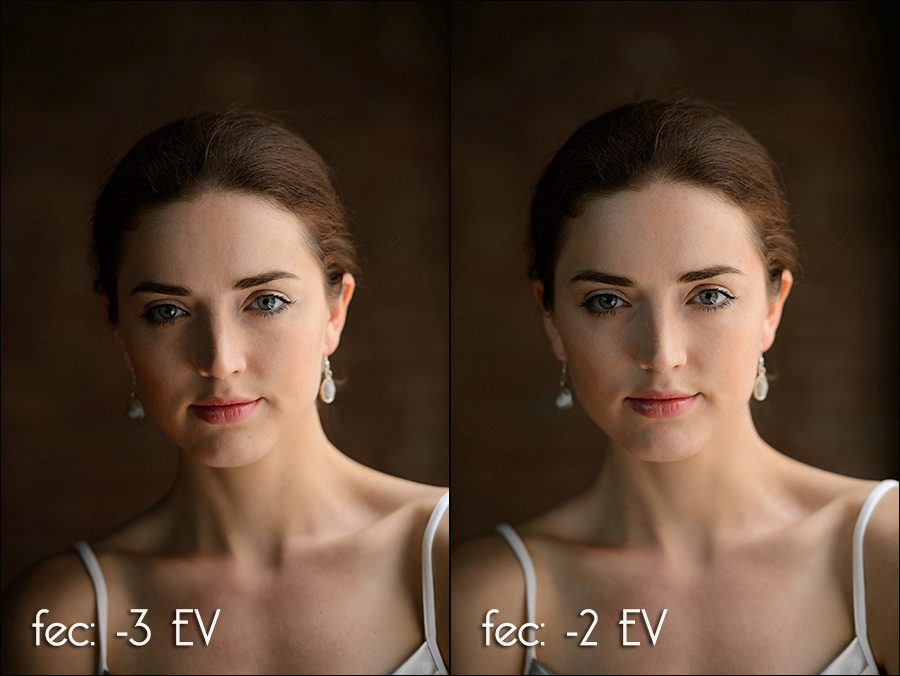 Flash exposure compensation  (FEC)
Before we get to flash exposure compensation specifically, we need to distinguish that there are two different kinds of exposure compensation :
1.)  Overall exposure compensation
This is set on the camera body.
For Nikon, this affects BOTH ambient and flash exposure for Nikon;
(unless changed via a custom function on the newer Nikon cameras like the D4, D800 and D600.)
For Canon cameras, overall exposure compensation only affects the the ambient exposure.
Exposure compensation is used with the automatic metering modes, however …
with most Nikon cameras, dialing exposure comp in manual exposure mode will bias the meter.
With Canon, you can't dial (overall) exposure compensation in manual exposure mode.
2.)  Flash exposure compensation  (FEC)
Setting flash exposure compensation affects the flash output only. Ambient exposure is unaffected.
This can always be set on the flashgun itself, but some cameras have a button on the camera body itself where the flash compensation can conveniently be set without taking your eye from the viewfinder.
Flash exposure compensation is used to compensate for the flash output when the flash is used in Auto or TTL mode. It obviously can't be set when the flash is used in manual output. With manual flash, you'd just be dialing the actual power output up or down. With FEC (and TTL flash), you are telling the flash to give more (or less) flash output, relative to what the camera decides via its metering system.
1.)  Exposure compensation
What many new photographers have trouble coming to grips with, is the concept of :
1. adding exposure compensation when the scene / subject is light in tone,
2. and decreasing exposure compensation when the scene in front of the lens is darker in tone.
The reason for doing so, is that your camera's meter tries to expose for everything as a middle grey tone.
Hence, if you are using one of the auto modes (or Auto / TTL flash), the camera will expose any light toned scene as if it should be of an average tonality. In other words, the light toned subject / scene will be exposed as middle grey. Eg, someone in a white dress against a white wall, will appear under-exposed. So you need to bump the exposure compensation up for lighter toned scenes.
The same reasoning goes for darker toned scenes. A man in a dark suit against a dark brick wall, will have skin tones which over-expose if you left the camera to its own decision. The dark tones would fool the camera's meter.
To make it even more clear, let's think about this scenario:
We have a setting where the light is consistent and even. So there will be an exact combination of aperture / shutter speed / ISO settings which will give correct exposure for skin tones.
Now, if our subject dresses in all black or all white clothing, our meter reading will change … yet, the light didn't change. In other words, we would still need the same exposure, regardless of the variation in our camera's light meter reading.
If you use an automatic exposure mode, then you would have to use exposure compensation. And you would have to vary your exposure compensation depending on your composition – because the size of the light / dark patches of clothing and background will affect your meter reading.
The same reasoning goes with using Auto or TTL flash. You have to continually adjust your flash exposure compensation, dependent on the tonality of the scene in front of your lens. This is the reason why I use manual exposure mode nearly exclusively.
But then you may very well ask why I often use TTL flash (or Auto flash) instead of manual flash – the reason is that TTL flash is easier to control when I am constantly changing position in relation to my subject. And as I explained on this previous page, it is easier for me in these situations, to use the camera in manual exposure mode, and the flash in TTL / Auto mode. But this means that I have to constantly change my flash exposure compensation.
Which finally brings us to the rest of the discussion on this page …
2.)  Flash exposure compensation (FEC)
There are, broadly speaking, two scenarios to consider when we think of how flash exposure compensation works:
1. FEC when the flash is mere fill-flash
2. FEC when the flash is the dominant light source.
Of course, there are many scenarios which fall somewhere inbetween that. But in understanding these two situations, we'll get a much clearer view of what Flash Exposure Compensation does.
2.a) Flash exposure compensation when using fill-flash
With fill-flash (using TTL or Auto flash), you will most often dial down your flash exposure compensation to give only a tiny bit of fill light. So in this case, your flash exposure compensation will be around -1 to -3 EV. (But it depends on the tonality of your subject as well.)
Let's look at a specific example – a window-lit portrait of a model. In other words, she is lit by the available light coming through the window. We establish our exposure either with a hand-held meter, or by carefully using the histogram method for metering off her white dress. There is a follow-up article which also discusses exposure metering for the bride's dress.
In the top two images, there are no flash. In the left-hand side image, with the way she is posed, the window light looks fantastic, with the way the light turns to shade across her cheek. Her eyes are lit and have a spark. Great.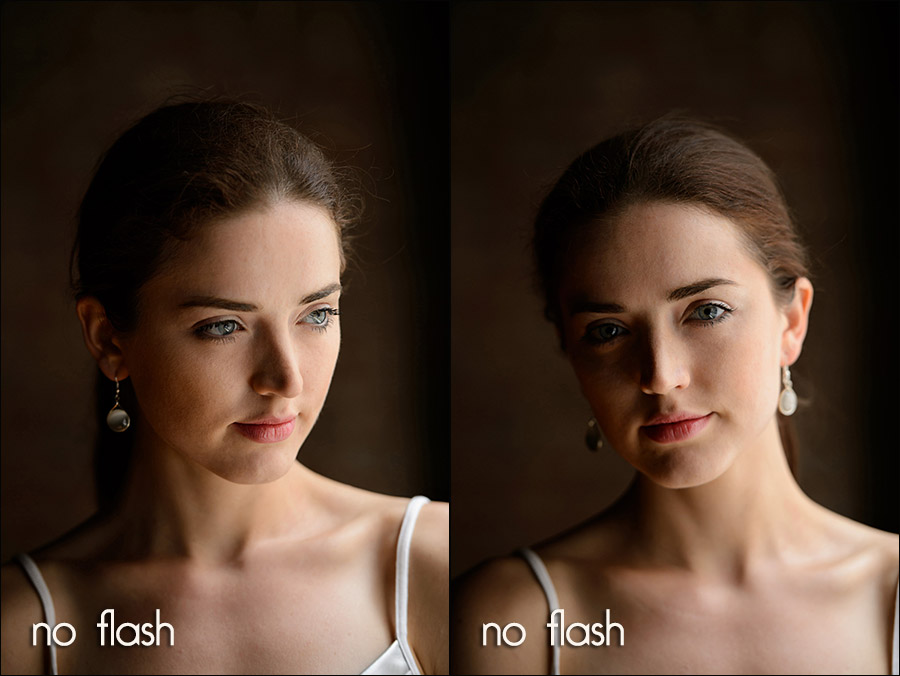 But the moment she looks at the camera, the contrast is too much. Her eyes are shaded. While this might work as a moody portrait for some subjects (eg, a musician), it isn't quite as flattering as a gentle portrait of a woman.
In the right-hand image, the exposure is still the same. That didn't change. We couldn't just add more light (by opening our aperture, or dropping our shutter speed), since this would cause over-exposure to the brighter side of her face.
We need to do something to bring in more light to the shaded side of her face. We could use a reflector … or, fill-flash. In this instance, I used on-camera bounce flash. I used TTL flash that I bounced into the room to the camera's left.
Now I need to control the amount of light from the flash. I need to tell the camera to add only a certain amount of light, instead of the full output. Here are four examples at different FEC settings.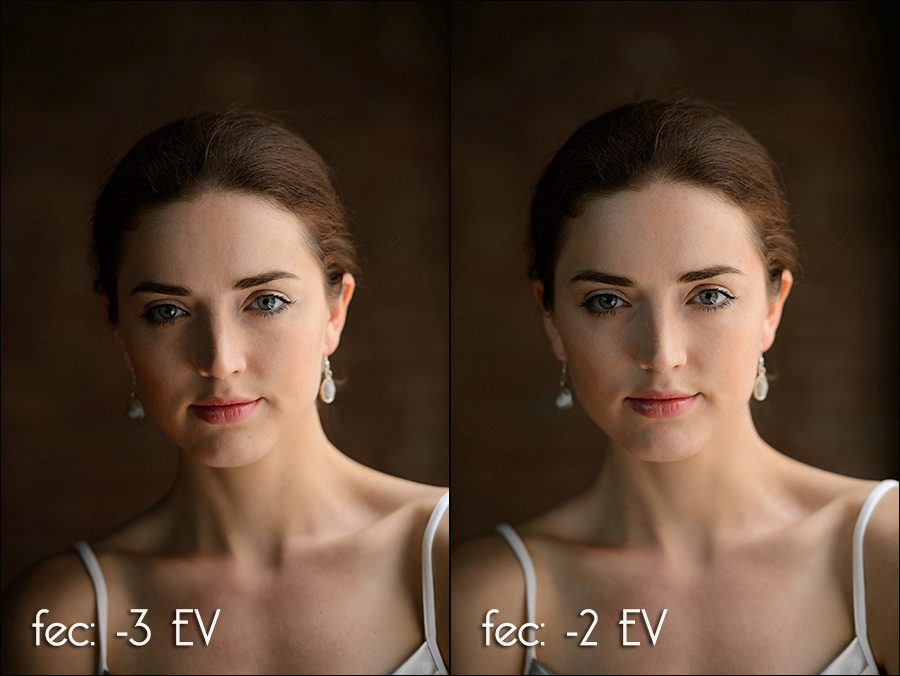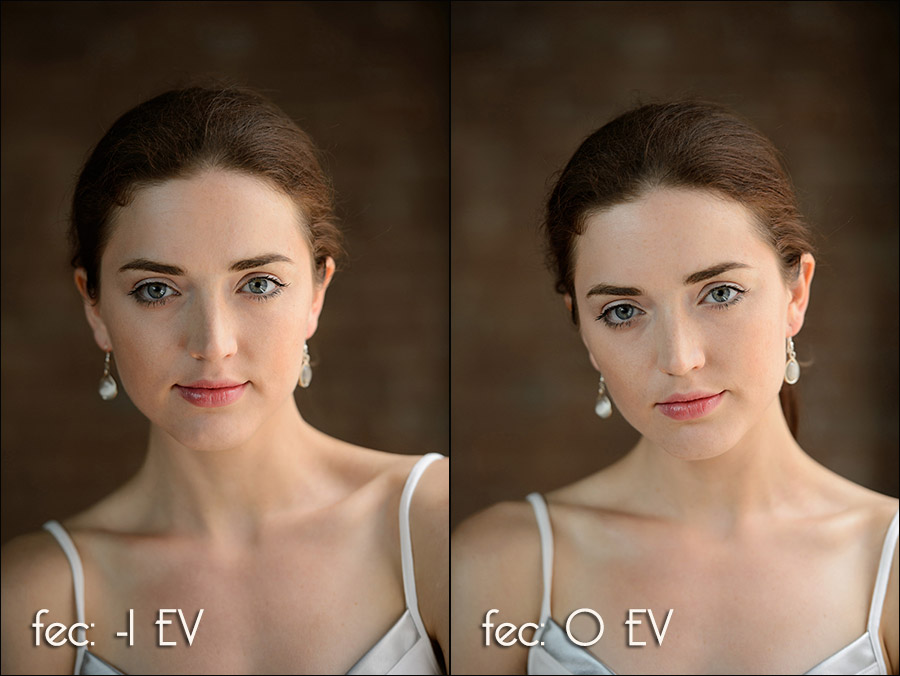 Note – there is no right or wrong here. Just personal preference. You need to decide what you like, at any point that you use fill-flash.
This is in essence what we do every time we use fill-flash, whether on-camera, or off-camera. We lift the shadow areas by brightening the darker parts. Fill-flash reduces the contrast.
2.b) When your flash is your main source of light
But when your flash is your main source of light, you will usually hover your flash exposure compensation around 0EV to +0.7 EV depending on the camera and camera system … and of course, the tonality of your subject and scene. So your flash exposure compensation could still range anywhere from around -2 EV to +2EV.
Once again I want to stress a particular point – there are no specific or fixed settings.
There are just too many variables for anyone to give specific 'do-all' settings.
Factors that will affect your choice of FEC
There are a number of factors which would affect how your camera and flash meters TTL flash, and would therefore affect how much flash exposure compensation needs to be dialed in:
– reflectivity of your subject,
– how much of your frame is filled by the subject, and
– how far the subject is from the background, and
– whether the subject is off-center or centered in the frame,
– the individual camera's exposure algorithms that the camera designers came up with,
– available light – (this ties in with how the camera's metering algorithms work),
– back-lighting – (strong back-lighting always require a lot more flash exposure compensation).
Therefore you have to juggle all this when figuring out how much flash exposure compensation to dial in. A seemingly tough task that gets easier with experience.
But here's a hint – when your flash acts only as fill light, then the actual flash exposure compensation can vary a lot without affecting the quality of the final image much.
An example:
Flash exposure compensation of say -2 EV will look slightly different than -3 EV, but in the end the actual photo won't be incorrectly exposed with either setting. If your flash was the main source of light, then a full stop incorrect exposure would be a lot and might very well mean the image is a flop in terms of exposure. But when the flash is just fill-flash, it is less crucial – although careful and subtle use of flash should always be the aim of course.
Nikon TTL vs TTL BL
With Nikon's flash system however, you have the choice between TTL and TTL BL, (ie standard TTL and matrix TTL). With TTL BL, the camera and flash take into account the available light and will reduce the flash output accordingly. More subtle fill-flash is possible with TTL BL than TTL.
The conclusion here is that ultimately it is best to know how your specific camera and flash reacts in various scenarios and various lighting conditions. There is only so much that can be learnt outside of actual experience and continual practice. You have to know your own camera.
More detail in this article: Nikon's flash settings – TTL vs TTL BL
Cumulative exposure compensation with Nikon cameras
Nikon cameras allow you to set overall exposure compensation even when you have your camera set to manual exposure mode. This allows you to bias the metering.
With Nikon, the overall exposure compensation and flash exposure compensation is cumulative .. to an extent. For example, if you were to dial in +1.0 exp comp and -1.0 flash comp, it would cancel each other – but only for this scenario where the ambient light is low, and your flash is your main source of light.
Where the ambient light levels dominate, and flash is used as fill-flash only, then different algorithms come into play, and you have other factors such as max sync speed and available apertures affecting the scenario as well .. and hence the flash and exposure compensation might affect ambient light exposure differently then.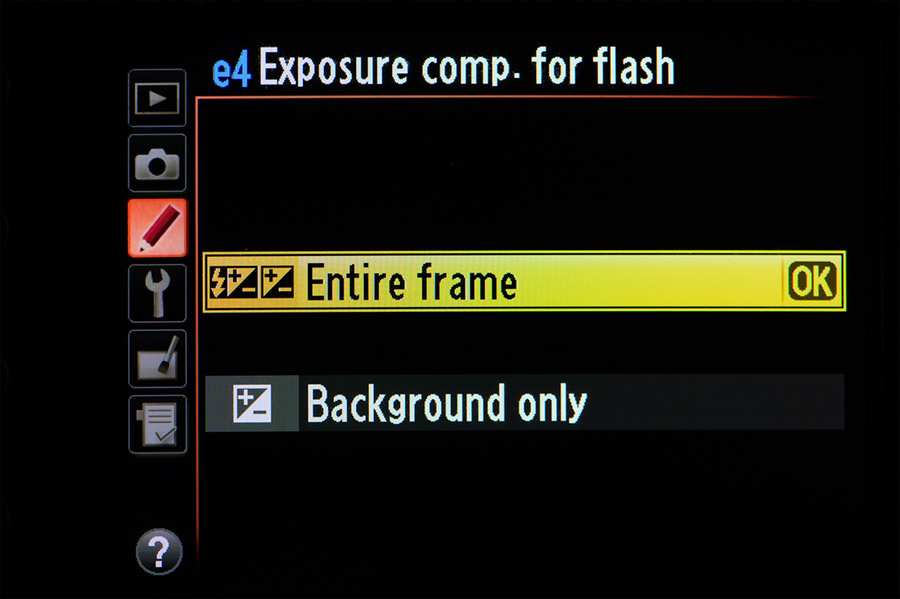 With the more recent Nikon bodies, (Nikon D4, D600), you can change a custom function so that the overall exposure compensation is disconnected from the FEC.
It is confusingly named as FEC for entire frame vs background only. By selecting custom function e4 (for the Nikon D4), to 'Background only', the overall exposure compensation has no effect on the flash exposure.
With Canon, flash exposure compensation and general exposure compensation aren't linked, as they are with (most) Nikon cameras. So with Canon, in manual exposure mode, you can only set flash exposure compensation and not overall exposure compensation.
(It is no use asking me how it handles this in any of the auto exposure modes, since I use my cameras nearly exclusively in manual exposure mode. You're on your own there.)
Help support this website
---