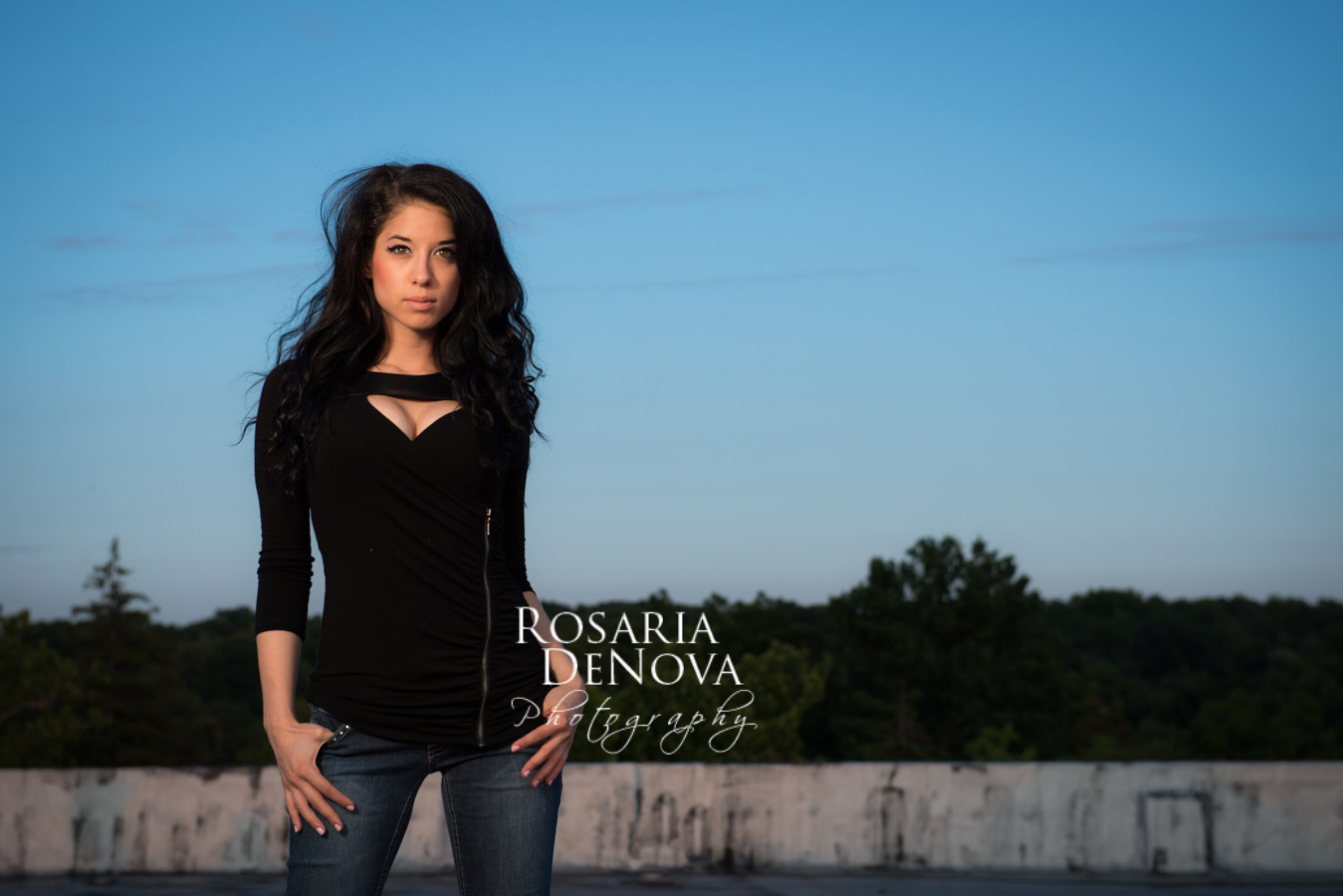 Gelling your flash, and post-processing for deep blue skies
The warm light from the nearly-setting sun, accentuated with gelled flash. Towards the end of the recent photography workshop, we were shooting on the rooftop – the warm tone of the sunlight contrasting beautifully with the blue sky.
To punch it even more, we added gelled flash via an off-camera speedlight in a softbox. We had to gel the speedlight of course, to make sure the blue color balance of the flash didn't kill the natural light. We used a 1/2 CTS gel here which brought the flash's WB down to around 3700K. (This photo of our model, Melanie, was taken by Rosario.)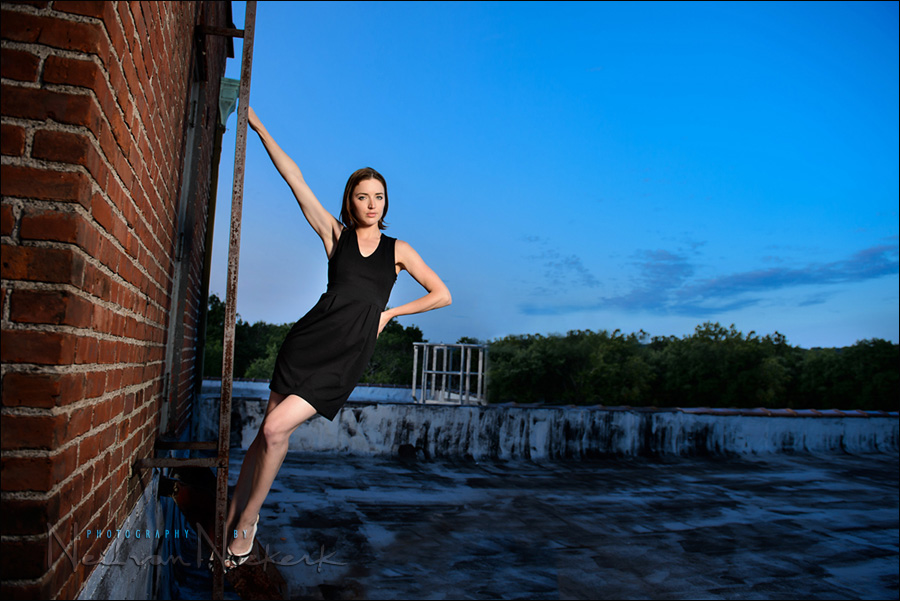 Gelling flash & post-processing for deep blue skies
Working in the shadow side of this structure, the only light on Anelisa is from the (gelled) off-camera flash. The blue sky was enhanced a bit in editing the RAW file.
camera settings: 1/250 @ f/4 @ 200 ISO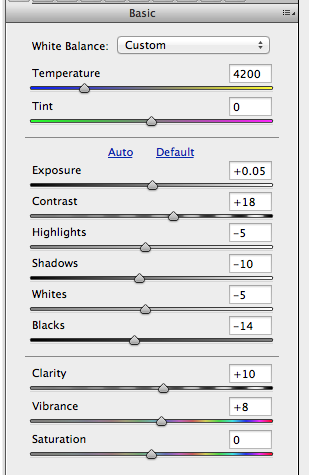 For a punchier image, I pulled the Blacks down a bit, and nudged the Contrast up.
The blue sky, which is already enhanced because of the warm color from the flash, was then made more intense with adjustments to the Blue tones in the HSL tab. I pulled up the Saturation for Blue, and then pulled the Luminance down a touch. This didn't affect anything other than the blue sky, since nothing else in the frame had blue colors.
In the final image above, I also used the local adjustments to to selectively pull down the exposure around the edges of the frame. This created a more vignetted effect to the side of the building.
Here is the SOOC test shot as comparison:
Gelling your flash
You can buy gels through these affiliate links: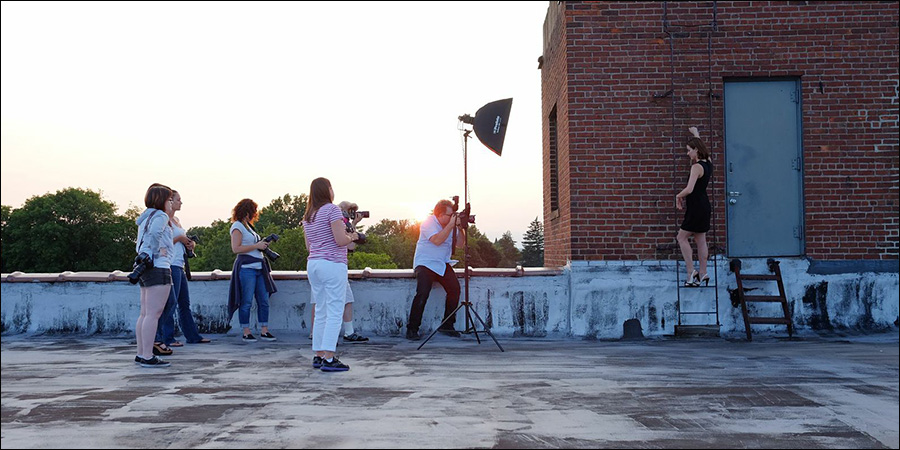 Related articles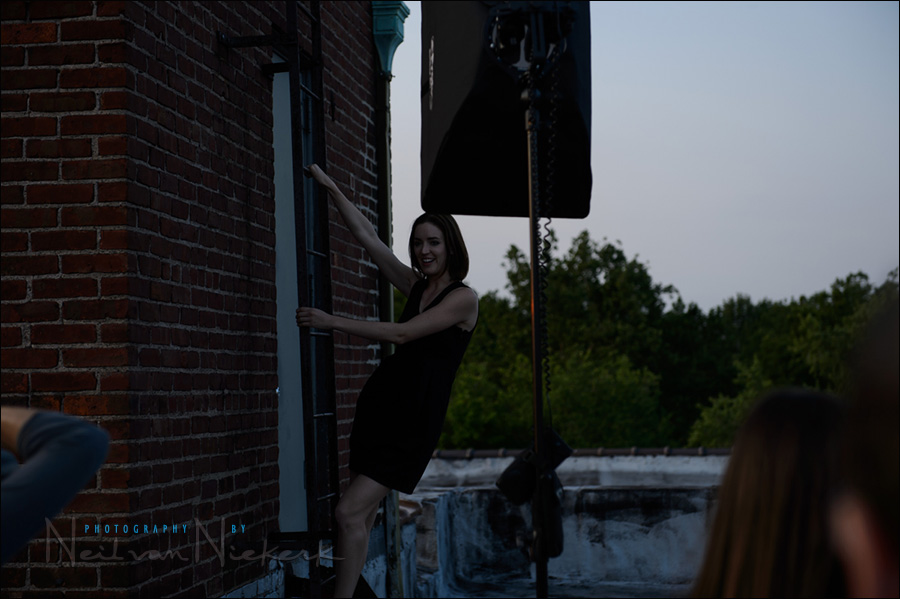 Off-camera flash gear used (and equivalents)
The soft boxes used here was the Profoto 1.3′ x 2′ softbox (affiliate), which I specifically got for the workshops – gear updated: flash photography workshops. The softbox was mounded on a Profoto RFi Speedrings for dual speedlights (affiliate), to enable two speed lights in a single softbox. But any of the soft boxes listed below would've worked just as well.