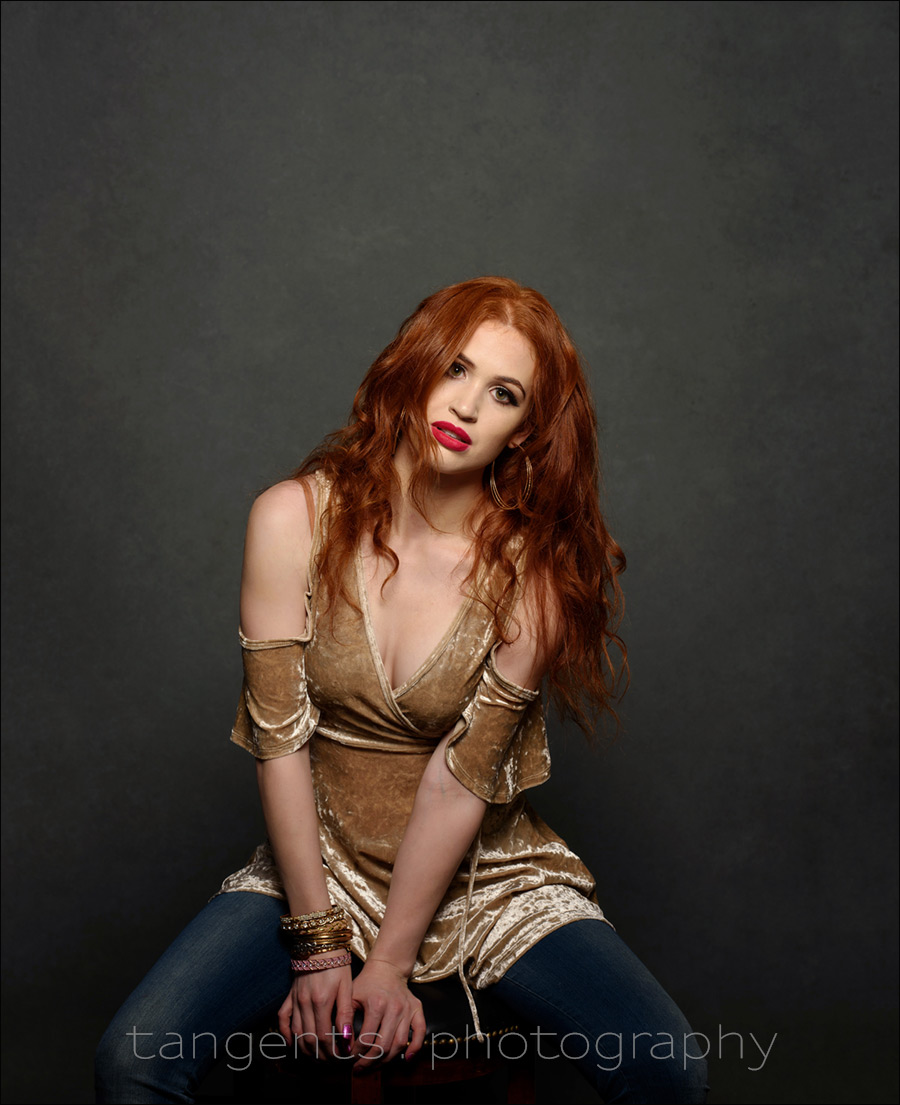 Headshot photography lighting setups in the studio
As with most photography, lighting setups and diagrams are more suggestions than absolutes. There are 'best practices' that will help you get constantly good results – such as getting enough light on the eyes so there is a twinkle. Okay, call it a catchlight then. Other than a few guidelines, there is a lot of flexibility in the style of lighting, and also the gear used. In the accompanying article, headshot photography lighting on location, I showed a few examples of how I varied the lighting while out on location. This depended on limitations of the location, as well as requirements of my clients. Similarly, in the studio, I change the lighting configuration, depending on what my client would need.
With this article, I want to show one of the setups I use regularly, and then show an example of where I changed it up for more dramatic results with a client that wanted a more moody look. The point is, we should not be locked in one way of doing it, but be able to improvise a little bit. Similarly, you will notice that the main photo isn't merely a tight headshot – I included the hands. I don't particularly like the idea that headshots should just be tightly framed, and that including the hands are a no-no for headshots, and that makes them more a portrait. It's too sharp a definition for me. If a client wants a half-length shot as well, am I going to refuse?
---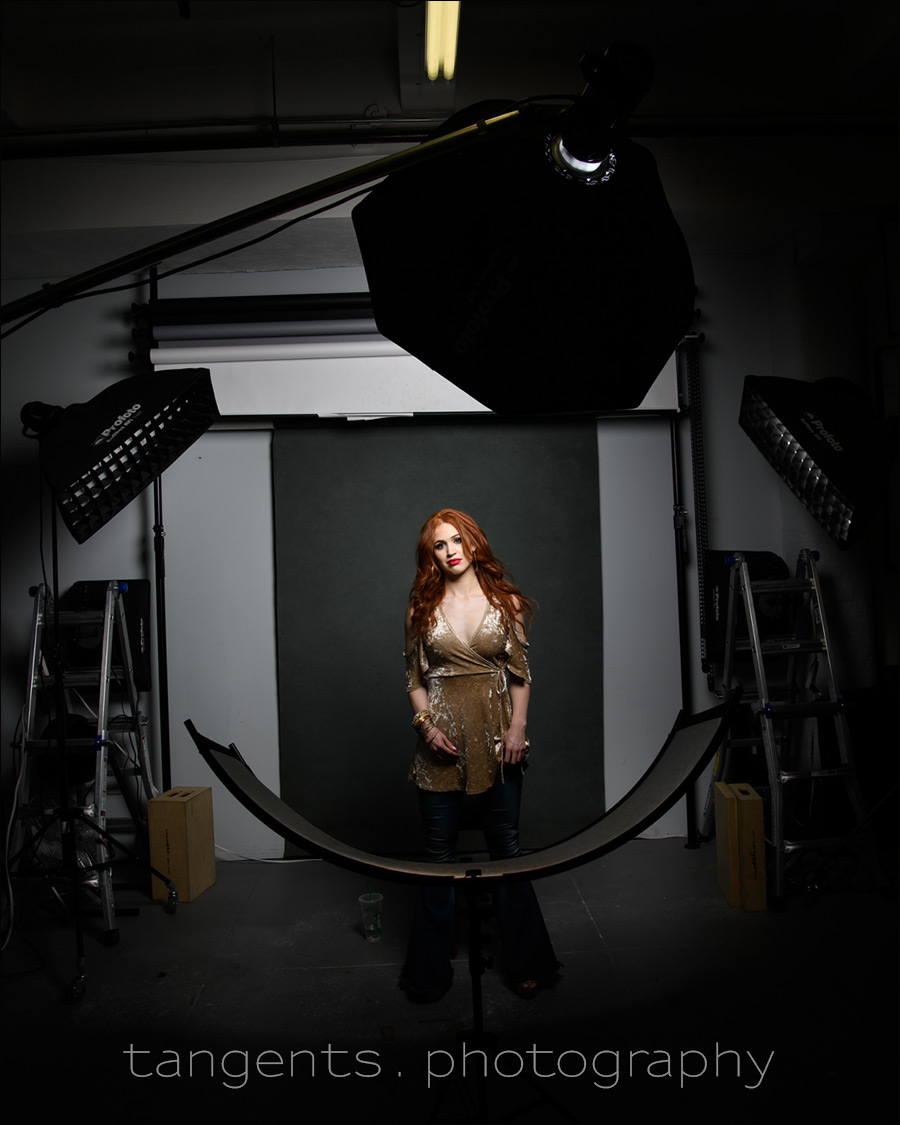 Photo gear (or equivalents) used during this photo session
1/160  @  f/8  @  100 ISO
This is one of my go-to setups in the studio, based on clam-shell lighting. There is the main light – a gridded Profoto 3′ RFI Octa Softbox  (B&H / Amazon) in the front. I usually have a larger, ungridded softbox for the main light, but this time I wanted that dramatic light fall-off to her hands. Below, you can see the Westcott Eyelighter (affiliate) for fill-light.
I didn't add a light to the backdrop with this session, but as you can see in the other session shown below, I added an accent on the backdrop for that one. We have choices, as long as the results look good.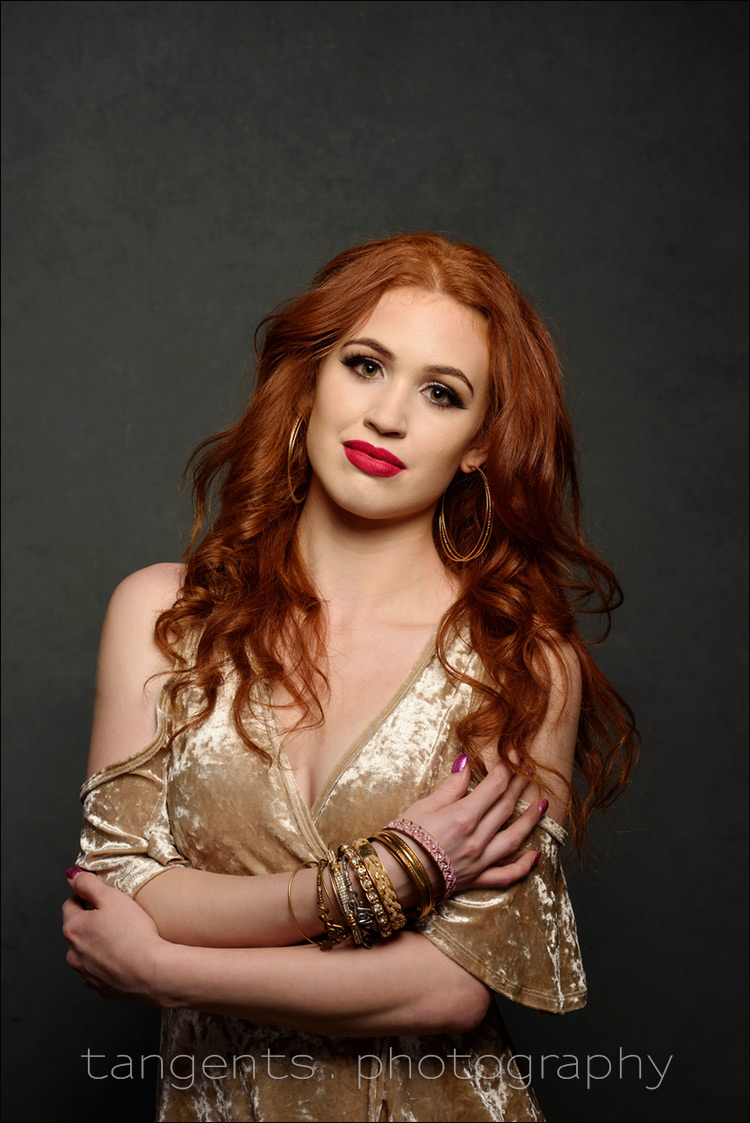 ---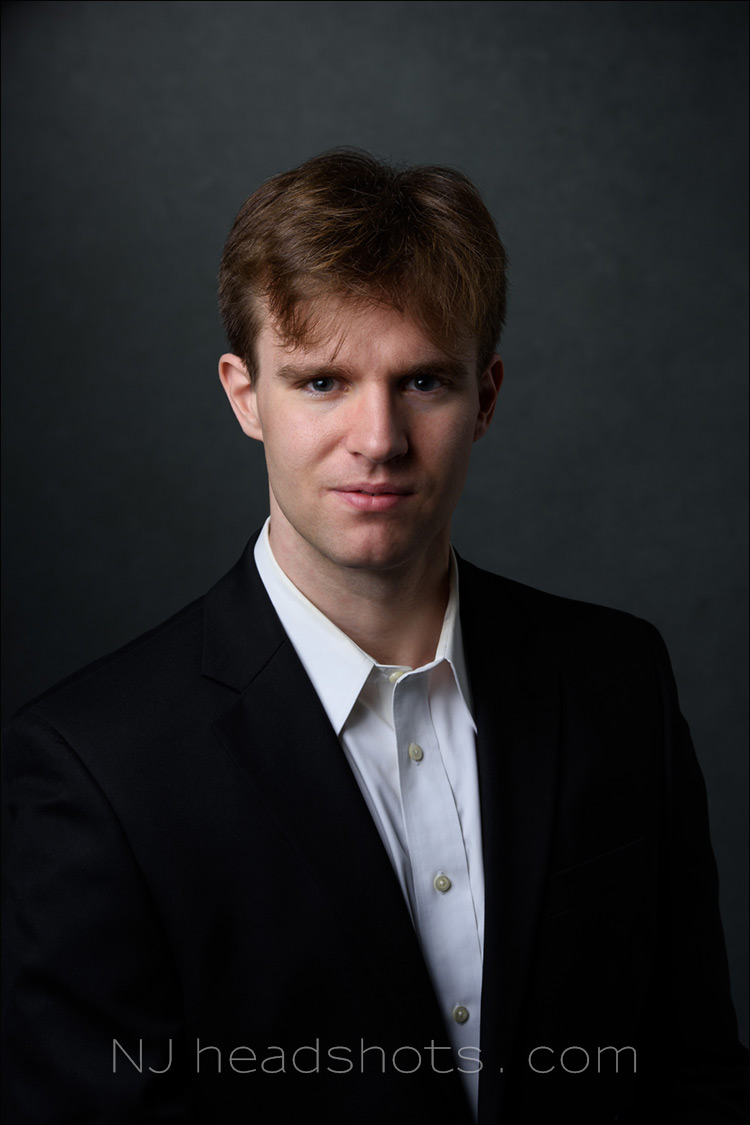 The lighting setup used here is something I saw in one of the tutorials in the Profoto newsletter. Different lighting gear that I normally use, but I had the same items, so I thought I would set it up the same way.
This is another instance where the exact gear isn't necessarily of any consequence – you could use any large light source close to your subject, with a reflector to the other side.
Keeping to the same setup though, I used a Profoto B1 flash with a Profoto Deep Silver Umbrella Large (51″)  (B&H / Amazon), softened with a Profoto Umbrella Diffuser Large  (B&H / Amazon). As a fill-light, I moved the white V-flat in.
For an accent on the painted backdrop, I positioned a gridded Profoto 3′ RFI Octa Softbox  (B&H / Amazon), to create a gradient with fall-off.
Here is the pullback shot to show the exact lighting setup: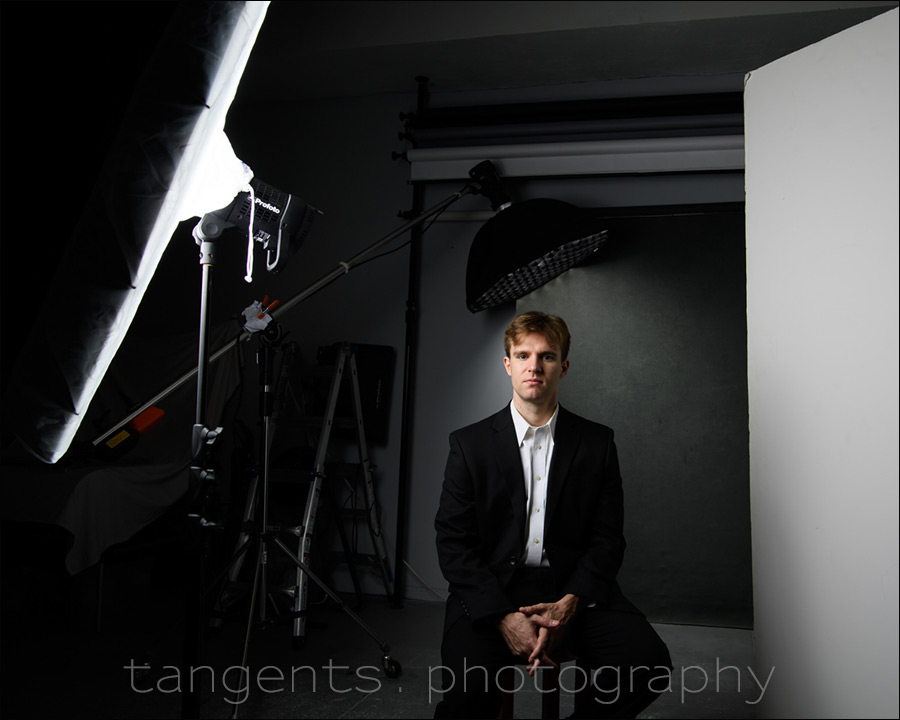 Photo gear (or equivalents) used during this photo session
1/200  @  f/8  @  100 ISO
If you want consistency in lighting from shot to shot, then the best option would be to use a tripod. Even a slight shift in my position, subtly changed the way the lighting appears on his face and the background. Remember, it's the shape of that triangle between your main light, your subject, and yourself, that will (amongst other things), help determine how much contrast you have – or how soft your light will appear.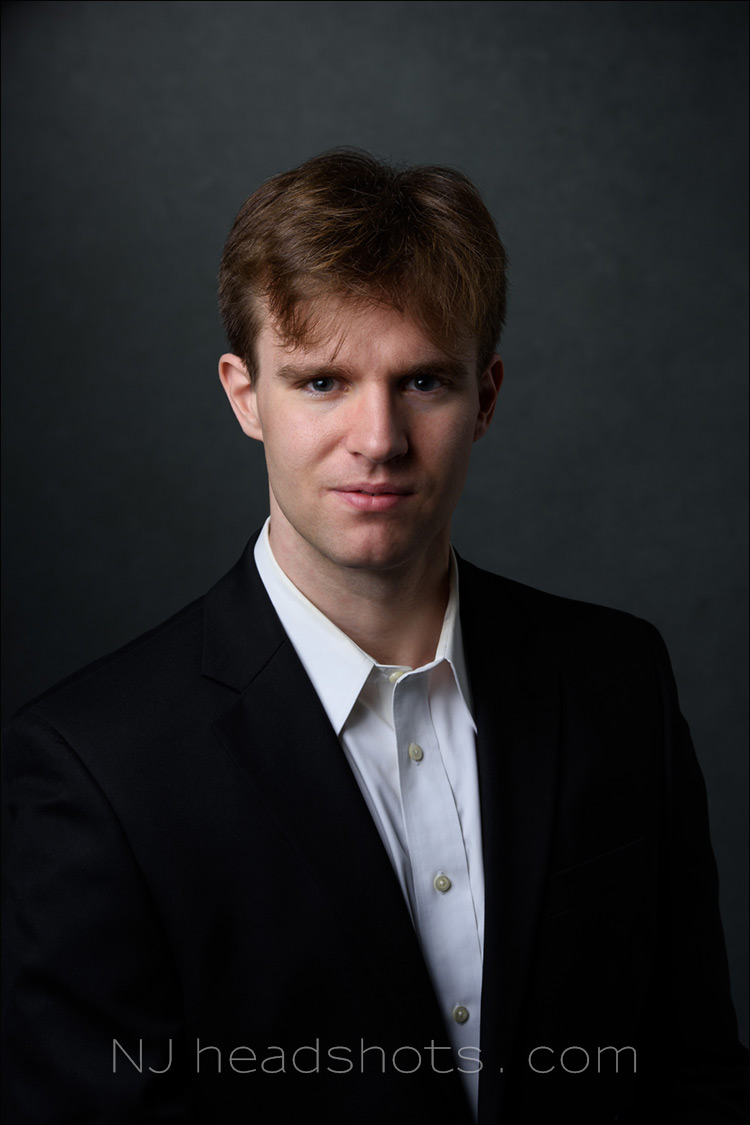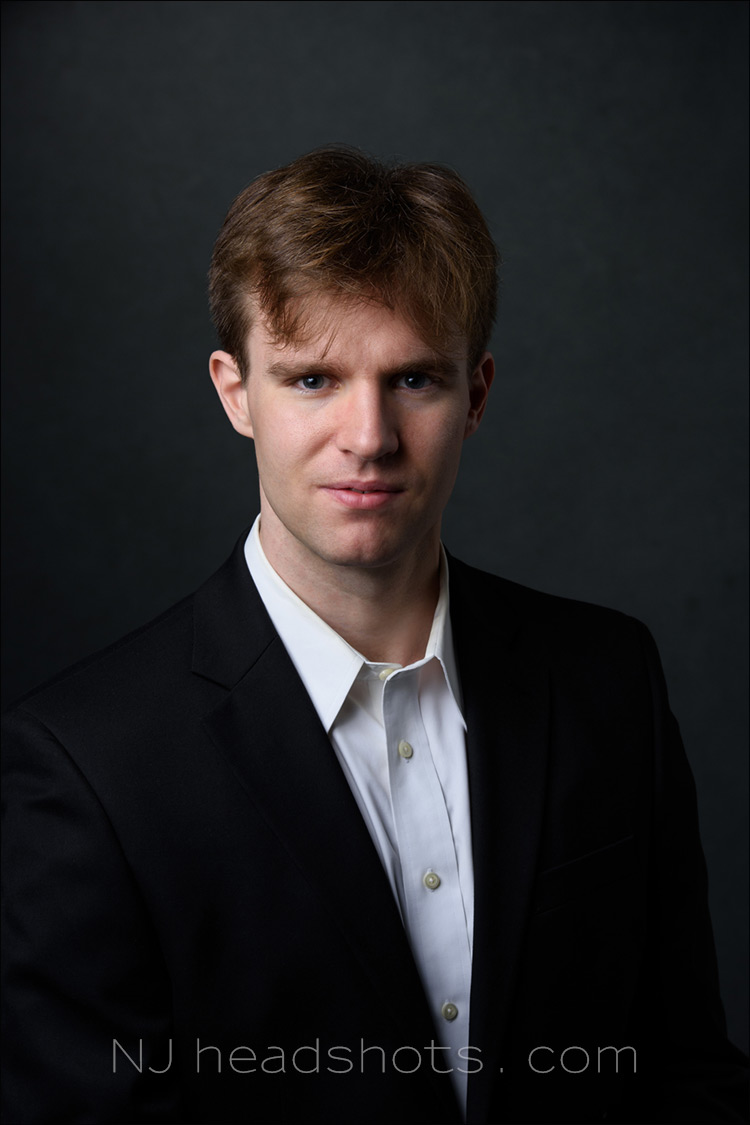 ---
Related articles