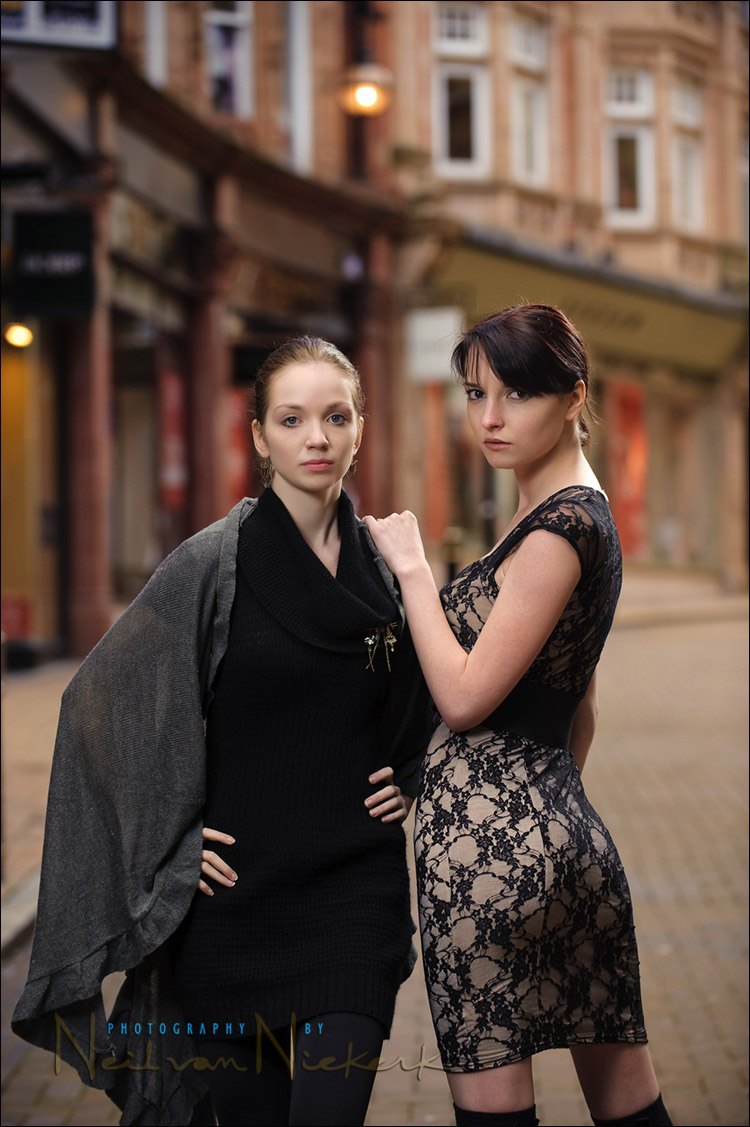 Metering for off-camera flash? – start with the ambient light!
In the tutorial on balancing flash with ambient light, various scenarios are listed in where we start with our camera settings. My advice is that we invariably have to start with the ambient light. That will anchor our decision to an extent, and will determine how the final image looks.
This photo is from a photography workshop I presented in Birmingham, UK in 2009. In the afternoon session we used softboxes with manual flash to photograph the two models. And yes, the models did indeed stop the pedestrian traffic.
Camera settings: 1/200th @ f4 @ 200 ISO
Camera settings were determined by how bright we wanted the background. Without flash, the models were completely under-exposed as you can see in this next photo without flash. This made it easy to light them with the softboxes to give proper exposure.
---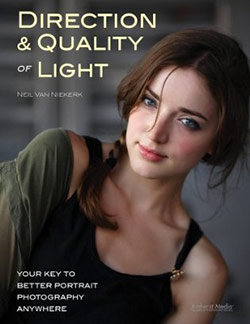 Direction & Quality of Light
I wanted to distill the essence of what we, as photographers, work with – light! Before we can truly grasp on-camera flash and off-camera flash, and really, any kind of photography, we have to be aware of the direction and quality of light. We need to observe the light that we have, and then decide how best to use it, or enhance it.
With this book, I try my best to share those "aha!" moments with you, and I do believe this book can make a difference to your photography.
The book is available on Amazon USA and Amazon UK, or can be ordered through Barnes & Nobles and other bookstores. The book is also available on the Apple iBook Store, as well as Amazon Kindle.
---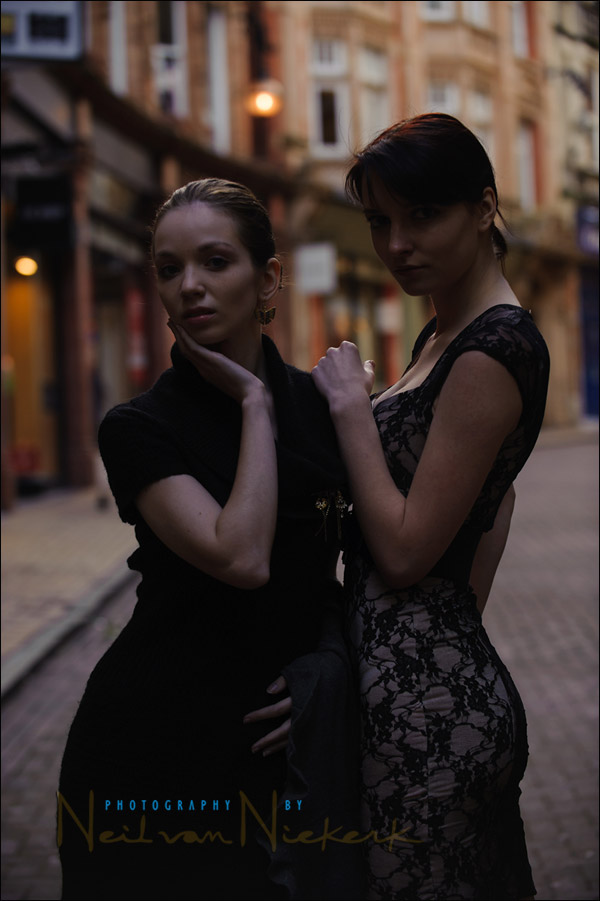 We purposely positioned them there in this pedestrian walkway between the shops. The camera settings were chosen so that our background exposed properly. Then we added manual flash in softboxes, and we metered for this to give us f4 @ 200 ISO, by using flashmeters and changing the power setting on the speedlights accordingly.
We used two softboxes, each with a Nikon SB-900 speedlight set to manual. We used one softbox to camera left, and one softbox behind them as a rim light. That background light was held up high, in about a 1 o'clock position to camera right  .. juuust out of shot. (The flash behind them was the same power and distance as the main light.)
The background brightness did vary a fair amount as clouds moved in and out. So the background does appear a bit darker .. but that's the beauty of using manual flash here .. it stays the same. We could of course compensate to an extent for the background brightness by changing our shutter speed – our only independent control for ambient light. Changing ISO and aperture for the ambient light, would also change the exposure for manual flash.
Related articles