NYC photo session with Nikon 200mm f2 AF-S VR
I recently allowed myself a vanity purchase … the Nikon 200mm f2 AF-S VR lens (B&H).
Last year some time, after seeing another photographer's results with the Canon 200mm f2 IS, I was curious enough to rent one, check it out, and then lust after one. I posted a write-up and some images at the time. What got to me was how insanely sharp the lens was at f2 .. and of course the incredible dream-like bokeh at f2 imparting an impressionistic appearance to the background.
With me reverting to Nikon recently, I picked up a used copy of Nikon 200mm f2 VR instead. But it's been too cold outside to try this lens out .. until yesterday when there was a slight thaw in the temperatures. Since I really liked the results when I photographed Jackie with the Canon 200mm f2 IS, using only the lights in Times Square … I decided to meet up with a new model in Times Square last night to try out the Nikon 200mm f2 VR.
I really liked Lauren's looks, and thought that her Goth sense of style and dress, along with the lights in Times Square, would give a Blade Runner-like feel to the images.   The light is just whatever light there is in Times Square.  Which is a LOT of light from all the neon signs.  And it constantly changes.   So no flash.  There was some available light at the beginning of the shoot, and you can see this in the half-length portrait of Lauren.  But in the image at the top, it was all due to the neon lights in Times Square.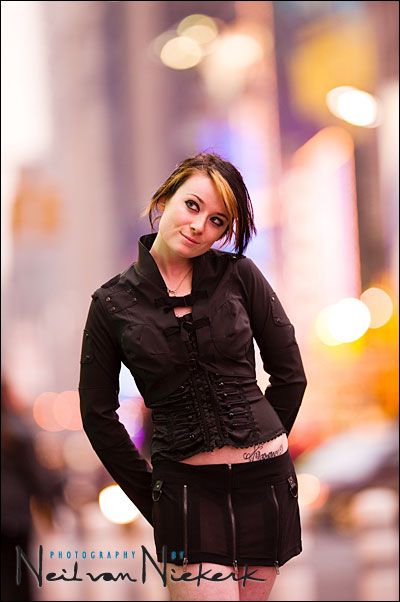 All of the images were at f2, handheld at shutter speeds varying as either 1/250th or 1/200th .. all at 800 ISO with the Nikon D3.
I did take care in positioning her so that we'd get side-light from some of the larger neon signs closer to street level.  So it isn't entirely random.  In the same way that I would choose the direction of the light when using flash, (and ambient light for that matter), I was deliberate in where I positioned Lauren.  In a few of the images, I had moved her more forward of the main bank of neon lights close to us, so that the light would come from her side and from behind her.  In that way I avoided getting lighting that appeared too flat.
Similarly, the backgrounds were chosen deliberately.  Sure, I had no control over when cars would steam by and their headlights cause a beautiful defocused glow in the background .. but the bright colourful backgrounds were quite deliberately chosen in how I positioned myself and Lauren.  I avoided dark empty backgrounds.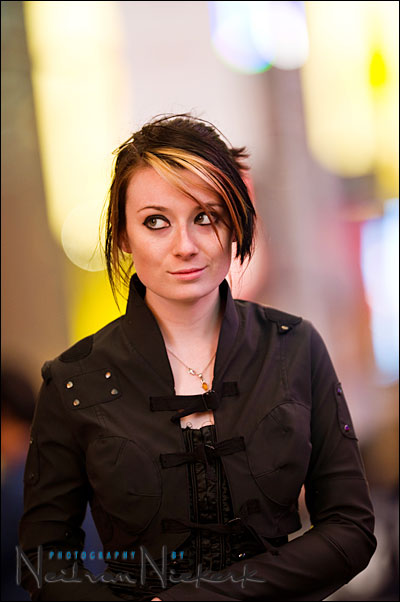 Getting perfect skin tones are of course near impossible with all the neon lights constantly changing. So I tried for good skin tones per image. So there will be some variation.
I did some slight skin retouching, since I believe that very few people would be flattered with close-up photos with optics that are this sharp. But I did mask the background.  So the backgrounds are what they are .. un-retouched.

And here is the beastie:  the Nikon 200mm f2 AF-S VR lens (B&H)
First impression? It is huge.  It is bulky and heavy.  Have I mentioned that it is huge and heavy?  Fortunately, on the recommendation of others, I bought the Kirk SGH-1 Super Grip Handle, (B&H) and the Kirk LP-51 Quick Release Plate and Foot (B&H) … so that I could carry the lens by the handle.  The lens is so heavy that it just feels like you'd damage the camera if you somehow only held this combo by the camera alone.
Optically the results are truly impressive.  Perhaps that is a wild claim since I've only used it af f2 … but I do believe that this kind of optic was meant to be used at f2.  And as you can see from the images, the bokeh of this lens is just beautiful. (And btw, don't confuse thin DoF with great bokeh … they are not quite the same thing.)
What else to say but that I am in love with this lens?