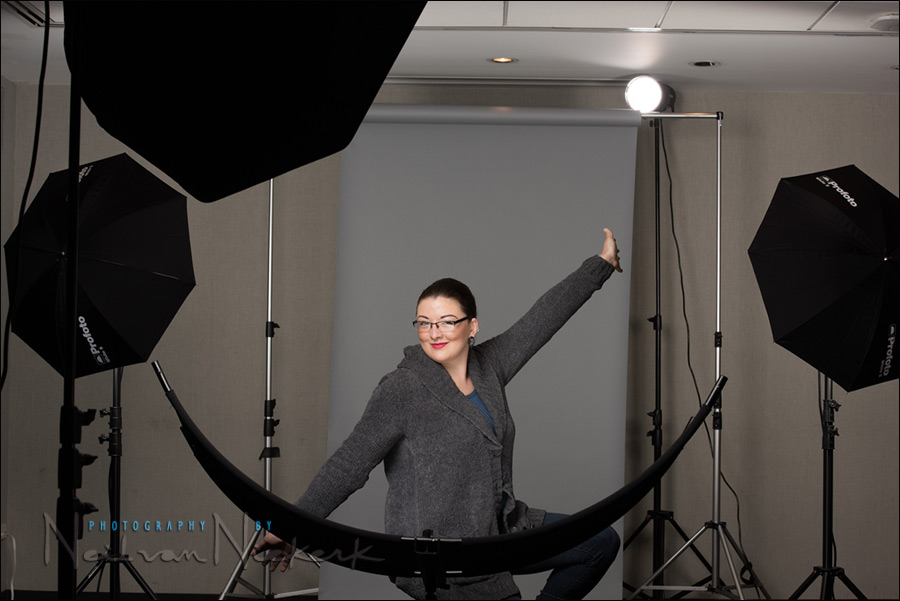 Photo gear & logistics: Corporate headshots
With any professional shoot, forethought and planning is a necessity. For personal photography there's always place for serendipity. But relying on luck with a professional shoot isn't going to go all that far. The same goes for photographing on-location headshots – planning is essential.
With the on-location corporate headshots described in a previous article, I aimed for efficiency and speed. I set up various speedlights and soft boxes around the office place for environmental headshots. This way I could step each person through the various spots and get similar photos of everyone. But there was a certain flexibility in the final look that was okay with those portraits. Still, the setups were done beforehand. I also worked on my own, so I put some thought into how to do the logistics single-handedly.
I was approached by a large law firm in New York to do their headshots – more than 200 people that I had to take headshots of partners and personnel. The company needed corporate headshots that had a specific look to them, with a specific value to the grey background – all in a way to create a consistency with the photos, online and in printed material. With more than 200 people that need to be photographed over the course of two months on various days, there had to be a way to ensure repeatability. The look wasn't environmental, but more conservative and traditional.
I decided to go with studio lighting gear, instead of speedlights. More power, larger light modifiers, and faster recycling times. The Profoto lights are also known for a more consistent color balance. Ideal to speed up my workflow afterwards when editing the photos. With the environmental headshots, the speedlights were sufficient because I was shooting at wider apertures and higher ISO settings to bring in the ambient light. With these more traditional headshots, the ambient light wasn't a consideration at all and I wanted more juice than a speedlight.
This did mean carting most of my studio gear on location. I did a test setup when I first met the PR team to discuss this. This gave me an idea of the logistics. Just the logistics of getting all that gear out of the car and into the building, and setting up fast, meant I had to reconsider a few things. Then of course, at the end of each day, all this had to be done in reverse. And repeated over a number of days. Keep in mind that this is Manhattan where finding parking in front of a building to load and unload can be a real hassle. There's just no time to unload a lot of bags.
With the test run, I had a large hand cart that I strapped bag and cases onto. But this was a bit too clumsy. It took a bit too much time to unpack the car on the sidewalk and load the hand cart. Then, navigating elevators were also not as smooth as I wanted it all to be.
More than struggling, I hate the appearance of struggling. There's a real appeal in not looking clumsy in front of a client. Clearly it is just so much better to appear professional, well-organized and efficient.
This then is a description of just how I did that on the subsequent days where we did the headshots – rolling in looking slick and proficient and setting up fast!
When I posted an iPhone shot of the setup to Facebook, there were a lot of questions and interest in the setup, so I thought it might make for an longer discussion here. Oh, the crazy person at the top is my assistant on this shoot, Presley Ann. Before any of the company's people sit down for their headshots, I need to be completely ready, and she sat in for the test shots.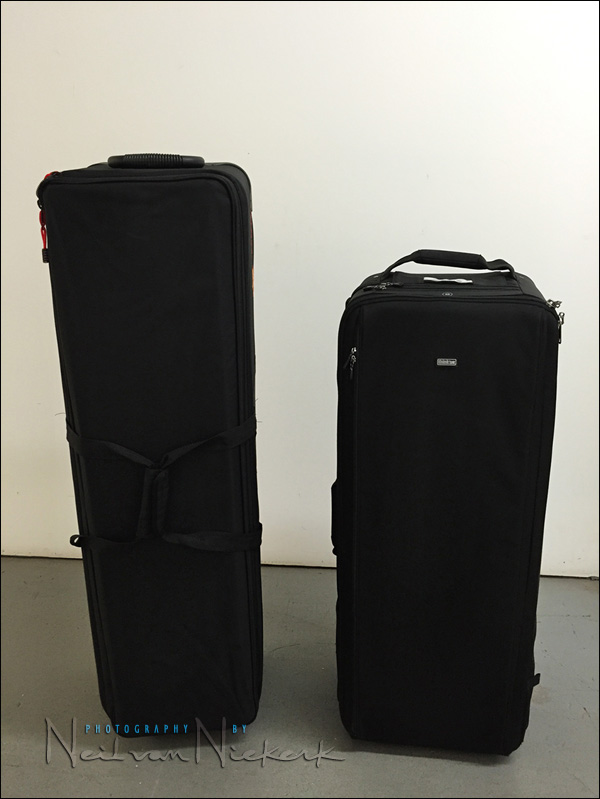 Here's what we rolled in with – two large roller cases containing everything you see in the photo at the top, as well as a bunch of other gear just out of shot.
The taller bag is the Photoflex Transpac roller case (B&H) / Amazon) from which I stripped out all the dividers so I can more easily fill it up with light-stands and umbrellas. The interior of this roller case is 46″ / 116 cm tall, so anything that is tall goes in this bag.
The shorter bag there is the Think Tank Production Manager 40 which is a high-capacity rolling gear case specifically designed for lighting gear. What first caught my attention when I saw Think Tank's newsletter about this bag, is that the promotional photo showed it taking four Profoto D1 heads … exactly what I have. So this bag then was the ideal solution to cart my studio lights around with. With Think Tank's renowned quality, I knew this would be very sturdy, well-padded, with wheels that just glide.
This is just the start of packing it …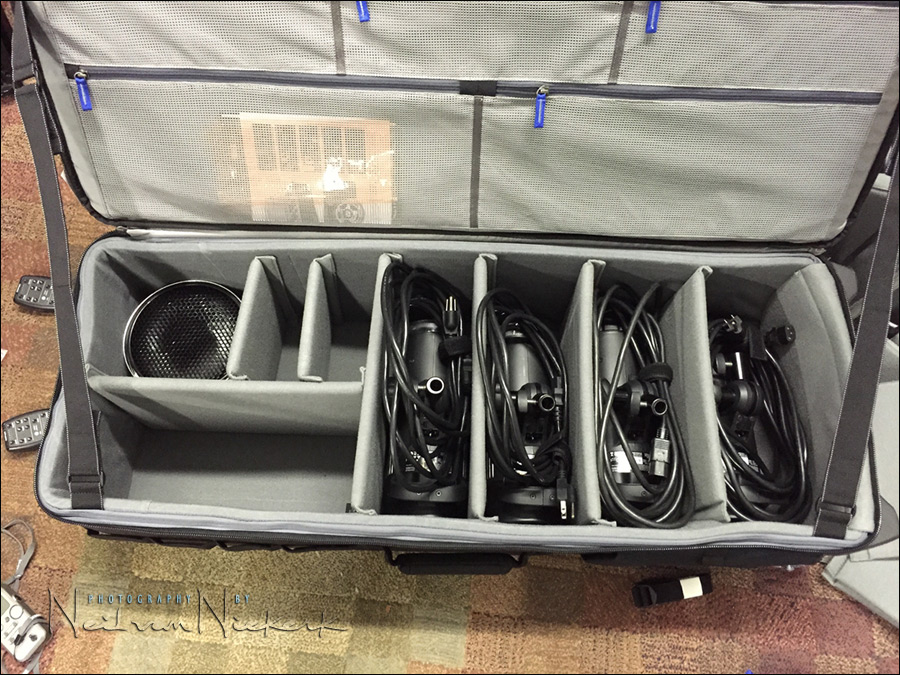 The taller bag is the Photoflex Transpac Dual Kit Case (affiliate), which is a tall roller case that can take (folded) stands up to 46″ in height. All the soft boxes and light-stands and back-drop stands went into this case.
There was just another smaller camera bag – the Think Tank Retrospective 20 (affiliate) on my shoulder. I kept the main camera and lens (a 70-200mm f/2.8) in this bag, as well as some personal items.
The lighting setup
The lighting setup is very similar to that described here:
Instead of the massive 5′ Octa softbox, I went with the more portable Profoto RFi 3.0′ Octa Softbox (affiliate).
The two smaller umbrellas in the background were there to spread the light evenly on the backdrop. I really wanted the color as flat as possible on the backdrop, with no gradient if possible. I metered with a light-meter across the backdrop, left-to-right, and up-and-down to make sure the exposure was very even and shadowless. The light with the gridded reflector (peeking above the backdrop), gave a bit of hair-light where needed.
The curved reflector in the foreground was adjusted a little bit, depending on the height of every person. I also had to tilt it differently and swivel it, for the times where someone had reflective glasses that were convex and showed the curved reflection. I had my assistant tilt and hold the reflector as needed then.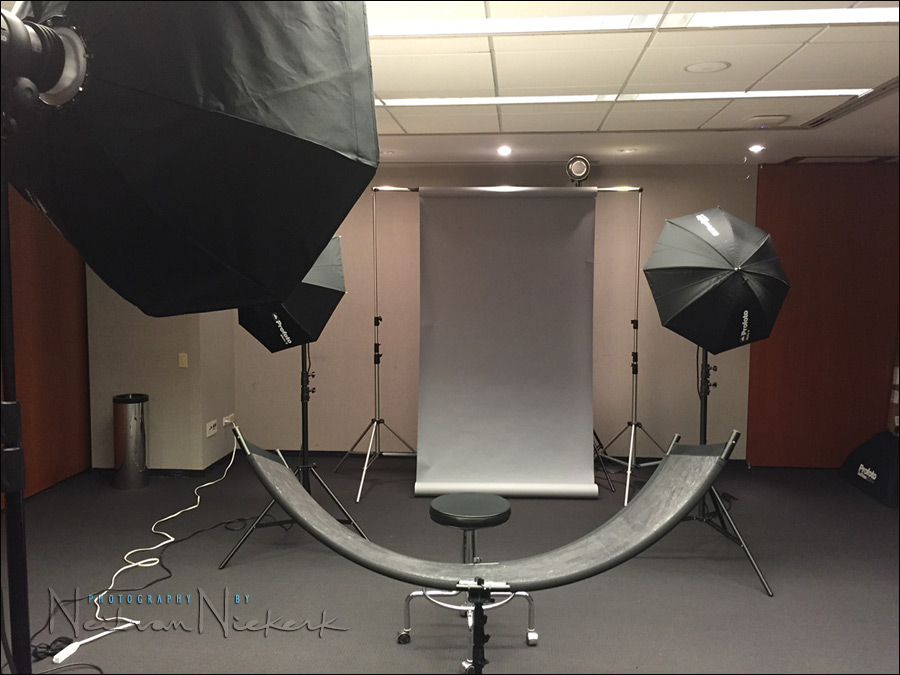 Summary
With just those two large roller cases (and a smaller shoulder bag), unloading the car was quick and efficient. Getting all the gear into the building, up an escalator, and then into an elevator, was quick and efficient. Setting up was fast since we had already figured out the positions during the initial meeting with the company's PR team. We blocked positions with small pieces of gaffer tape where we could. I took note of the height of the light-stands as well. I also took a few photos with my camera phone rom various positions, for quick reference just in case.
This measured approach gave me repeatable results, day to day over the two months that we're shooting the headshots. And then of course, figuring out the logistics and packing all the gear in just two roller cases, made it an efficient operation. Of course, there are other ways that all this could've been d0ne too. I'd love to hear about your approach.
Photo gear (or equivalents) used during this photo session
Related articles