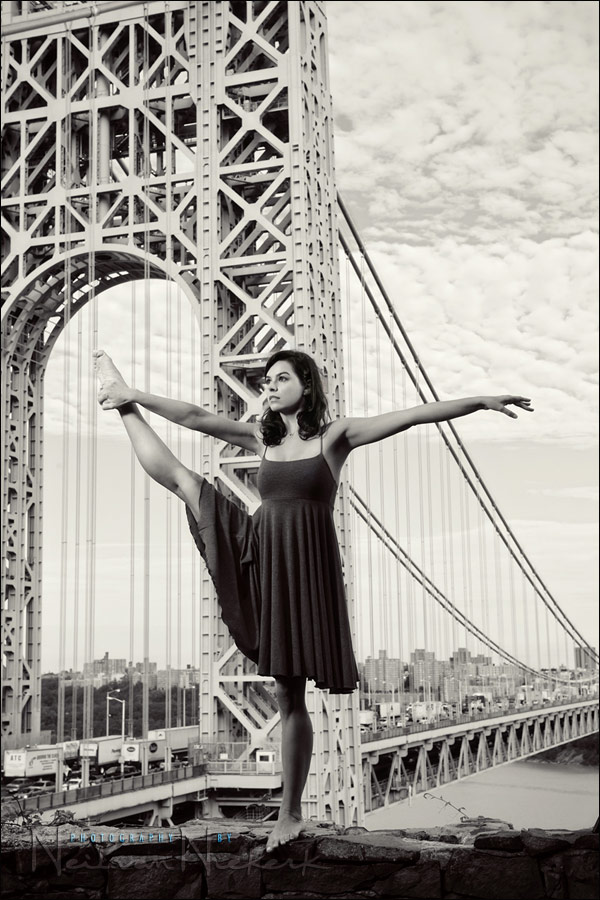 photo session: urban ballerina – Oktavia
Oktavia is the stunning model on the cover of my book about off-camera flash. We've intended to do another photo shoot ever since then, but busy schedules kept us from that until recently. A theme that Oktavia wanted to explore, was that of the Urban Ballerina. The idea with the urban ballerina is the contextual dissonance of having a graceful dancer in the middle of some urban setting. There's no real meaning to it other than contrasting art & beauty against the harsher urban setting.
With this grand view of the GW bridge leading in to Manhattan, we had Oktavia pose on this narrow ledge. But we had to forego ballerina shoes since the ledge was just too precarious to have someone balance on the tips of her toes right there.
We were working in a shaded area compared to the background, so I had to use off-camera flash to light her. The lighting setup was simple. A speedlight in a softbox to the camera left, and a bare speedlight to the right. I flagged the speedlight on the right with a black foamie thing to minimize lens flare.
At the distance I placed the speedlights, I had both of them set to full manual output. This gave me:
1/250 @ f8 @ 200 ISO
Ideally, I would've liked more light on her from the softbox, since the background is slightly brighter than I would've liked. A larger lighting setup like a Profoto kit would've been better, or perhaps a dual (or even triple) speedlight setup with a softbox on camera left.
The Urban Ballerina is definitely a theme with an interesting premise, and one I'd like to explore more in future.
other articles featuring Oktavia:
– Photoshop tips – retouching for portraits
– sequence of photos – posing a model
Equipment used with this photo session:
Nikon D3;  Nikon 24-70mm f2.8 AF-S (B&H)
(2x) Nikon SB-910 Speedlight controlled by PocketWizard FlexTT5 Transceiver & AC3 Controller
or alternately, (2x) Canon 600EX-RT Speedlite controlled by Canon ST-E3 Transmitter
Lastolite EZYBOX Softbox Kit (24″x24″) (B&H)
black foamie thing
(2x) Manfrotto 1004BAC light-stand (B&H)