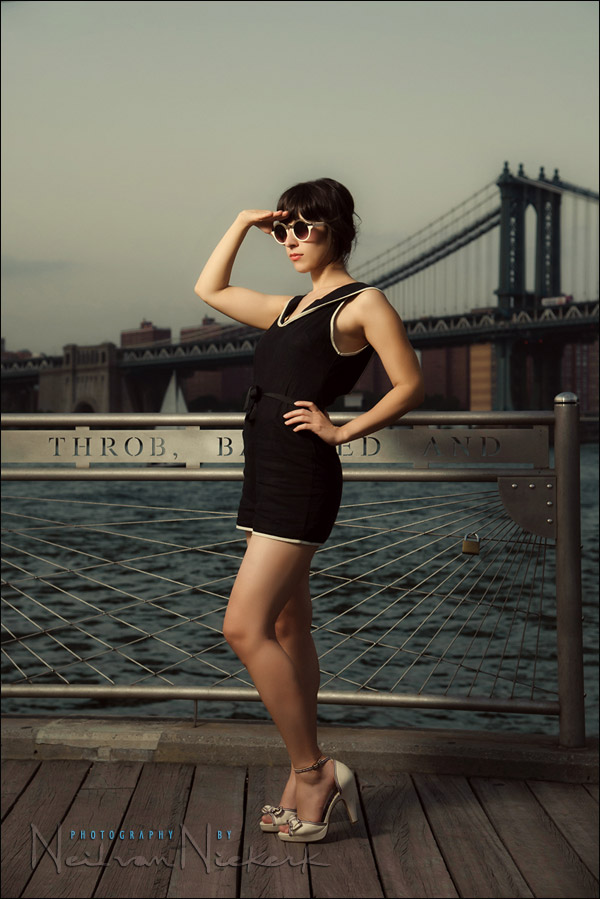 photo session – vintage pinup style (on location)
When the hot-rod show which didn't offer as much in terms of photography as I had hoped, Jill and I moved over to the pier in Brooklyn. Having a model in a retro sailor-suit type outfit … well, it just seemed to good an opportunity to waste. I thought of perhaps using the Ice Cream Factory there as a backdrop to a straight-forward pinup photo, but ultimately decided the Hudson River waterfront would work better as a setting for the photo.
Then we just had to add some simple but dynamic lighting, and give the final image a vintage flavor with the post-processing …
Here are the two starting images: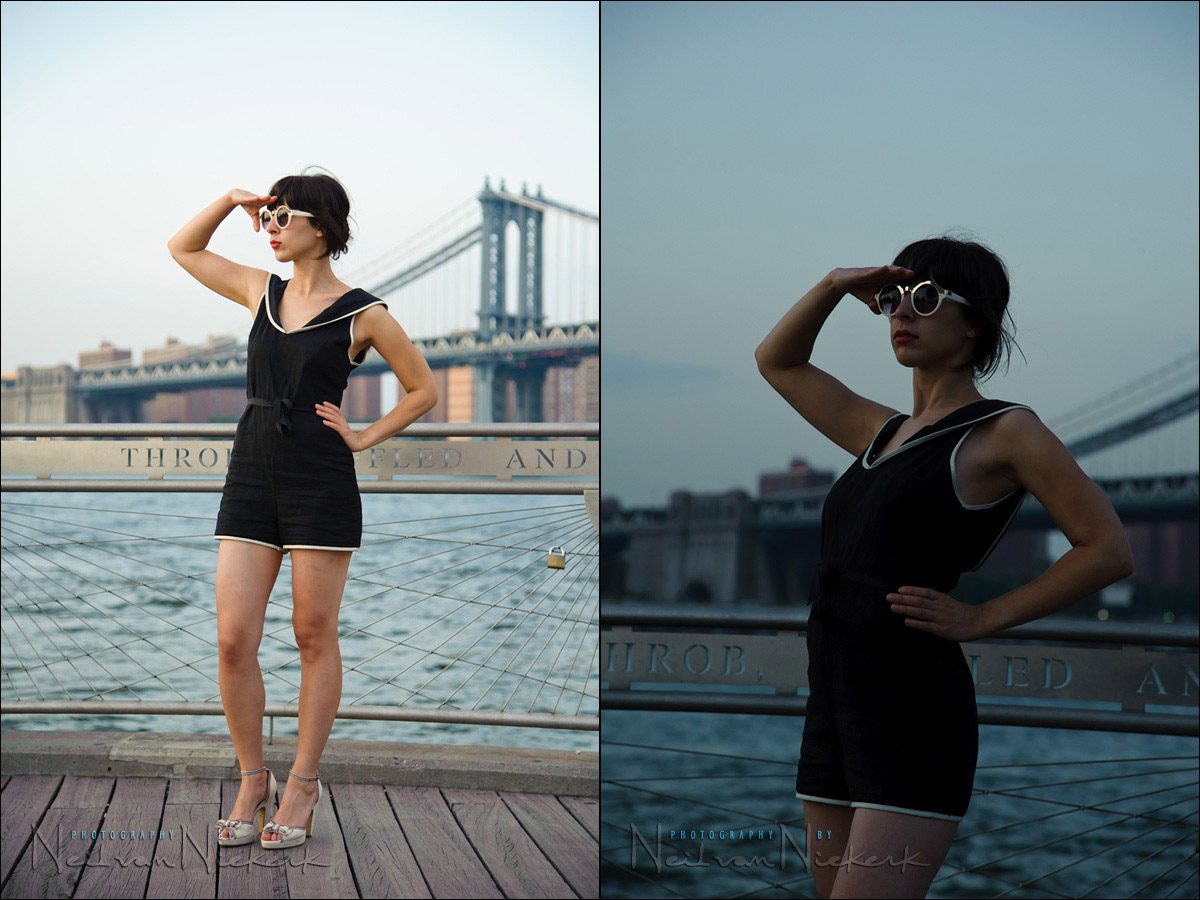 The first one with the camera settings so that I have correct ambient exposure. But the image looks bland. There's no punch to it.  (1/200 @ f4 @ 400 ISO)
The next image was with the camera set to where I wanted the background exposure to be – darker and with more mood.  (1/250 @ f6.3 @ 400 ISO)
Why those final settings? Simply because I liked the way it looked on the back of my camera. Turns out to be 1.7 stops under the regular proper exposure. Sounds about right.
Then I had to add light. My setup was simplicity itself, resorting to my usual on-location lighting setup when working with an individual subject such as a model:
Lastolite EZYBOX Softbox Kit (24″x24″) (B&H), with the speedlight,
which is controlled by two PocketWizard FlexTT5 transceivers (B&H)
I used the flash in TTL mode, triggered via the TT5 units.
Here is the out-of-the-raw converter image on the left, with the final processed image on the right: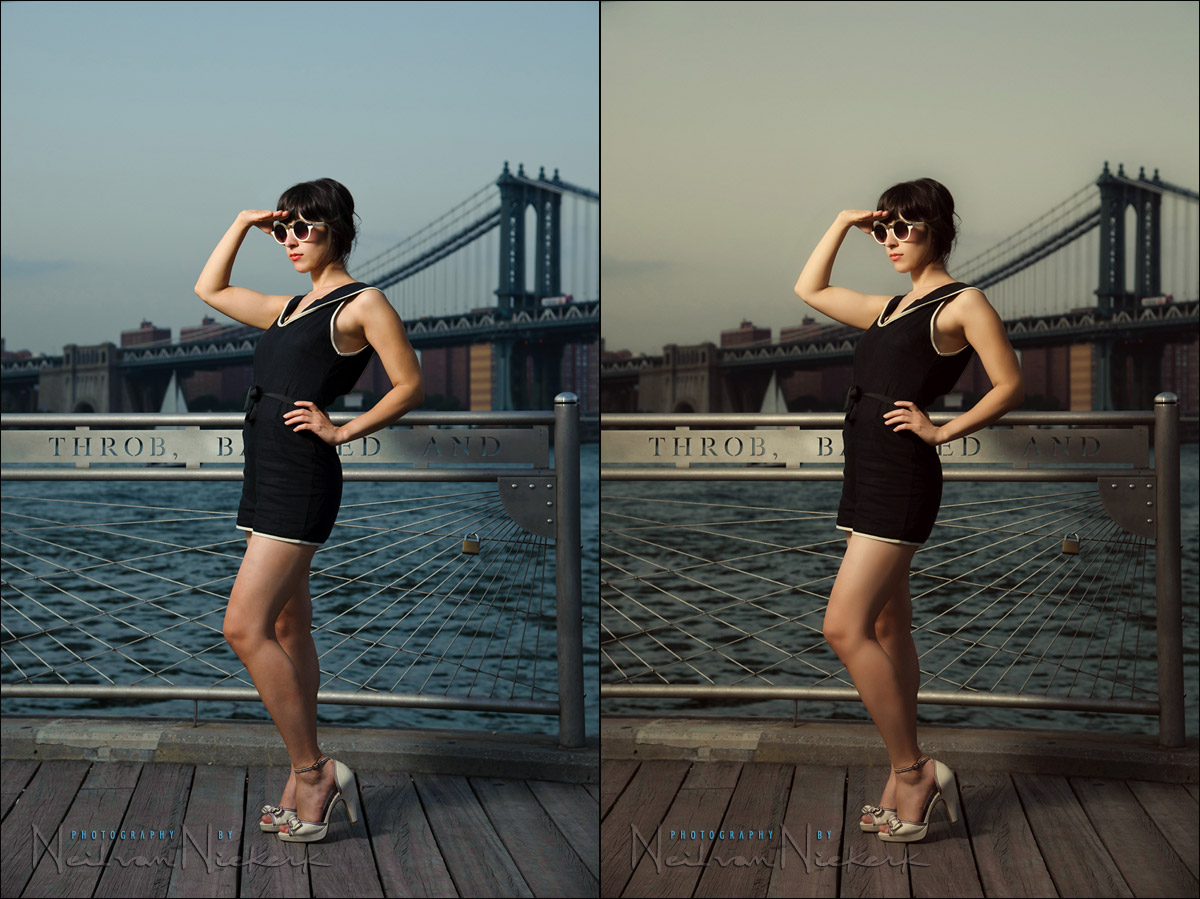 I wanted the look of the image to have a warm retro feel to it, so I used a Photoshop action to give it a warmer, more vintage-y look: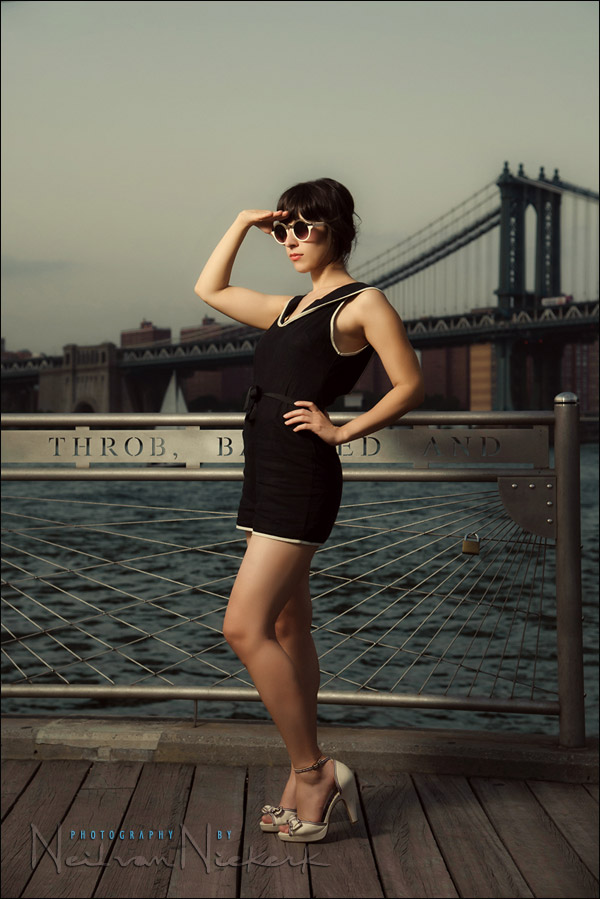 image settings:
1/250 @ f6.3 @ 400 ISO … TTL flash  (FEC not recorded)
Nikon D3;  Nikon 24-120mm f/4 VR (B&H) .. used at 70mm
Here is the pull-back shot to show the relative placement of the softbox.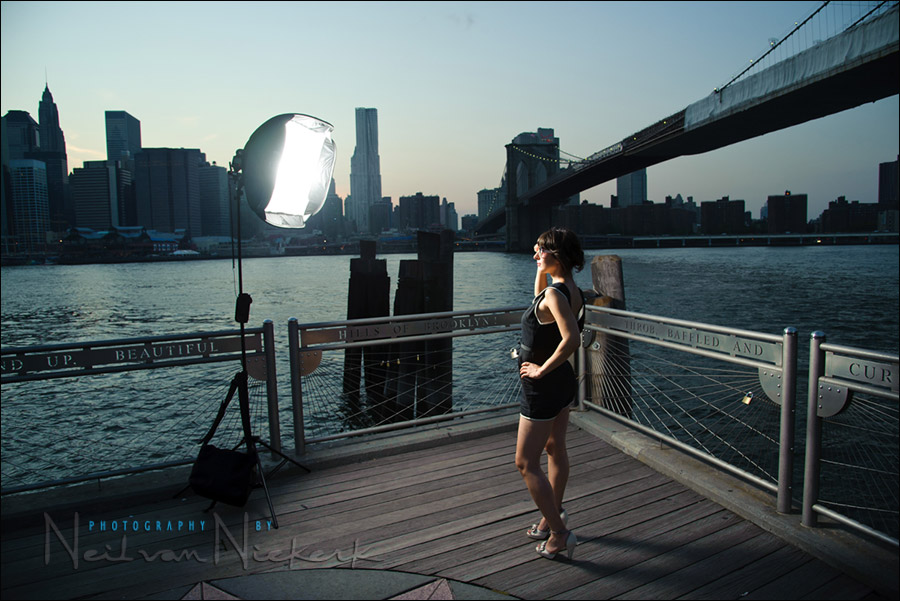 Camera gear used during this photo session
Nikon D3;  Nikon 24-120mm f/4 VR (B&H)
Lastolite EZYBOX Softbox Kit (24″x24″) (B&H)
Manfrotto 1004BAC light-stand (B&H)
Nikon SB-910 Speedlight controlled by PocketWizard FlexTT5 & AC3 Controller
or alternately, the Canon 600EX-RT Speedlite controlled by Canon ST-E3 Transmitter