Why use a high-resolution camera?
The Nikon D810 (affiliate) is a camera that surprised me for how much I liked using it. The high resolution of this camera was a drawback for me initially. But it had very responsive AF. Also, super-crisp images because of the improved sensor and due to the lack of the anti-aliasing filter. Ergonomics. (I have big hands.) But I didn't anticipate that I would love the D810 as much as I do. For a long while though I kicked against the idea of using a camera with a very high resolution. But then the Nikon D810 convinced me. There's a story here. A story of progression, including my own.
A short history of digital cameras:
The pivotal time when digital photography with really good cameras became accessible, was when the 6 megapixel cameras ruled, e.g.: Canon 10D and Nikon D100 and the Fuji S2. These were the crop-sensor cameras. It was just a matter of time then before full-frame DSLRs became available.
There was a certain progression after the first full-frame DSLR, the Contax N Digital was released in 2002. While the Contax was a 6 megapixel camera, the next full-frame DSLRs was the 11-megapixel Canon EOS-1Ds (also 2002). This appeared to be the landmark camera that helped sway the medium-format film shooters to dump their Hasselblad bodies in favor of digital cameras. (The Kodak DCS Pro 14n, released in 2003 never quite took off due to various production problems.) In 2004, the 16-megapixel Canon EOS-1Ds Mark II was released, and a year later (2005) the much more affordable Canon EOS 5D, brought higher-resolution (and a clean 1600 ISO) to the general photographer. The Canon 5D had 12.8 megapixels, and turned out to be another landmark camera in the quick ascent of digital photography. And in 2007, Nikon finally released the 12 megapixel full-frame Nikon D3. With only 12 megapixels and a sweet sensor, the D3 had the best high-ISO noise at the time.
Around 12 megapixels:
You will notice that the three landmark cameras mentioned there, were in the 12-megapixel range. For me this also seemed to have hit a sweet spot – large enough images, and clean higher ISOs.
For example, the 12 megapixel Nikon D3, had a resolution of 4256 x 2832 pixels. If we consider a 300 dpi quality for prints, then the D3 images can be printed to a 14 x 9.5 inches without even scaling the photo up in Photoshop. In terms of wedding photography, a 12×12 album or a massive 14×11 album would be about the largest you'd print an image for an album. This would only mean a slight up-scaling of the image in Photoshop, with no visible loss in print quality. When the 16-megapixel Nikon D4 and 18 megapixel Canon 1Dx were released, we had (in my opinion) about the optimal size image for the vast majority of photography needs.
I was very impressed with the image quality of the Nikon D800 – here are my first impressions of the Nikon D800 – but I resisted the idea of such a high resolution camera. The image files are massive. They take more storage, and take longer to process, and I simply felt I didn't need it for the majority of my work – wedding photography.
But occasionally I need more pixels:
As my photography worked started shifting more towards Commercial work, I thought it was time I invested in a high-resolution camera. The bumf on the Nikon D810 (affiliate) made it out to be a really exceptional camera, so I bought one. The more I used it, the more I liked this camera. Even above the D4 bodies for a lot of the time.
Where the D810 affected how I shoot, was when photographing kids. These little buggers scoot around at speed. This makes it tough to predict which way they are going to move and run. With the 36 megapixel real-estate available to me, I could crop a lot into the image, and still end up with a high-resolution image! I'm not sure why this surprised me the first time when I cropped a horizontal 36 megapixel image as a vertical 2×3 ratio image … and still ended up with a 12 megapixel photo. The math is so obvious, but it took actual cropping of an image and the numerical values to show, before it sank in for me. There are huge possibilities now in how I could creatively crop an image.
For example, as I photographed kids running around in a park, I could shoot wider to make sure I have them in the frame – and then crop in post. The brisk AF of the D810 made it easier to get sharp images.
I can now shoot more central images, relying on the more sensitive cross-type sensors. Afterwards I can then crop for an off-center composition as needed.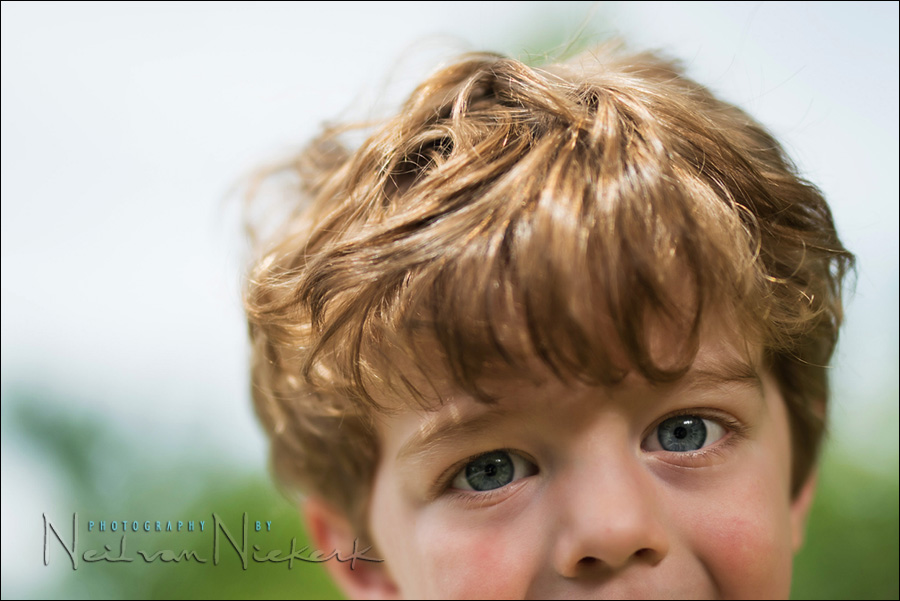 An advantage of high-megapixel cameras – freedom of composition afterwards
About this photo above – it is 13 megapixels in size. A brutal crop from the original 36 megapixel file. Yet the final image is still large enough to be printed to 14×11 or such.
The little boy, 3-year old Jack, was very busy. Barely gave me time to focus on him before running off again. When I took this photo, he pulled a weird mouth. I was on the verge of discarding the image when I wondered if there was perhaps something there in a much tighter crop of his eyes. And there it is. I like this version of the photo.
And if you're curious what a 100% crop looks like, and how it holds up:
Camera settings: 1/4000 @ f/1.4 @ 100 ISO
Lighting via an off-camera Profoto B1 flash (affiliate) and the Profoto RFi 1'×3' softbox (affiliate).
This incredible sharpness (on a kid who didn't stop moving), is mainly due to three things:
The sensor of the Nikon D810 is just incredibly sharp. Really sharp. Sharper than my D4 cameras.
The auto-focus is superb. Faster and more confident than my D4 bodies!
The razor-sharp Sigma 50mm f/1.4 ART lens.
Here is the review: Sigma 50mm f/1.4 ART lens
You can purchase the Sigma 50mm f/1.4 via these affiliate links:
Summary
Yes, that's me with the camera that you can see reflected in his iris. The amount of detail that this camera allows is just incredible.
Shooting with a high-resolution camera changed how I photographed kids. That was unexpected. It allowed me to shoot "looser" and concentrate more on the moment and expression … and then I could crop the image as needed afterwards.
Current high-resolution cameras  (affiliate links)
There are a few high megapixel DSLR cameras on the market. I expect this to become more of a trend:
More images from this photo session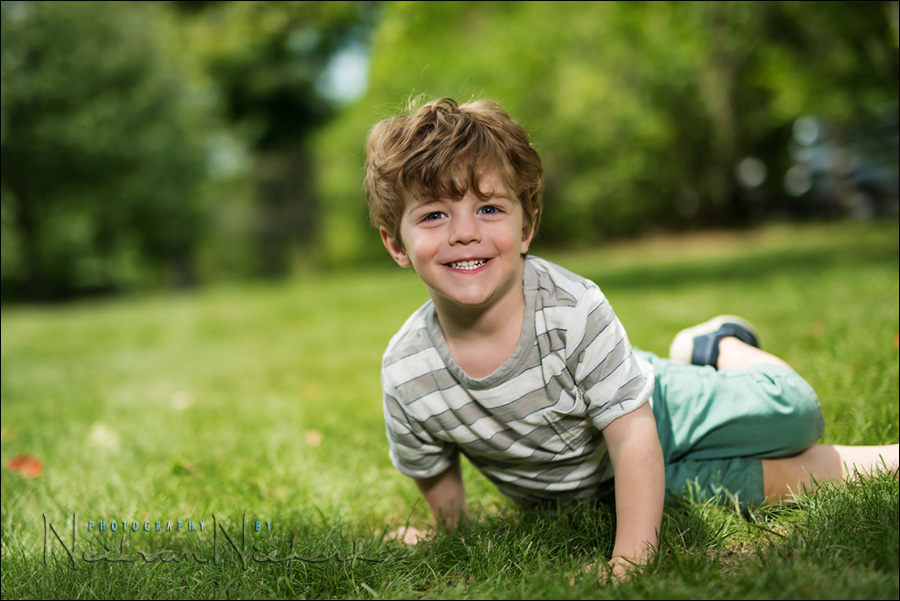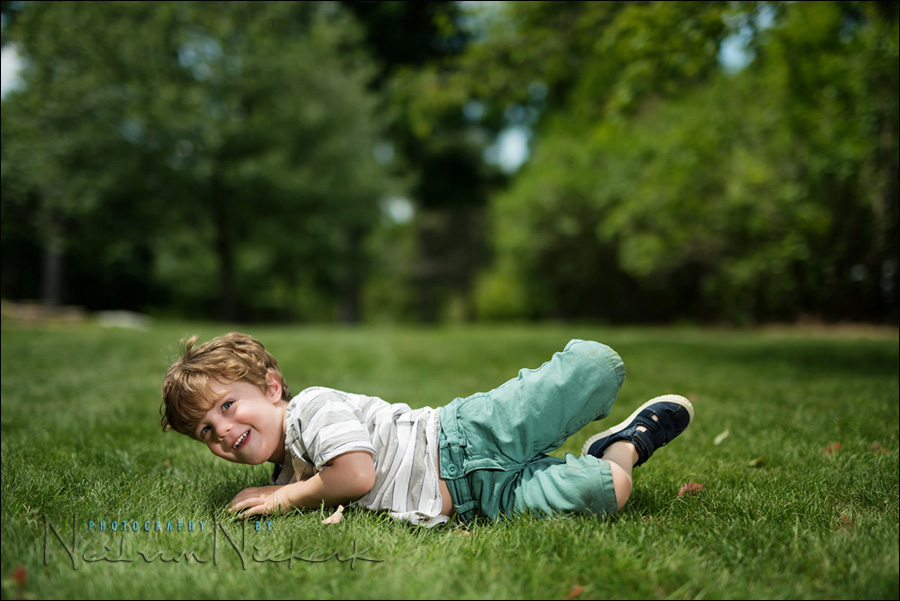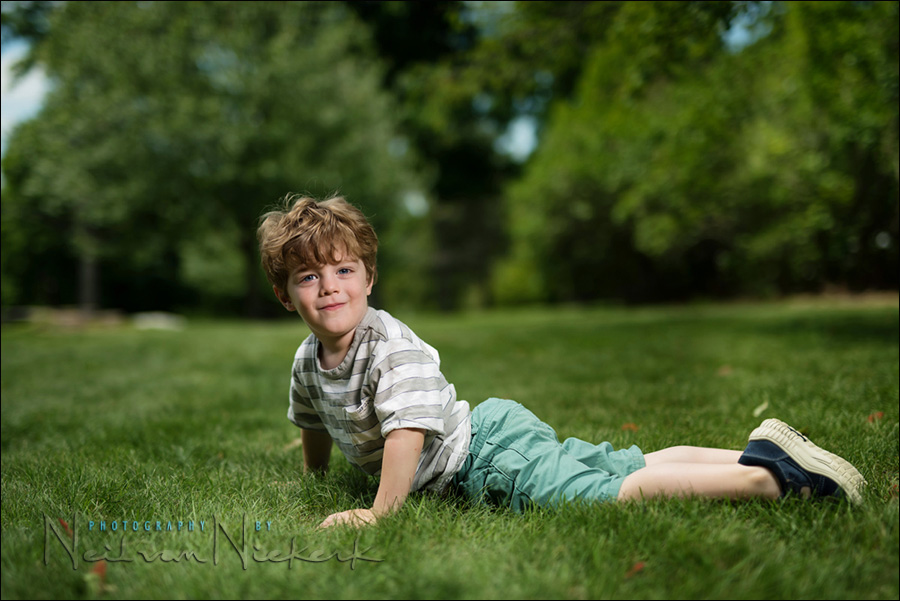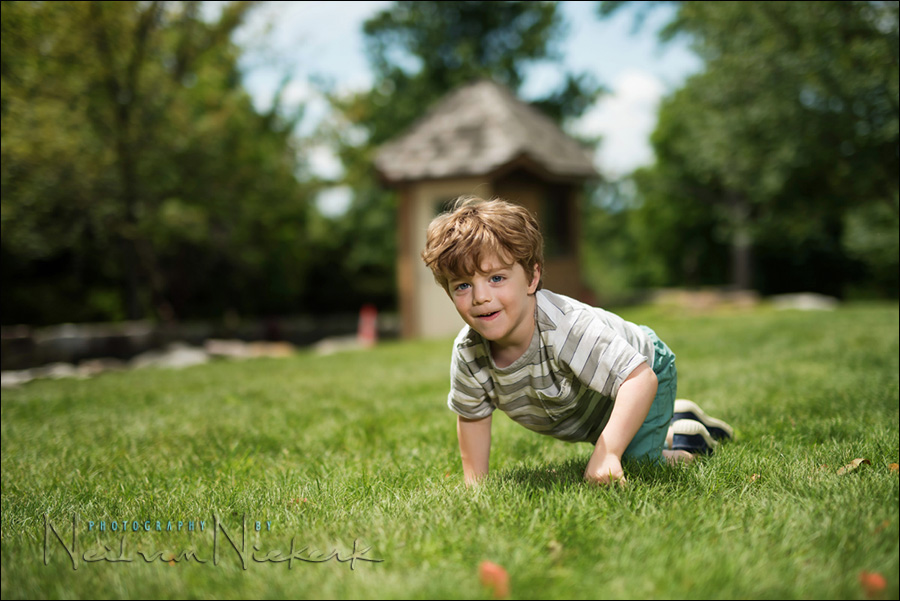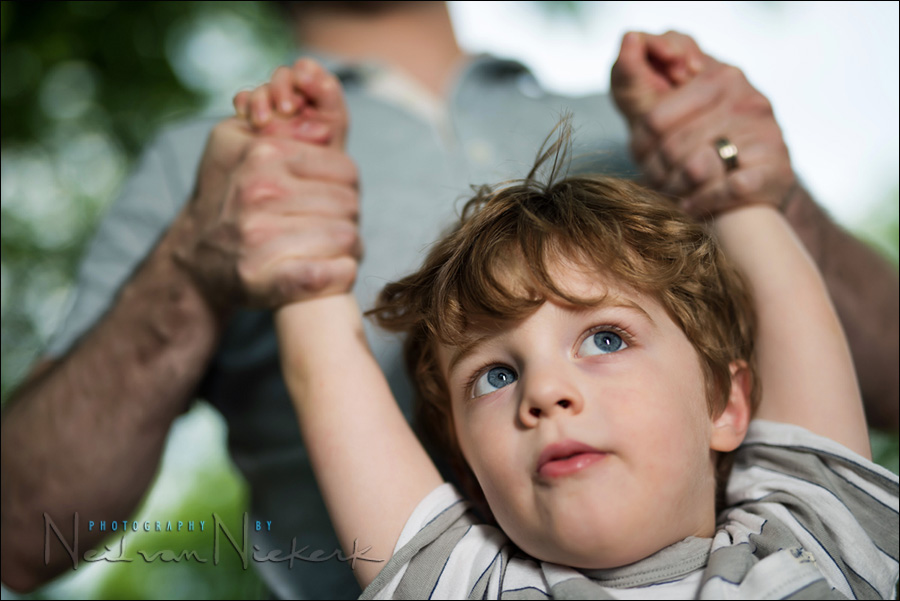 Camera settings & photo gear (or equivalents) used for this photo series
The images above are only slightly cropped, or not cropped at all. None as heavy a crop as the image at the top.
All of the images shown here were at f/1.4 or f/1.6 … which necessitated a fast shutter speed accordingly
1/1000 to 1/4000 @  f/1.4 to f/1.6  @  100 ISO  … with Profoto B1 off-camera flash
Related articles