photographic style – inspiration, adjusting & adapting  (model: Ulorin Vex)
Photography has a never-ending learning curve. I think this is even more true as the technology expands and accelerates. Sometimes I feel that we're running at full speed just to remain at a stand-still. That's just the technology that we have to acquire what we need to know about to do our work and art the best. But even with the techniques and methods we have as photographers – we should always be investigating and analyzing the work of others, learn, and then rework and adapt it in our own style. Even if we acquire new skills in minute ways – it all adds up to where we are always on an upward curve, learning and becoming better.
When I first dived into photography, I spent countless hours reading books and photography magazines. I eventually discovered heaven – the Bensusan Museum and Library of Photography, in Johannesburg. Shelves and shelves of books on photography! That was then – now we have complete overload with the work of other photographers and artists just a click away.  With that, I am constantly looking at the work of others, soaking in what others are doing.
A photographer that has really stood in the past year or so, is Craig Lamere. His style is clean and striking looking. There's a dramatic simplicity to it, with beautiful lighting and impeccable post-processing. Check out his work.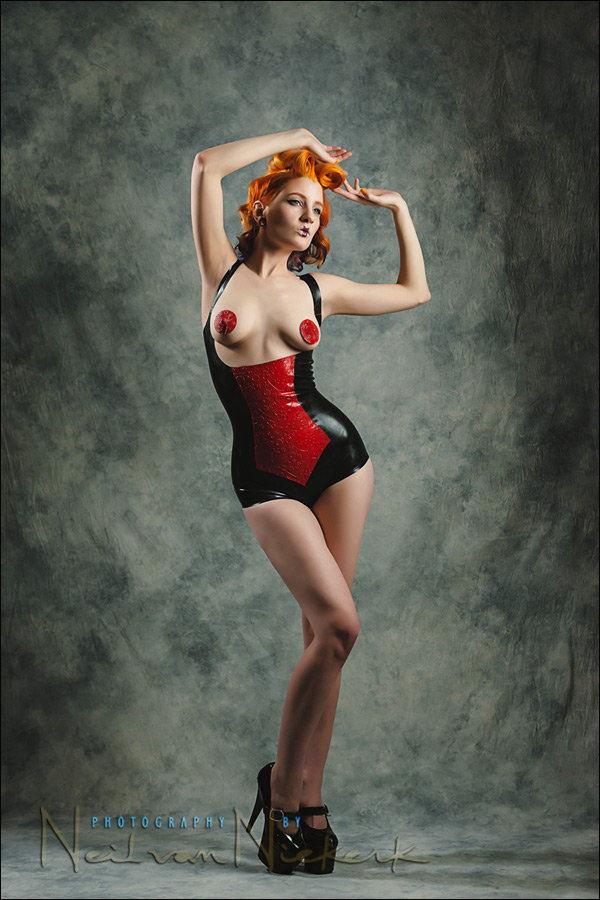 With Ulorin Vex's recent visit to my studio, for the one sequence I thought we could emulate some of Craig's style.  I had bought two of the SilverLake backdrops that Craig Lamere helped design in conjunction with them. Hey, the studio needed some new backdrops anyway! Using one of these backdrops, and playing around with the lighting in the studio, I wanted to see if we could approximate something similar. But instead of a boudoir / fashion styling with a model in a soft feminine style … we have Ulorin Vex in a latex outfit that somehow still has a retro look to it. So there is that bit of dissonance there.
The lighting was with two Westcott Spiderlites. But we'll get to the lighting and the gear in a moment. Where I am headed with this topic – since the lighting looked good, and there is a fabulous model in a striking outfit, why not play some more? And that is where the image at the top came from. By changing up the lighting a bit, and different angles and a different lens, there was a variety to the images, instead of just staying stuck on the one initial idea. Adjust and adapt.
camera gear & lighting used in this photo session (or equivalents)
Image at the top (shallow-depth-of-field portrait)
Second image (full-length portrait against backdrop)
The main light was the larger Spiderlite with a softbox. I removed the baffle of the smaller spiderlite (which had the 1×3 softbox cover still around it. This gave a harder light from behind, which is well suited for rim-lighitng then.
I kept both these lights at full power, and adjusted the distances between subject & light to control the light output relative to each other. I then also had to adjust my camera settings. For the full-length portrait, the two lights were closer to the background. For the tighter headshot (f/1.4), the main light was much closer. I had swung it closer to me, and asked Ulorin Vex to move closer to me – fairly similar to how they are arranged in this pull-back shot.
Of the 6 (daylight) fluorescent tubes, I had swapped one out for an incandescent bulb to give a bit more warm tone. Even though these daylight bulbs are meant to be daylight, there's still a green tint to be seen in the final images. This means I have to adjust the RAW file. So far, I've had a tough time getting an idea skin tone out of these – I still have to adjust the JPG that I get from the RAW file, even further in Photoshop to get to a skin tone that I like.
The kind people at Style My Pic, sent me a copy of Pro Workflow, by Style My Pic to try out their camera profiles. They really did help getting to an initial image faster. I'm quite impressed. Of course, it will need some more experimenting to see where this would fit into my overall workflow.
credits
related articles