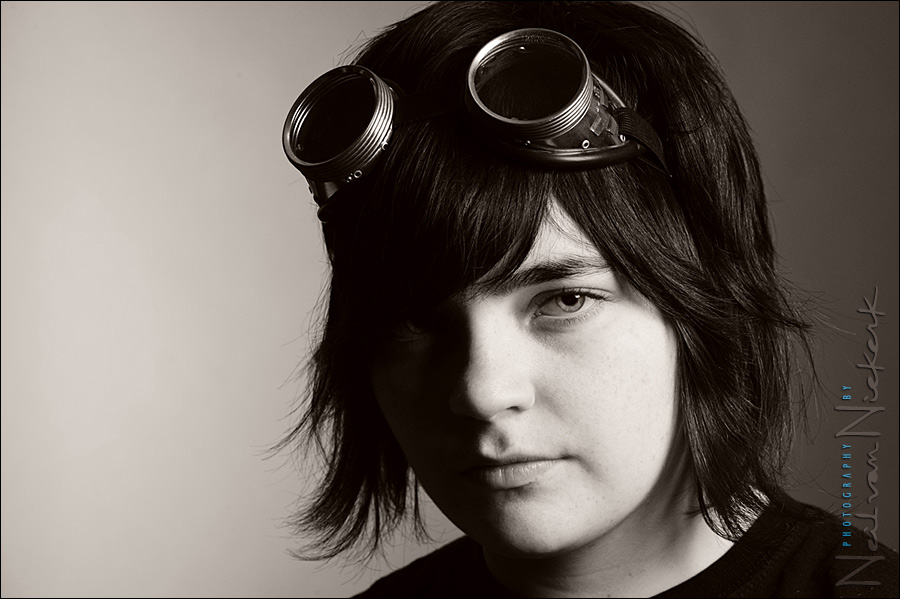 Portrait session using a beauty dish
As my daughter, Janine, grew up from being a baby, it became more difficult getting photos of her. I think most parents can relate to that increased resistance by your children to having their photo taken. This is Janine, a few moths after her 16th birthday – since I have so very few recent images of her that are of professional quality, I was able to cajole her into this on this snow-bound afternoon. She loved the results: "Facebook profile photo FTW!"
I set this up in our living room, with a grey paper backdrop to create a quick home studio. The main light was the Profoto beauty dish (B&H / Amazon), using the Profoto AcuteB 600R power pack, which has since been replaced – in the studio by the Profoto D1 (affiliate), and on location by the Profoto B1 (affiliate).
I find the light with a gridded beauty dish can be too contrasty at times. I still prefer softer light – so this time I added a diffuser sock (affiliate) over the beauty dish. The sock over the beauty dish really helps with this. It spreads more light into the shadow areas – differently than the bare beauty dish.  With a sock over the beauty dish you're perhaps no better off than using a softbox of the same size, but I still prefer the look of the 'socked' beauty dish over the 'unsocked' beauty dish.
The light on the grey backdrop is a Quantum flash, with the usual Q-flash diffuser disc over it, pointed directly at the backdrop.
The image is straight out of camera, aside from healing brush on a few skin blemishes.  This is how I had set up my B&W images to look in my Nikon D3 bodies, with a warmer tint to the B&W.  I still shoot RAW though, so could always go back to the color image.  But I like these rich-toned B&W images.
Related articles