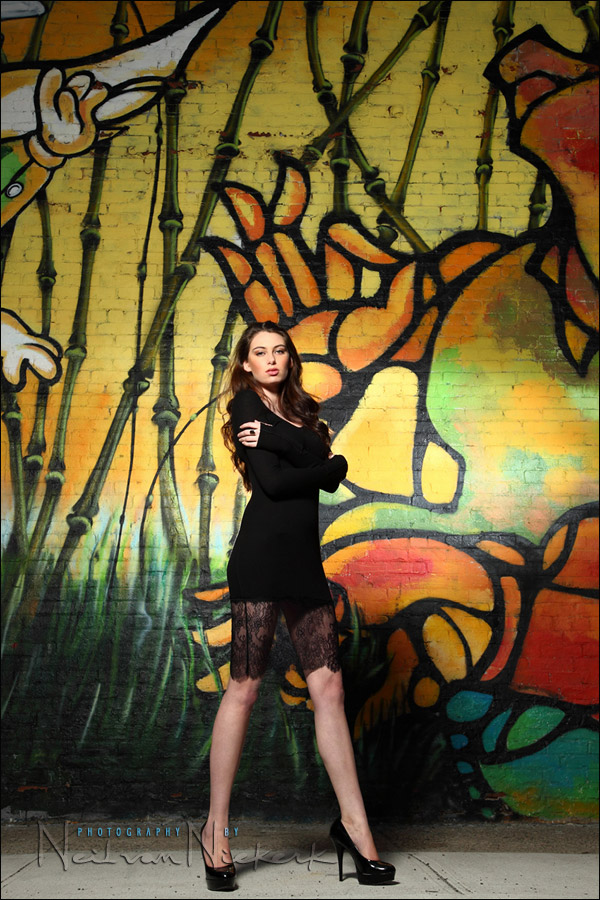 review: Canon ST-E3-RT Speedlite Transmitter and Canon 600EX-RT
In my review of the Canon Speedlite 600EX-RT, I've already raved about the ease of use of the new speedlite – thanks to a menu system that you can follow without having to decipher it via a manual), but mostly because of the built-in radio control of the flash. This elevates the Canon 600EX-RT to a new level. As mentioned in my review, I really think this flashgun will change things in the photo industry. It's huge.
The main advantages of the Canon ST-E3 Speedlite Transmitter (B&H / Amazon), is that you can change the flashes' output directly from your camera. No need to run to and fro between your speedlights to change a flash' output. And of course, The Big Thing about the new flash system, is the built-in radio control. You're not limited by line-of-sight anymore, or compelled to buy radio slaves. It is obvious that Canon has done their homework on this puppy. While it is a complex flash system, the Canon ST-E3-RT isn't a complicated device to use.
To test this system, I used three Canon 600EX-RT Speedlites (affiliate) and a Canon ST-E3 Speedlite Transmitter (affiliate) during a photo-shoot.
Check out this behind-the-scenes video clip of how the Canon 600EX-RT speedlites were set up for this photo shoot.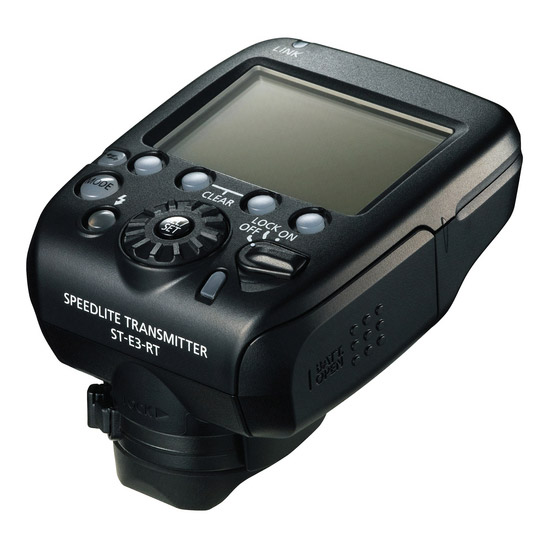 Canon ST-E3-RT features
1. Ease of use.
The ST-E3-RT controller has an LED which shows when a speedlite is connected to it. Beautiful. No guesswork.
You can control up to 5 groups of flashes with the latest Canon SLRs, or up to 3 groups with the previous generations of Canon SLRs (such as the 5D mark II). On paper, it looks impressive, but a simple listing of specs doesn't quite do it justice.  From the way the transmitter is angled towards the photographer to make the display easily readable, to the large LCD, it is all designed to make your life as a photographer much easier.
2. backwards compatibility
You can use the Canon 600EX-RT and Canon ST-E3-EX on any Canon D-SLR, although the one mode – Gr – is only available for the most recent Canon SLRs like the 5D mark III.
So, if you're interested in what the new Canon flash system has to offer, you can use it already.
3. using the Canon ST-E3-RT
There are 4 main modes in which you use the controller:
ETTL – you can group your flashes as All;  A:B  or  A:B C
Manual – you can similarly group your flashes as  All;  A:B  or  A:B C
Multi – for stroboscopic effect
Gr – this is the most interesting of modes – you can simultaneously set A or B or C up as either manual or TTL
The Gr mode is only accessible with the recent generation of Canon SLRs – the 5D mark III and the Canon 1D-X, or any future cameras.
What sets this mode apart, is that the Canon flashes are now controllable in the same way that the Nikon speedlights are – instead of ratios, you now control your speedlights in absolute values. Much more logical, in my opinion. You can have group A as TTL, and group B as manually controlled flashes … with their levels controlled by you, from the camera's position.
In this photo session, I used the Manual mode, instead of Gr mode, since I was using the Canon 5D mark II.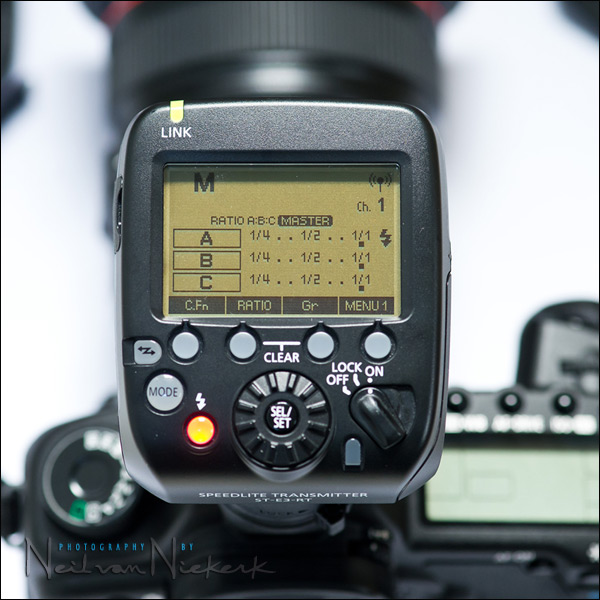 There are 4 levels of menu, which offers you control over different aspects of your flash:
– Custom functions
– flash exposure bracketing
– flash exposure compensation (overall and for individual groups)
– high-speed flash sync
– ratios and groups
– channel & ID
And unlike the obscure menu of the Canon 580EX II, the menu system of the ST-E3-RT and 600EX-RT, are obvious. They tell you what you're looking at. No need to delve into the menu every time you want to change a custom setting. Finally! Thank you, Canon!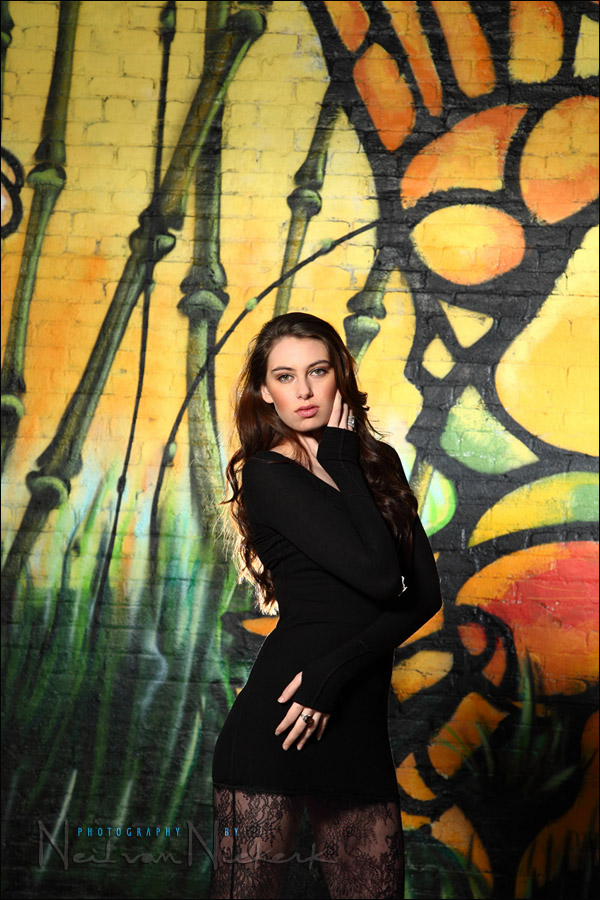 Using the new Canon flash system during a photo shoot
To test out the Canon 600EX-RT Speedlite (affiliate) and the  Canon ST-E3 Speedlite Transmitter (affiliate), I met up with a model, Molly K, in Brooklyn.  Molly has appeared a few times already in recent articles on the Tangents blog. (Molly K's Model Mayhem page)
We started off in a well-known area of Brooklyn. This amazing graffiti is well-known in the area as a backdrop for photographers, especially wedding photographers.
I wanted to use 3 speedlights, all controlled by the ST-E3-RT:
A: the main light on our model,
diffused with my favorite Lastolite  EZYBOX Softbox (24″x24″) (affiliate)
B: the 2nd flash on the background to create a hot-spot behind her.
(I had to flag this with black foamie thing to ensure no direct flash fell on her from this.)
C: the 3rd flash directly behind her as a rim-light.
B and C were bare flashes, undiffused.
I used the three speedlights in Manual Mode, with the flashes set up as A:B C Since I was using a Canon 5D mark II, I couldn't use the Gr mode, but had to use the Manual mode. Ultimately, in this case, the results are the same, since I didn't have the need here to mix TTL flash and manual flash.
Here is the pull-back shot of the final set-up.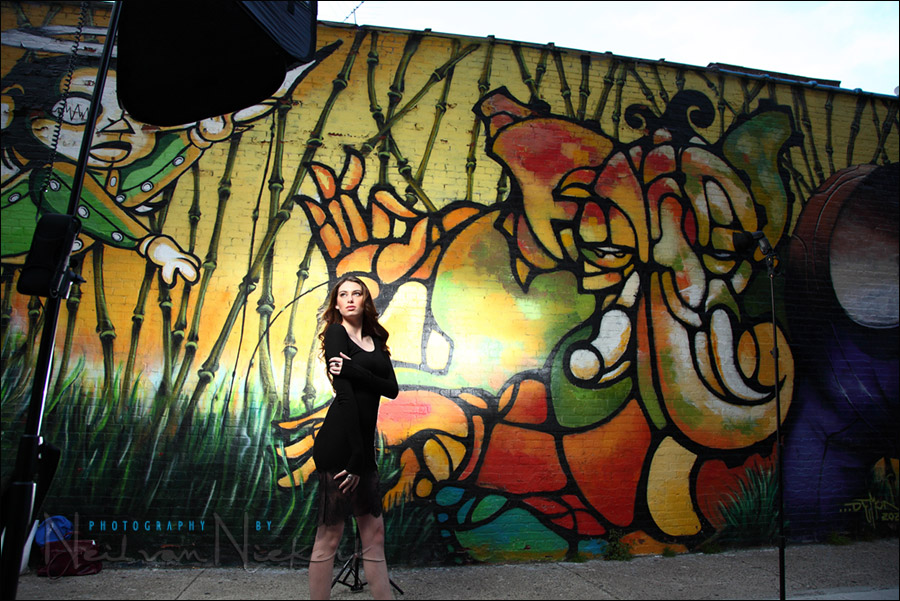 camera settings for the image at the top:
1/100 @ f7.1 @ 400 ISO … available light completely under-exposed
The behind-the-scenes video clip as I set every thing up, will explain more.
You can actually hear the thought-process.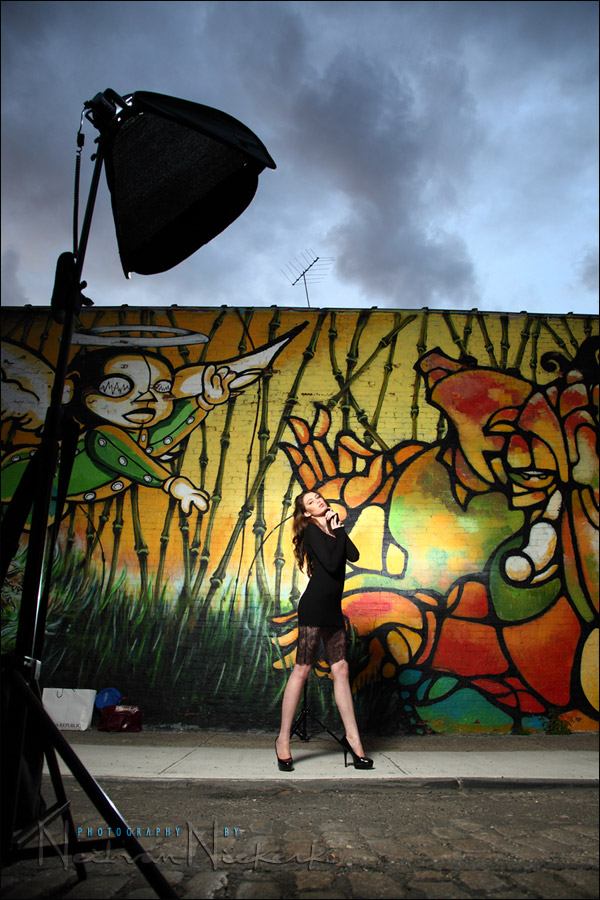 For the one pull-back shot, I took a vertical photo, and saw this dramatic sky, and decided to use it for another set-up where we shot up the street.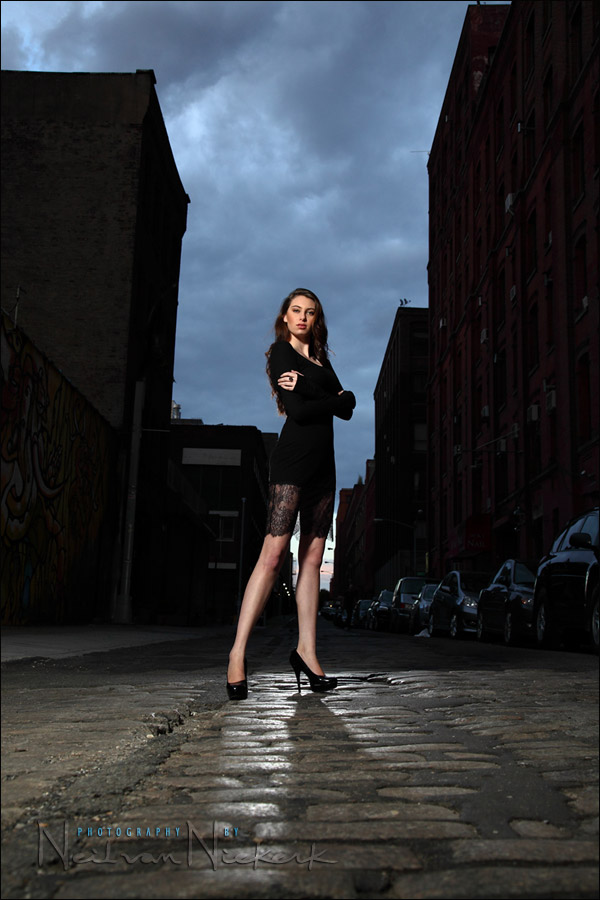 My final summary, using Canon 600EX-RT Speedlites (affiliate) and the Canon ST-E3 Speedlite Transmitter (affiliate) during an actual shoot – well, color me impressed!
Photo gear used during this photo session
Related links