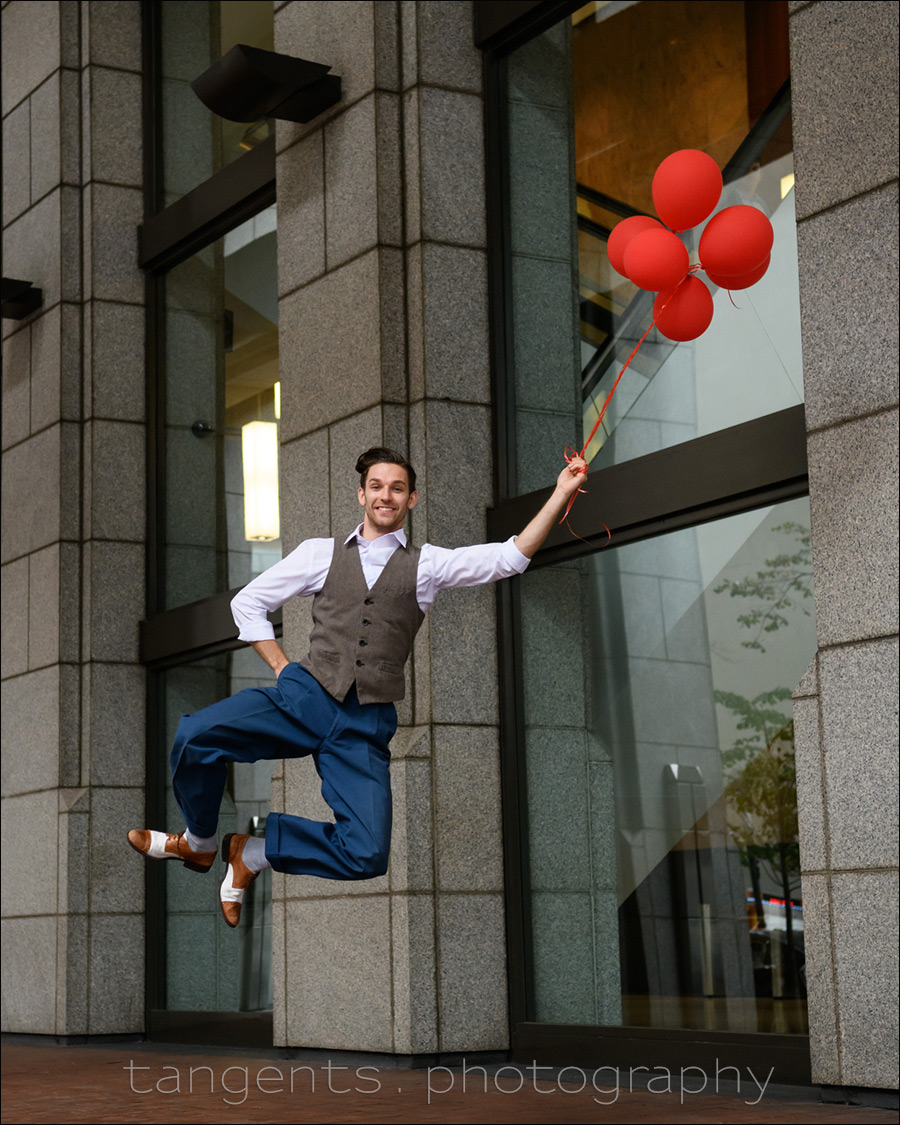 review: Nikon D850 camera
Cameras have become such complex and nuanced machines that it is difficult for one single review to encompass and test everything that a camera is capable of. With that, this review of the Nikon D850 (B&H / Amazon), is split into two parts. The first part – review: Nikon D850 high ISO test – is where you can see and download files shot on the Nikon D850, as well as the Nikon D5 and D810 and D750. You can download the files there and compare yourself – needs and requirements differ for everyone. In that vein, this (main) part of the review of the Nikon D850, is based more on my own user experience, and my expectations and need of certain functions in a camera.
Sports shooters and landscape photographers will have different requirements than an event or portrait & wedding photographer like myself. What do I need? A responsive camera that delivers files in the 20-24 megapixel range. A camera that gives superb, clean high ISO images. A camera with intuitive controls. At this point, the Nikon D5 (B&H / Amazon) is as close to a perfect camera as I have ever used … with a few minor annoyances and one major flaw.
There are a few things that bother me with the Nikon D5 – such as the 'Quality' button is right in the middle between the WB button and the Drive button. Barely any better than the D4 bodies where the 'Quality' button was right next to the ISO button – nicely placed for you to adjust your RAW file setting to small JPG, if you aren't careful in adjusting your ISO! The Nikon D5 barely improved on that. Also annoying with the Nikon D5, you can't change the Flash Exposure Compensation while there is an image on the LCD preview screen – the dedicated flash control button is gone.
The major flaw for me with the Nikon D5 – if you enable to silent shutter, you end up with a 7 megapixel JPG file. This is useless for my work. In fact, it is useless for my personal photography too. The feature that I had hoped would allow me to shoot silently at corporate events and weddings, turned out not to be possible with the Nikon D5.
And that's what I need in a camera right now –  a responsive camera that delivers files in the 20-24 megapixel range, with superb high ISO images … and a silent shutter if needed. So I have been been increasingly tempted by the Sony A9 (B&H / Amazon), which offers exactly that. However, switching systems isn't easy – I've done so twice before. It's not just cameras, lenses and flashes – I have drawers-full of Nikon doodads and accessories. So there is strong inertia here.
Then Nikon announced the Nikon D850, and my interest was piqued – there was the possibility of shooting medium RAW (25 mpx) files, with silent shutter mode if necessary. Holding the camera in front of me like a tourist when in Live View mode … I could live with that, if it made my camera not sound like a Gatling gun. On top of the silent shutter feature, the literature says it offers the same AF abilities as the Nikon D5. While my demands for AF aren't as tough as they would be for a News or Sports shooter, I do need that responsiveness to nail sharp images.
But how does the Nikon D850 stack up in all this?  On paper, the specifications of the Nikon D850 clearly makes it a class-leader, and possibly the best DSLR available on the market right now. By the way, there are links to various RAW files further down in this review article that you can download to check out and play with and compare.
---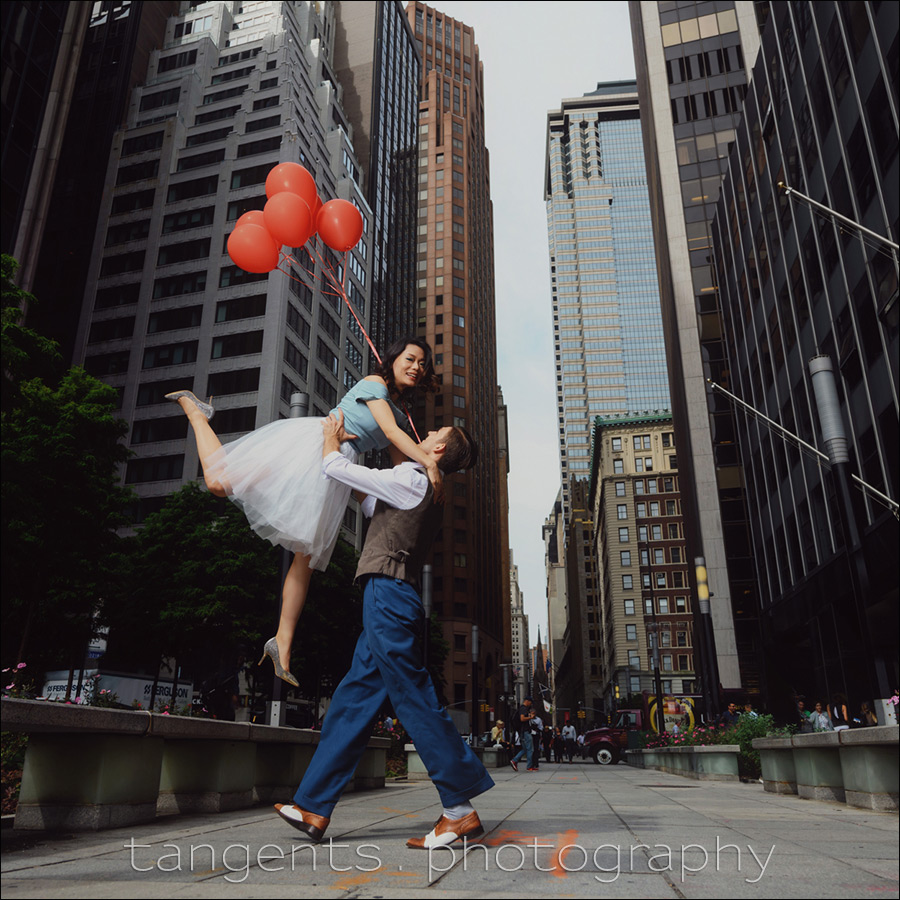 A photo shoot with the Nikon D850
If you're here, reading this, you are most likely familiar with the leading-edge specifications and features of the Nikon D850. If not, instead of me listing the long list of additional features and tweaks and improvements, you can find them on B&H's website (affiliate link), or on the Nikon USA website. Instead, I would like to touch on the most noticeable points which would affect my photography and way of shooting. My first test run with the Nikon D850 was with a photo shoot with Lise Liu and Rafal, two models in New York.
45.4 megapixel resolution: 8256 x 5504
The most prominent feature of the Nikon D850 is the sensor: 45 megapixels resolution, which is a massive amount of detail. Nikon also claims outstanding dynamic range for this sensor. For greater sharpness, Nikon omitted the conventional optical low-pass / anti-aliasing filter. Even though The Nikon D850 has no anti-alisising filter they say there is little risk of moiré. I didn't notice any moiré patterns on Rafal's waistcoat in the images we shot. That kind of fine pattern easily shows up that disturbing artifact, yet in this shoot at least, I didn't notice any.
The photo shown here is a square crop of the larger, horizontal  composition, yet we still ended up here with a 21 megapixel image. Still a huge file that would make a huge 15″ square print at 300 dpi, without any need for resizing.
That is the obvious appeal of a camera with great resolution – it allows you great flexibility in cropping in afterwards, or making huge prints with superb detail.
Details for the photo above:
The pull-back shot to show the position of the off-camera lighting. Lise's exact positioning with each jump wasn't predictable, and since I needed a super-wide framing, I simply had the light nearly over-head from me.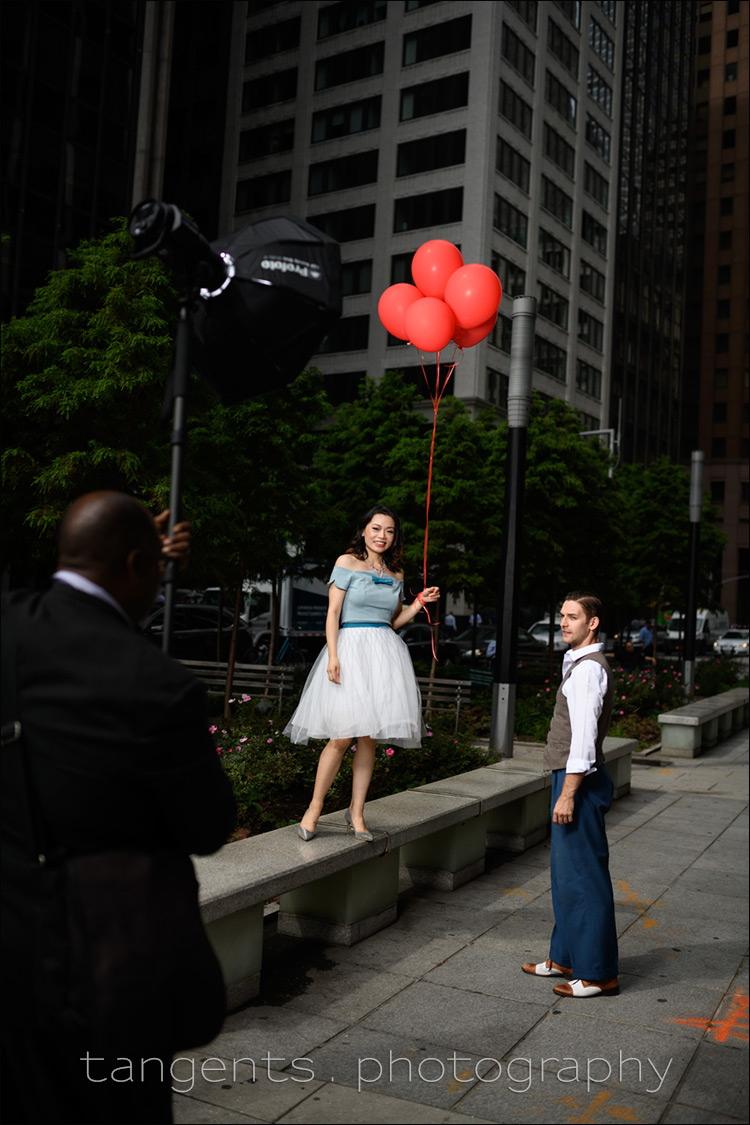 ---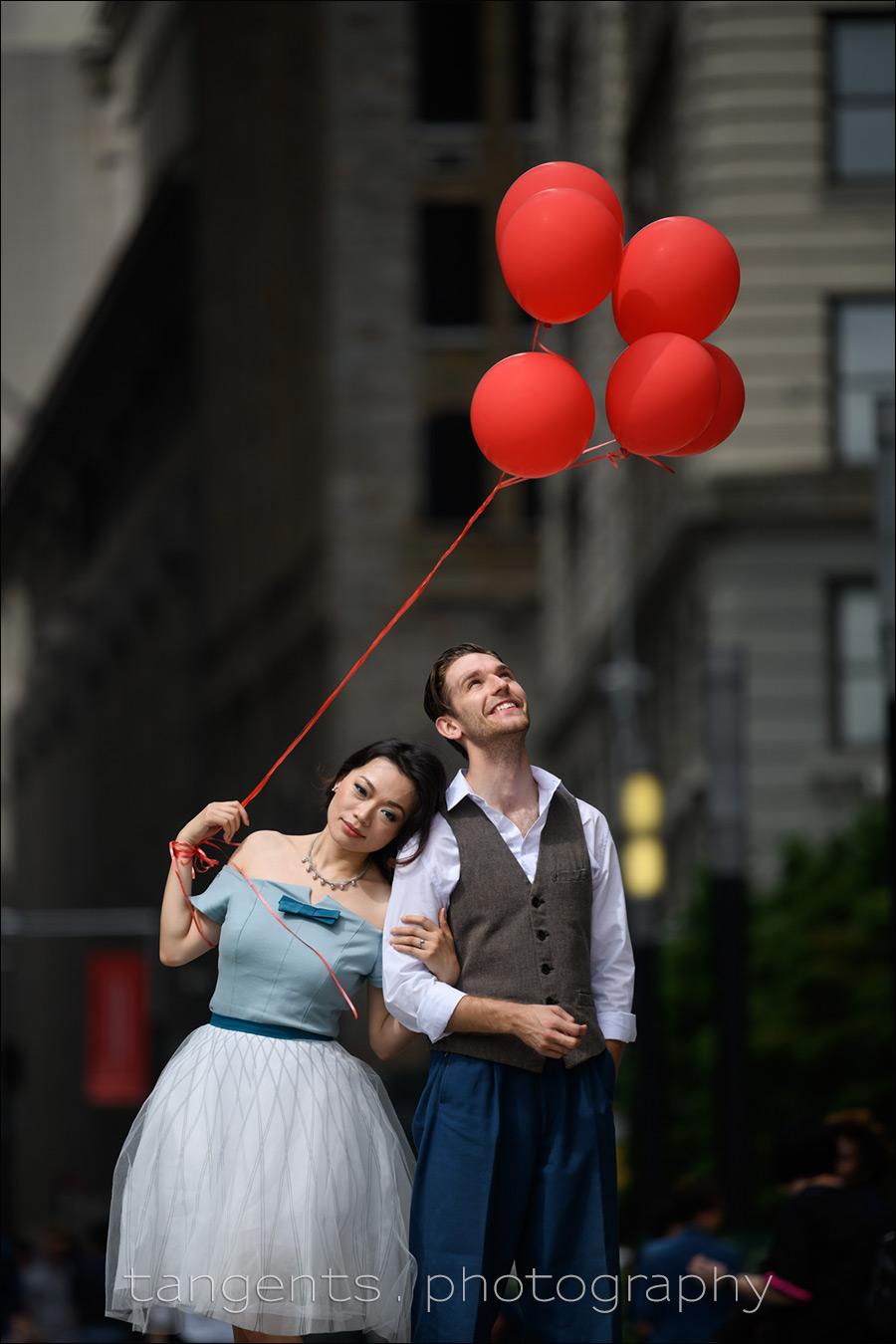 Features & Came
ra
body design
The feel and handling of the D850 are really good – the grip is 'deeper' than the D810, and similar to how the D750 is, but less small. For my hands, I need a large camera. The D5 type bodies feel good in my hands; the D750 felt too small. The D850 feels good. The weight of the camera by itself is 2.01 lbs / 915 g – this also helps in giving the camera a solid feel, but it's not unduly heavy.
The layout of the buttons make sense if you are accustomed to Nikon cameras. The ISO button moved from the top left cluster (where it was on the D810), to the same position as on the D5. This makes it easier to change ISO without looking away from the viewfinder. Similar to the D5, the buttons on the camera are illuminated – invaluable for when you work in the dark and need to see your camera controls.
Just like the D750 and D5 now, you need to push one of the buttons to the side of the LCD preview … and this is a button that doubles up as the zoom button. This means you can't change the FEC while an image displays. Mildly annoying when you expect a dedicated control for that.
Overall, if you love the D810 and the D750, this camera will feel very good in your hands.
3.2″ 2.36m-dot LCD touchscreen 
The LCD screen is now a touchscreen for live view shooting, playback, and menu navigation – wonderful for scrolling through images fast, and to zoom in on an image. Another improvement from the D810 / D5 bodies – the LCD preview can be tilted. This makes viewing at odd angles more comfortable. It can't swivel to the left or right though – just an up/down tilt. This ability to tilt is also a great boon if you shoot video, where you are especially less likely to shoot from eye level.
In Video mode, you can focus by touching any point on the screen.
Silent Shutter
In Live-View mode, you can select the Silent option, and the shutter truly is silent. There is not even the slightest sound. Perfect for times when the sound of the mirror and shutter would be a huge distraction. You do have to hold the camera in front of your face, instead of comfortably looking through an Electronic Viewfinder (EVF), but that's a compromise I can live with if I get to keep all my Nikon lenses.
Viewfinder Coverage 100%
The view inside the viewfinder offers 0.75x magnification, and gives you a clear and realistic view of the scene you are photographing. The D850 has an optical viewfinder with 0.75x magnification (the highest among all Nikon DSLRs), 100% field of view coverage and a good 17mm eye point.
Card formats:  XQD + SD (SDHC / SDXC)
Focus Shift Mode benefits working with focus stacking techniques by automatically recording a series of images at up to 10 different focus steps. Up to 300 individual frames can be recorded within these 10 steps, with the D850 automatically shifting focus between each shot to achieve an extended depth of field. The sequential images will be saved within a unique folder on the memory card in order to keep each series of exposures segregated for a faster and easier post-production workflow.
4K Ultra HD video recording,
Slow motion video up to 120 FPS, when shooting with 1080p resolution.
---
There is no built-in flash. For me, this is no great loss, especially if it helps with weather sealing. You also don't need the pop-up flash to trigger a wireless flash, since you can add the optional WR-R10 Controller and WR-A10 Receiver, along with the SB-5000, for proper wireless flash shooting that doesn't require line-of-sight like the optical system would.
The max flash sync speed is 1/250 which is standard for the pro-series Nikon bodies. Of course, the Nikon D850 allows high-speed flash sync with dedicated flash units.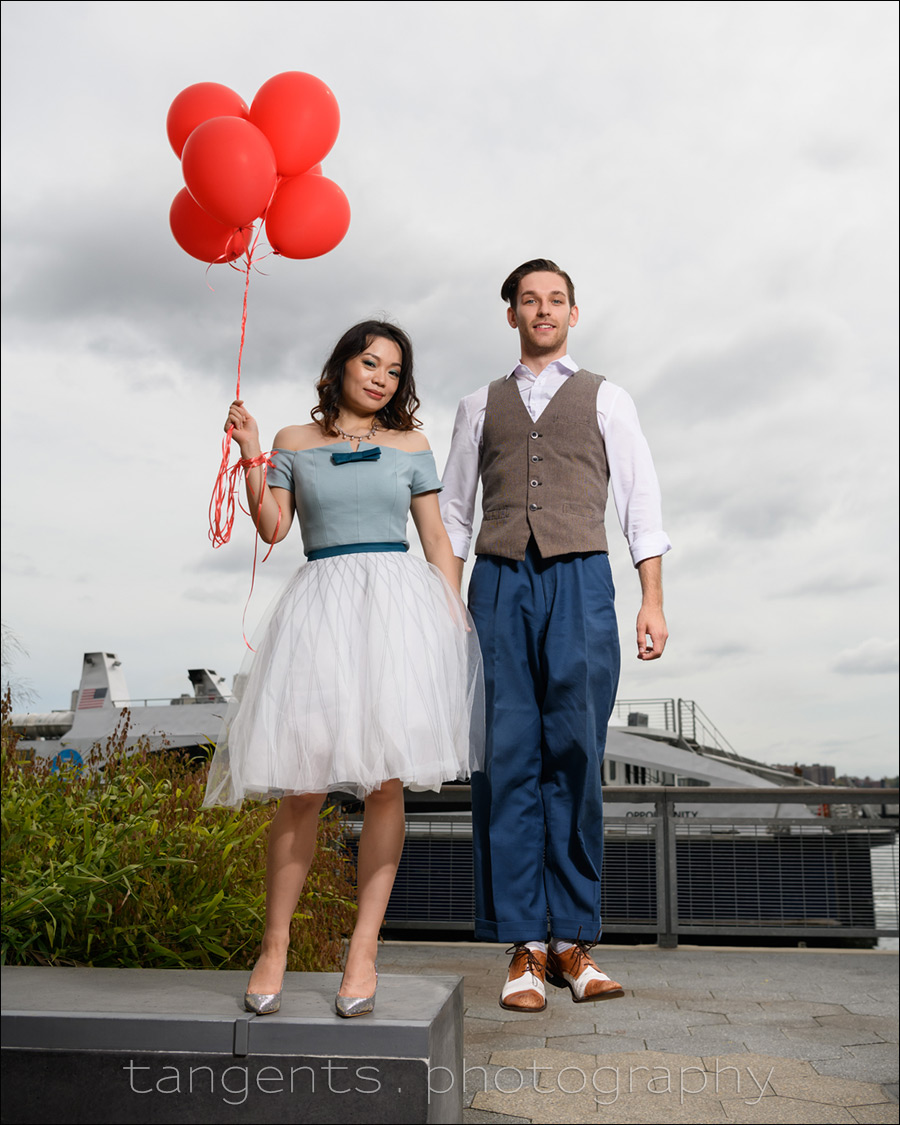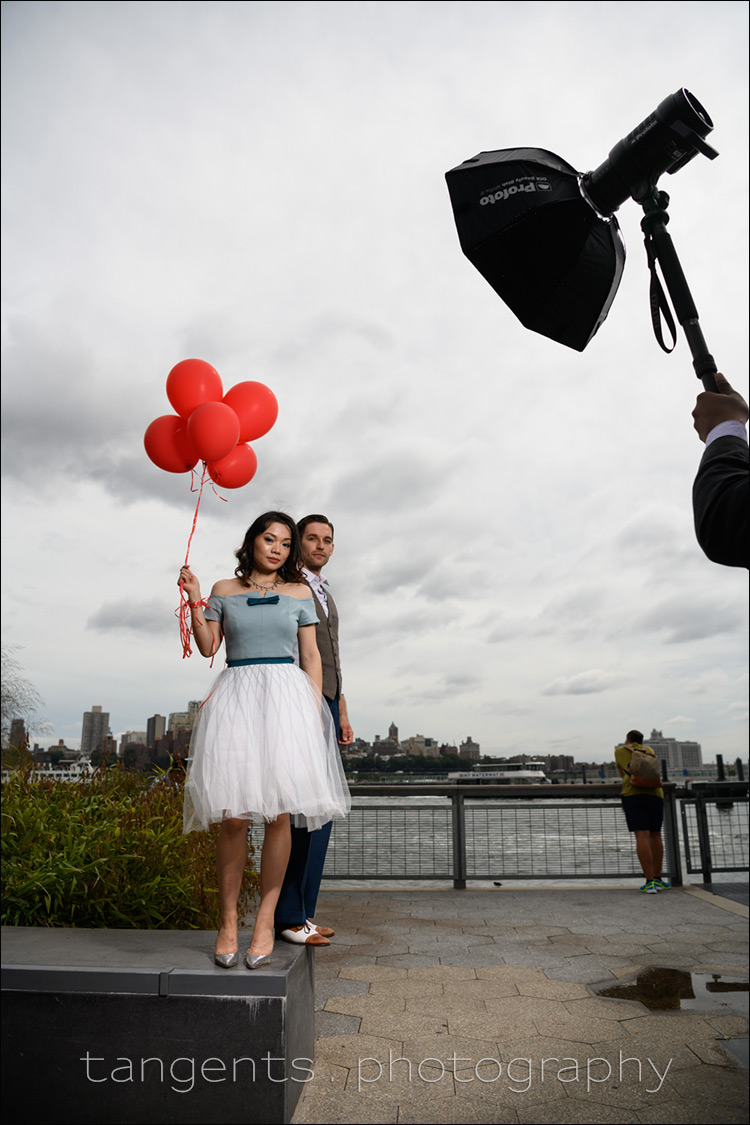 ---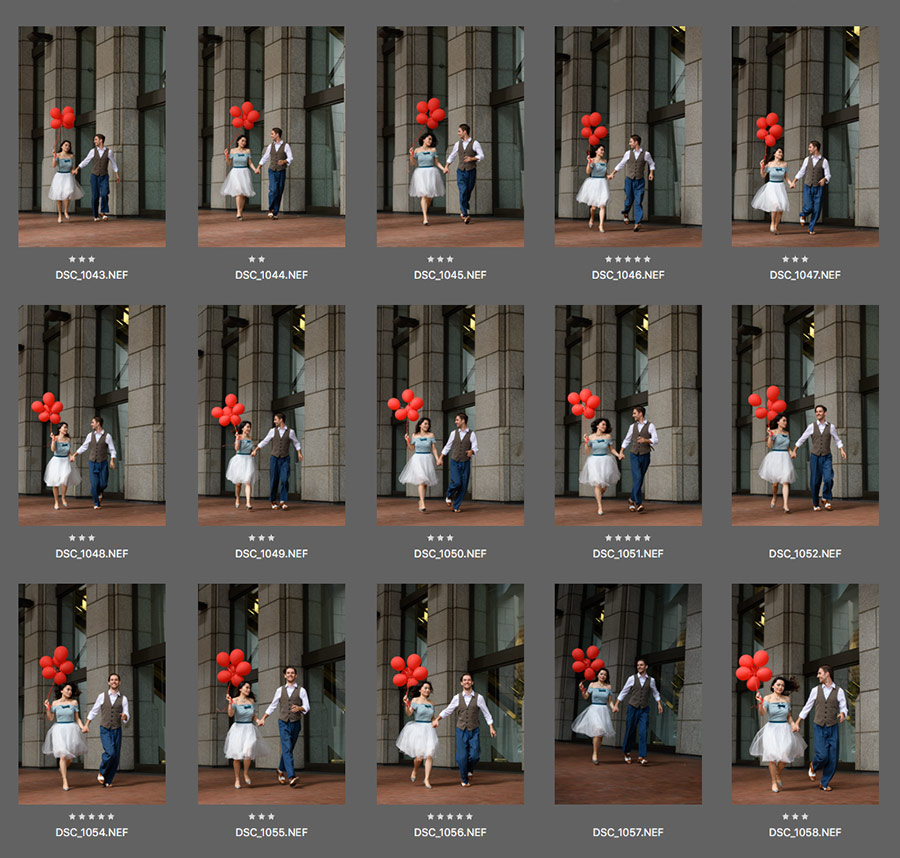 Autofocus & Focus enhancements
The Nikon D850 offers several new features (for Nikon), as well as some improvements to the AF capabilities.
The D850 sports the same Multi-CAM 20K AF system as the Nikon D5, but I still felt the D5 was more responsive, especially in lower light. With a sequence like this, where the two models are jogging towards the camera, the D850 easily kept up. I did not get to test the D850 vs D5 under more demanding conditions. For the photography work I do, this is about the level of movement I regularly deal with.
Even though the D850 and D5 have the same AF hardware, this might be the same case as what I experienced with the D700 vs D3. Even though the D700 and D3 had the same AF hardware, the D3 had noticeably more robust auto-focus than the D700.
All that said, the D850's auto-focus capabilities exceeded what I would need.
From the literature on the D850:
"Complementing the rendering capabilities and speed of the image sensor is the robust Multi-CAM 20K AF system, which features 153 total phase-detection points, including 99 cross-type sensors for improved subject recognition, and 55 of the points are selectable for greater compositional freedom."
"Benefitting the sensor is the EXPEED 5 image processor, which affords a wealth of speed throughout the camera system, including the ability to shoot continuously at 7 fps for up to 51 consecutive 14-bit lossless compressed raw files in a single burst."
So there is some serious hardware and software at work here.
Furthering the versatility of the focusing system, different AF-area modes can be selected to support varying types of subject matter:
– Single-Point AF: The camera uses a single point to find focus.
– Dynamic-Area AF: Available with 25, 72, or 153-point selections, this mode uses a primary single focus point to lock onto focus, and then makes use of the surrounding points for maintaining focus while tracking erratically-moving subjects.
– Group-Area AF: This mode treats smaller groups of AF points as a single point for a wider field of recognition, and is well-suited to tracking faces or other detailed subjects.
– 3D-Tracking: Using a subject's color information, this mode utilizes all 153 points to maintain focus on a moving subject while half-pressing the shutter button.
– Auto-Area AF: This mode makes use of all 153 points to quickly identify the main subject, and then prioritizes recognized faces as portrait subjects in any AF servo mode.
There are also other features:
Auto AF fine-tune function
The AF fine-tune function can be used to ensure the best possible focus for every lens you use. Rather than relying on photographing distance charts, this function lets you achieve precise focus manually in live view, and then have the AF system calibrate itself to the fine-tuned focus position in order to alleviate front- and back-focusing issues.
Focus Peaking can be used to benefit manual focus control and a Zebra Stripes option is also available to help detect over-exposed areas within the frame.If you need to focus accurately and fast with manual focus, and don't have the time to zoom in to check focus accuracy, then Focus Peaking is something you'd love. A clearly visible red outline to everything that is in focus. You can of course change the color of that, but red really helps.
---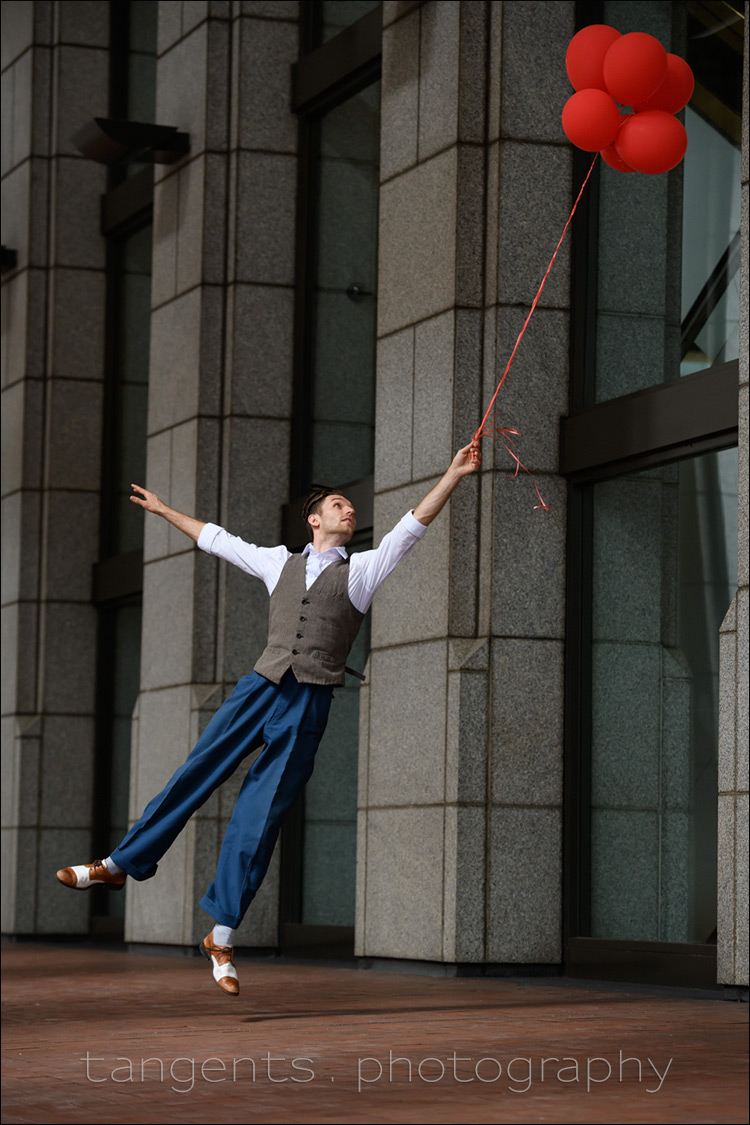 Nikon D850: large RAW vs medium RAW and small RAW files 
In offering three different RAW file sizes, it would make the D850 appear like a 3-in-1 camera. Select the resolution you need.
As stated before, I don't need a 45 megapixel camera for 95% of my work. I need workhorse cameras in the 20-24 megapixel range. Or 25 megapixels. That's what had me excited about the D850, along with the silent shutter. The improved auto-focus over the D810, as well as the improvements over the D810, make seem to make the D850 an unbeatable camera.
Then while doing Nikon D850 high ISO tests, I noticed that the medium RAW (mRAW) files looked a little too soft for my taste. There just wasn't that crisp detail in the eye-lashes. For me, like many other wedding and portrait photographers, that's where I notice resolution – the detail in the eye-lashes. That's kinda my on-the-spot resolution chart.
I investigated this topic again later on: Nikon D850 medium RAW files soft?
For both sequences I used a light-weight tripod, and shot around 1/60th @ f/8 with the Nikon 14-24mm f/2.8 … but you can see all that info in the EXIF data anyway. The first image has a lot of detail in the building facade. The second image might allow you a better idea of shadow detail and highlights.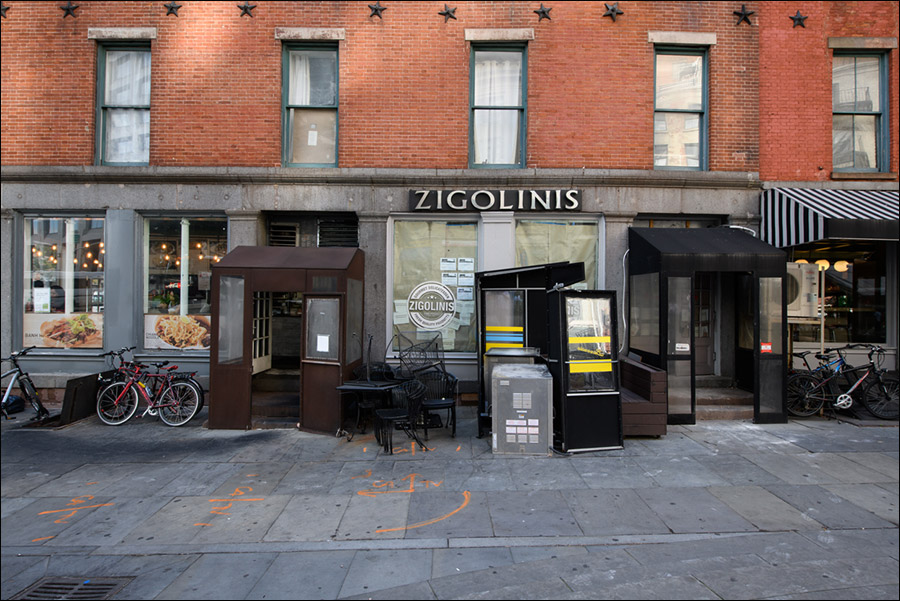 Here is a 100% detail comparison between the 25 megapixel image, and the same scene with the 45 megapixel image, scaled down to 25 mpx.
I saw this result in every test I did. The medium RAW files are a touch too soft for my taste. As mentioned earlier on, I re-tested this in the studio: Nikon D850 medium RAW files soft?
Similarly, I did several tests with the 20 megapixel Nikon D5 compared to the 25 megapixel mRAW of the D850 – download RAW files here.
The D5 files Are somewhat sharper than the D850 mRAW down-rezzed to 20 mpx. Similarly, the D5 is even sharper than the D850 mRAW if you uprez the D5 to 25 mpx. I'm conflicted. The difference is there, but it is small.
I think in practical terms, no one would really ever notice. If I delivered the processed JPGs from mRAW to a client, they would NEVER come back to me and complain about it.
For me, it is a confidence thing. The Nikon D5 fills me with confidence – the high ISO images are superb. The files look great. The autofocus is unbeatably fast and accurate. I can pull back details out of under-exposed high-ISO files like crazy. The Nikon D5 is a responsive beast that helps me overcome whatever is thrown at me in any situation. It fills me with confidence that whatever they throw at me, I can handle (with the Nikon 24-70VR), and Profoto lights.
So this mRAW thing is more a chink in that confidence armor.
I was hoping the Nikon D850 would be that camera, but with some extra juice that I need in my work. So this was disappointing.
For more info on how the Nikon D850 sensor works, and how the medium RAW file is processed, check out this authoritative article on the PhotographyLife website.
---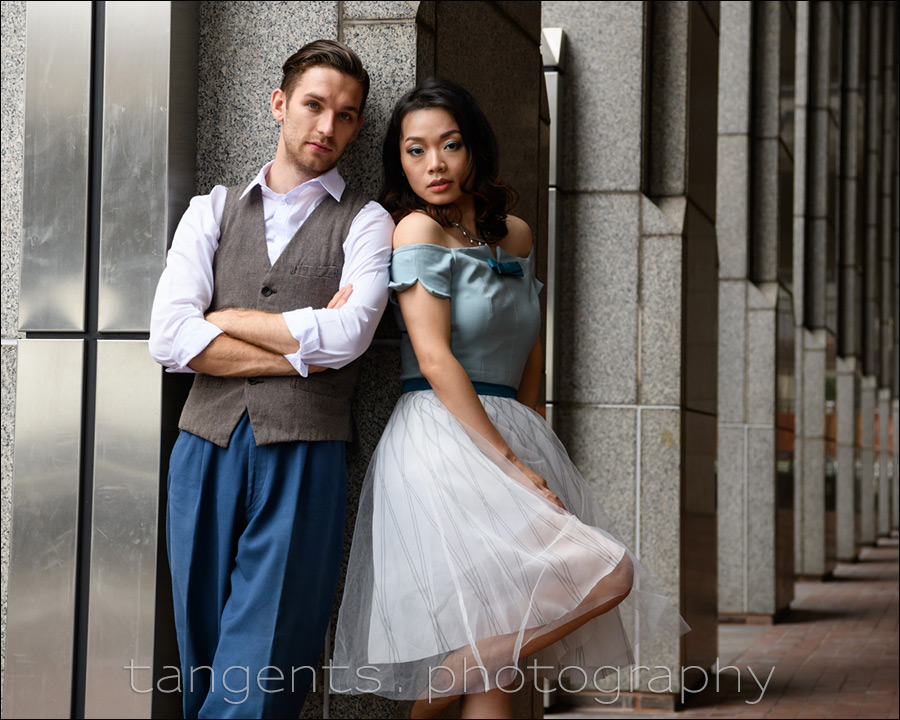 ---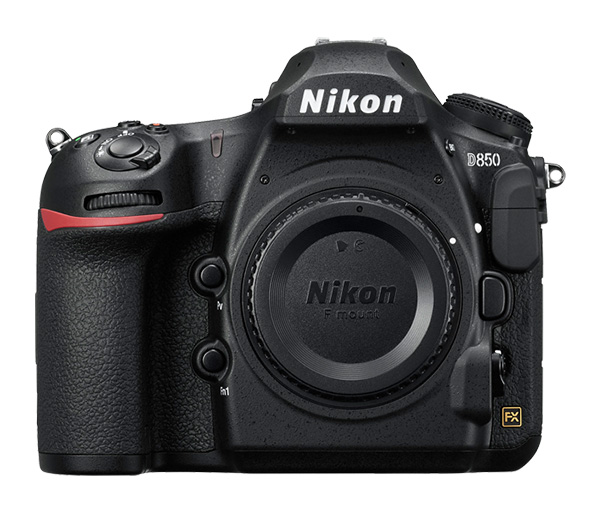 Summary
The Nikon D850 (affiliate), is a magnificent camera that is clearly in the top range of what is available right now. I would highly recommend it, with the caveat that you should make very sure that the medium RAW files are something you would either not need, or that the (mild) image softness is something that wouldn't bother you.
Ultimately, the Nikon D850 is just not the camera that I needed it to be. I sold mine already, and I am looking at another D5, or perhaps, perhaps that Sony A9. Then again, Nikon is going to release a mirrorless camera in 2018. Maybe I should hold off for a while on any big decisions.
Related links