review: Profoto A1 flash
Profoto has a very strong reputation in the industry for making gear that are reliable, easy to use, powerful, and, well … looks really good. When Profoto entered the market a few years ago with the portable Profoto B1 flash (affiliate), and then the Profoto B2 flash (affiliate), it was inevitable then that at some point they would make a grand entrance with a speedlight style flash. With this review of the Profoto A1 flash (affiliate), I wanted to show more how I would use it, than just cover the specs of the flash.
I met up with Anastasiya to record this review video, but it ended up being partly a tutorial video as well. In the studio we go over how I would use this in a simple way as an on-camera bounce flash – and used properly, the results can be surprisingly  good. We then went out on location and used the Profoto A1 as a trigger for the B1 unit, as well as using the Profoto A1 as a single off-camera flash.
The results look really good – as they should when you use flash with careful consideration. That's to be expected. What you can also expect with the Profoto A1 is an elegant lighting device. The designers really put a lot of thought into this flash.
You can order the Profoto A1 through these affiliate links:
– Profoto A1 flash for Canon  (B&H / Amazon)
– Profoto A1 flash for Nikon  (B&H / Amazon)
– Profoto A1x flash for Sony  (B&H / Amazon)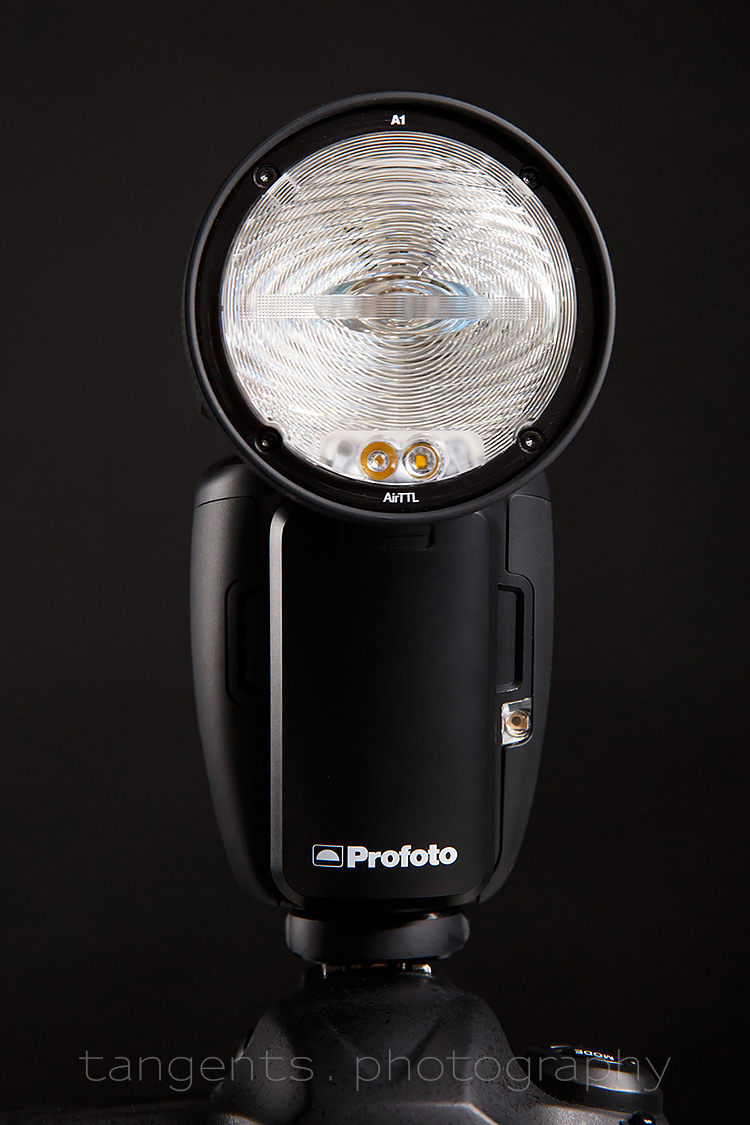 Features of the Profoto A1 flash
Before we list the specifications (in a very dry way lower down in this review), I want to go over a few things that stood out for me with this flash:
The A1 has a neat system with how you can magnetically attach modifiers and gels. No need to strap things down – everything just smoothly clips into position.
There is also a clip-on white bounce card, and if you reverse the white bounce card to have the black side in front, you have a flag. For those of you who regularly follow the Tangents blog, you will immediately recognize how to use this flag on the flash – just like you would the Black Foamie Thing. The Profoto A1 just looks a lot more elegant.
The modeling light on the Profoto A1 changes zoom angle as you zoom the flash head!  So you can immediately see how much of your scene will be covered by how you zoom the flash head. Again, an elegant implementation.
The way that Profoto implements TTL and Manual flash by interlocking it, is beautiful. You can do a test shot in TTL, and if the exposure looks good, you just lock it as a manual exposure. This is a handy time-saver on a stressful shoot.
No need for AA batteries. The Profoto A1 has a proprietary battery that clips onto the front of the flash.
I have used the Profoto A1 on several weddings now, and what also impressed me is how fast the flash recycles, even when fired at full power. The battery really keeps up. The spec sheet has the recycling time as 0.05 to 1.2 Sec. That 1.2 seconds recycle time is really fast for a full dump.
The power rating for the flash is given as 76 Ws, instead of the usual Guide Number rating given for speedlights. In testing the flash in the studio, I'd say the Profoto A1 flash is about 1/2 stop brighter than the equivalent Nikon or Canon speedlights. Not a massive difference, but it does mean the A1 delivers a respectable output for a flash of this kind.
Profoto hasn't mentioned yet which range the flash's radio signal has, but in the video you can see that I specifically shot with a 300mm lens to get full-length photos of Anastasiya – this gave me a really long working distance, and there were no misfires!  Of course, Sport photographers would work over longer distances, but for my needs (weddings & portraits), the Profoto offers more than I need in terms of signal range.
---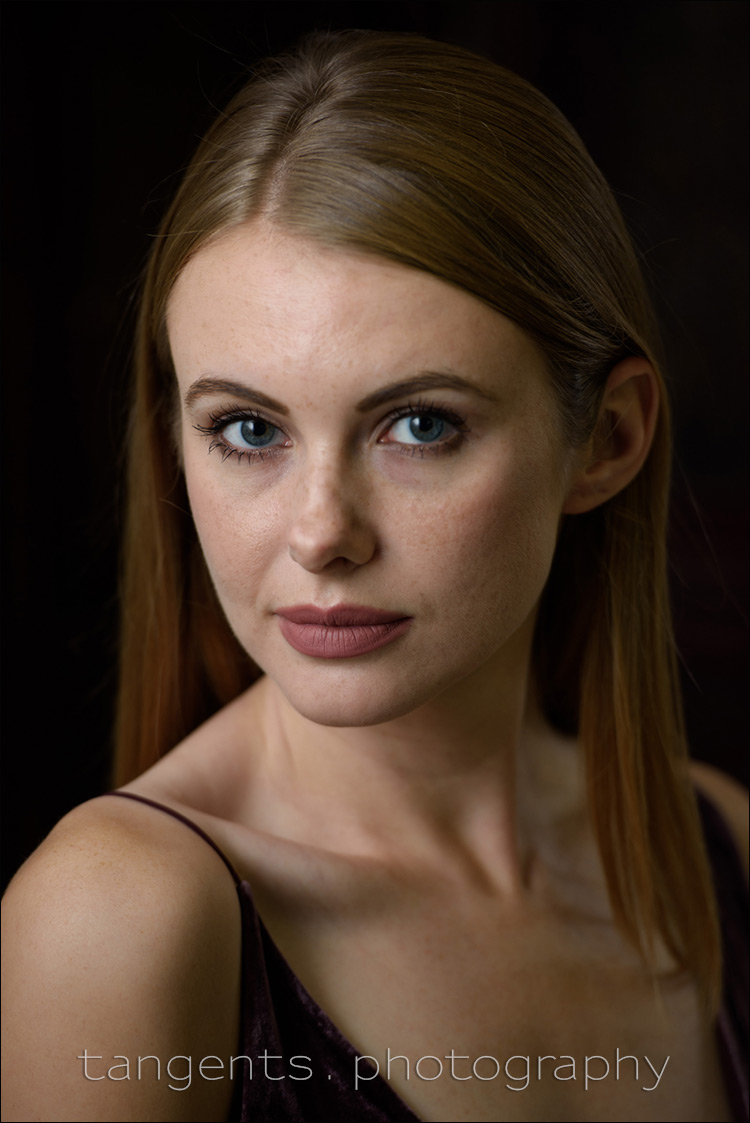 Using the Profoto A1 for on-camera bounce flash
With this photo (as shown in the video), we had the black flag on the Profoto A1 to control how the light from the flash spilled. Working close enough to a surface we can bounce the flash off … and with careful posing, we can get short lighting! This looks like studio quality lighting from an on-camera flash.
This topic is covered thoroughly in the articles linked here: Black Foamie Thing
This technique is also discussed in depth in my book, On-Camera Flash  (revised edition)
Camera settings & photo gear used in this part of the video
---
---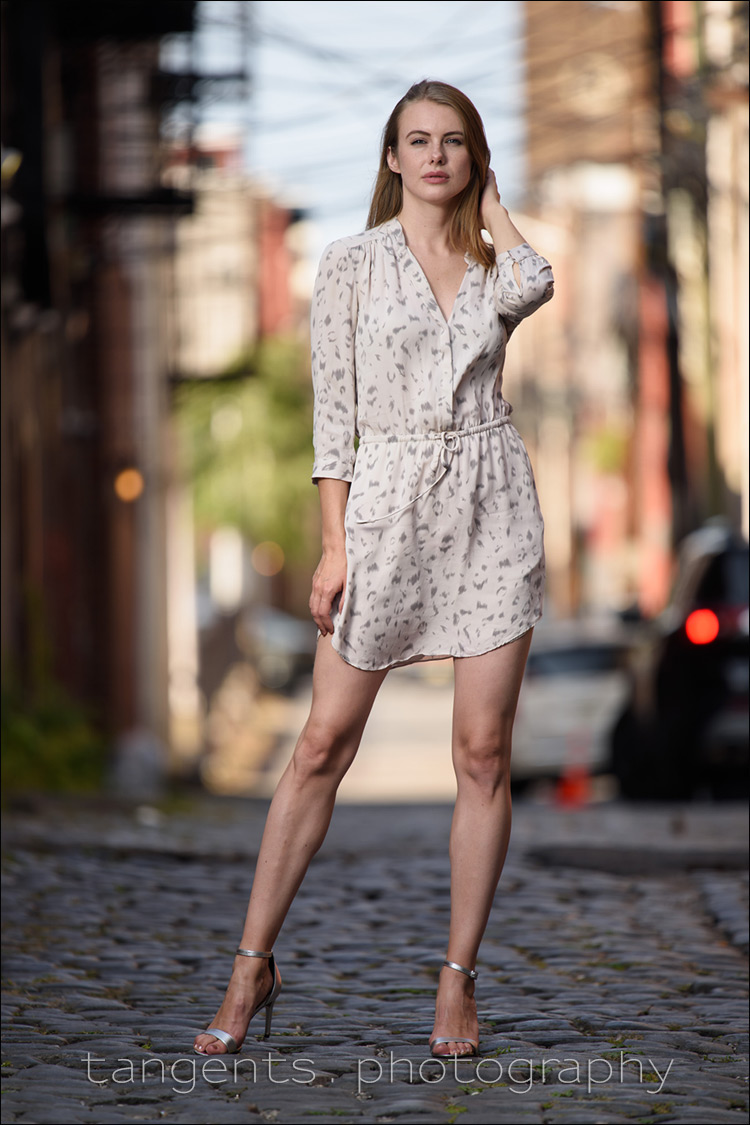 Using the Profoto A1 as a remote trigger, or as an off-camera flash
With this sequence of photos shot out on location (as shown in the video), I used the Profoto A1 initially as a trigger to fire the Profoto B1 flash. Then I reverted to using the Profoto A1 flash as the off-camera flash, triggered by a Profoto Air-TTL trigger. This makes the Profoto A1 more versatile than just being a speedlight. It doubles as a trigger for your other Profoto lights!
The lens that I used in this section is the remarkable Nikon 300mm f/4E VR  (B&H / Amazon). It is compact – less than 6″ long, and is light-weight. Combine this with the lens' stabilization, and you have a long focal length lens that is very hand-holdable … and razor sharp!
Camera settings & photo gear used in this part of the video
---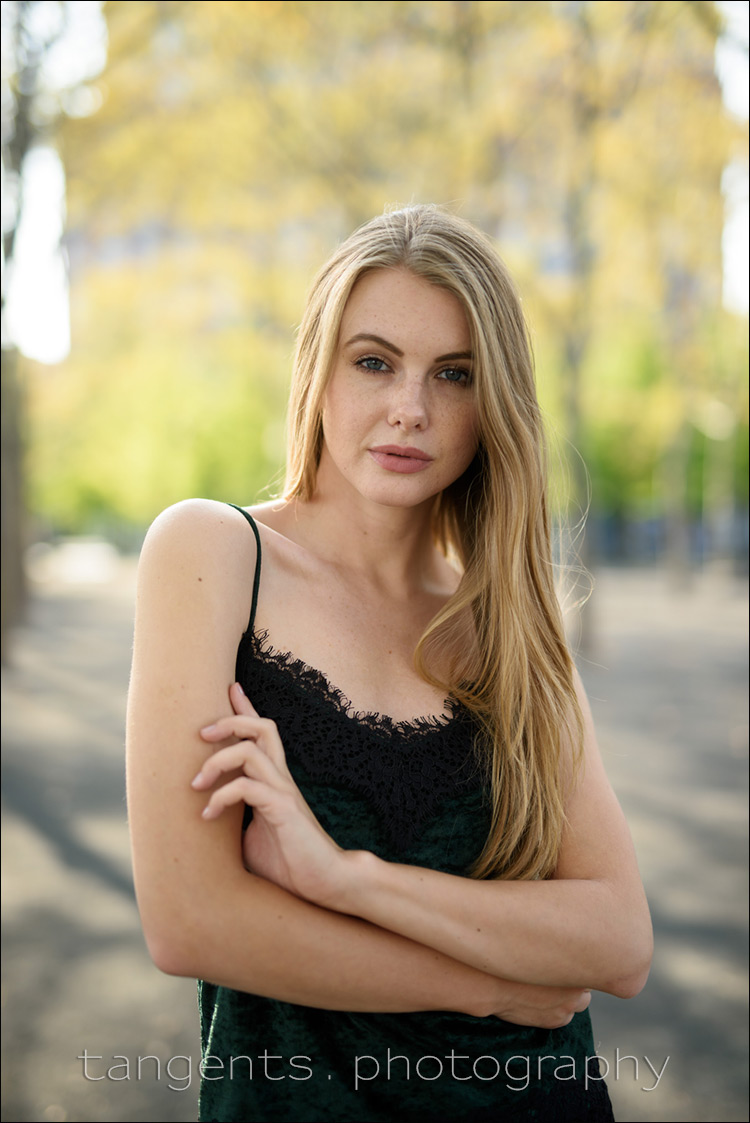 Using the Profoto A1 in high-speed sync mode
There really is nothing to using the Profoto A1 flash in high-speed flash sync mode. With the Nikon, you simply ramp up the shutter speed to where you need it to be. Remember, that with all flashes, there is some loss of power when you go into HSS mode. This is discussed in my book, Off-Camera Flash, as well as the tutorial here on the Tangents blog:  High-speed flash sync (HSS)
During this part of the photo session, I used the Sigma 50mm f/1.4 DG (affiliate) at f/1.4 for that specific shallow depth-of-field wide open. This then pushed the shutter speed up to 1/640 which is well into HSS territory. Because I worked with the flash fairly close to Anastasiya, I could get away with using this flash outside, while bounced into a small umbrella. If I had worked in stronger light conditions, I would've used bare off-camera flash.
Camera settings & photo gear used in this part of the video
---
---
Profoto A1 specifications
Built-In AirTTL, Use On or Off Camera
Recycling: 0.05 to 1.2 Sec
Li-Ion Battery: 350 Full Power Flashes
High Speed Sync, LED Modeling Light
9 Stop Power Range, 76 Ws Output
Weighs 1.2 lb Including Battery
Optional Wireless TTL with Air Remote
Includes Bounce Card, Dome Diffuser
Also includes Wide Lens, Flash Stand, USB Cable
Summary
It is clear that I am impressed with the Profoto A1. It does come with a high price though – about double the equivalent speedlights from the camera makers. However, it fits so seamlessly into the Profoto ecosystem, that I do think there will be a strong demand for this well-designed unit.
You can order the Profoto A1 through these affiliate links:
– Profoto A1 flash for Canon  (B&H)
– Profoto A1 flash for Nikon  (B&H)

Related articles