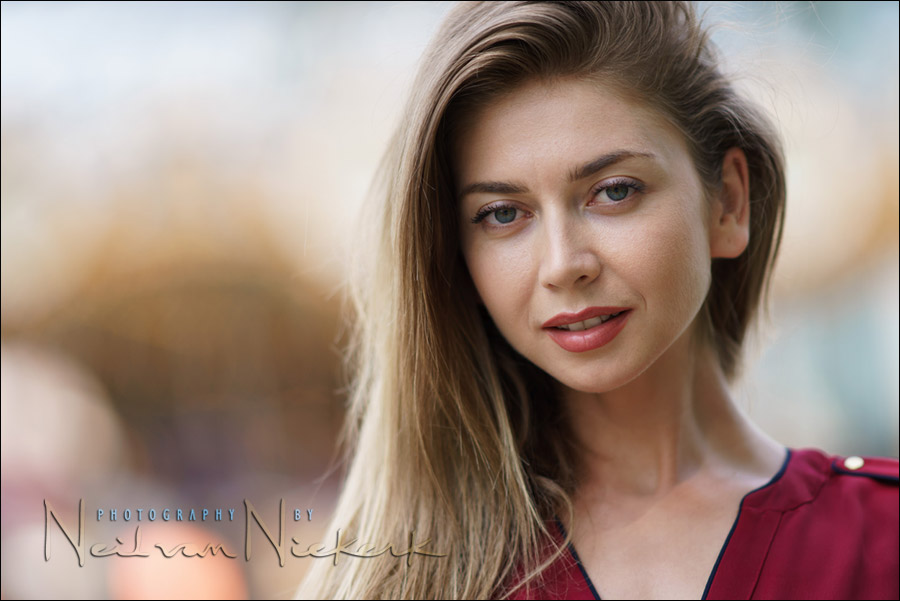 review: Sony Zeiss Sonnar T* 135mm f/1.8 ZA lens
One of the pieces of photo gear that I have lusted after ever since the first time I saw it, is the Sony Zeiss 135mm f/1.8 ZA lens  (B&H / Amazon). That combination of the Zeiss name tag and the sweet f/1.8 aperture on the telephoto lens, predicted this would be a lens to experience. However, since I mostly shoot Nikon (and also have a small Canon system), and this is a Sony mount, it remained an unrequited love.
Then I had a photographer in Germany, Thomas, asked about doing an personal workshop on flash photography with me – but he shoots with the Sony A99 and Sony A7R 11. Instead of just vaguely waving my hands around while explaining things, I thought it would be best for me to have some Sony gear in my hands during this workshop. So I rented and acquired the necessary pieces to shoot alongside Thomas. This was an interesting experience with new gear – the theory about flash photography made sense, and it all fell into place with a certain logical consistency – but the buttons and controls of the camera were new.
Anyway, I thought this would be a great opportunity to rent the Sony Zeiss Sonnar T* 135mm f/1.8 ZA lens, and see if the lens stood up to expectations. I shot some available light portraits and off-camera flash portraits of our model, Claudia.  (Model Mayhem portfolio).
The photo above is an available light portrait of Claudia.
camera settings:  1/500 @ f/2 @ 200 ISO
Sony A99 camera
First experience: Sony Zeiss Sonnar T* 135mm f/1.8
So how did this lens hold up to my expectations? Well, I want this lens now, more than ever before. No, not want … need!
The lens feels solid. A hefty chunk of glass and metal. The focus ring is so smooth. You just know this lens has been engineered to an exact degree.
The lens hood is deep, and matted on the inside. Even the lens hood felt solidly made!
The photos here will explain just how amazingly smooth the bokeh of this lens is – no jittery edges. Nothing that intrudes from the background elements. Just smooth smoothness. I love it!
The sharpness of this lens – I can't think of a lens that has given me sharper results than this. As sharp, yes. But not sharper. This really is the apex for optical quality that I have experienced.  You could count the eye-lashes in each photo.
With the built-in stabilization of the Sony camera bodies, camera shake isn't much of a problem, and the images were consistently tack sharp. A few times I did focus on the wrong eye (instead of the eye closest to the camera), but that is mostly operator error or poor light.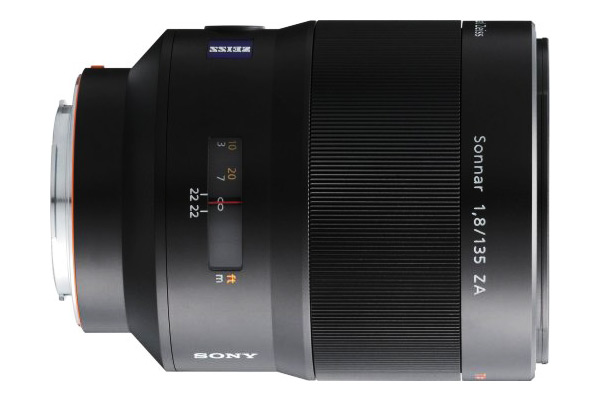 I have to emphases again this lens' stellar optical quality. At 2.5 lbs, you know you have a solidly made lens. The filter diameter is the usual 77mm, and with the non-rotating front element, a polarizer filter would be easy to use.
I had this A-mount lens on the older Sony A99 camera. To use it with the new A7 series, you need the Sony LA-EA4 A-Mount to E-Mount FF Lens Adapter (affiliate). This adapter allows Alpha mount lenses to be mounted to the new E-mount full-frame cameras, and still allow continuous Phase Detection auto focus.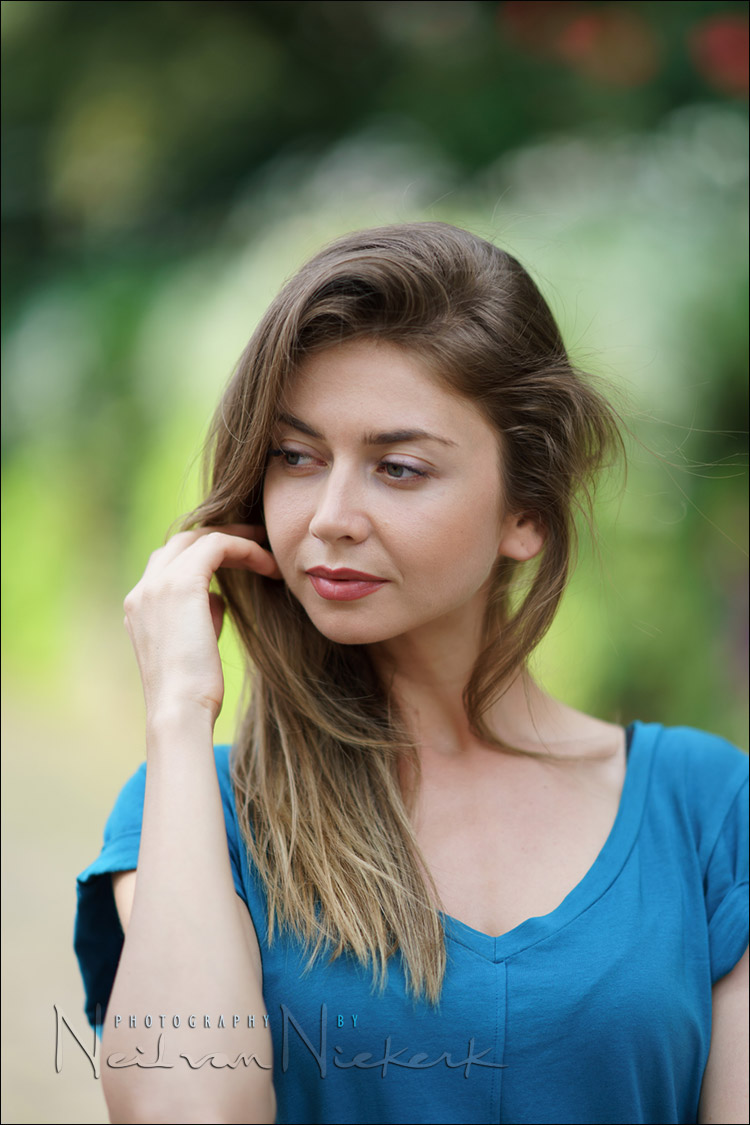 camera settings:  1/1000 @ f/1.8 @ 100 ISO  …  available light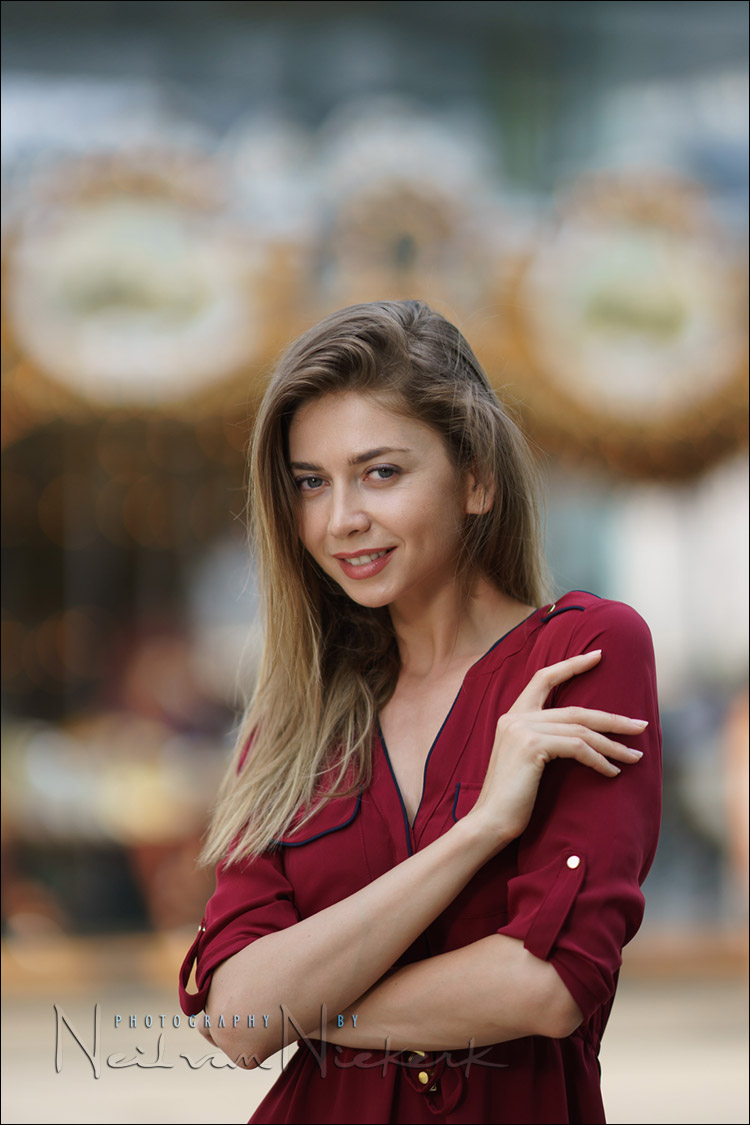 camera settings:  1/2000 @ f/1.8 @ 100 ISO … off-camera flash in TTL mode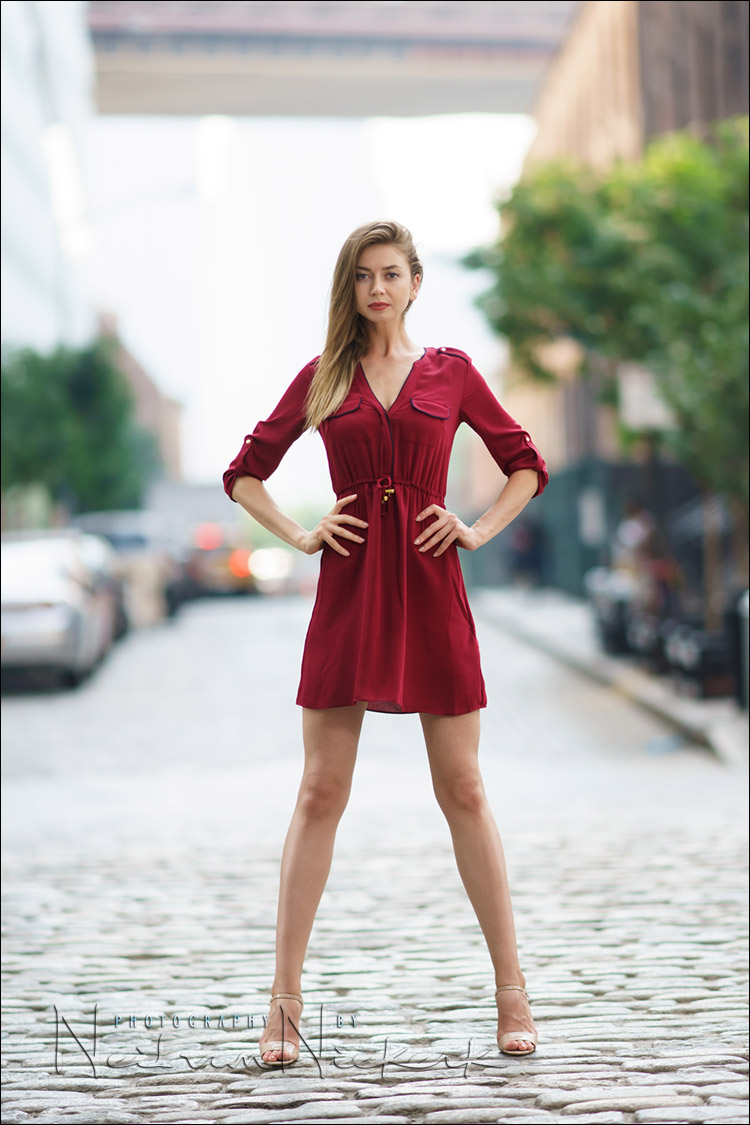 camera settings:  1/1000 @ f/1.8 @ 200 ISO
With this dual flash softbox, we had one flash (a Nikon SB-900) in manual mode. The second flash was the Sony HVL-F60M Flash (affiliate), which we controlled as a TTL flash or manual flash with the Phottix Mitros+ wireless flash for Sony  (B&H / Amazon)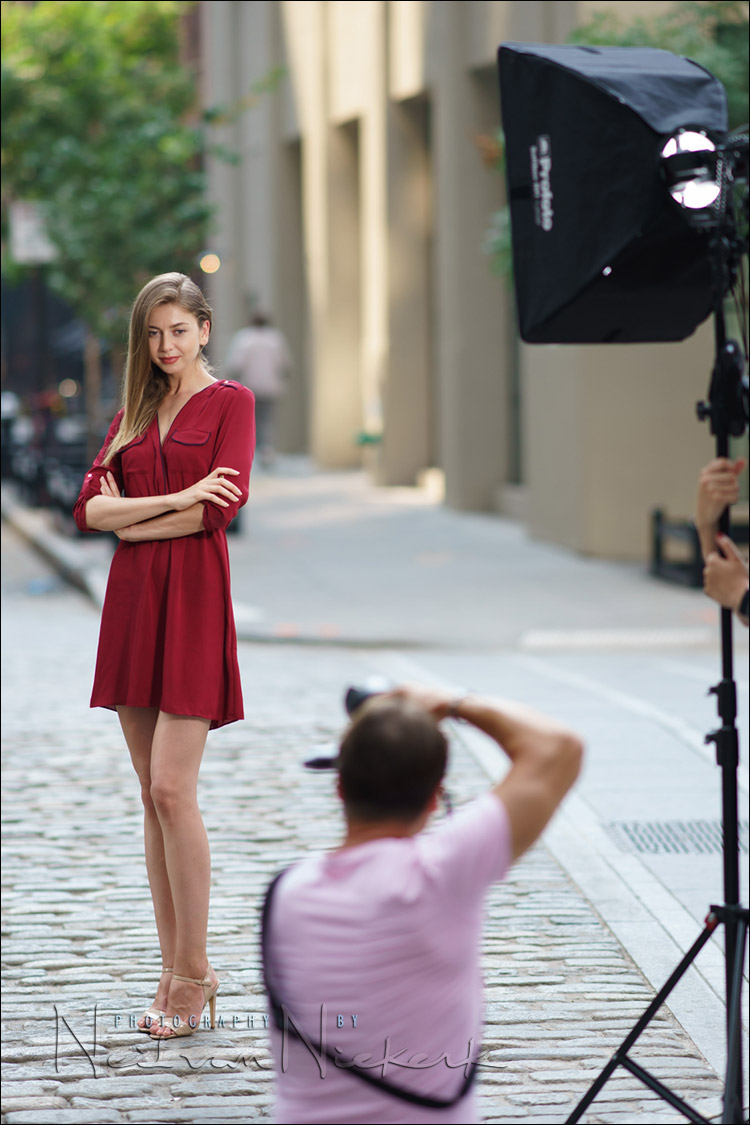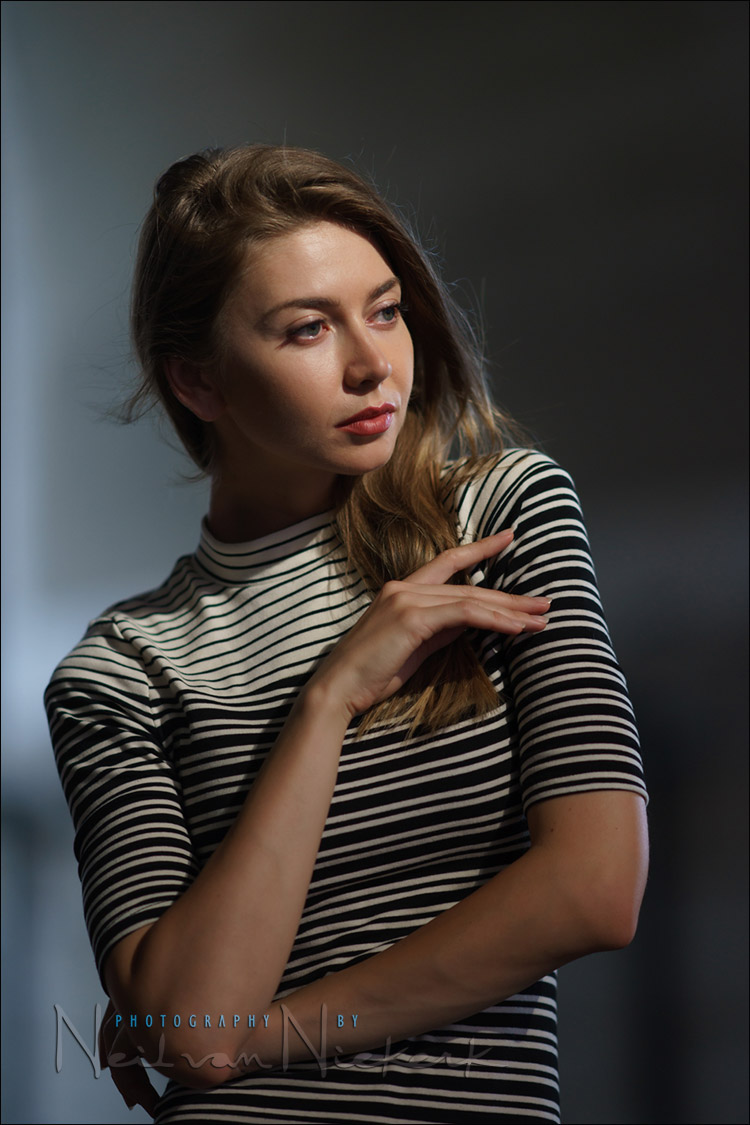 camera settings:  1/200 @ f/1.8 @ 400 ISO  … available light only
In an archway under the Manhattan bridge, we found some natural-light Chiaroscuro – that interplay between light and shade, when we look at the foreground subject, and how the light falls in the background.
The light on Claudia was from sunlight reflecting off a glass window. These two pull-back photos from my iPhone will explain it well.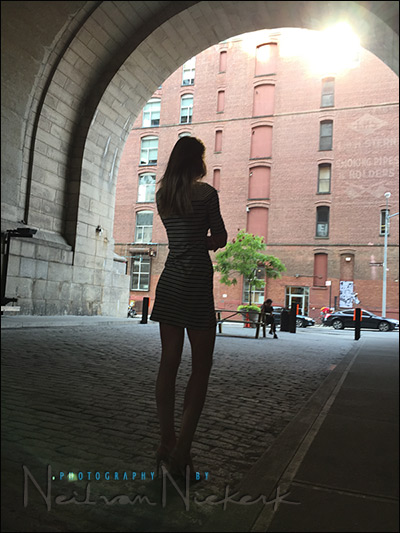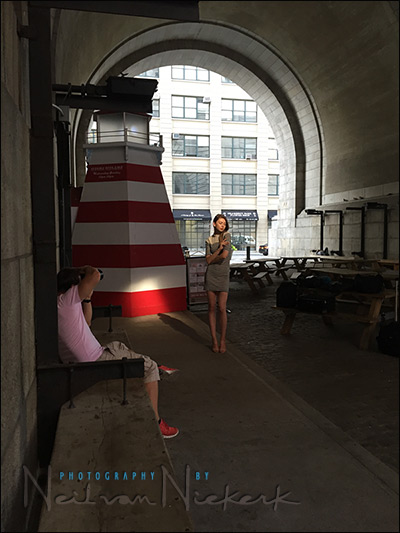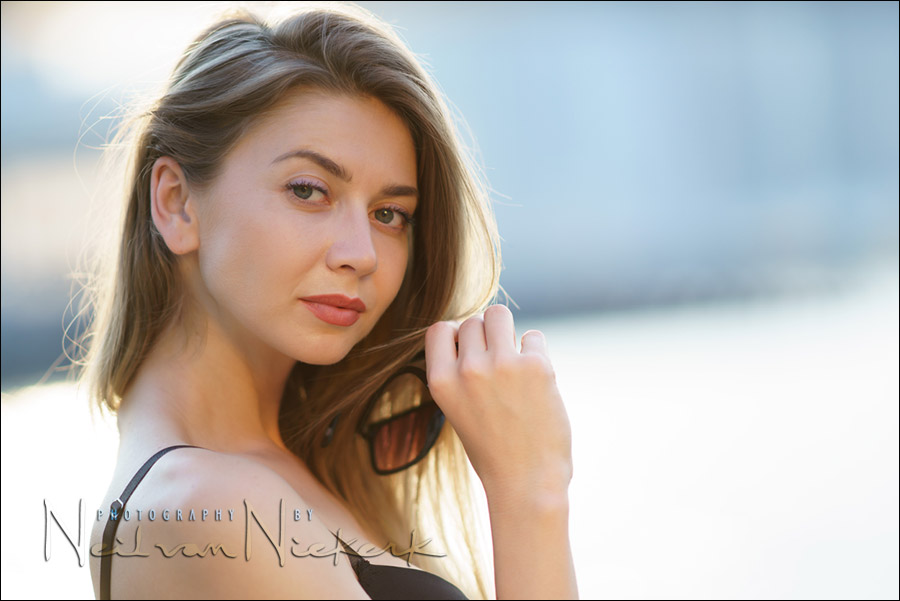 camera settings:  1/500 @ f/2 @ 200 ISO  … available light, augmented with gold reflector
With the late afternoon sun on the banks of the East River, the background just blew out completely in the distance because of the shallow depth-of-field. To bring a little more detail back in the background, and to get more light on Claudia's face, we used a small gold reflector.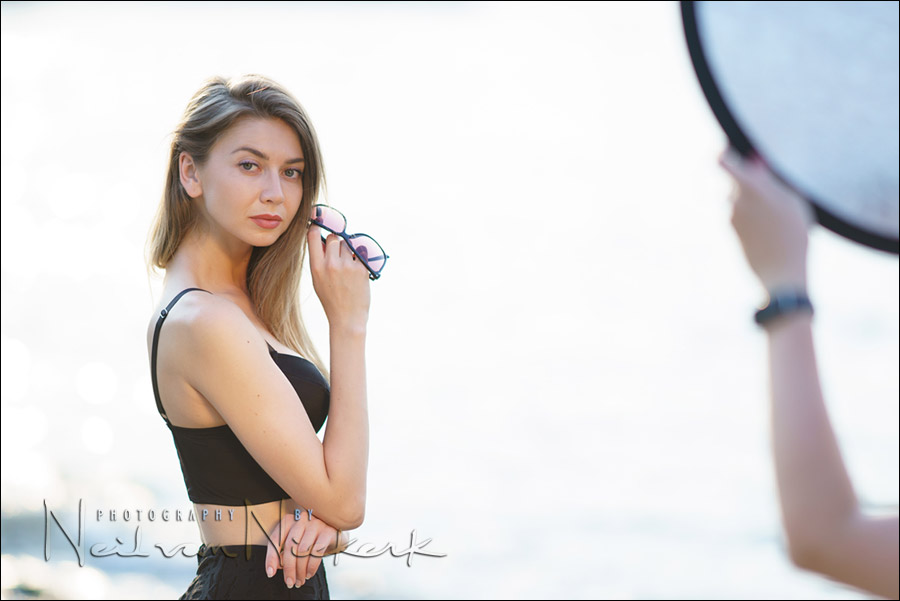 Purchase the Sony Zeiss 135mm f/1.8 ZA
Sony Zeiss 135mm f/1.8 ZA lens:  B&H / Amazon 
Sony LA-EA4 A-Mount to E-Mount FF Lens Adapter:  B&H / Amazon 
Related articles