Studio photography – Image projection effects for creative backgrounds
Working with an idea in mind in the studio – a moody B&W portrait with a stylized cityscape as background. Using the Light-Blaster again in the studio, this final image was a progression of that idea. I knew I wanted to use the cityscape background of one of the metal gobos that came with the Light-Blaster kit.
Because I wanted the final photograph to be black and white, I set my camera to Monochrome so that I'd have a good idea during the shoot what the final image would look like. Since I shoot in RAW, the image would pull up in color the moment I start my post-processing. Then I reverted it to B&W again, and edited it for contrast and for the vignette you see in the final image at the top.
The first step of the shoot was to set up the Light Blaster, then get the exposure, and then figure out the lighting on our model, Priscilla.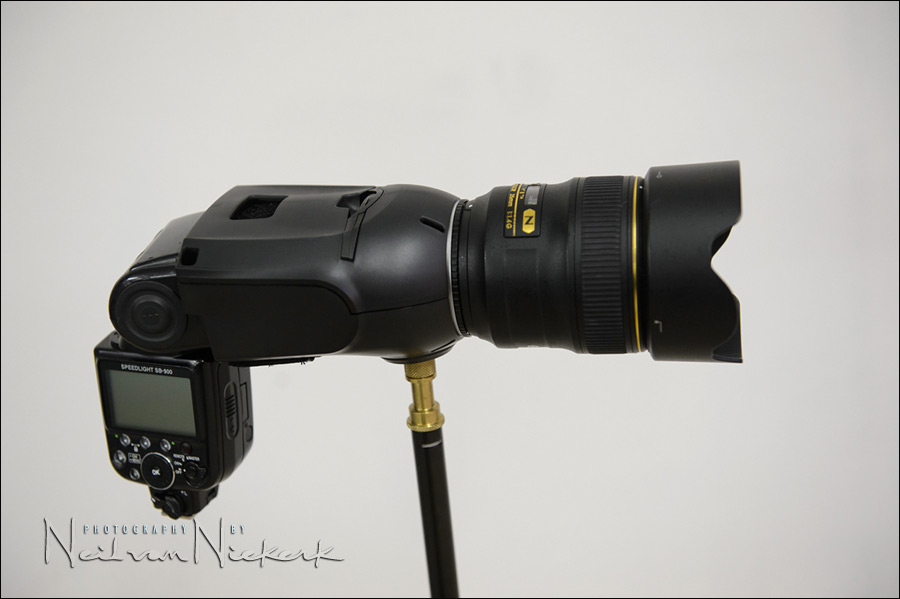 For this series of photographs, I again mounted my Nikon 35mm f/1.4 since that was the wider lens that I had accessible in the studio at the time. The Light Blaster comes with a Canon mount, so you need an adapter to mount your Nikon lens to that.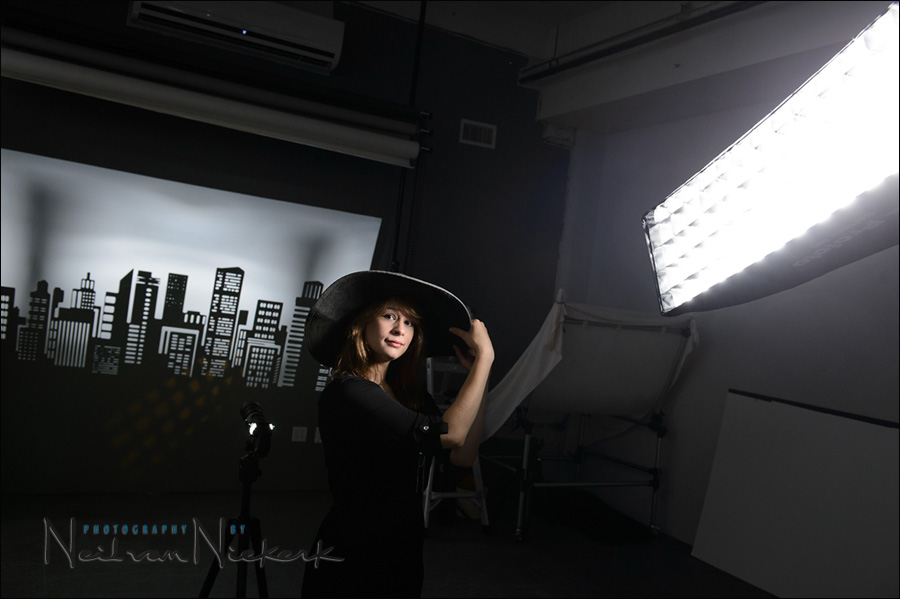 Lighting equipment used for this photo session
The pull-back shot shows the lighting setup. The main light on Priscilla was a Profoto D1 Air 500 Ws Studio light (affiliate), diffused by a Profoto RFi 1'×3′ softbox (affiliate), with a Profoto 50 degree 1×3 grid (affiliate) to control the spill. Yes, the gridded stripbox really was angled away from her light that at nearly 90 degree angle.
I wanted to be very specific about lighting up her face only, and not her hands (for other poses), so I angled the light away from her. I feathered the light away from her so that only part of the light from the stripbox caught her. This gave me what I wanted – soft light, but controlled.
The light on the background – the city scene, was then of course done with the Light-Blaster.
1/200 @ f/4.5 @ 800 ISO
The camera settings were determined by the background exposure with the Light Blaster and gobo. Then I had to match the studio light for those settings.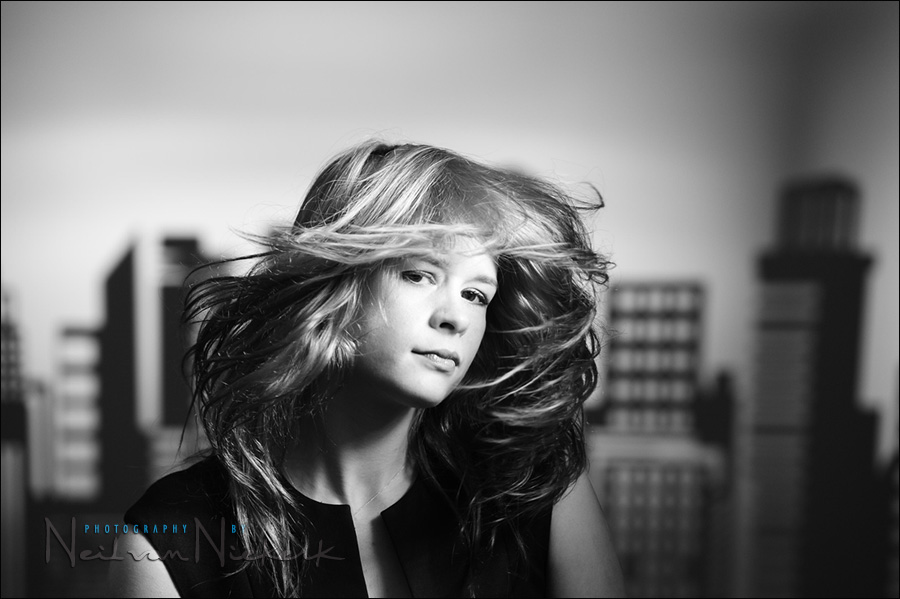 Here is the straight-out-of-camera shot for comparison. It is the JPG extracted from the RAW file.
Summary
Again, I'm quite impressed with the Light Blaster. It gave me a unique image directly from my camera, very close to what I had wanted.
Oh, how did we get Priscilla's hair to flow so perfectly around her? This was about the 40th frame we shot where she gently shook her head side-to-side. There were a few nearly-there images, and then we hit this image and decided we were done. We had it.
You can order the Light Blaster kit from these affiliate links
Related articles