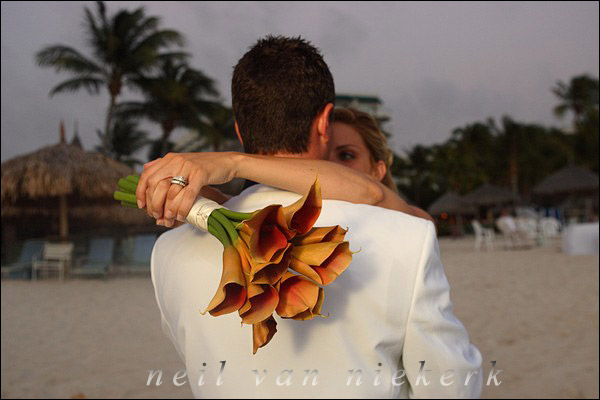 using bounce flash outdoors
While the bounce flash techniques described on these pages are heavily dependent on shooting indoors which provide those places to bounce flash off … it wouldn't seem possible to use these techniques outdoors.  After all, you can't bounce flash off the clouds.  (Although we've all seen photographers attempt this outside.)
So while there are obvious limitations in applying these bounce flash techniques outdoors, there are times when these techniques can still be quite effective.
This example, also shown in the tutorial pages is of this image taken at a wedding that I photographed in Aruba.
Here I had my daughter hold up the gold side of the Lastolite reflector. And hopefully this gives the idea of light from the sun setting over the ocean. (It had just gone down, and the light was blandly grey.)
However, these bounce flash techniques do imply some kind of surface to bounce your flash off.  But you shouldn't feel limited by not having an obvious area to bounce light off.
Have a look at this sequence:
Nice evening light:
Settings of  .. 1/125th @ f2 @ 1000 ISO .. exposed properly for skin tones and the dress.
BUT, the evening sky and the light from the lamp are lost.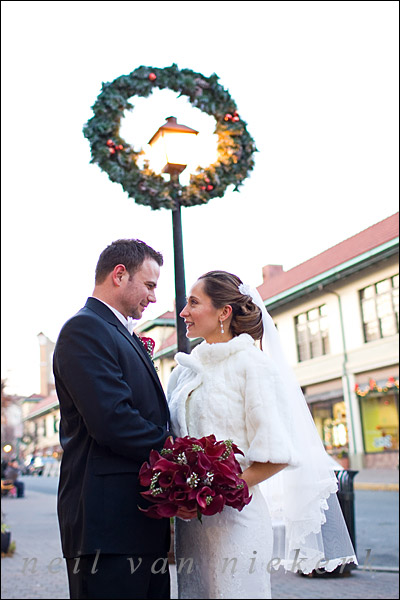 1/250th @ f2 @ 320 ISO …
Nice enough detail in the sky and the lamppost, but the couple is lost in murkiness.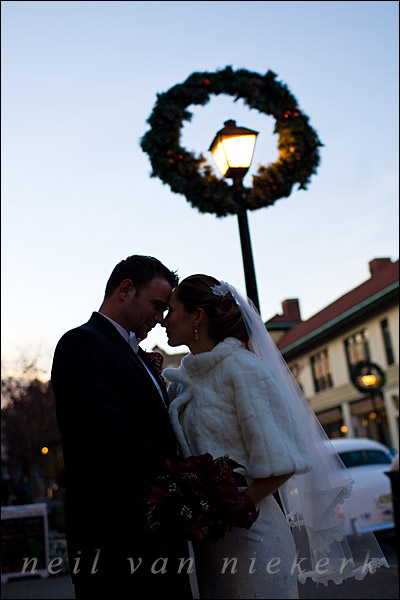 So this is (for me anyway), the kind of opportunity where a touch of flash would work wonders.
So I turned my flash-head 90′ to my left, and bounced light into the shop displays.
Not any particular surface .. just off the general shop displays.
And here are the results, still at 1/250th @ f2 @ 320 ISO.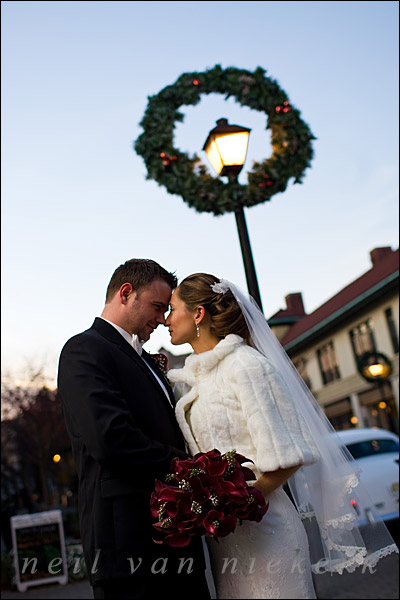 It works for me, and I know my client will love it when she sees it.
To show you exactly what I was bouncing light from, have a look at the shop displays to the left in this test shot: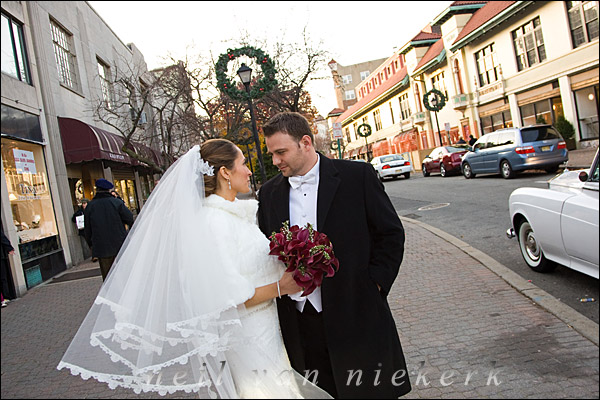 … and this crop from another test shot: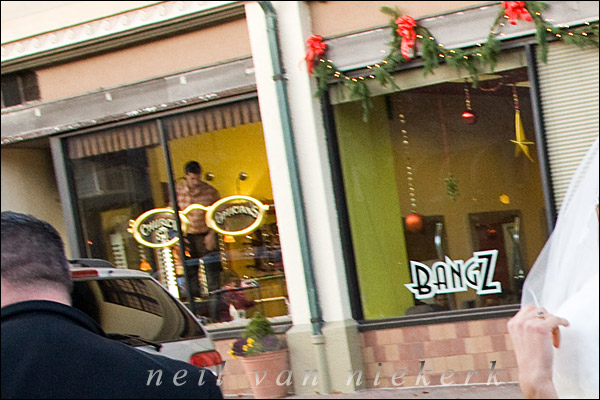 Yup, I bounced flash off that stuff.  Nothing in particular .. but, enough light will spill back from whatever is struck by the light from my flashgun .. to give enough light on my couple to enhance the photo.
Here's another example :
It was really dark already. This was at 1/100th @ f1.2 @ 1250 ISO
Canon 5D and 85mm f1.2 II
I was really squeezing the last bit of light out of the setting we were in.  I wanted to use the tree behind them with the last remaining autumn leaves, but the evening light was also coming from behind them.  So their faces were shaded. Not good.
I therefore bounced flash off the brick wall of the temple.  I'd guess it was about 10 meters from where I was standing.  But enough light spilled back to register at that wide an aperture and high an iso.  Because the light from the flash is now coming in from an angle, the foreground doesn't have that typical on-camera flash look to it.
Here's another image from the same sequence.
(I did edit this though for the dark rings under his eyes from lack of sleep. )
But in this example and the previous one that I show here, I got lucky.
There was some kind of surface or objects nearby to bounce light off.
So, would these techniques work outside ?
Maybe.  Quite often not, but sometimes it will. It depends.
It will require some thought.