Wedding portrait ideas
The part of photographing the wedding day that I enjoy the most, is the romantic portraits. I believe this is where photographers are more able to assert a style. Especially in comparison to photographing the ceremony as an example, where you have to record the proceedings, as they are presented. Sure, the final result would depend on composition and timing – all crucial elements. But there isn't a way for the photographer to really influence the look of the ceremony photos as compared to what is possible in photographing the wedding portraits, and specifically the romantic portraits. And this is where you have to come up with wedding portrait ideas … often in limited situations, and with limited time.
The venue might not be expansive and offer many options. The outdoors might just be a parking lot. There might be a perfunctory gazebo, but not much else to work with. That's where you have to get a little creative, and look for possibilities. This is a topic we have touched on before:  Lighting styles in wedding photography.
I'd like to use a few examples from Shweta and Derek's wedding day to show the thought process in how I tried to mix it up by creatively. Keep in mind that with this article we are concentrating more on backgrounds and lighting, rather than mixing it up with a variety of poses per se.
---
One of the first things that caught my attention was this elevator door, and the swirl of tones reflected in the brushed metal door. With a bit of bounce flash to camera left, I could get clean lighting on either the bride or groom … and that interesting background. The elevator door was too narrow to do photographs of the couple, so I just did individual portraits.
Okay, that's one idea down. Next up, the men's and ladies' restrooms …
---
In the men's restroom, I noticed these tiles  and that the light from the fixtures over the basins would work perfectly.  So I pulled the couple into the women's restroom for a quick series of portraits of the two of them.
Since I wasn't using flash here, but just the lighting in the restroom, I had to use a higher ISO and a slow shutter speed. This is where the stabilization of the Nikon 24-70mm f/2.8E VR (affiliate) really helped. The excellent high-ISO performance of the Nikon D5 (affiliate) meant that I didn't even hesitate to do portraits at 2000 ISO.
---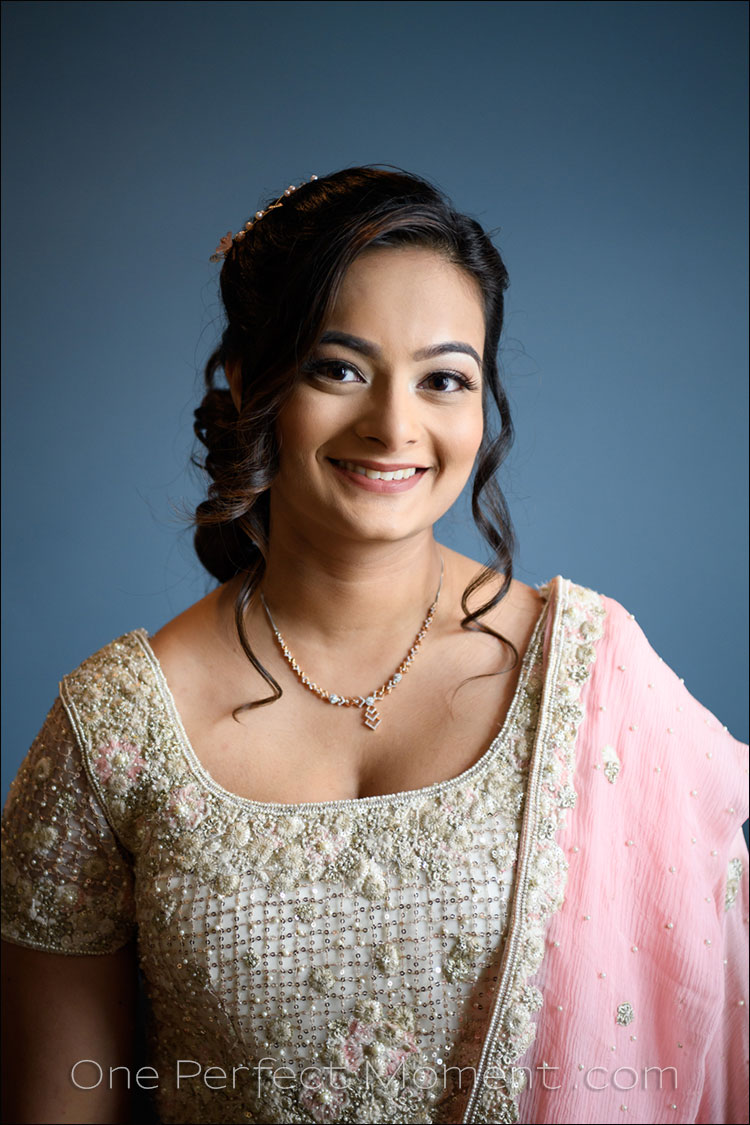 Shweta, photographed against the blue wall of one of the offices upstairs at the venue. Just daylight coming in through the window. This is a straight-forward portrait, and from here on you would change the pose up a bit, as well as her position and gaze, to get some variety.
However, there might be a tendency for us as photographers to place people against or near a background, and be fixed in that way of shooting. But you can get variety by a simple means of creating layers in the photograph. Have your subjects stand forward of a background or scene.
Here I had Derek lean against a pillar in the dining room area of this reception venue, using the patterns to create a frame around him. In the photo below, I had him stand in the main passage to the restaurant area so that I could use the out of focus elements behind him as a frame. In this scenario, I could move slightly to my left or right, and get a different background. Doing that, and changing the pose up somewhat, you can create subtly different portraits that don't look as repetitive.
With both these photos I used on-camera bounce flash (flagged with the BFT) to get flattering, soft directional light.
---
This is the ceiling in the main reception room of this venue. High, with the sloped edges of the ceiling being wooden slats and beams. Still not an impossible situation to use on-camera bounce flash!
This was taken during their first dance.
Using the same area for a sequence of photos for their portraits, just to add a bit of variety again.
Summary
By scoping out the location and finding half a dozen or so interesting spots, you can really bring some variety to the romantic wedding portraits. With time being limited usually, it is always a good idea to scout the place out first, mentally marking where you would like to try ideas. Then it is up to a solid understanding of lighting and posing techniques to make it work with your couple.