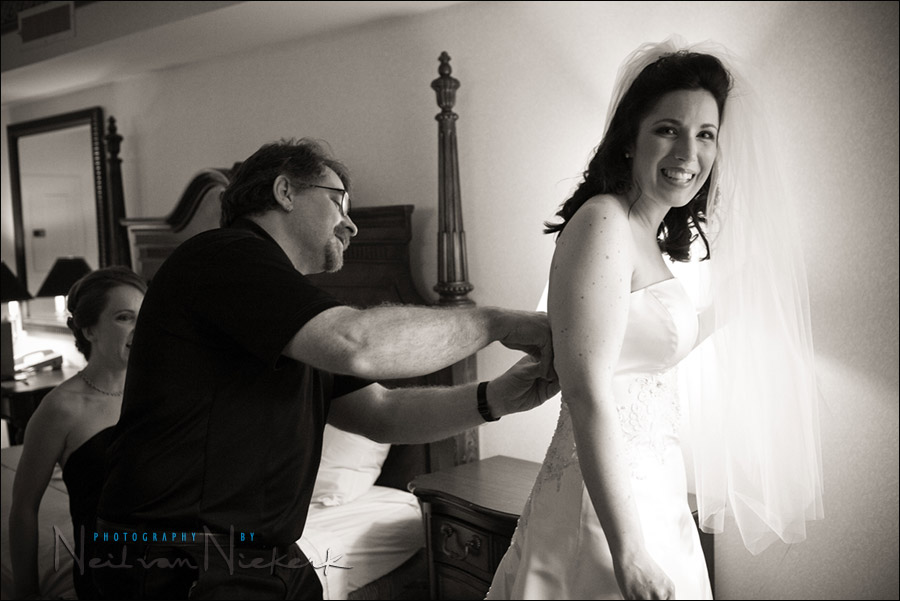 Non-photography goodies in my camera bag
Work as a wedding photographer isn't just about taking photographs of key moments, or about the photo gear. Often enough it is up to you as the wedding photographer to help guide the day's time-line and flow, and also just to help.  For me, wedding photography isn't just a passively observed event where I take photographs. And if you shoot with a photo-journalistic style in mind, it doesn't mean you have to remain uninvolved.  I'm there to record the day's events, but also to help, if necessary, making it a spectacular day.
In the photo above, I took over from the maid of honor when her fingers weren't strong enough for that final button and clasp at the back of the bride's dress. My fingers were stronger, so I finished the last button. So as a photographer I'm often called on to do more than just take photographs.
With that in mind, here's a look into my camera bag, and the non-photography related goodies I keep handy: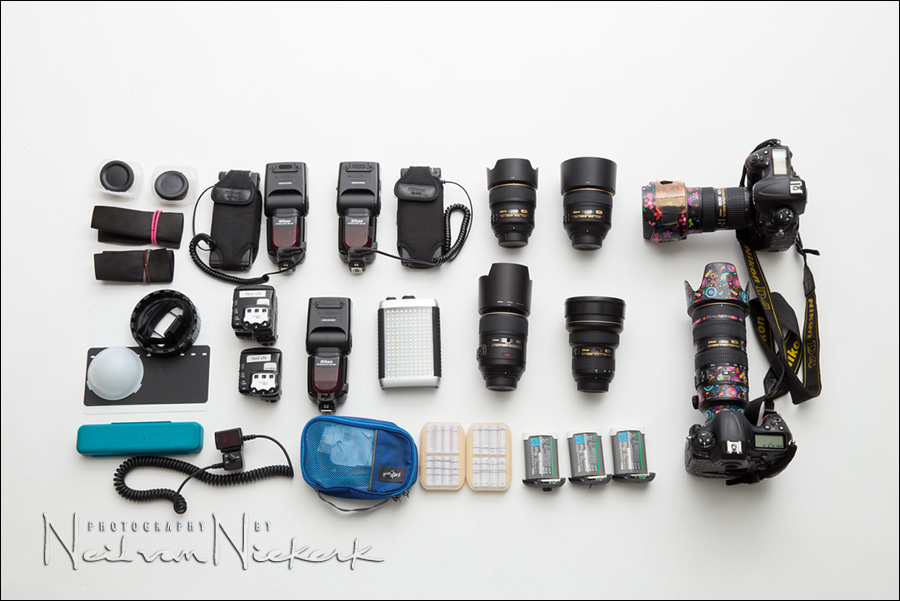 A wide assortment of camera gear – lenses, flashes, battery packs and such. But it's the random "what-not" that I keep in the roller case pouches and pockets, that is interesting. The smaller items we keep around to make life easier or to help us in a minor emergency.
Small bags & pouches
I keep some of the smaller flat items in the zipped pockets in the inside lid of the roller bag. Larger items I keep in the exterior zipped pouches of the roller case. To help keep stuff organized, I keep most of the loose items in small zip-bags with a see-through mesh front. I like these "cubes" made by Eagle Creek (Amazon) – they are soft rectangular pouches, and the see-through front make it easy to figure out what is inside.
Very necessary items
Travel sewing kit:
In addition to whatever might be in the travel sewing kit, I also keep:
–  a number of extra buttons,
– more safety pins in various sizes, as well as
–  bobby pins / hair pins.  There will always be a bridesmaid that needs a bobby pin.
You'll save someone the effort of scurrying around trying to find a simple hairpin.  While hotels and catering venues usually keep some on hand for guests, it will just save everyone a lot of effort if you readily have them on hand.  This is an easy way to look like you're really prepared and on top of things.
Gaffer's tape:
This might very well be the most useful extra item in your camera bag. Unexpected multiple uses for gaffer's tape will crop up – from taping the hem of a dress, or the inside of your pants should it tear. You may well laugh now, but really, keep a small roll of gaffer's tape around.
Small pocket knife (with scissors and pliers):
A traveling sewing kit will have small scissors in them, and you might have a small toolkit as well, but it makes good sense to have a small pocket knife within easy reach – a pocket knife that has scissors and pliers.
Small tools
Jeweler's screwdrivers in specific sizes:
These are essential to fasten any screws that may come loose.  For example, you might need a small flat screwdriver to fix your camera's hot-shoe. So go over your equipment, (including light-stands and such), and inspect them for any screws that might need fastening on the spot during a shoot, and make sure you have the specific tools handy in your camera bag.

Various hexagonal keys / Allen keys: 
Keep hex keys for specific gear. For example, there are certain light stands that I used to have, which had hex screws that often loosen with use.

Multi-purpose tool:
Leatherman makes a wide range of multi-purpose toolkits (Amazon). It's one of those things you are guaranteed you will need sometime, somewhere. You can even get the Leatherman as a wearable arm bracelet (Amazon).
Other electronic necessities
Cell-phone charger:
There are various sizes of these Anker battery packs (Amazon). I really like the larger (heavier) one too, since this will charge your iPad (at least) twice, and your phone / iPod numerous times – perfect for those long flights where you need to ward off boredom and your electronic toys are essential.
Maglite:
I keep one in my car now, since my iPhone now has a fairly bright flash-light. Still, you never know when you need something much brighter than the LED on your phone.
GPS:
This is another of the non-negotiable essentials for a photographer, especially here on the East Coast of the USA.  The roads are a spaghetti bowl of strangely twisted and looping roads. You need 21st Century technology here! While your smart phone has a GPS, it makes sense to have that as a back-up and not a main GPS
Often enough, even though you have cleaned your sensor and keep lens swapping to a minimum, you might see a big dust bunny in your images when you review them while shooting. For those dreaded times, to save myself endless editing afterward, I do a quick rescue there and then (if time permits) to remove dust and particles.
You do have to be careful with these items though.  I've had instances where it seems like I somehow added an oily smudge on my sensor due to either of these.  So make sure your Visible Dust brushes are super-clean.  So I only use these on-location when I see a big dust bunny.
Other essentials I keep around
Water (and Gatorade), and snacks which I keep in a small cooler box. You can't always rely on being given a meal and it makes good sense to be self-reliant.
Ear plugs – these are essential for me. By the time you do 2 or 3 weddings a weekend during the peak season, your ears take a hammering from the DJ or band at the reception. Similar to when I drop my daughter and her friends off at rock concerts and have them solemnly recite to me as I hand each of them a set of ear plugs, "These are mandatory and not negotiable".
Headache tablets, like Iboprofin.  Get them in individual wrappings instead of a bottle. Less things that clatter around, and more innocuous if you give someone a head-ache tablet and it is properly wrapped and sealed.
Band-aids – for the inevitable ouchies that you'll sustain.
Nail clippers
Chewing gum
A pen and a Sharpie
Finally
That about sums it up for all the non-photography items I have accessible whenever I'm on a photo shoot.  Of course, most important of all is back-up of your camera gear and lenses.  Think worst-case scenario – will you be able to continue without skipping a beat when your camera or lens or flash dies on you? Cables? Batteries? Think in terms of back-up for your back-ups.
All of these things make life easier for you as a photographer when things veer away from what you anticipated.
Let us know what you keep in your camera bag.