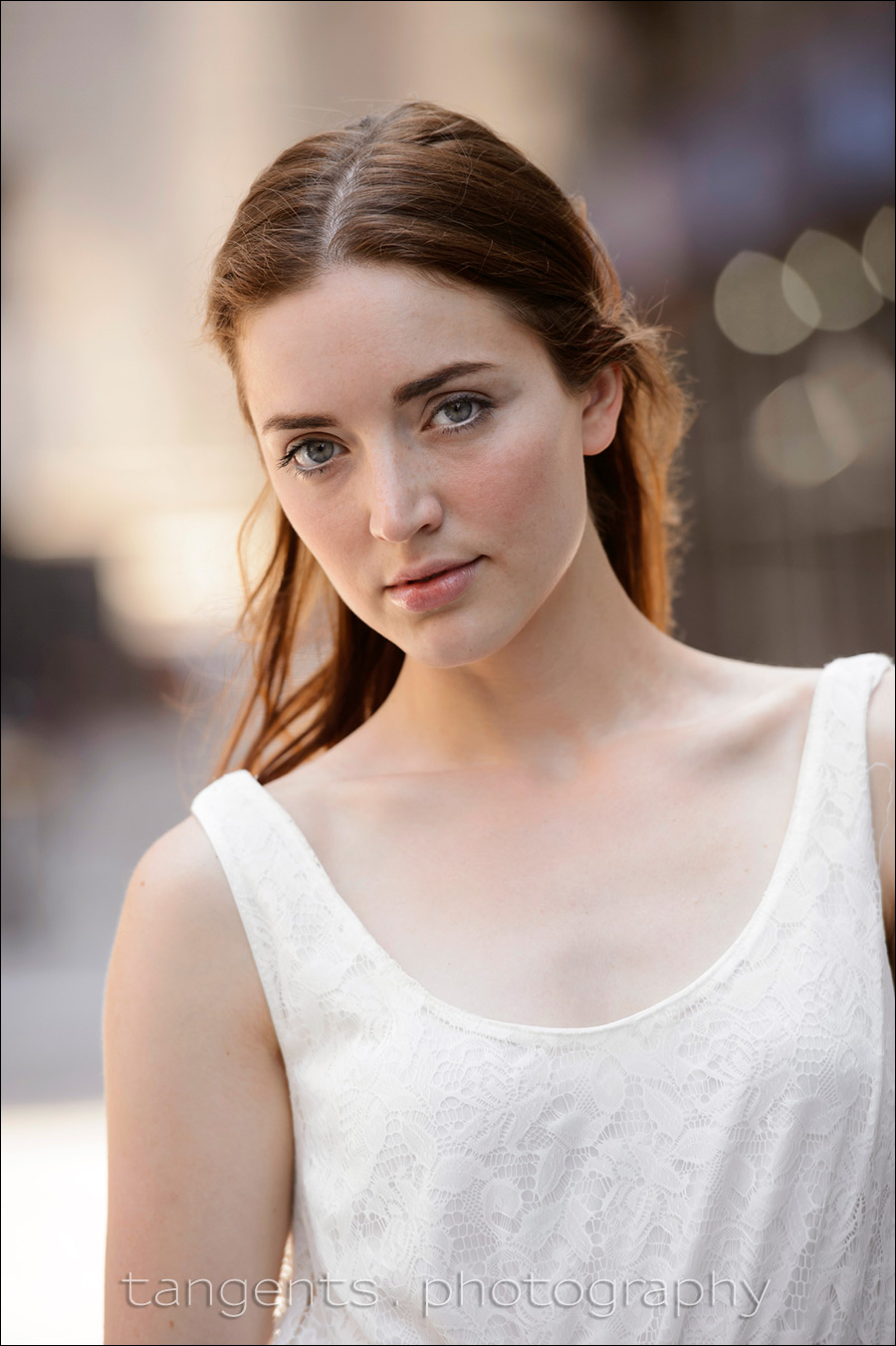 What should I meter off with the in-camera light meter?
What (or where) should I meter when using my camera's built-in meter? It's a question that mystifies many photographers when they start out, and first realize you can't just point your camera at the scene and hope for correct exposure. The incredible metering systems in modern cameras notwithstanding, it is essential to our growth as photographers to have a working grasp on metering techniques. Of course, an incident light-meter is always a great idea, but has become less necessary with digital photography when shooting outdoors. We can interpret our camera's meter reading, or use the histogram … or (an outrageous idea to some), just look at the camera's preview.
With mirrorless cameras you can set the camera to show the actual exposure that you'd get for your chosen settings. That works too … but I still feel like this is a shortcut that we can't summarily rely on forever if we want to develop a deeper understanding of how to use our cameras wisely.
This photograph of Anelisa is an anchor image in the explanation of metering techniques as explained in my book, Direction & Quality of Light (Amazon). I want to use this and embroider a bit more on it, and taking a different route in this discussion on using the camera's built-in meter. However, before we get there, also take time to familiarize yourself with the Exposure metering tutorials, where the same topic is also discussed.
---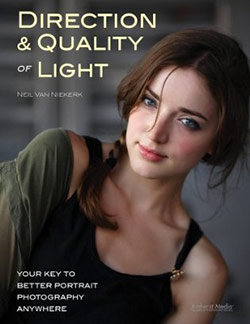 Direction & Quality of Light
I wanted to distill the essence of what we, as photographers, work with – light! Before we can truly grasp on-camera flash and off-camera flash, and really, any kind of photography, we have to be aware of the direction and quality of light. We need to observe the light that we have, and then decide how best to use it, or enhance it.
With this book, I try my best to share those "aha!" moments with you, and I do believe this book can make a difference to your photography.
The book is available on Amazon USA and Amazon UK, or can be ordered through Barnes & Nobles and other bookstores. The book is also available on the Apple iBook Store, as well as Amazon Kindle.
---
Tonal placement and Exposure metering
We have discussed in previous articles how we can use the Histogram as an accurate method to see if our exposure metering is correct,
and as explained there, we can use the brightest relevant part of our subject (i.e., white areas) to determine if our exposure is correct.
The inevitable question then comes up – what if there isn't anything white to meter off, or use via our histogram?
A possible solution is then offered with the question, can we meter off someone's face? The answer is … we can, but we have to take into account how light or dark the skin tone is.
So let's walk this back a bit and consider tonal placement. Whatever area we meter off – whether skin tones or any other area of our subject or scene, we have to keep in mind what tone it is – is it a middle tone (i.e., kinda "average") or is it darker or lighter. We have to be able to place that tone in relation to an average tone – the classic "middle grey".

The classic explanation of the Zone System revolves around the "scale" of tones from black to white and assigned each one a number, with '0' (or oftentimes '1') being almost pure black and '9' or '10' being nearly completely white. Zone 5 is the middle tone, also known as middle-gray. Caucasian skin is placed at Zone 6. All these tones are 1 stop apart in the traditional application of it in B&W photography. We can't quite do that with digital. Two stops up from a middle tone is pure white, and most likely blown out. We don't quite have that latitude from the middle tone to the brightest tone. However, an understanding of the Zone System is fundamental to understanding exposure metering.
So while that tonal scale can't be applied to digital in the same way we might have if we processed our own B&W images (from developing the film to printing the images), it does help us understand one thing – we have to be aware that there is a range of tones, and we have to place them accordingly.
With that, we can meter off an equivalent tone which is "average". Or, if we meter off skin tone, we have to adjust our interpretation of our meter reading accordingly. For example, caucasian skin tone which is seen as Zone 6 (and one stop up from average), will be too bright if we metered off lighter skin and opened up by a stop. We might open up by just 2/3rd of a stop. A slight difference perhaps, but this is how we need to interpret our meter readings and the tones we meter off. Similarly, if you want to meter off a skin tone, you have to figure out relatively how dark the skin tone is from "average". Then you adjust your exposure accordingly.
This explanation is triggered by a question that I was asked:
Spot metering on the face or the lightest part of the subject or the whole scene or do it with matrix metering ?
The same for outdoor. Fill flash with -3 FEC but where to measure (the face, the dress) ?
So back to using the white area of our subject (e.g., clothing) as the tonal value we can most accurately place on our histogram:
With my camera in manual metered mode, I can then either,
– zoom in tight (which is what I normally do), and exclude EVERYTHING that isn't the white dress; or
– use the camera's spot-meter.
Then I place that tone on the edge of my histogram.
Let's go back to the image at the top again, and go over this step-by-step again: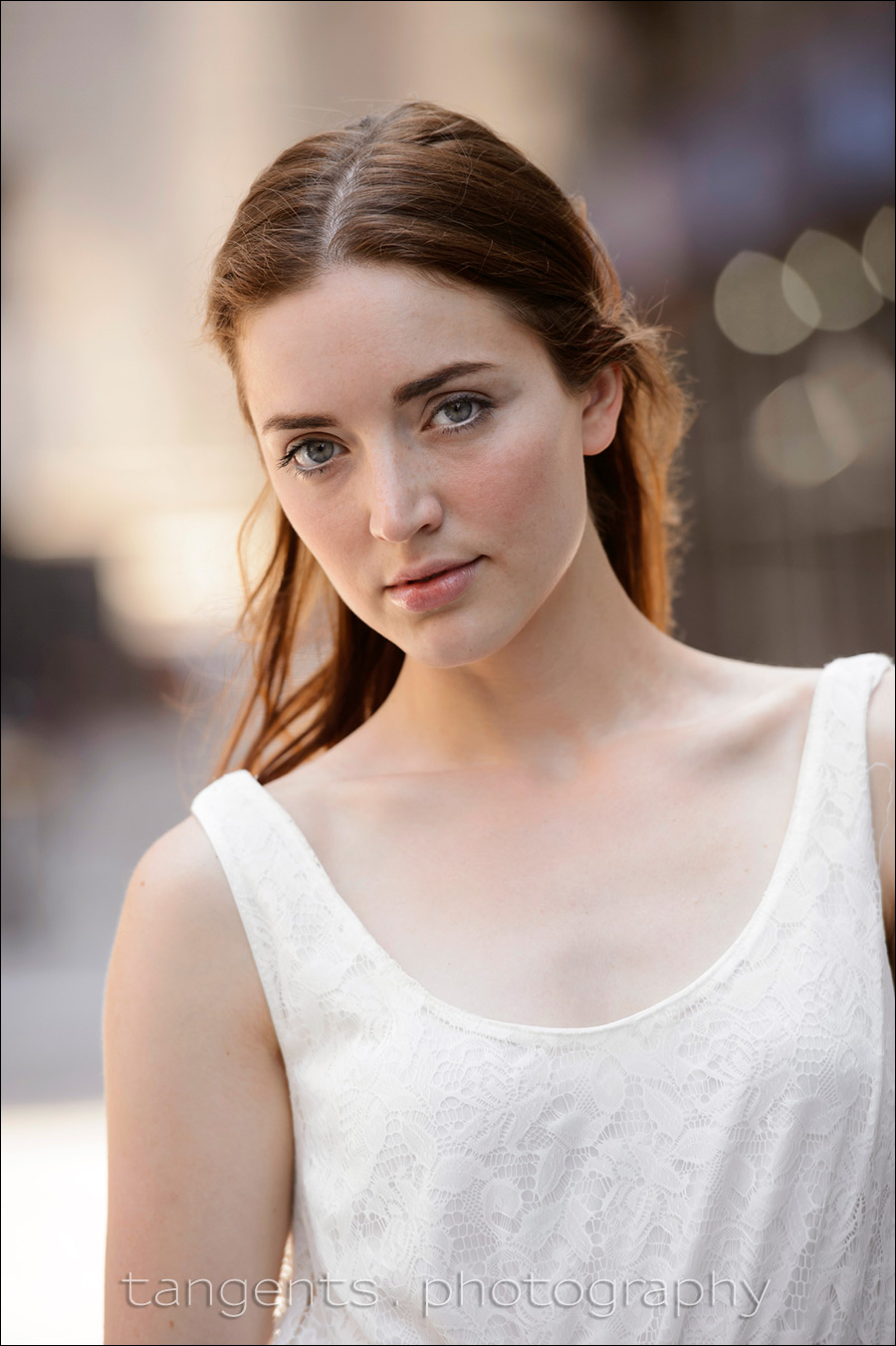 Exposure metering and the histogram
This photograph was taken using available light only. The wider shot below will show the scene – there are sunlit areas which are completely blowing out.  We can not let this influence my meter reading. We have to meter only for our subject.
If were to use a hand-held incident light meter, it would be very straight-forward – we simply meter the light falling on our subject. This would entirely disregard the brighter background. We would be metering only for the light falling on our subject. Dead simple.
Using the camera's built-in meter, we have a few possible options:
A: We can meter off a tone that is equivalent to the middle tone – but most relevant tones here are relatively bright – her dress and her skin tone. But we might get to an "average tone" if we metered with our lens seeing only part of her skin tone, and partly her hair – thereby averaging out two tones. The one tone (skin) would be lighter than average, and the other, darker than average. So if we selectively metered, with a bit of each tone adding to the final evaluation of our exposure, we might get there. This is slightly laborious – there should be an easier way.
B: We can meter off her skin tone, and guess that it is about 2/3rd of a stop above "average", and in Manual Exposure mode, open up our exposure a bit accordingly. A test shot or two should confirm if we are on track. However, in that kind of bright back-lighting it might be difficult to judge our exposure from the camera's preview screen.
C: We can use the histogram, going by her white dress! Zooming in so that we only see her dress in th viewfinder, we can take our exposure reading up by (about) 1.7 stops from average. Then with a test shot we can see if the histogram shows that the white tone is just short of the edge of the histogram.
Why +1.7 stops? This is what I've found to work for most Canon DSLRs. For Nikon it varies from 1.3 stops to 2 stops. This is something you have to find out for yourself – where your camera places a white tone on the histogram, if you take the exposure up from the meter reading being centered. i.e., we need to take the exposure up from where the metering reading being zero for white.
We can't just zero our camera's meter reading for white – that would turn the white into an "average" grey tone. We need to place that tonal value by adjusting our camera settings!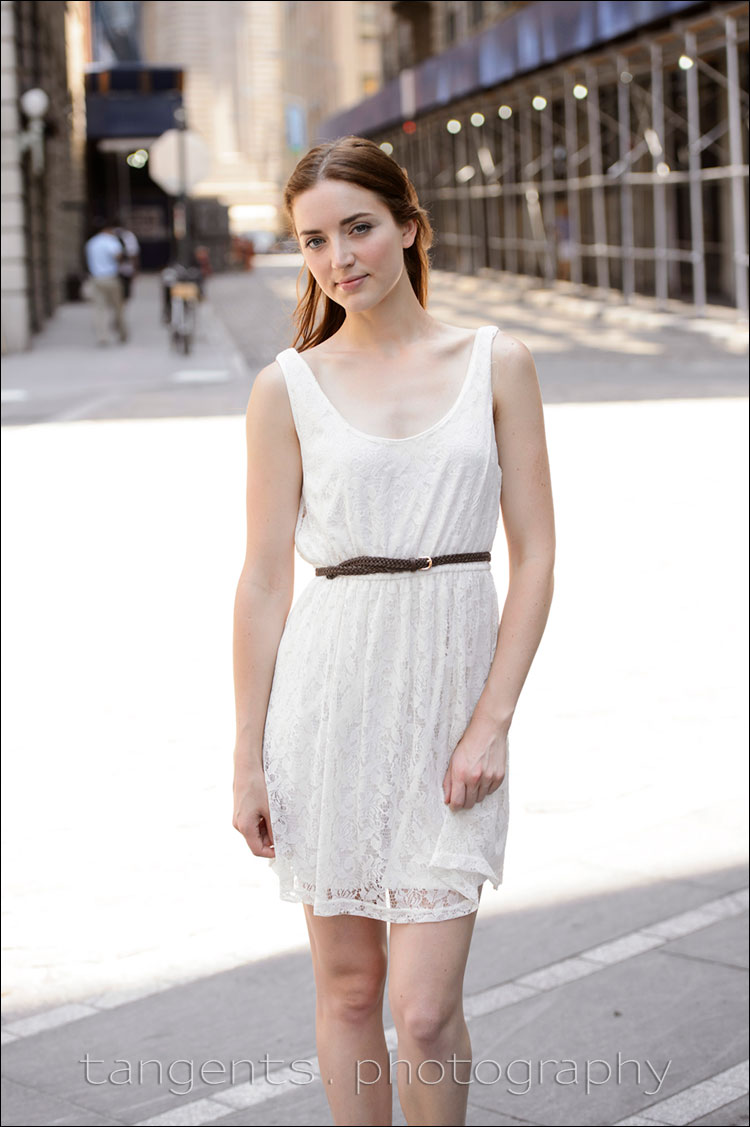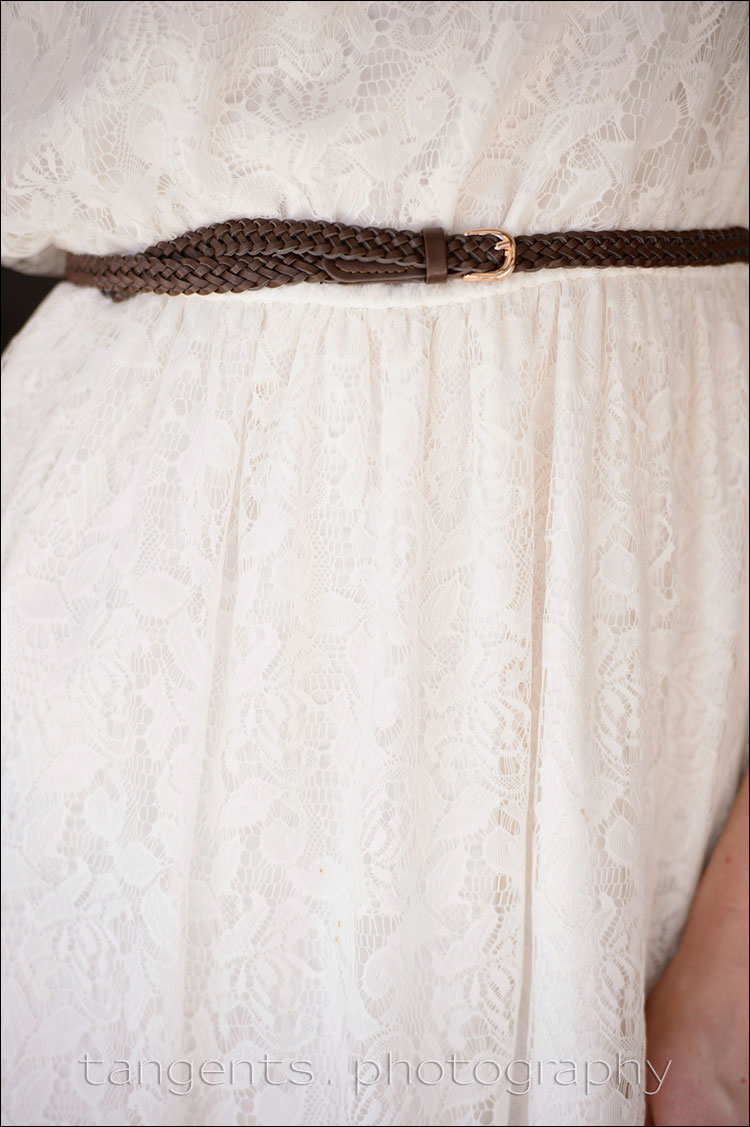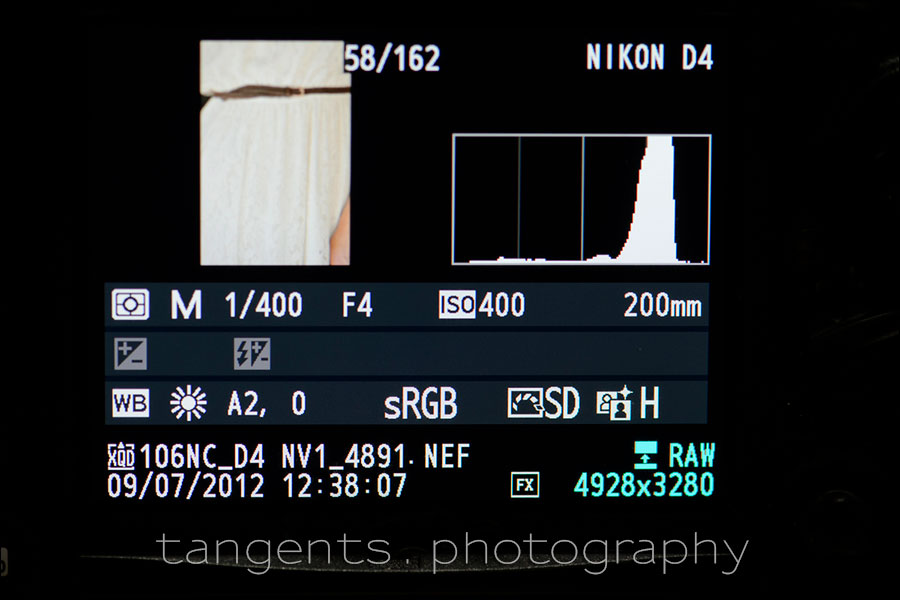 Summary
With this tutorial, I wanted to explain Tonal Placement, and how we converge some of the important concepts in Exposure Metering in a practical way. Easy to use on location!
If there is anything which isn't clear, and needs clarity, please post your question.
Related articles
Recommended books
Exposure metering technique is a topic too complex to cover completely in a single blog post. Besides, the definitive introductory book on this is readily available: Bryan Peterson's Understanding Exposure, 3rd Edition: How to Shoot Great Photographs with Any Camera. If you struggle with exposure metering, then I strongly suggest his book.