high-key studio portraits (part 2) – with Ulorin Vex
Continuing the photo session with Ulorin Vex, doing high-key studio portraits in the studio, she changed into a different costume. I wanted a more interesting edge definition than just the light spilling back from the background, so I added two gridded softboxes to each side …
If you find these articles interesting and of value, then purchasing your photography equipment & other goodies through these affiliate links would be a great help in maintaining this site. Thank you!
The grids on the softboxes help contain the light spill, instead of the light flooding everywhere.  The light from behind (via the two gridded softboxes), helped define the contours of the outfit.
I used the Profoto Air system to trigger the two Profoto D1 heads (one on the background, and one in the softbox). To trigger the Nikon Speedlights, I set them to SU4 mode, so that they would be optically triggered when the main lights go off.
Other photo sessions where I used the gridded soft-boxes:
- sequence: setting up the lighting at a photo shoot
- portrait session – Steinway pianist
With Ulorin Vex in this blue latex outfit, I started off with the beauty dish, as it was set up for the previous set. For some poses, the harder light from the beauty dish would give a shadow that is too distinct. (As can be seen in this photo.)
I either had to ask Ulorin Vex to restrict her movements (which would hamper the flow of the shoot), or I had to change to a larger, softer light source.  I settled on changing the beauty dish out for a 3′ x 4′ softbox – the Profoto Heat-Resistant Softbox RF 3×4″ (90 x 120cm) (B&H). Much softer light.
For more info on the processing:  Photoshop filters – retouching for portraits
camera settings for all images: 1/125 @ f/8 @ 100 ISO
other articles about this photo session
- high-key studio lighting / portraits
- review: Westcott 7′ Parabolic Umbrella
- studio photography: low key lighting variations
- behind-the-scenes video clip of the photo session
equipment used during this photo session
Nikon D800  (B&H);  Nikon 70-200mm f/2.8 VR II (B&H)
Profoto D1 Air 500 W/s Monolight Studio Kit (B&H)
Profoto Heat-Resistant Softbox RF 3×4″ (90 x 120cm) (B&H)
Profoto beauty dish (B&H)
(2x) Nikon SB-910 Speedlight (B&H)
Here is the gridded softboxes that were used with the speedlights: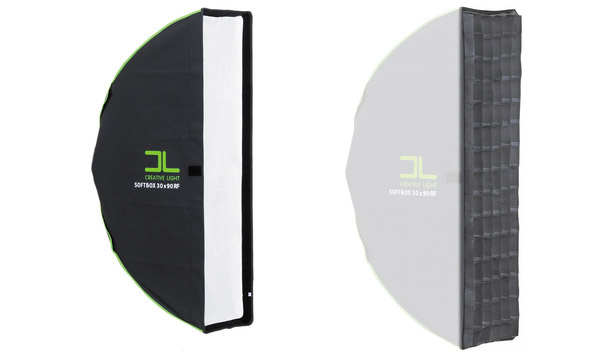 the Creative Light 1×3′ Recessed Softbox (B&H),
with the Creative Light 1×3′ Softgrid (B&H), attached to it.
The softbox does need a speedring to attach it to the speedlight or other flashgun.

The speedring I used here is the one made by Creative Light (B&H), which is specifically made for speedlights. It also rotates, which is helpful if you use it with other softboxes as well.

Other accessories used can be seen on my equipment page.
You get different types of grids – 'eggcrate' and 'honeycomb'.  The actual construction and look of the grid will tell you which name is applicable. The Softgrid shown above is of the eggcrate type. A search on B&H's website will show you numerous options and possibilities.