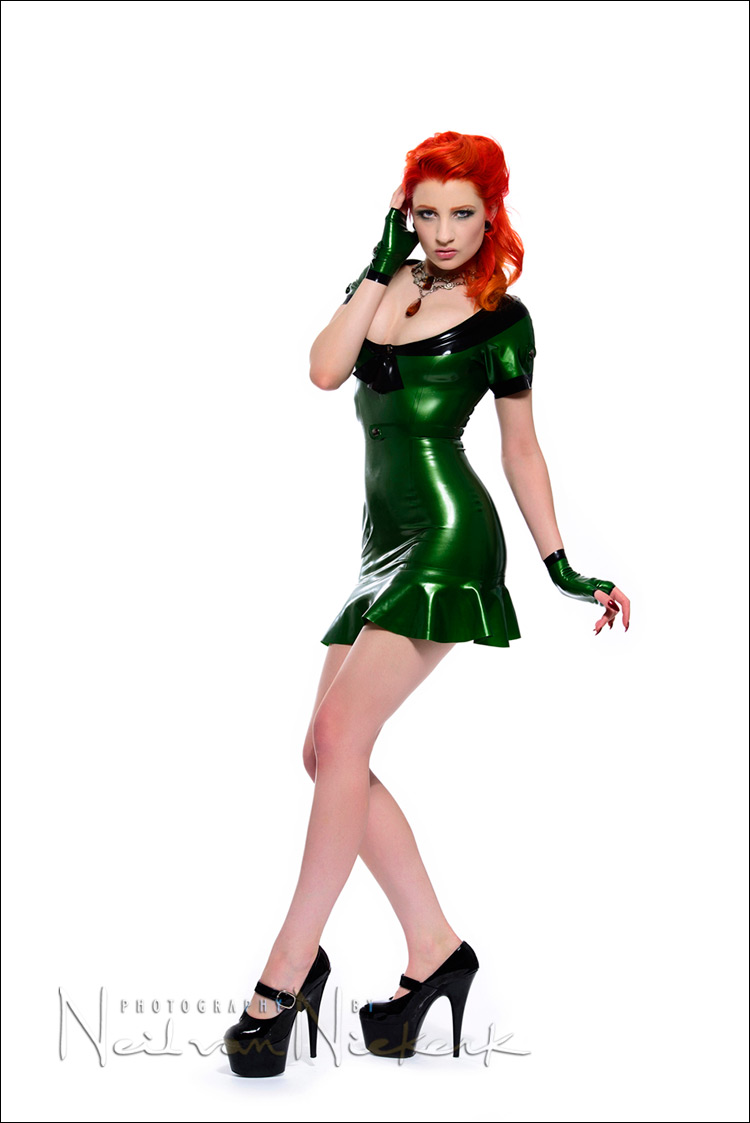 High-key studio lighting for portraits
One of the models that replied to my casting call for a model at my workshops in San Francisco in 2011, happened to be Ulorin Vex. I immediately recognized her, since I've seen photos of her in various portfolios. I was both surprised and very happy, since I regarded her as a bit of a superstar. I scheduled a photo session with her for the day after the two workshops in SF, and the images from those sessions appeared a few times on Tangents, and I'd consider them among the best work I had ever done. It helps to have an inspiring model!
Ulorin Vex was such a pleasure to photograph, and so professional, that when she let know me she was briefly visiting the New York area, I jumped at the chance of photographing her again. As I mentioned in my first impressions of the Nikon D800, I now have ready access to a large studio. I have acquired various lighting gear over time, but recently purchased the Profoto D1 studio light (500 Ws) (affiliate).
So I was all set for the photo session – a wonderful model; superb gear; and a large studio where we could shoot. I shot about 8 different setups, which I intend posting here over the next few days. (So be prepared for a few more blog posts from this session.)
For the first set-up, I decided to keep it very simple with a white backdrop, and high-key lighting …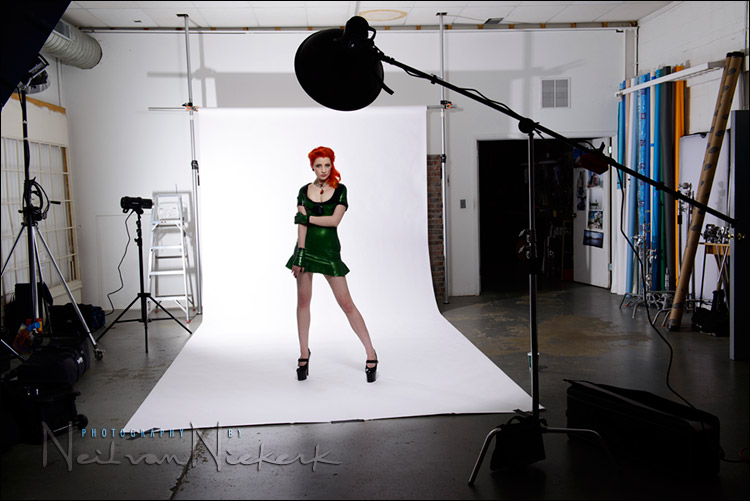 This pull-back shot shows the simplicity with which I approached it. (There are other ways to light high-key portraits, but this is the way I decided on this time.)
1.) An unmodified light directly on the backdrop. I set it to give me a histogram which is on the very edge of the right-hand side of the histogram. This way I knew the background would blow out a bit, but not be so bright that it would give lens flare or interfere with the lighting of my model.
I wanted to use f8 for my main light on my model, so I adjusted the power of the light on the background, until my histogram for the backdrop showed what I wanted.
2.) Then I used a lightmeter to give me f8 for where I would position my model. My main light is a Profoto D1 head in a Profoto beauty dish (affiliate).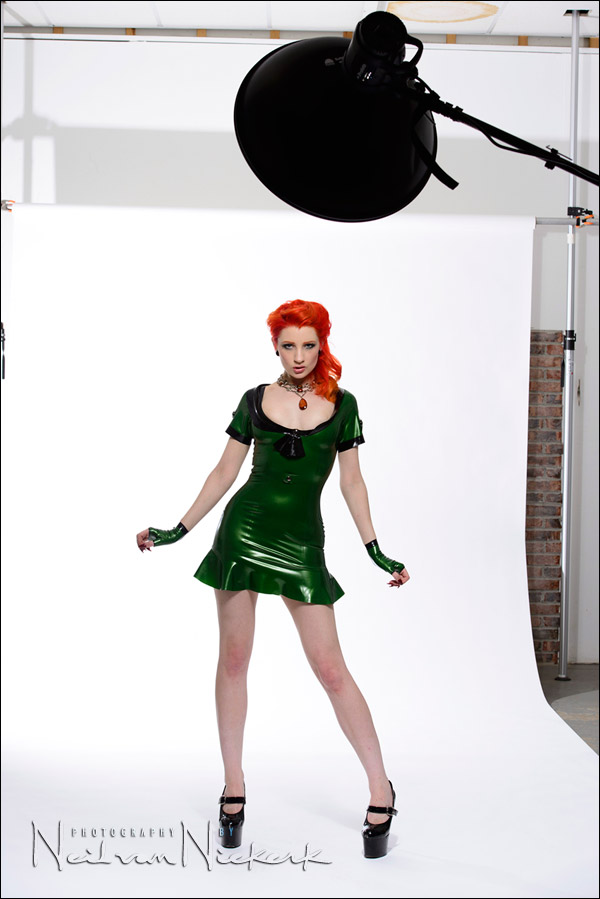 For processing of these images, I started with the RAW file, and the profile set to Camera Vivid in ACR / Bridge. You could set the same Camera Vivid profile in Lightroom via the Develop / Camera Calibration tab.
To make the backdrop appear white, I did two things:
1. I cranked the Whites in ACR / Bridge. (Again, you could do exactly the same in Lightroom.) This over-exposes the whites considerably, without really affecting the rest of the photo. If you wanted, you could use local adjustments in Lightroom or ACR / Bridge to brush back the normal tones to where they were before.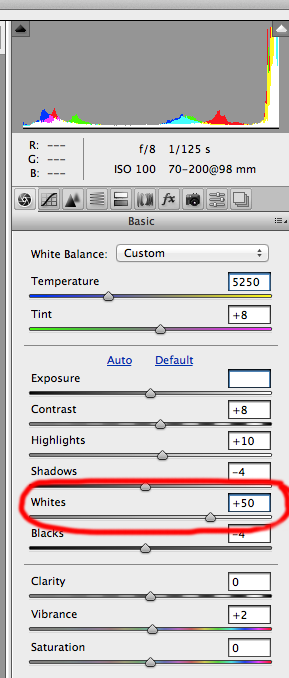 This image posted in the article on the D800, shows what the backdrop looks like in the photo at this point, without any further editing  in Photoshop.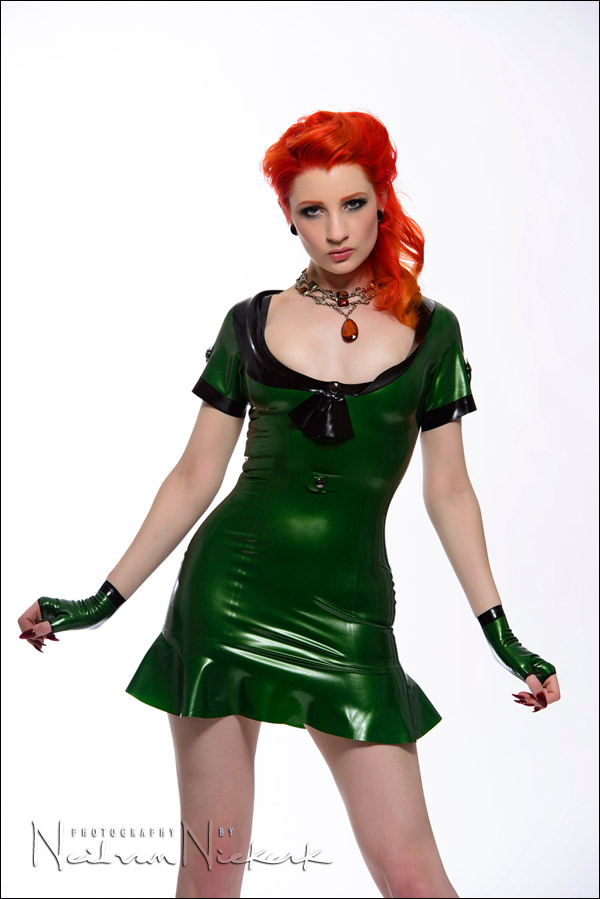 It's not entirely white, but the next step easily turns it into a sheer white background.
2.) I use the Magic Wand Tool in Photoshop, and just click on the white background. Photoshop will automatically select all the white-ish tones.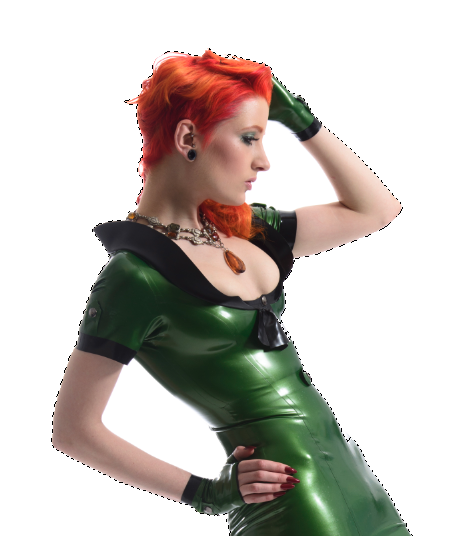 Now you can just use the Erase Tool and completely erase all the white and white-ish areas which is the background.
Sometimes Photoshop will select areas it won't … and also to avoid getting a jagged pixelated edge, you can now use the History Brush all along the edges in quick sweeps, to brush back any detail that may have been erased.
I don't spend much time on this … it really is a quick edit especially with the background so close to being white anyway.
The Erase Tool is set to a large size, and you can quickly sweep over the entire image. Then after you've Deselected the selection made by the Magic Wand Tool, a quick brush stroke over the entire edge areas, will pull back any detail that might've been lost in the previous step.
And with that, you can easily get images that look like the next sequence.
Camera settings & gear (or equivalents) used in this photo session
camera settings: 1/125 @ f/8 @ 100 ISO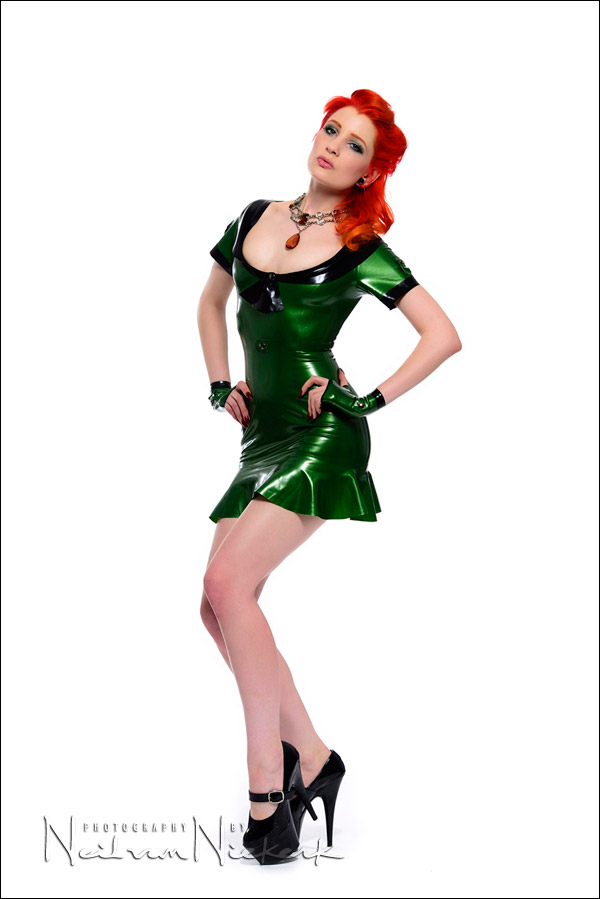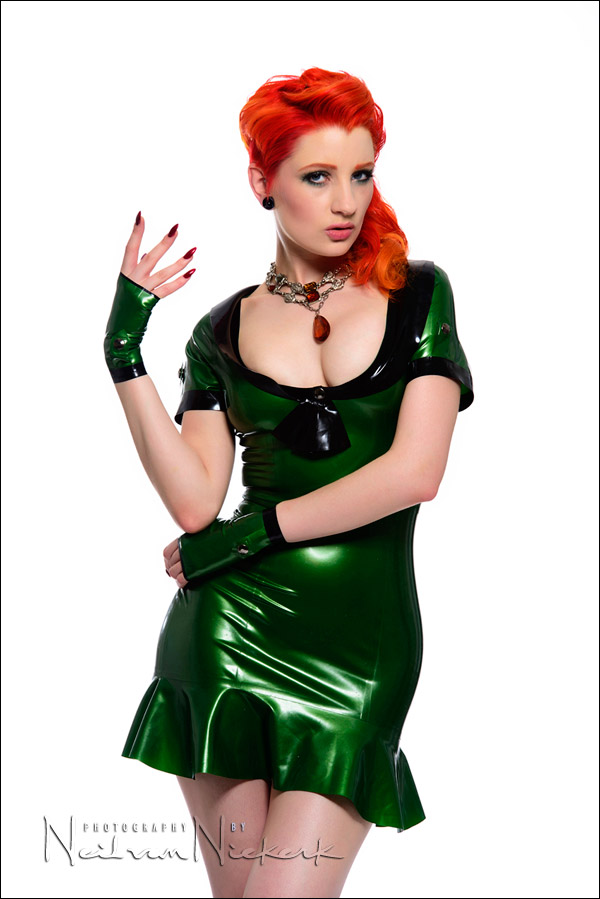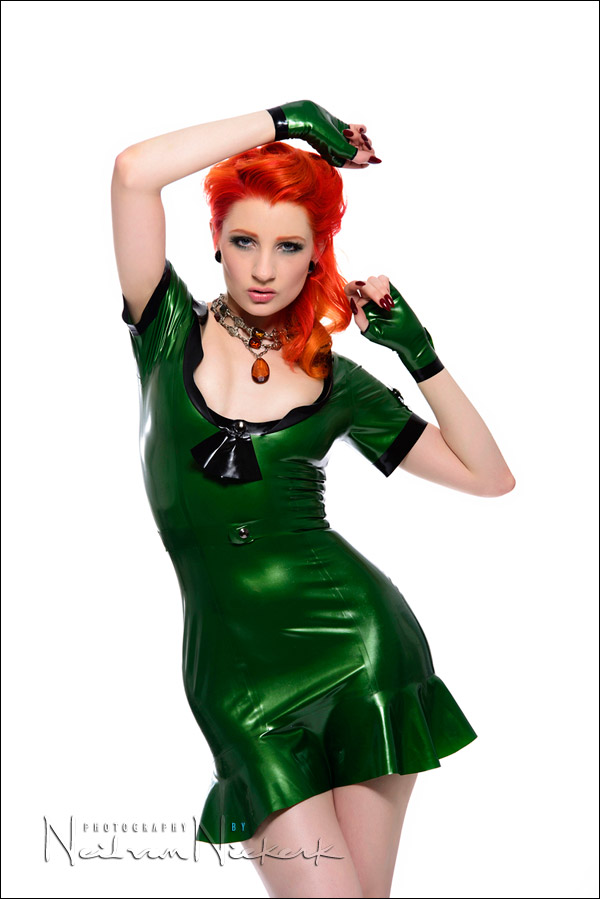 For the next four images, I had placed the beauty dish nearly 90 degrees from me, and asked Ulorin Vex to adjust her poses towards the light.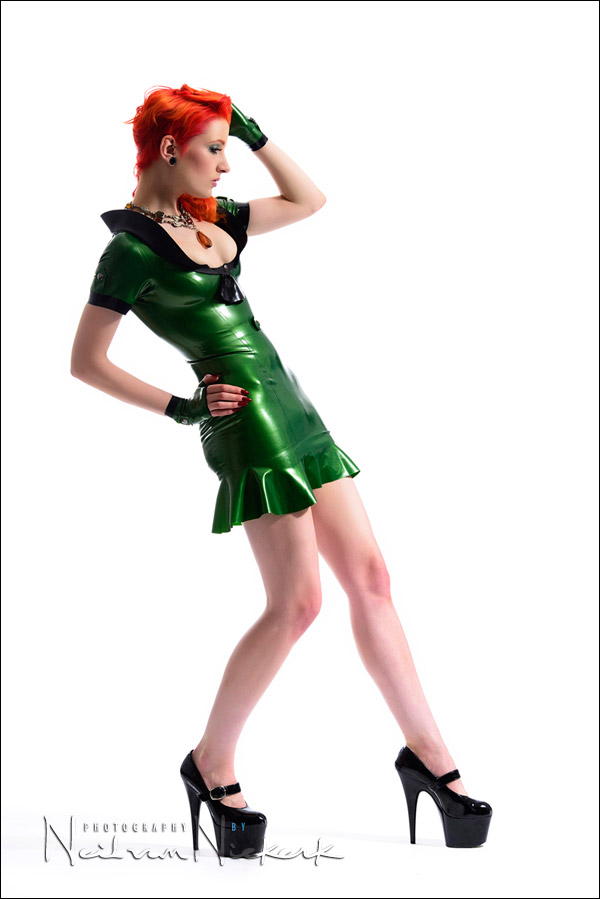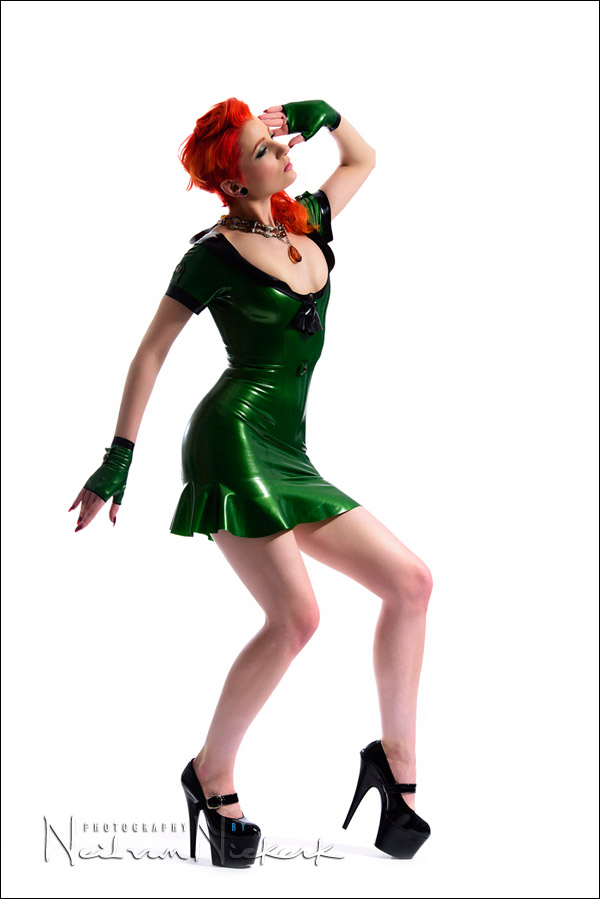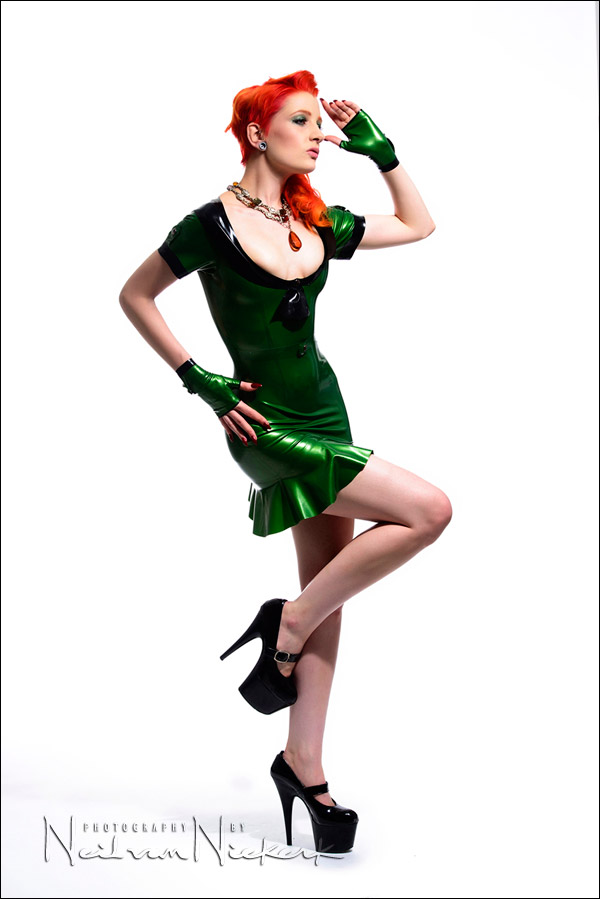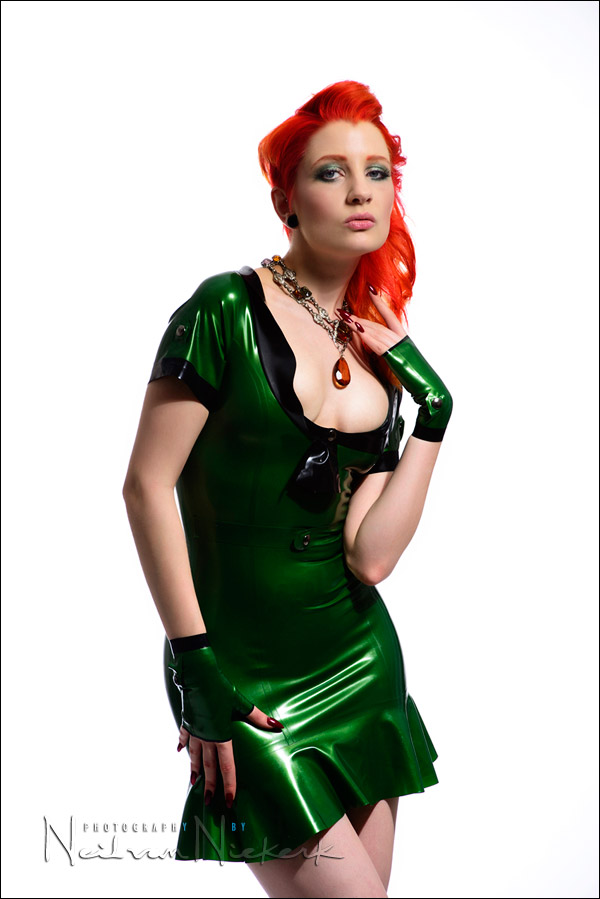 I have to give Ulorin Vex credit here. *Every* shot worked. Any shots that didn't work, were because of my lighting that needed to be adjusted. With every shutter click, she'd lock into another pose. Perfectly so.
Other articles about this photo session
Camera settings & gear (or equivalents) used in this photo session
camera settings: 1/125 @ f/8 @ 100 ISO