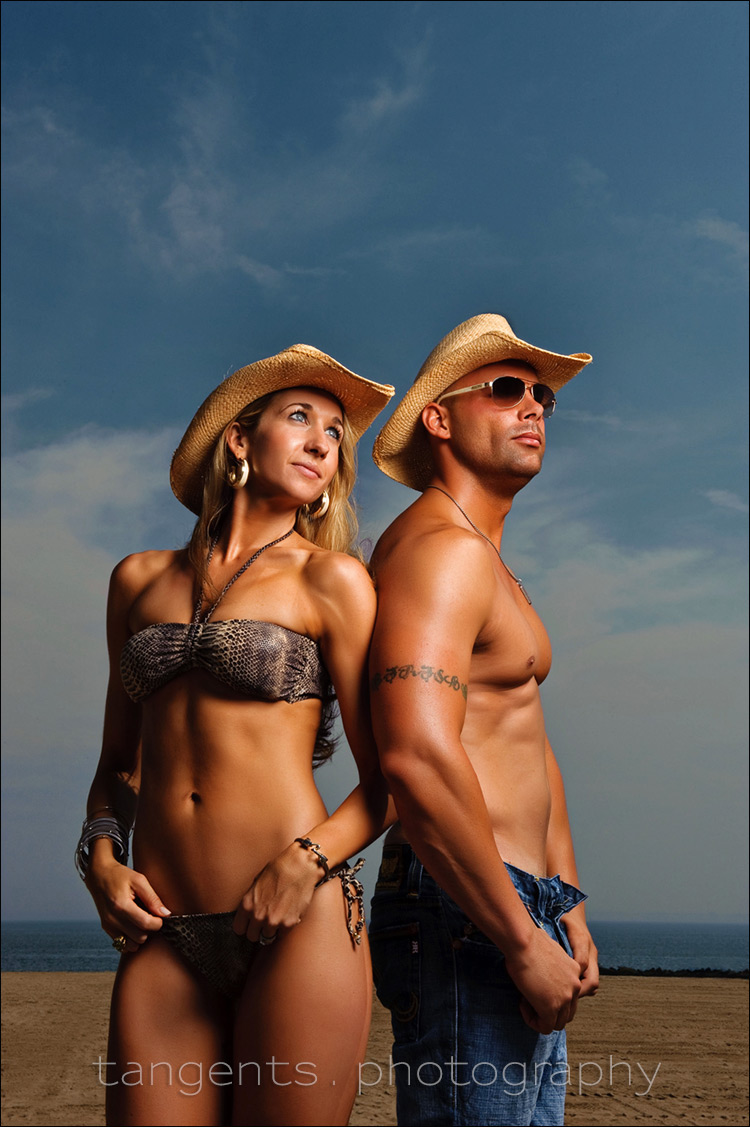 overpowering the sun with flash
The sunlight on Coney Island was pretty harsh during this photo session with Sarah and Mark, and I needed to / wanted to clean up the sun's harsh shadows with flash.
Since the Sunny 16 rule has it that broad daylight is in the order of 1/250th @ f11 @ 100 ISO … you'd either have to shoot with a bare speedlight, (which, as a small light source, will cause hard shadows) .. or use a much more powerful strobe with a softbox.
For this image I used the Profoto AcuteB 600R lighting kit (B&H) with 2×3 Profoto softbox off to my right, adding flash at full power.  I placed the softbox and flash to come in from the same direction as the sunlight, adding as much light as the sun.  The intention is to clean up the shadows caused by the sunlight, and because I am then under-exposing the background by a stop ..  thereby also saturating the sky.
settings: 1/250th @ 160 ISO @ f22
(And yes, I can see the effects of diffraction at that aperture. There's definitely more softness than I would've had at f8 or so. Next time I'll try a ND filter, and see how that works out.  As for the amount of dust bunnies that rear their ugly little heads at f22 .. ouch!  Mucho cloning and spot healing brush.  And I thought I was fussy about keeping my sensor clean!)
In addition to cleaning up the dust spots, I also removed some people in the background and removed the reflection of the softbox that appeared in Mark's sunglasses.  The image then had a little bit of extra sweetening done to it with some Photoshop fairy dust that I sprinkled over it.
For those who would like to see the image directly out of the RAW converter ..
Here are more images from the rest of the photo sessions in NYC,
including a video clip.
related articles:
– overpowering hard sunlight with flash
– using direct off-camera flash
– off-camera fill flash in bright sunlight
– wedding photography – shooting in bright sunlight
Equipment used during this photo session:
Nikon D3;   Nikon 24-70mm f2.8 AF-S (B&H);
Profoto AcuteB 600R power pack (B&H);  Profoto beauty dish (B&H);  
Manfrotto 1004BAC (B&H);  Pocket-Wizard Plus II Tranceiver (B&H)
newsletter / forum / workshops & seminars
Stay informed of new articles via the monthly newsletter.
Also join us on the Tangents forum for further discussions.
If you need more direct help or instruction on flash photography,
I do present workshops & seminars and also offer individual tutoring sessions.
If you find these articles interesting and of value, then you can help by
using these affiliate links to order equipment & other goodies. Thank you!