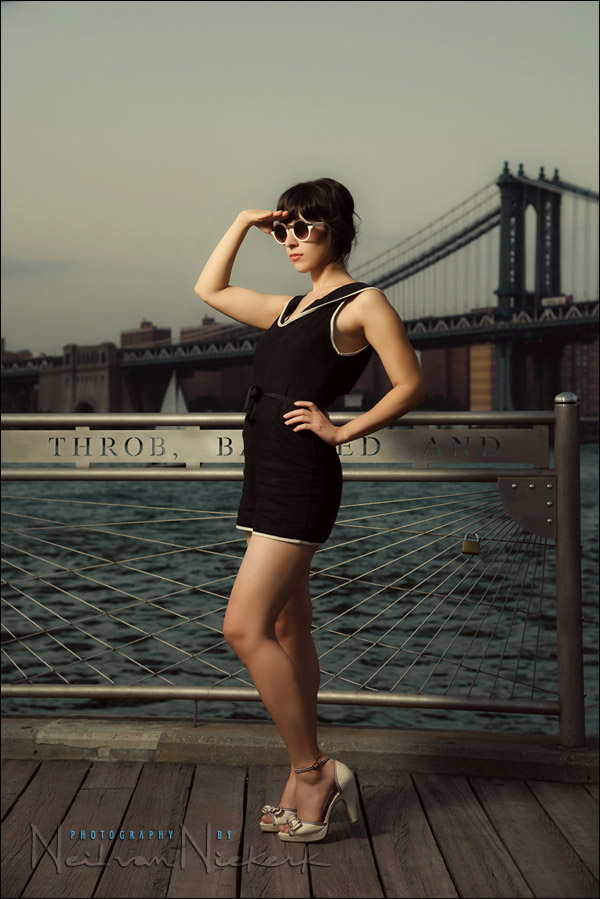 photo session – vintage pinup style (on location)
When the hot-rod show which didn't offer as much in terms of photography as I had hoped, Jill and I moved over to the pier in Brooklyn. Having a model in a retro sailor-suit type outfit … well, it just seemed to good an opportunity to waste. I thought of perhaps using the Ice Cream Factory there as a backdrop to a straight-forward pinup photo, but ultimately decided the Hudson River waterfront would work better as a setting for the photo.
Then we just had to add some simple but dynamic lighting, and give the final image a vintage flavor with the post-processing …
Here are the two starting images:

The first one with the camera settings so that I have correct ambient exposure. But the image looks bland. There's no punch to it.  (1/200 @ f4 @ 400 ISO)
The next image was with the camera set to where I wanted the background exposure to be – darker and with more mood.  (1/250 @ f6.3 @ 400 ISO)
Why those final settings? Simply because I liked the way it looked on the back of my camera. Turns out to be 1.7 stops under the regular proper exposure. Sounds about right.
Then I had to add light. My setup was simplicity itself, resorting to my usual on-location lighting setup when working with an individual subject such as a model:
Lastolite EZYBOX Softbox Kit (24″x24″) (B&H), with the speedlight,
which is controlled by two PocketWizard FlexTT5 transceivers (B&H)
I used the flash in TTL mode, triggered via the TT5 units.
Here is the out-of-the-raw converter image on the left, with the final processed image on the right:
I wanted the look of the image to have a warm retro feel to it. For this, I stacked a few of the Totally Rad actions, using the RadLab filters. I used the RadLab filter set with the recent article on post-processing a photo – that summery feeling, but this time I used a different set of actions, at different opacities, with different settings, layered in a different way. Of course, I can save this as a recipe and re-use it at a later date.
And here it is again – the final image: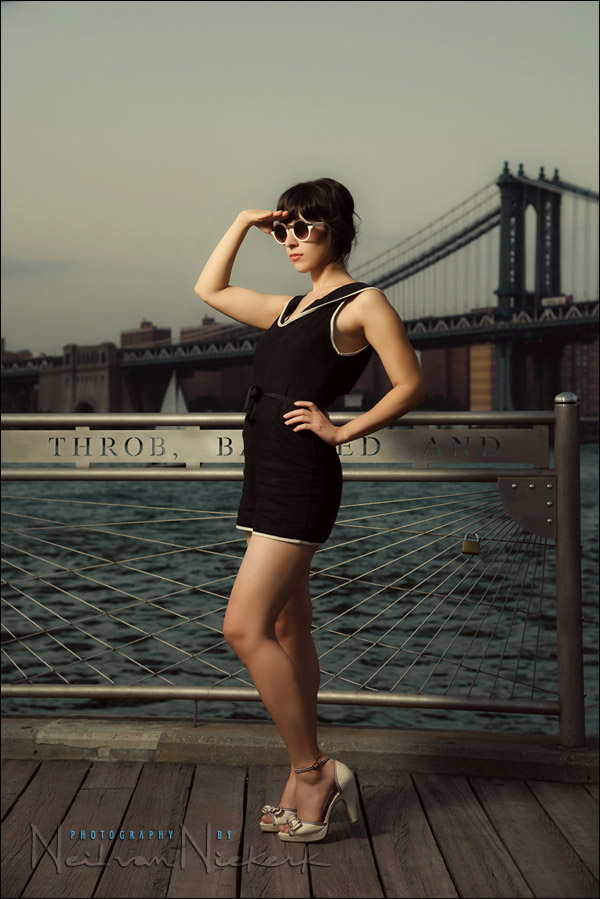 image settings:
1/250 @ f6.3 @ 400 ISO … TTL flash  (FEC not recorded)
Nikon D3;  Nikon 24-120mm f/4 VR (B&H) .. used at 70mm
Here is the pull-back shot to show the relative placement of the softbox.
You can order the RadLab or the Totally Rad action sets, via this affiliate link:
the discount code 1086NEILVN will save you 15%
equipment used during this photo session:
Nikon D3;  Nikon 24-120mm f/4 VR (B&H)
Lastolite EZYBOX Softbox Kit (24″x24″) (B&H)
Manfrotto 1004BAC light-stand (B&H)
Nikon SB-900 (B&H);  Nikon SD-9 battery pack (B&H)
(2x) PocketWizard FlexTT5 transceiver (B&H)
PocketWizard AC3 Zone Controller (B&H)
newsletter / forum / workshops & seminars
Stay informed of new articles via the monthly newsletter.
Also join us on the Tangents forum for further discussions.
If you need more direct help or instruction on flash photography,
I do present workshops & seminars and also offer individual tutoring sessions.
If you find these articles interesting and of value, then you can help by
using these affiliate links to order equipment & other goodies. Thank you!