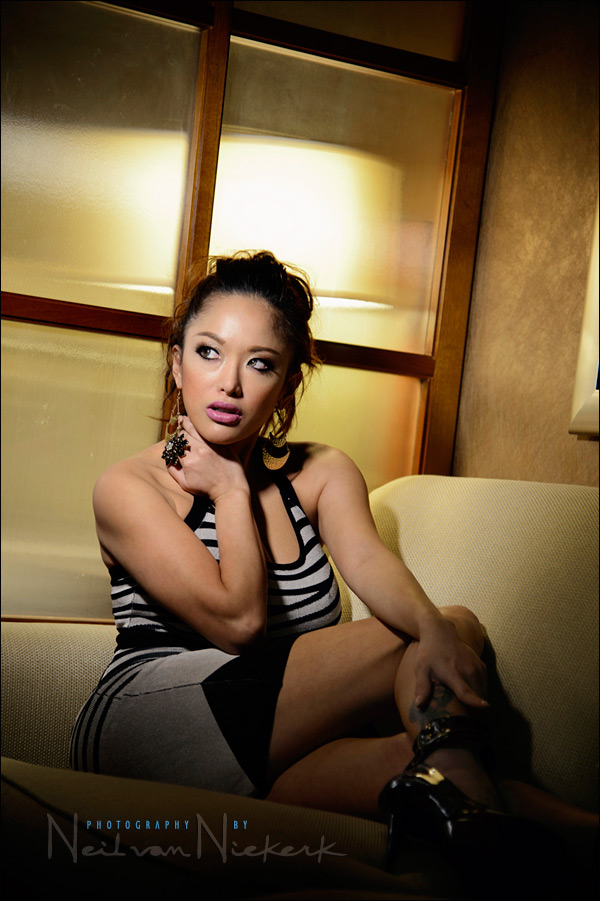 For one of the mini-workshops in Las Vegas, I used a Litepanels Croma LED video light (B&H). This photo of our model, Gwen, shows the typically dramatic light from a video light. The pronounced light fall off can work to our advantage.
What sets this hand-held / on-camera LED video light apart from most, is that you can vary the color temperature. I have, and still use, the Litepanels MicroPro (B&H). I prefer the MicroPro over many of the cheaper LED lights that I have seen because the WB is daylight, without a nasty color cast.
Litepanels Croma LED video light (B&H), goes even better. You can vary the WB between 3200K and 5600K by dialing a knob. No more need for a gel to be clipped in and out. The gel (or lack of gel) would mean a specific WB with the LitePanels Pro. With the variable adjustment of the Litepanels Croma, you have every color balance setting inbetween. For this photo at the top, we were at 3200K, but I changed the WB to 3300K in post-processing.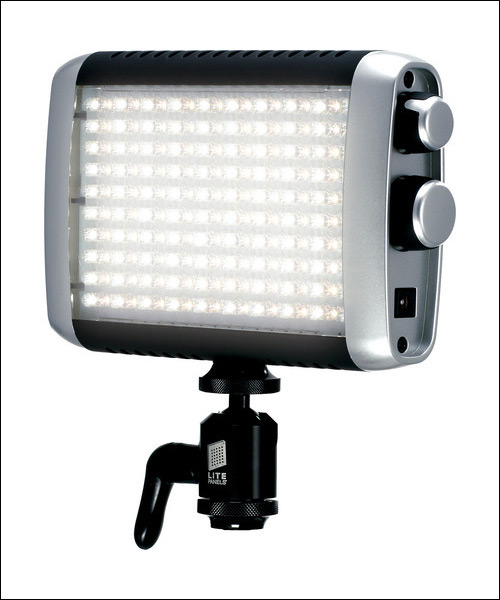 The features of this LED video light (according to the spec sheet):
Light is produced flicker free at any frame rate or shutter angle.
Visually accurate color can be selected from 3200K tungsten to 5600K daylight.
Brightness can also be regulated without causing shifts or abnormalities in color, via a smooth 0-100% dimmer dial.
Power is by six AA batteries for up to 1.5 hours or by an included AC adapter.
The LitePanels Croma feels exceptionally well made. The corners are rounded. The buttons and the exterior of the unit are rubberized. It definitely comes across as a quality item. The downfall .. it's rather spendy. Spendy, but tempting.
The ability to vary the color balance is a big attraction, and would be very useful for videographers, and wedding photographers. You could easily adjust your WB to what you need, right on the spot. This is invaluable.
camera settings & gear info
1/60 @ f/4 @ 1600 ISO
Nikon D4 (B&H);  Nikon 24-120mm f/4 VR (B&H)
Litepanels Croma LED video light (B&H)
related articles
- video light – Las Vegas photo session - Taylor B
- video clip – tutorial on using an LED video light
- review: LitePanels MicroPro LED video light
- video light and boudoir photography  – model: Precious
- romantic wedding portraits with video light - Allison & Scott
- video light as fill-light for wedding portraits - Cherryl & Jim
- further articles on using video light for photography