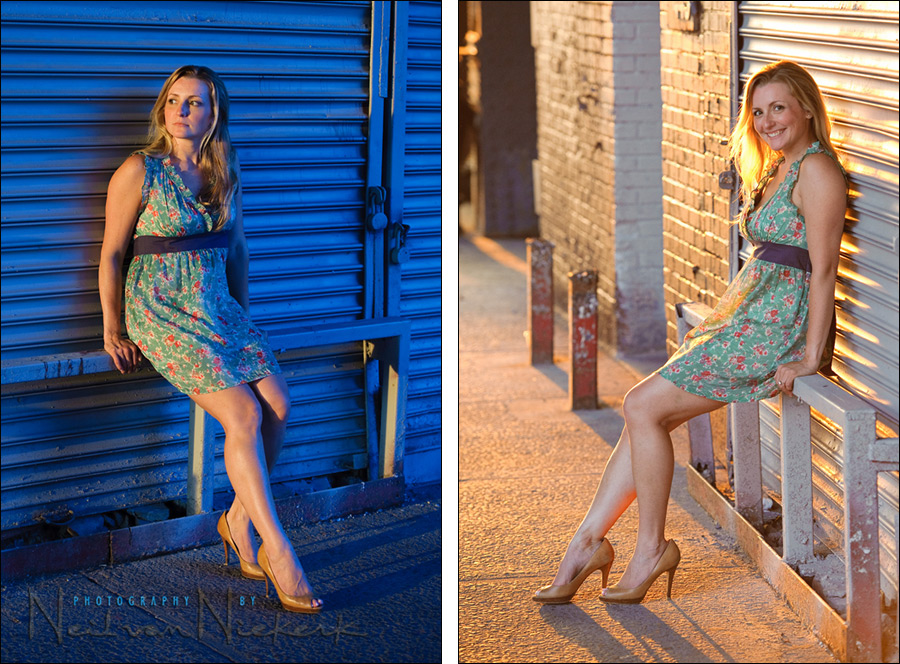 what white balance should I set my camera to?
… that's a question that baffles photographers who are just starting out with digital photography.
You have a few options in setting the WB on your camera:
you could shoot in auto white balance (AWB), and hope your camera nails it.  And then you can also feel excited as each new generation of camera offers better AWB.
you could set your camera to one of the preset WB settings, such as Daylight, Cloudy or Incandescent.  And hope your camera's preset is close to the correct WB.
you could do custom white balance readings and save it as you encounter and work in new situations. These custom white balance readings can be done with all kinds of white balance cards and discs.
These all work … usually. However, what we need to understand is that quite often, there is no 'correct' white balance setting.  What we are after is a pleasant white balance …
Now, it can be said that it is easier to achieve a pleasant WB when we have a correct WB, and work it from there.  (This discussion doesn't take into account the need for some photographers, such as commercial photographers and product photographers, to have very precise control over the color balance of the lights they are using.  For our discussion here, we're considering general photography and on-location photography and such.)
My approach is a fairly simplistic one.  I mostly use the preset WB settings on my camera, guessing the approximate WB of the scenario I am shooting in.  Then in post-processing of the RAW file, I look at the image on a calibrated display, and adjust it to my liking.  Now, it does count to my advantage that we have a fairly wide latitude as to what our eye and brain accept as a good color balance.
About the need to shoot in RAW:
While some photographers might need the speed and efficiency of an unadjusted JPG – for example, event photographers who need to print images on location – for the vast majority of photography, we have a real need for the latitude that a RAW file offers.  Here's the thing – there is simply no photographer on this Earth that is good enough to be able to set correct Exposure, Contrast, Saturation and White Balance for every possible scenario we'll encounter on location.  Some settings such as Black Point, Local Contrast and such, aren't even settings we can change in-camera.  All of this implies that we will very likely have to do some kind of post-processing of our files for better image quality.   And then we might as well just shoot in RAW and allow ourselves greater flexibility.
Enough of the lecture about RAW; let's go back to the two images at the top: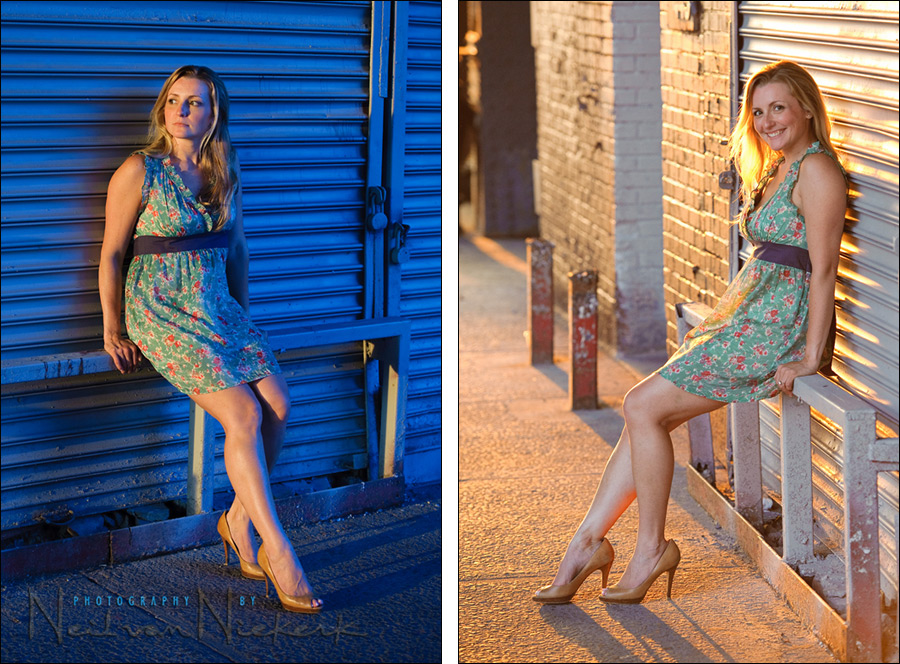 I photographed Kristy and her fiance during a recent engagement photo session.  In setting up a shot, I had her sit on this metal barrier.  The light was the golden glow from the setting sun in the early evening. So part of the scene is lit by a very warm colored light, and part of the scene is in shade.  I only used the available light; no flash or additional lighting. How did I set my WB for these two photos?  I didn't.  I just kept it to Daylight WB, and adjusted it to taste in post-processing of the RAW file.
In the first image, Kristy was looking towards the light, and hence her body is basking in that yellow light … which I then reduced to a more normal looking warm light in post-production.  The shaded areas behind her now go to that very cold looking blue color.
For the second image, the way her body is facing me, she is mostly shaded.  In correcting that side of her body to a pleasant WB, the rest of the scene is now jacked to very warm tones.
So, for this scenario, which is the correct white balance?  I'd say that neither is 'correct' in the sense that there has to be a correct WB.  Alternately, I could answer that the correct WB is the one that appeals to me for my subject, in each specific image . In other words, correct white balance is a pleasant white balance, adjusted to taste.   (As an aside, the first image was adjusted to 2700K, and the second to 5200K, in ACR / Lightroom.)
Finally, here are larger versions of those two images: