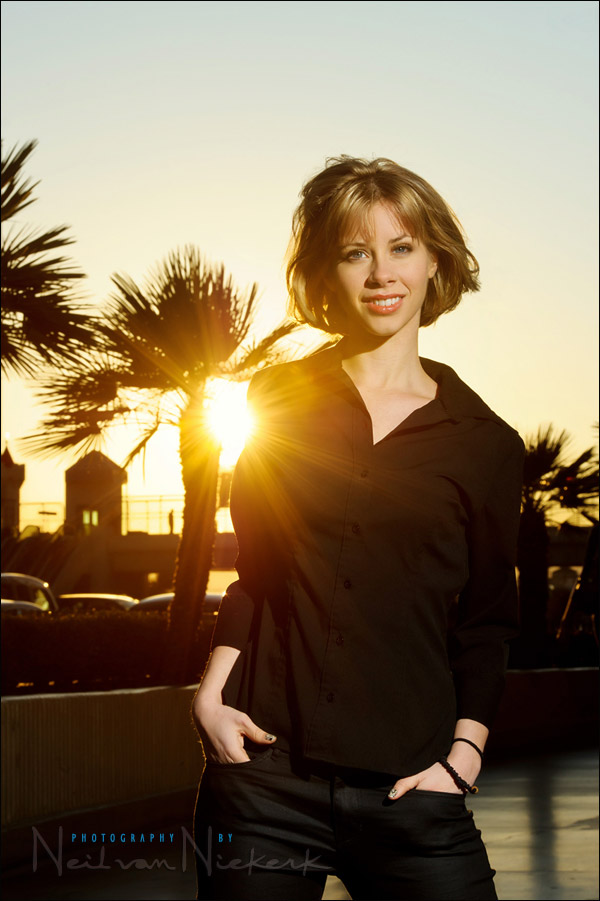 Getting the most power from your flash / speedlite / speedlight
This might be obvious, but the most power (or light) that you're going to get from your flash, is at full output in manual. Then the flash dumps everything it has. Full power. You could of course zoom your flash-head a little tighter and get more power / range, but essentially, you're at the limit.
This is useful to know when you're balancing flash with bright sunlight. With this portrait of Shawna, out on the Las Vegas strip, I wanted that sun-flare look … but I also wanted to balance the super-bright background with flash.
---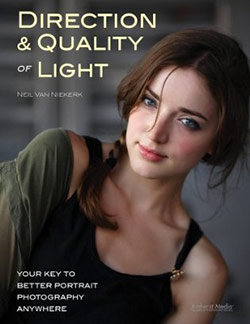 Direction & Quality of Light
I wanted to distill the essence of what we, as photographers, work with – light! Before we can truly grasp on-camera flash and off-camera flash, and really, any kind of photography, we have to be aware of the direction and quality of light. We need to observe the light that we have, and then decide how best to use it, or enhance it.
With this book, I try my best to share those "aha!" moments with you, and I do believe this book can make a difference to your photography.
The book is available on Amazon USA and Amazon UK, or can be ordered through Barnes & Nobles and other bookstores. The book is also available on the Apple iBook Store, as well as Amazon Kindle.
---
Working with direct off-camera speedlight
Since we were using only a single speedlight, a softbox wouldn't have worked. The softbox cuts down too much of the flash's output.  So we used direct, unmodified flash. But we used it off-camera, instead of on-camera, so we could get more interesting light than direct on-camera flash would've allowed.
The technique here is essentially the same as when we photographed Shawna earlier on, inside the hotel room, using on-camera bounce flash. (See: bounce flash portrait – a consistent technique )
find your background that you'd like to use in the image;
since we're using flash in very bright light,
we'll be at our lowest ISO, and using maximum flash sync speed;
now we just have to find our aperture to give us correct / good exposure for the background;
now, for that aperture, find the distance for which the flash (in full manual output), will give you correct exposure.
That last sentence there might need a bit of explanation:
Manual flash is controlled by 4 things: power, distance, aperture, ISO
Of those 4 things,
– we have our ISO (lowest ISO since we're in bright light);
– we have our power … full manual power so have have the max output!
– aperture … how we want to expose the ambient light
 – we now need to find the appropriate distance! 
Fortunately, most of the larger, better speedlights will show the distance for that aperture / ISO combination.
With this image above, our settings were:
1/250 @ f10 @ 200 ISO
(since this is the Nikon D3s I was shooting with, and the base ISO is 200.)
for the Canon 5D mk2, the equivalent settings would've been:
1/200 @f8 @ 100 ISO
(With Canon D-SLRs, the base ISO is 100.)
With the off-camera Nikon SB-900 and SB-910 speedlights, you could go into the menu of the flash to set the ISO setting, and read the appropriate distance for the aperture you enter. But that's a mission.
With the Canon 580EX II speedlite, you have to set Custom Function 5, to value "3".  Then you can set the aperture and ISO readings on the flash.
A quick method to calculate which distance to keep your flash
With that off-camera flash ON your camera, (so it can read the ISO and aperture you set), look at the scale at the back of the flash.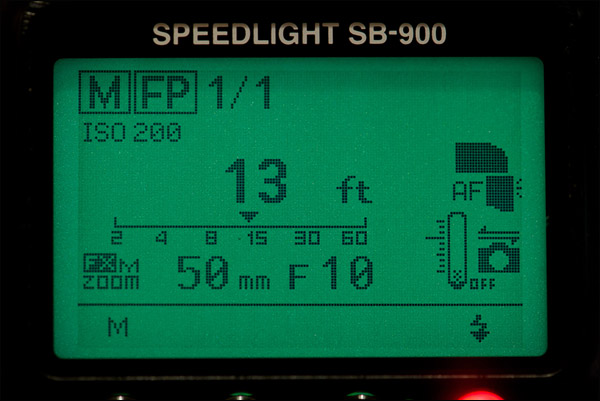 Note that I kept the flash zoomed to 50mm. So for full power from the Nikon SB-900, at 200 ISO, I have to be 13 ft from my subject for the flash to deliver f10 worth of flash.
For the Canon 5D mk2 equivalent, the display would've looked like this on the Canon 580 EXII speedlite: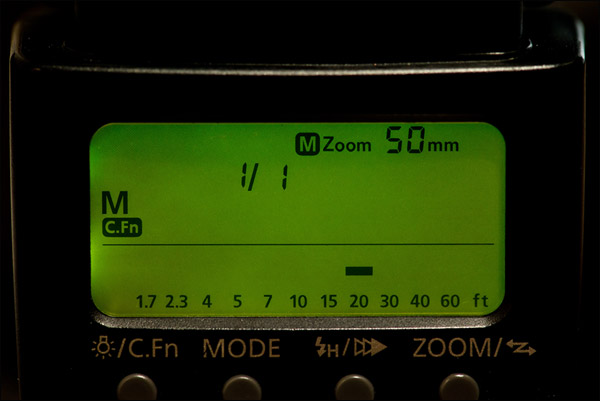 Again, for 100 ISO, I have to be around 20 ft from my subject to get correct exposure for f8
The 580EX II only displays the aperture setting when the flash is in E-TTL mode. It's an odd quirk.
Don't make too much of the difference in distance shown here. The Canon speedlite's display is more ambiguous about the specific distance. Also, the various manufacturers tend to be slightly optimistic about the output of their flashguns. So you DO need to check the back of your camera to see if your exposure is correct. Or close enough to correct.
That's the process … find the aperture you need for your ambient exposure (at max sync speed and lowest ISO), and then for that aperture, find the distance on your flash when set to full manual output. Simple, really.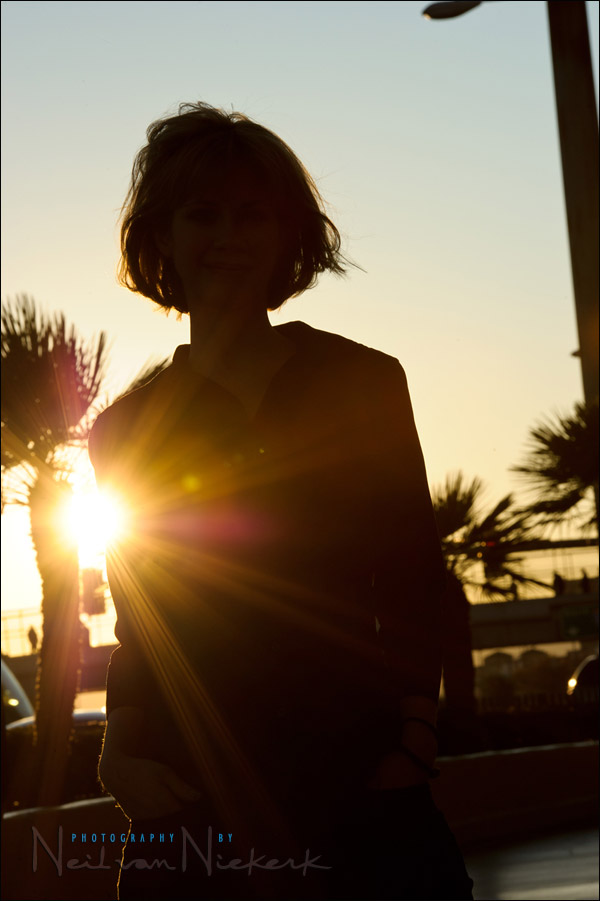 Now, shooting against the bright sun like that, all cameras will hesitate in their focusing. ALL cameras. What I do then, is rely on the depth-of-field of shooting in the f8 to f11 range as in this case, and then I focus on my subject's feet.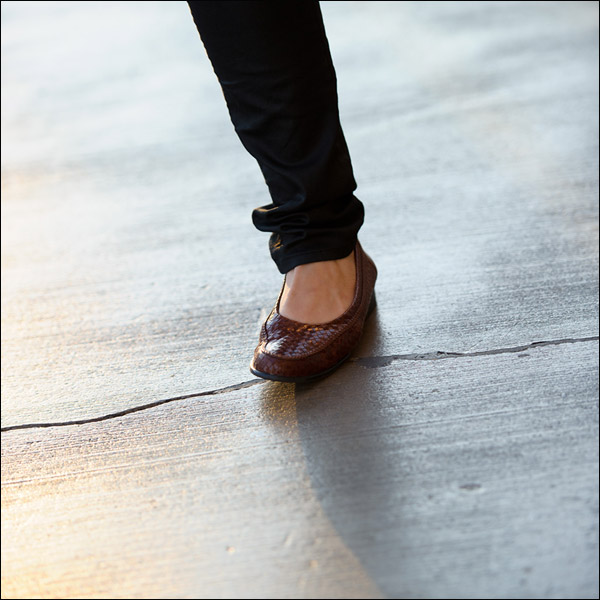 No strong back-lighting to contend with, and I can lock my camera's focus … and then get the shot.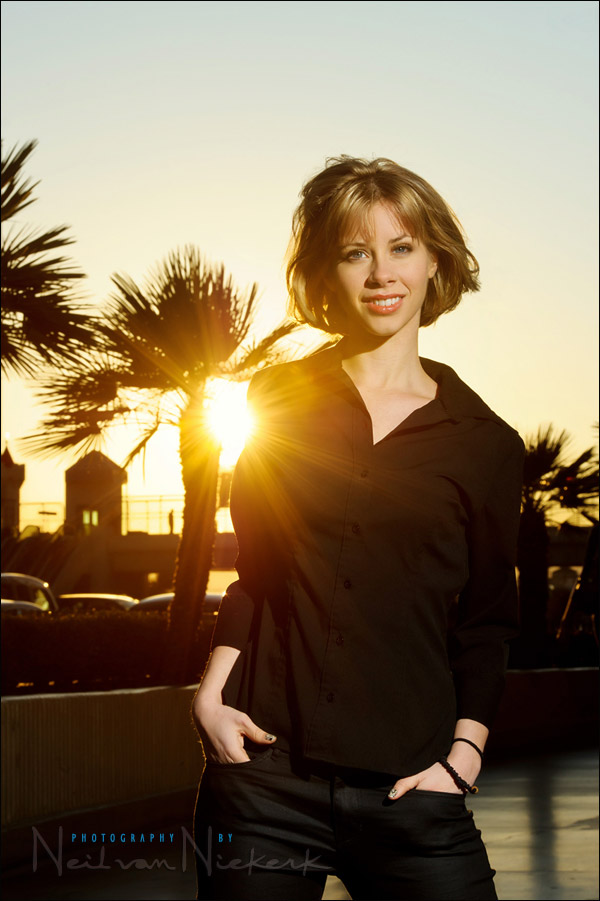 Related articles