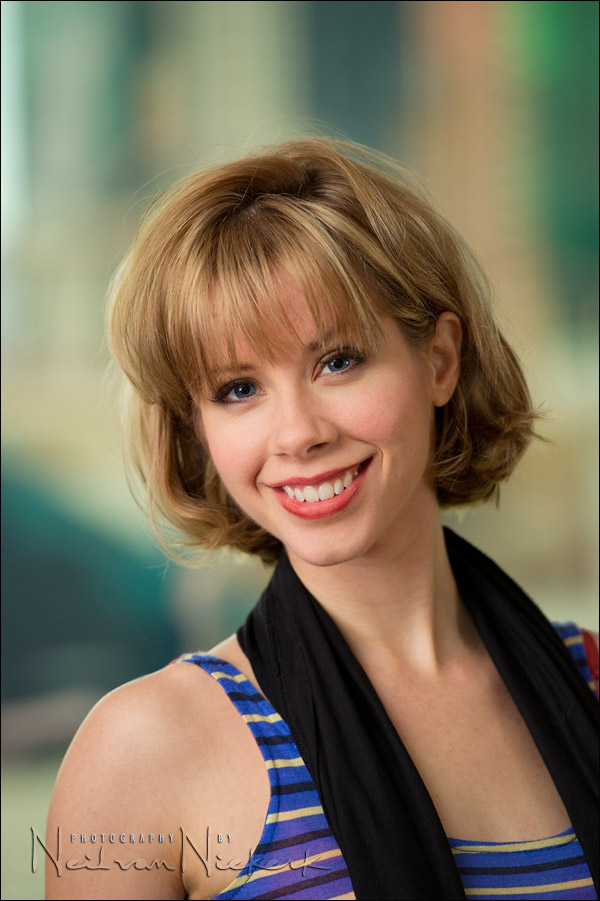 Bounce flash portrait – a consistent technique
WPPI 2012 took place during the past week – as always, a crazy-hectic and exciting event. I once again presented a Master Class at WPPI. But I also took time to present a private mini-workshop to the first 3 people that signed up. We went over a condensed version of my full-day workshop, covering most of the material in the 4-hr long mini-workshop. Like last year, I called on my favorite model in Las Vegas, Shawna. Actually, she has since moved to L.A. but she was quite happy to make the trip back to Las Vegas to be our model.
The start of the practical part of the flash photography workshop is always on-camera bounce flash. For this article, I thought I'd use some of the demo photos, to show that there is a consistent technique here.  A consistent approach that guarantees at least a successful basic portrait with nice light and a pleasant background.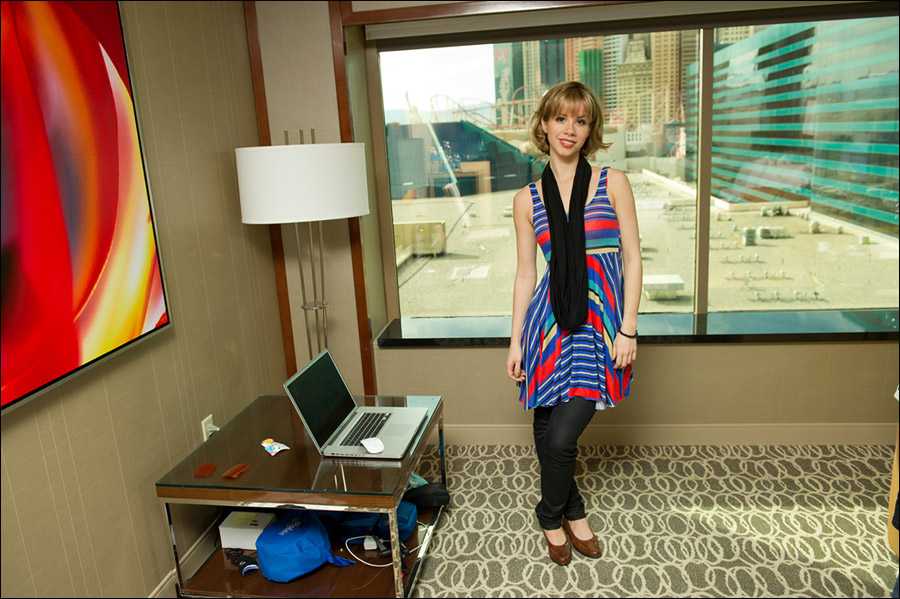 The pull-back shot to show where we were shooting during this part of the mini-workshop – my hotel room. Nothing extraordinary there.  But by eliminating everything you don't want in the frame, and choosing a specific background, a simple flattering portrait is easily achieved.
1. Find your background
One thing I'm particular about, is that my background should be complementary, or non-intrusive. A fast telephoto zoom is an indispensable lens for me in compressing the perspective when shooting a portrait.
2. Base your ambient exposure on your background,
assuming your subject is under-exposed, and you can pick up the exposure of your subject via additional light such as flash.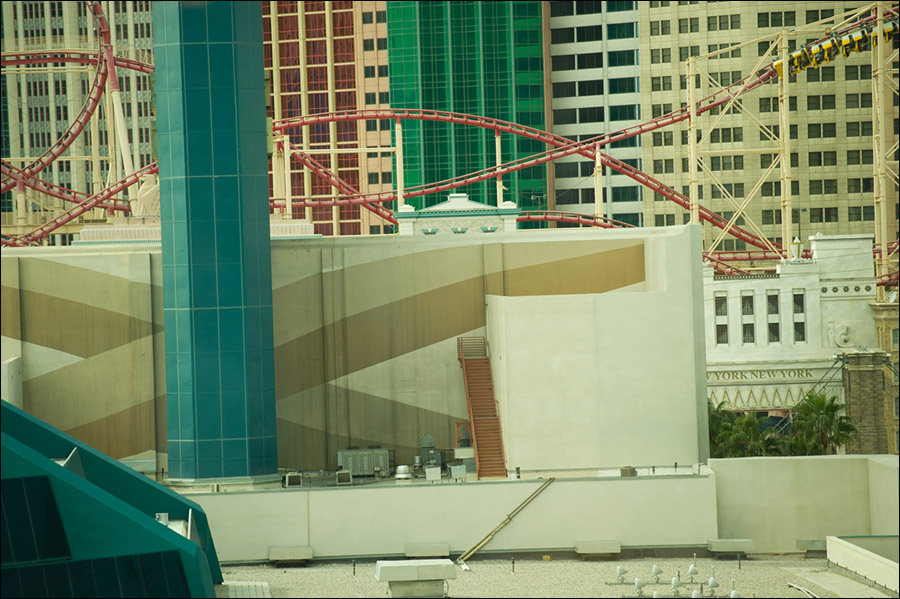 I wanted the background to not blow out (via over-exposure), or be too dark. So I metered for the background, zero-ing my exposure meter in my camera, while looking at just the background.  The turquoise tint here is due to the green-ish tint to the windows of the MGM hotel.
3. add light to your subject – in this case, on-camera bounce flash
If I hadn't based my exposure specifically off the background, but chose random settings, the TTL flash exposure would still give me correct exposure for my subject.  This is important to realize – TTL flash exposure will follow your camera settings.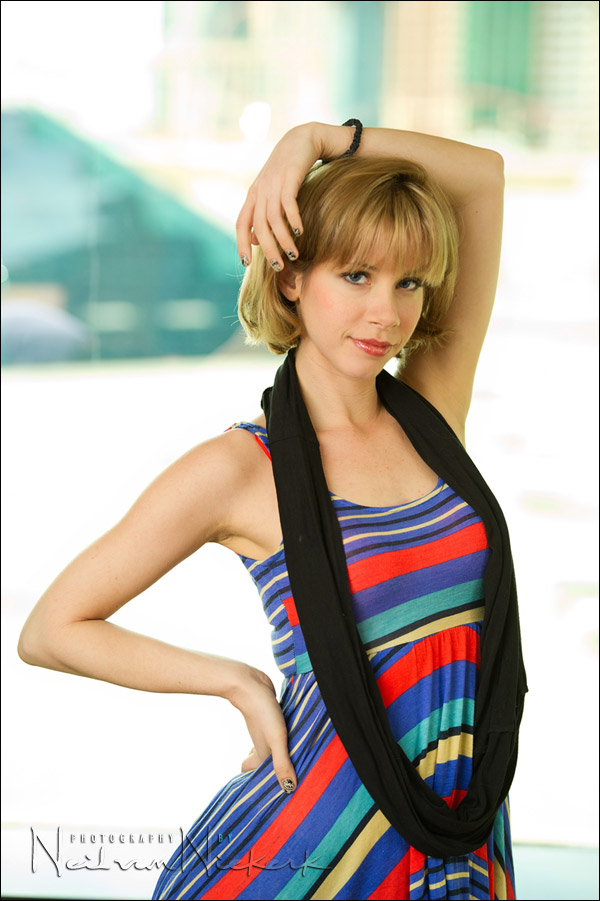 1/80 @ f3.2 @ 800 ISO
Back to the final image – having metered for the background, I set my camera to:
1/250 @ f4 @ 800 ISO … and the TTL flash exposure adjusted for the change in settings to still give me correct flash exposure.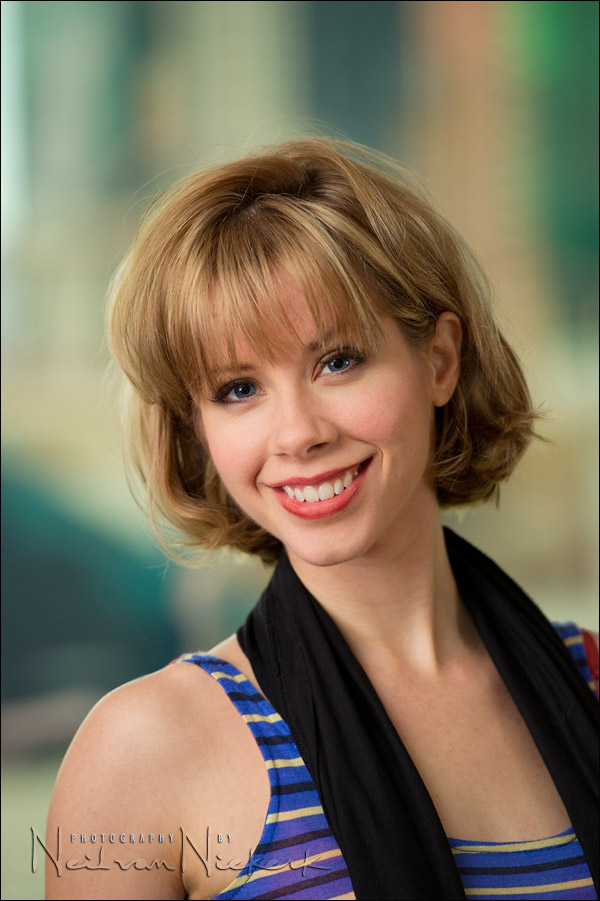 For the light, I used on-camera bounce flash, which I flagged with the black foamie thing (BFT) to give me short lighting.
Just to make a note about the background again – I framed tightly, and I crouched slightly, so I could avoid the bland rooftop areas which were industrial looking, and not attractive. So I specifically framed Shawna against the out-of-focus fake-New-York skyline there in Las Vegas. The colors and shapes aren't intrusive, and helps in giving the final photograph even more color.
There isn't much more to add about the flash photography itself since I used TTL flash. The TTL exposure mode, as controlled by the camera & speedlight, helps considerably in making flash photography easy where I can concentrate on the final image. If there had been under- or over-ecposure, I would simply have adjusted my Flash Exposure Compensation up or down.
There it is – a consistent approach that gives me a basic portrait that always works. A good starting point.
Related articles
On-camera flash modifier – the black foamie thing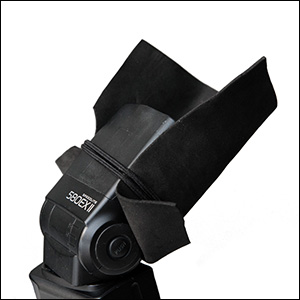 I use the black foamie thing (BFT) as a truly inexpensive flash modifier to flag my on-camera flash to give me lighting indoors that truly look nothing like on-camera flash.The
piece of foam
(
Amazon
), can be ordered via this link. I cut the sheet into smaller pieces.
The BFT is held in position by two
hair bands
(
Amazon
), and the BFT is usually placed on the
under-side
of the flash-head.
The linked articles will give clearer instruction, especially the
video clip on using the black foamie thing
.