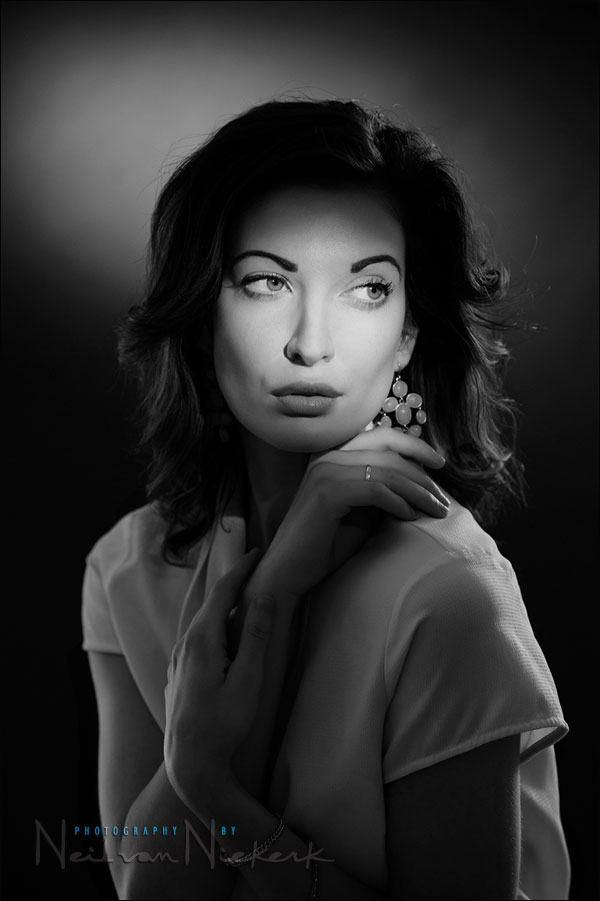 Hollywood Glamor lighting with video lights
The old Hollywood masters such as George Hurrell, CS Bull and Laszlo Willinger had a dramatic way of lighting their portraits, with specific use of light and shade.
For my review of the Litepanels Sola 4 LED Fresnel Lights, I had Ulorin Vex as model. Her style and clothing are quite unique, and dramatic enough that these lights enhanced her look. I loved what we came up with.
In using these Litepanels Sola 4 LED Fresnel Lights (B&H / Amazon) to specifically emulate Hollywood Glamor lighting, I called in another model, Elle Olins. Elle has that smoldering look to her that turned out to be perfect for this style of lighting.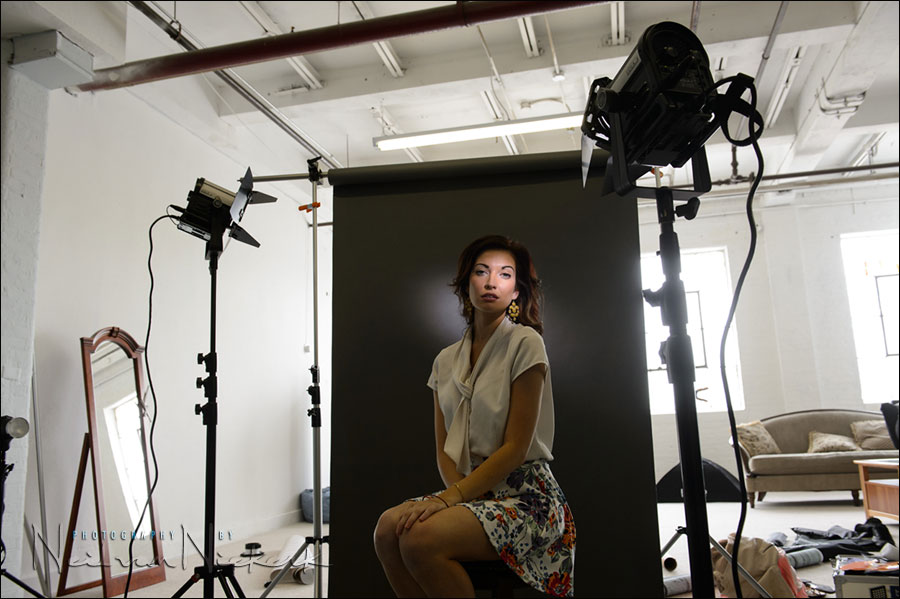 This pull-back shot shows how the two Sola 4 units were set up. The light to camera left, was there to create that oval streak on the background. The Sola 4 in the foreground (camera right), was there to create the dramatic light pattern on Elle's face.
With the barndoors on that light, I was able to minimize the light falling on her forehead, and accentuate her eyes. I also specifically lifted the bottom flap of the barndoors to create a distinct light fall-off over her lips. I really wanted Elle's eyes to draw the viewer in. As you can see from this photo of that Sola 4 unit, I had just this narrow slit of light sneaking through.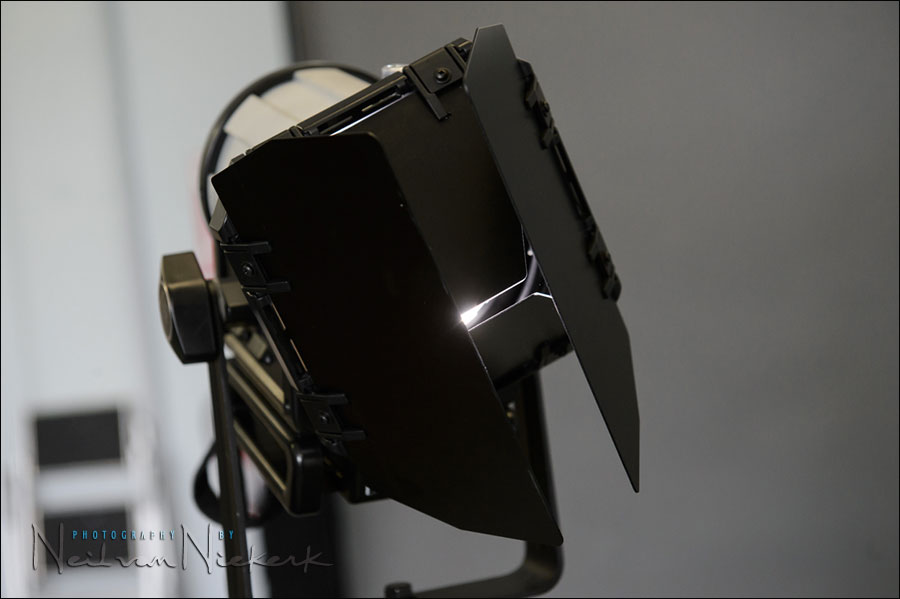 The pull-back shot also shows, interestingly perhaps, the clutter of the studio. Shooting tight, the 4′ wide backdrop was more than enough for this kind of portrait.
You may well ask why I used this narrower backdrop here instead of the 9′ wide paper backdrops that are in my studio. Well, there was just too much available light streaming in, and we couldn't get the kind of contrasty photos we wanted. So I turned this smaller backdrop around so that it would block the majority of light. The available light ended up giving some rim-light on Elle, as can be seen in this comparison photo.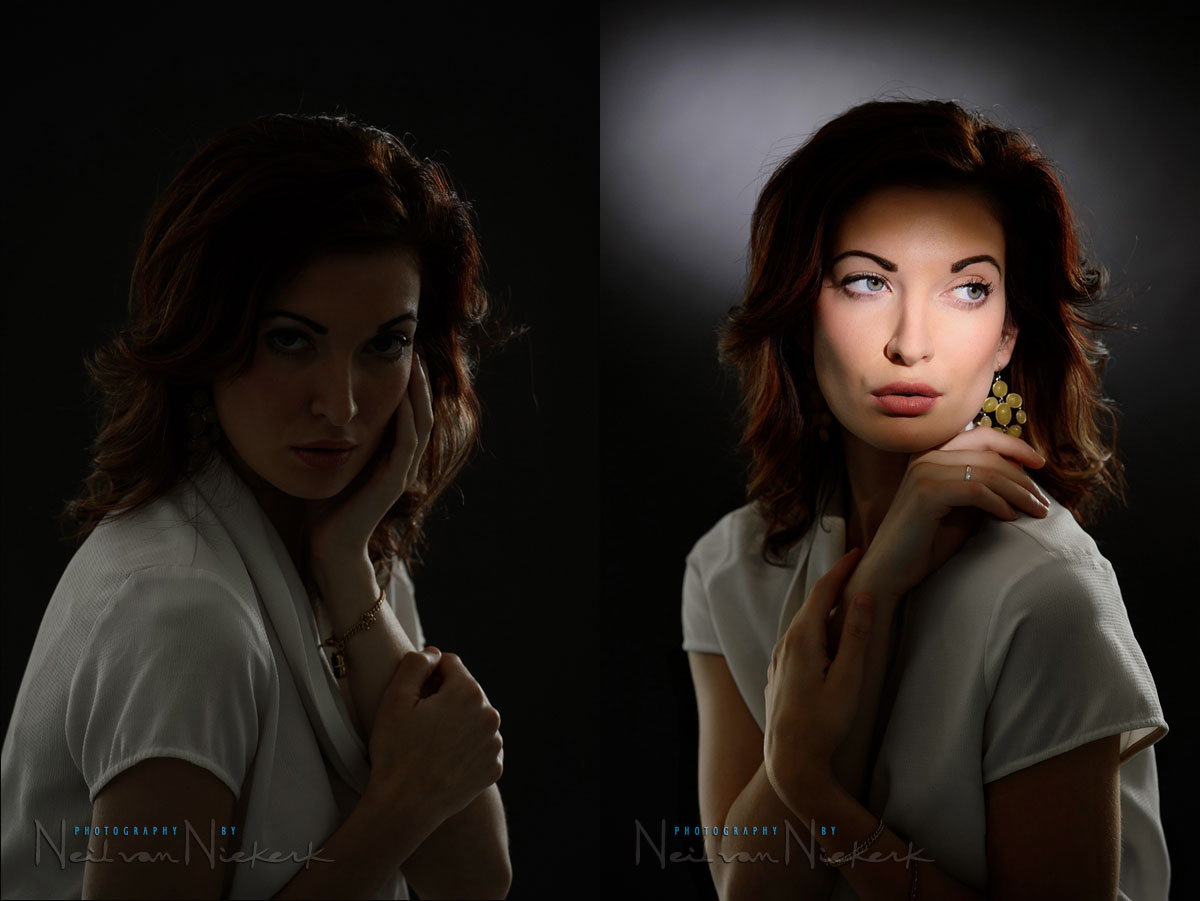 The fortunate thing with the Litepanels Sola 4 being daylight balanced LED lights, is that the available light that snuck in, didn't give a strange color balance.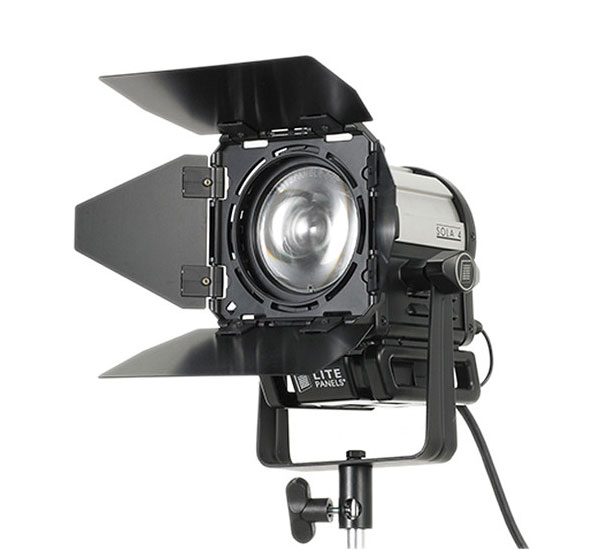 The WYSWIG aspect of these video lights (and other continuous light sources), is that you can adjust the position of the lights (and your model's pose), to a fine degree. You can closely observe exactly how the light falls across your model's features. Then it's a matter of adjusting the light levels (and focus of the light beams), and the position of your model to get the exact light you wanted.
Books on Hollywood Glamor lighting
I strongly recommend this book where the authors analyze and break down some of the best known portraits and describe how the images where lit – Hollywood Portraits, by Roger Hicks and Christopher Nisperos. (Amazon)
Photo gear (or equivalents) used for this photo session
Related articles