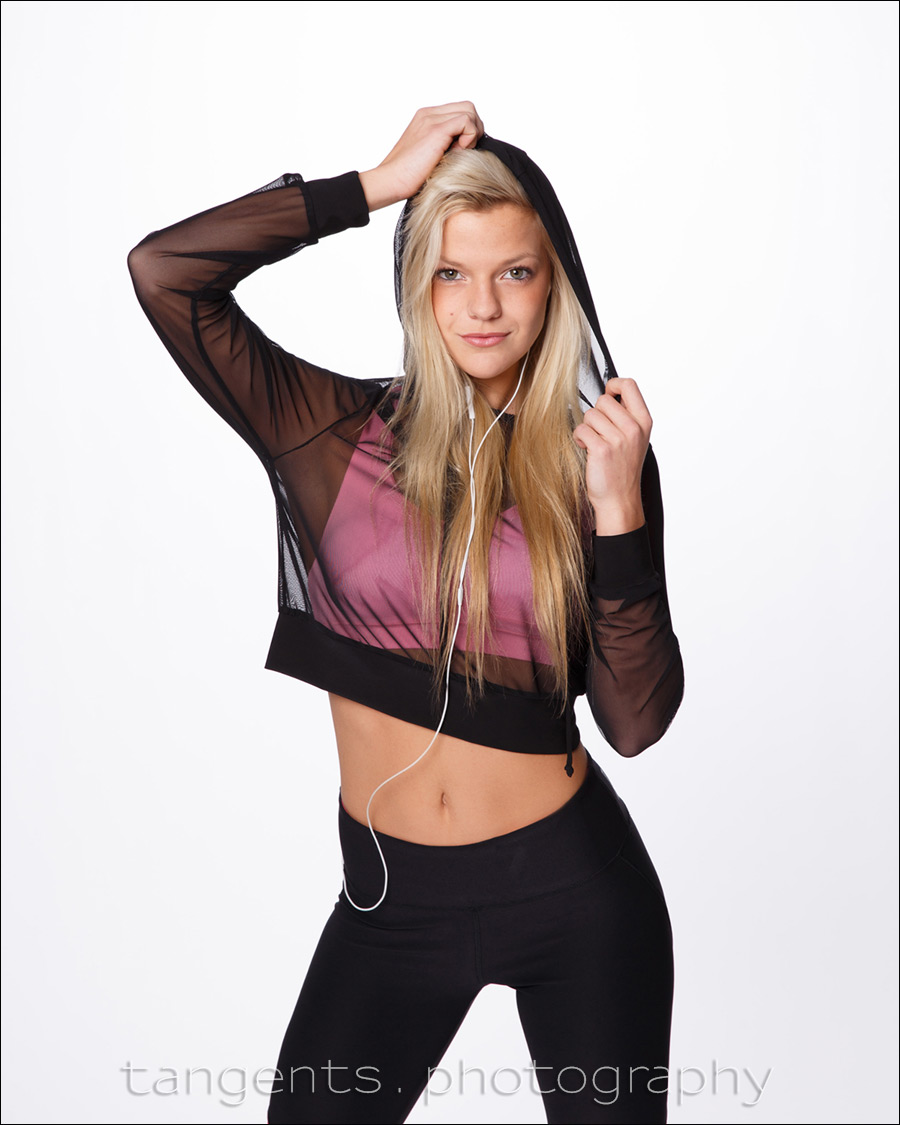 Lighting a white seamless studio backdrop
There are a number of variations on how to light a white seamless studio backdrop – but it all comes down to the same essentials. You want a spread of even light on the background, and a big swathe of light from the front. All of this with as little fall-off in the light as possible.
We've covered this topic in previous articles, showing how it is done with speedlights …
… but I would like to share how I do it now in a larger studio space, using studio flashes.
The pull-back shot below will show the setup that I default to. There is a small (2′ x 3′ softbox on the background), at near full power to make sure the white background is actually white. The trick here is that I use the histogram. I want to push the white to the very edge of the histogram, and perhaps even a little bit over. I don't want to blow out the background too far, because then I risk some lens flare, and some kind of halo around my subject from the over-exposure. Always the 'Goldilocks' approach – not too little, not too much. Just right.
Our model here is Taylor Wells, and we were adding to her fitness portfolio. (She just started a new Instagram account.)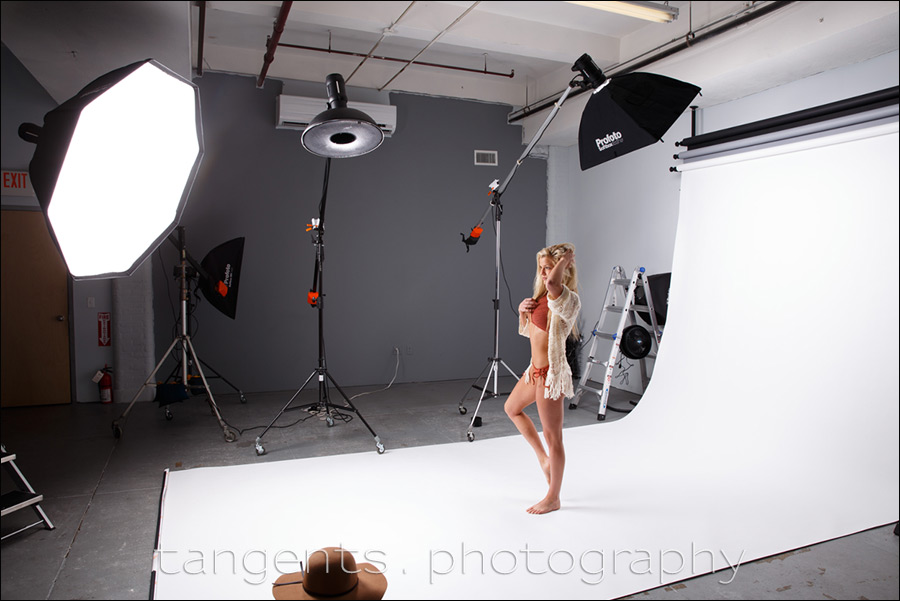 The main light is a Profoto D1 500Ws studio light in a Profoto 5-ft RFi Octa Softbox (affiliate). Then I also add another light that cleans up the white paper in front of my subject. I just use the Profoto beauty dish (affiliate) here, for no other reason that it is already on the boom arm that I keep it on. Nothing magical about it being a beauty dish – it's just handy.
The metering is such that I blow out the background, by checking where the exposure is on the histogram … and then I add the other lights. I start with the background.
Here is an example photograph, pretty much straight out of camera:
To get that wind-blown effect, we use a fan (or wind-machine, if you will). Of the two fans I have in the studio for this purpose, this Vornado fan (affiliate) is my favorite. It's powerful enough but not industrial-strength crazy. And it is on a handy stand. And it looks elegant.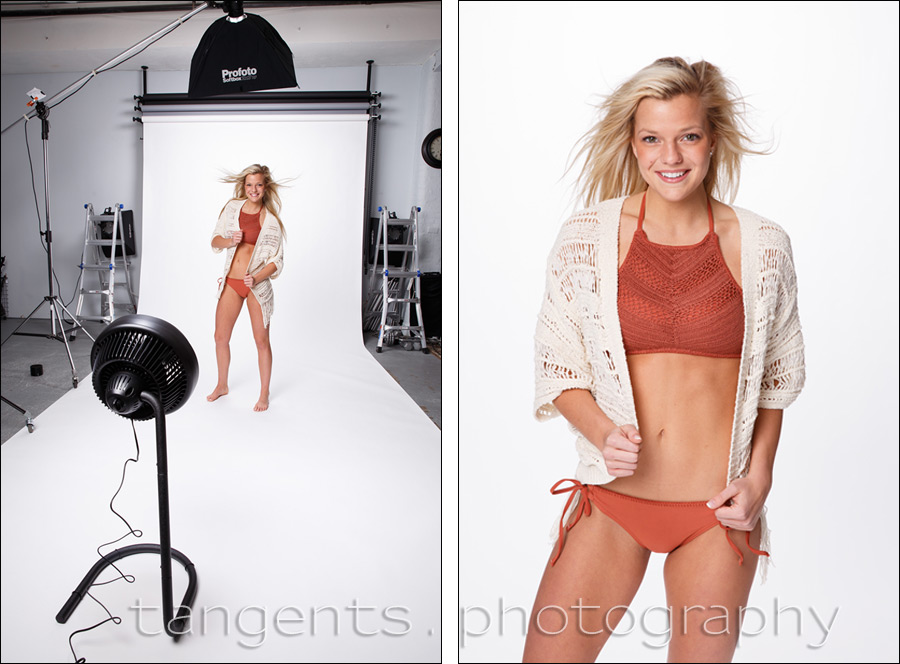 Photo gear and lighting used during this photo session
1/125  @  f/9  @  100 ISO
---
The images shown above, are pretty much straight out of camera, with only minor skin retouching. While I am happy with the level of white shown there, it isn't 255; 255; 255 white. If you need that kind of absolute level of white, then you will most likely have to do that in Photoshop.
The Photoshop technique is well-known: the Magic Wand Tool is used to mark areas of a similar tone. And if your lighting is even enough, it is super-easy to just select the white area.
With this photograph, I liked Taylor's dynamic in-air pose, but she had jumped too high, and the background was in shot. I'm too lazy and inexperienced to mask her hair from the black softbox, so I pulled in her hair from another photograph where it was easier to mask.
---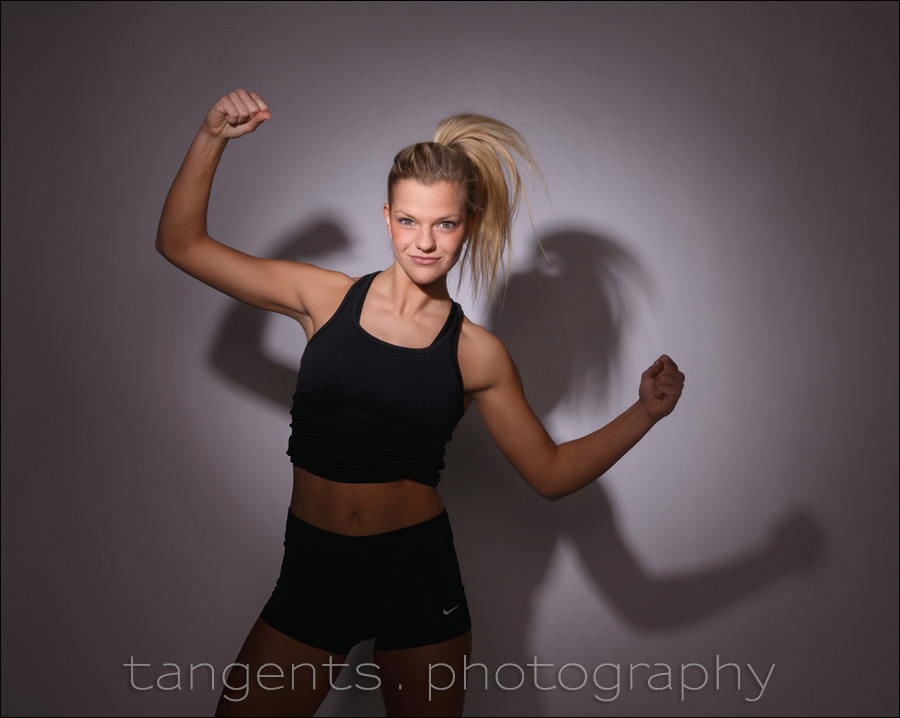 As described in the article – Studio portrait lighting ideas – it's a good idea to continually mix things up a bit, but without completely change the lighting setup. Just a few adjustments. Still staying with nearly the same lighting setup as above, I switched off the light on the background, and moved Taylor closer to the white paper backdrop. I wanted to see if we could use her shadow as part of the design.
For the spot-light effect, I took the Beauty Dish off the other light, and changed it for the Profoto 10° Honeycomb Grid (B&H / Amazon). I turned the power much lower on the 5′ Octa so that it acted as a fill-light. I changed the power on the flash with the grid to be the same exposure settings as we had used before.
A few minor changes, and we have a completely different look. And then we move on again to another idea. And on.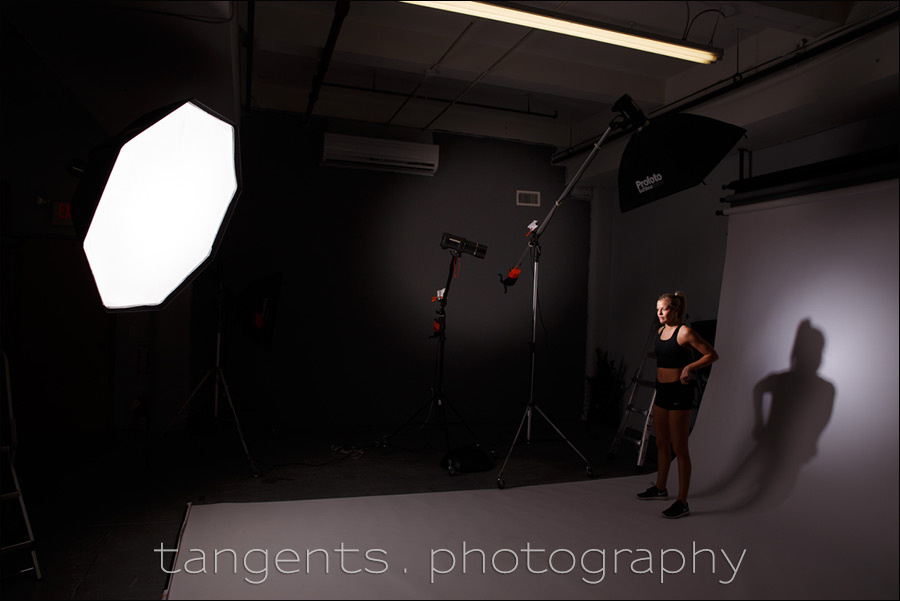 Photo gear and lighting used during this photo session
1/125  @  f/9  @  100 ISO
Related articles