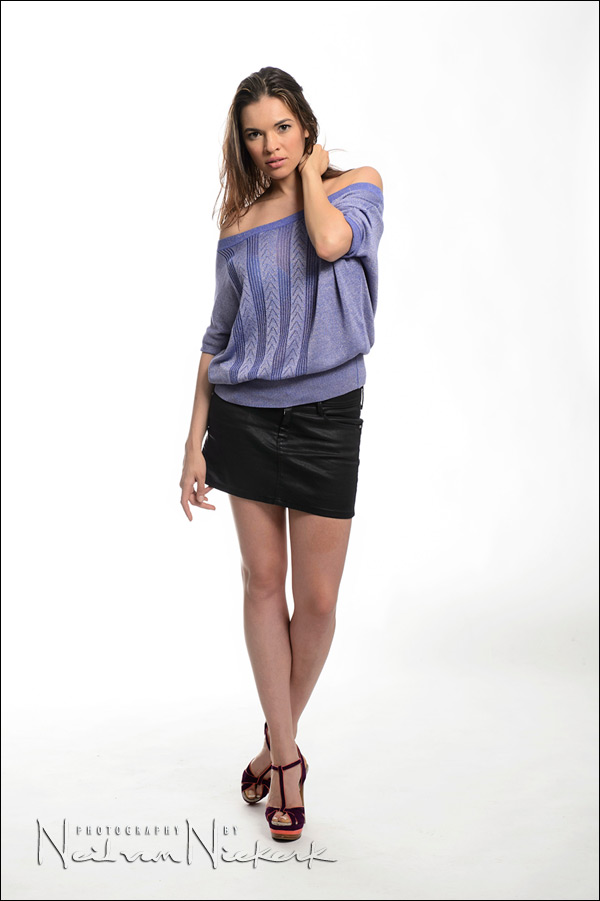 A simple lighting setup with speedlights & white seamless backdrop
A question on the Tangents forum asked about setting up and using two SB-910 speedlights against white seamless. It's a topic we've covered in a previous article – a simple lighting setup for studio photography – but it might be good to revisit this again.
The article on that simple lighting setup with two speedlights, explained our choice of camera and flash settings in detail, so we'll only briefly cover it this time. Still, a different explanation from a different angle might trigger new ideas and questions.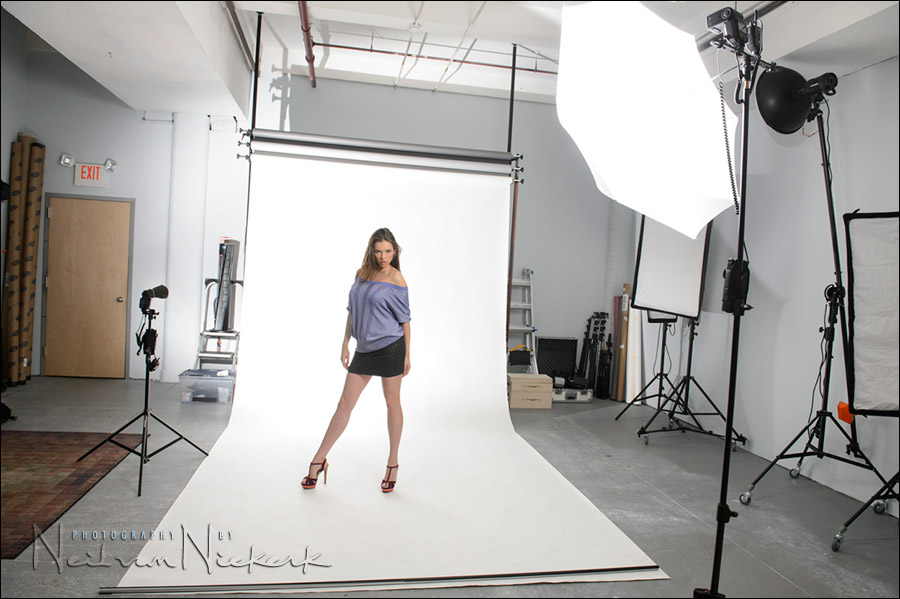 The pull-back shot of the setup we used during a personal workshop at my studio. Before we jumped into using the studio gear, I wanted to show that with a minimalist setup using speedlights, we could accomplish similar results (sans the higher output and fast recycling of the studio gear.)
The shoot-though umbrella acts as a "light bomb" (as I've heard this described elsewhere.) This floods the place with light, as light is scattered all around and bounced off the walls. Setting the flash to full manual output – (TTL wouldn't make sense here) – we metered the light as f/5.6 for where she was standing.
Then we added the background light. You can see this speedlight on the light-stand to the left of the white backdrop. I used a black foamie thing to flag the light so there was no light directly spilling on her from the speedlight itself. The white backdrop does reflect a lot of light back.
A battery pack on both speedlights mean the recycling time isn't too bad. With the main speedlight dumping full output, it does take a few seconds to recycle – this just gets slower and slower as you keep shooting, unless you have a battery pack there to help.
camera settings:  1/125 @ f/5.6 @ 200 ISO
Metering for the light on the white seamless backdrop, was done via the camera's histogram . We dialed the power up until the histogram completely bunched up on the right-hand side of the histogram. This ensured that the white seamless would be rendered as pure white for most of the background.
Using just one speedlight for the background does mean that the background isn't evenly lit from left-to-right. You can see in the top-most photograph that there are areas in the background which isn't pure white. So this would need some work in Photoshop to get that background the way you want to … or, you could use another speedlight on the right. There is a certain limitation in paring the equipment down to a minimum – as in this example, you may have to correct a few things afterwards in Photoshop to achieve the ideal.
A video tutorial to help you with flash photography
If you like learning by seeing best, then this video tutorial will help you with understanding flash photography techniques and concepts. While not quite hands-on, this is as close as we can get to personal instruction. Check out these and other video tutorials and online photography workshops.

Related articles
Photo gear (or equivalents) used in this photo session
A little bit of homework
Using Photoshop, what would be the simplest ways of removing the less-than-white areas in the background, turning it into white?